Time to start your Christmas caravan, campervan and motorhome shopping for your fellow leisure vehicle owners and looking for some Christmas gift inspiration?
Stay safe, stay in and bag yourself some great seasonal gift ideas. Here's our 20 to get your started!
There's all your usual "Christmas tat", of course. Towels, ceramics, crockery and more. Here, we've erred on the side of practicality whilst also fitting in with the festive spirit.
Here, we've sought out 20 more unusual Christmas gift ideas for the leisure vehicle lover in your life…and if you're quick you might bag yourself an online discount!
Vango Radiate Heat Mat
Like a mini electric blanket, Vango says this is ideal for pre-heating your sleeping bag (or under your duvet) before you turn in for the night. But, there are other possibilities, too. The Heat Mat could also be used to warm up any area of seating during the day. Because it works from any 12V power bank (best match is a 5V/2.1amp supply), it's truly portable.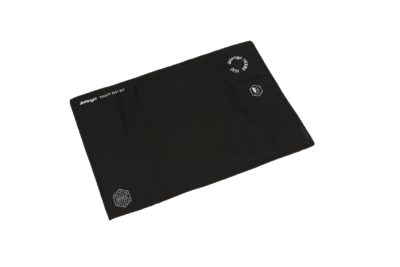 The 18cm x 9cm pad is made using a graphene heating element with a fully flexible softshell finish and has four heat settings. It's also machine washable and comes with a drawcord stuffsack.
Expect to pay £50
www.vango.co.uk
Campervan Gingerbread Make Your Own House Kit
Everything you need is packaged here to make your very own Christmas campervan cake – starting with four pre-baked gingerbread panels. Also included are confectionery lights, ready-to-use white icing, black and red icing pens and rainbow gumdrops.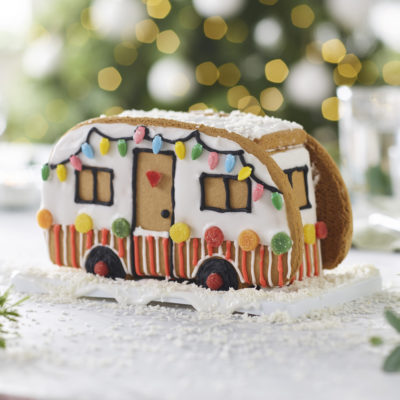 So, you do all the exterior design work, adding decorations as you go and also using the icing to hold it all together. The finished product is 20cm long x 8cm wide x 11.5cm high. Not suitable for vegetarians, apparently.
It even comes with its own hardstanding pitch – a plastic base for parking your campervan on!
Expect to pay £12.99
Outwell Movie Screen
Another one for under-awning/in-'van use. This roll-up screen is ideal for projecting your favourite sports events, videos, TV shows and more.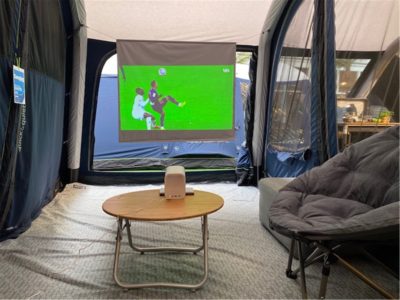 Hooks, a guyline and pole are there for fixing to the inside of an awning, but it should be fairly easy to put up in your vehicle, too. Technical cotton ensures faithful image reproduction.
Screen size is some 120cm wide x 100cm deep and when you're done it all rolls up to some 50cm x 9cm. You supply the projector – prices of these have dropped considerably in the past couple of years!
Expect to pay £55
Amazon Echo Auto
Love Alexa in your home? Well, now you can have the cloud-based voice service in your tow car, caravan, campervan or motorhome.
It mounts on your dashboard and plugs into a 122V or USB socket. Use cable or Bluetooth for playback via any built-in speakers.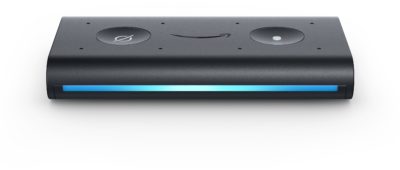 It's a positive contributor to safety, too, because the voice-activation for route guidance, music selection, checking/adding to your diary, making a shopping list and much more means your hands are free to concentrate on driving.
Halfords is one of a number of retailers offering the Amazon Echo Auto, with an in-store fitting charge of £35. Just check compatibility with your vehicle before committing to buy.
Alexa, are we there yet?
Expect to pay £49.99
Whitby Hand Warmer
Keep your hands cosy with this great little portable "flameless" gadget that's safe to use and can give instant warmth when you most need it.
It operates via a catalytic process using lighter fluid (not supplied) and can last for anything from six to 12 hours between refills.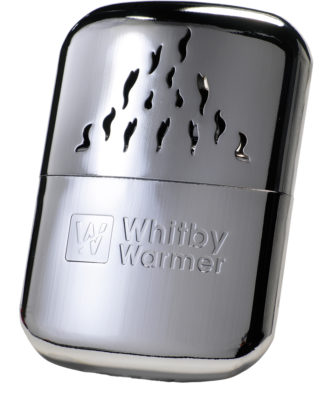 Perfect for long winter walks or indeed any other caravanning or motorhoming activity where you might just rely on having warm fingers. It comes complete with a fleecy bag.
Expect to pay £19.95
Smartwool Cozy Cabin Crew Socks
Socks for Christmas? How original. There's a definite festive look and feel to these. For women, they're available in sizes S, M or L and three colourways – Charcoal Heather, Natural and Lunar Grey.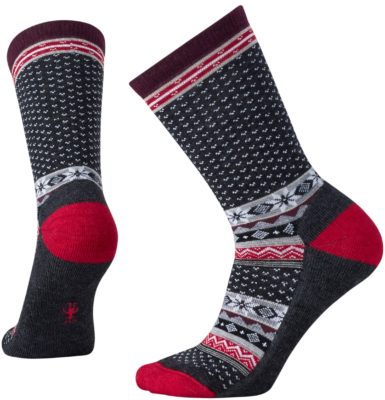 They're a super-soft merino wool blend (45% nylon and 1% elastane makes up the rest) with lots of extra cushioning in the right places as well as a seamless toe (which lessens the chance of blisters) and supportive arch. Because they're designed for women, they have a narrower heel and are slimmer. And they're machine-washable.
Expect to pay £21.99
www.smartwool.co.uk
Jack Wolfskin Nordic Shadow Cap
A wool/acrylic/polyester blend knitted hat with fleece lining that's going to keep your head cosy no matter how extreme the weather.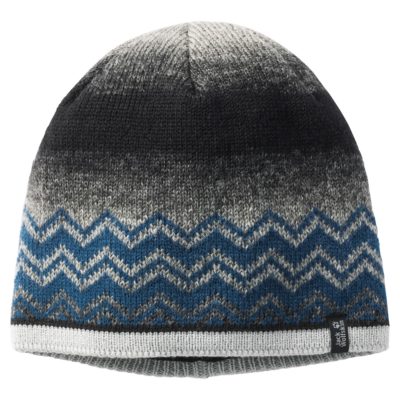 Get it in Poseidon Blue, Ebony or, the most Christmas-y of the lot, Dark Lacquer Red – with manufacturer Jack Wolfskin claiming no two hats are exactly the same! Machine washable up to 30degC, each also comes with a two-year warranty.
Expect to pay £25
Kikkerland Ivy String Lights
Some three metres of LED lighting with an appropriately Christmas-y ivy leaf theme. Ideal for use in the awning or 'van at Christmas or any time of the year. You just need to have a USB socket to hand. It offers eight different settings.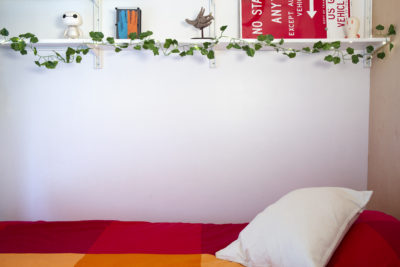 Remote control with batteries included.
Expect to pay £15
Tilley Iconic T1 Bucket Hat
A woolly version makes for the most Christmas-like variation of this classic camping hat. It uses a Swiss-made wool fabric called Shoeller which is then bonded with a special, heat-reactive membrane. The hat is rain and snow  repellent and breathable, plus can offer protection from the sun (there's a UPF 50+ rating). Colour choices are Olive. Grey Herringbone and Charcoal Mix.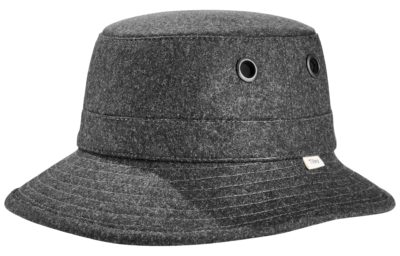 Like all Tilleys, it has a secret pocket and it's designed to float if you accidentally drop it in water.
Not cheap, but it does come with a lifetime guarantee.
Expect to pay £85
www.tilley.com
Kelty Bestie Blanket
Unwrap your presents this Christmas then, when things start cooling down wrap yourself up – in the Bestie Blanket from Kelty. It comes in a choice of four colours, soft-brushed fabric with a layer of Cloudloft insulation and stuffs away into its own sack when not needed (but which also makes a neat scatter cushion to rest on).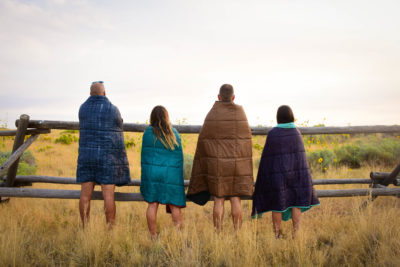 The shell is a 75D polyester taffeta and overall dimensions are 192cm x 107cm, weighing some 680g and packing down to a convenient 17cm x 30cm.
Expect to pay £20
Scruffs Santa Paws Mattress
A perfect Christmas present for your dog, the Santa Paws Mattress is machine washable and has a recycled PET (no pun intended) fibre filling, a non-slip base and a soft-knitted Fairisle pattern to its sides. Dimensions are 85cm x 82cm.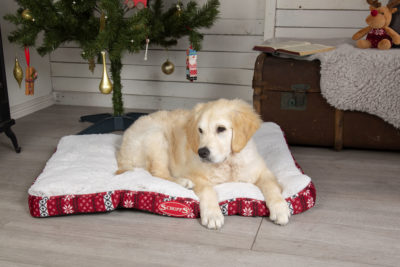 Part of the Scruffs Santa Paws Collection. Check out, also, the same-price Santa Paws Box Bed and £29.99 Blanket and Reindeer Gift Set.
Expect to pay £39.99
Kampa Roast Master
You can cook a whole turkey in this, says Kampa, making it ideal if you haven't got an oven in your leisure vehicle yet have aspirations for some in-'van meals over the festive period. It also comes with two 1.6kW gas rings.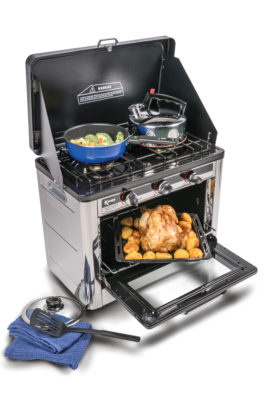 The 0.6kW oven has spark ignition, temperature gauge and a flame-failure device. It boasts two chrome-plated shelves and can heat up to 300deg C.
Operating from any butane or propane cylinder (you'll need to supply your own regulator), dimensions are 54cm x 31cm x 46cm and it weighs 15kg.
Expect to pay £299.99
OlPro 2021 Calendar
A calendar with a conscience? OlPro is celebrating its 10th year in the accessories and awnings game with this A4 calendar, profits from which will go to the Make-A-Wish charity.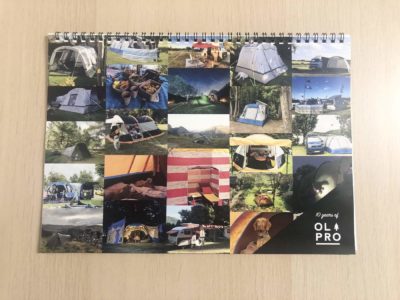 There's a single month per page and each features outdoor images as supplied by OlPro customers out on their adventures.  As with all OlPro products, delivery is free.
Expect to pay £10
Quest Oil Filled Radiator
If you need an extra heat source – and there's every chance you will this winter – consider something like this. Use it in your 'van or awning, the Quest Oil Filled Radiator operates from a mains electric supply and radiates up to 800W of heat via its seven-fin design.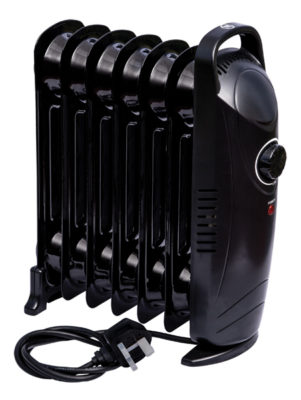 Extra features include temperature control, overheat protection, stability feet, 140cm cable and handles for carrying.
It weighs 4.15kg and dimensions are 33cm x 39cm x 10cm.
Expect to pay £32.99
Primus Kamoto Openfire Pit
Not just for Christmas? Keep warm all year round thanks to this portable, flat-packing fire pit from Primus. It's made from stainless steel with an ashtray to protect the ground directly beneath wherever you choose to place it.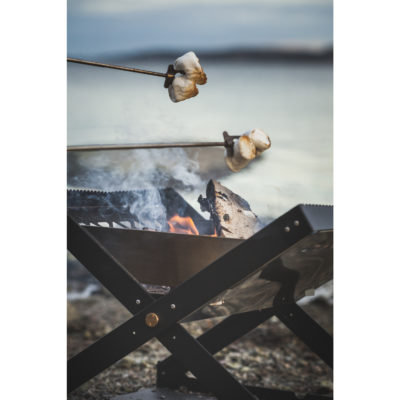 Slot-in windguards provide essential protection, while a grate allows you to cook on it should you wish – either with a pan or directly over the flame. Use coal or wood as your fuel.
Dimensions are 60cm x 47cm x 65cm high for this, the Large version. There's also a smaller variant.
Expect to pay £155
Easy Camp Backgammon Picnic Rug
OK, so an outdoors picnic is probably out of the question at this time of the year. But, you might still fancy the idea of playing backgammon.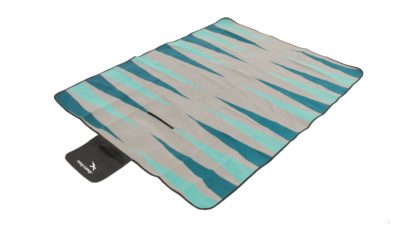 This rug is capable of both. And it has the bonus of a hard-wearing, waterproof  PVC backing with an aluminium coating for extra insulation (so you might even want it underfoot in your 'van). The top is a soft fleece finish.
Dimensions are 170cm x 135cm and it all folds up for easy storage, complete with its own carry handle.
Expect to pay £19.99
YuYu Bottle
Claiming to be the original long hot water bottle, the YuYu comes in a wide variety of fabric finishes, but its central feature is an 81cm x 13cm, naturally biodegradable Grade A rubber container. The design is also such that you won't need any more water than you would a conventional hot water bottle (i.e. one-litre). A strap also means you can literally keep it close wherever you go.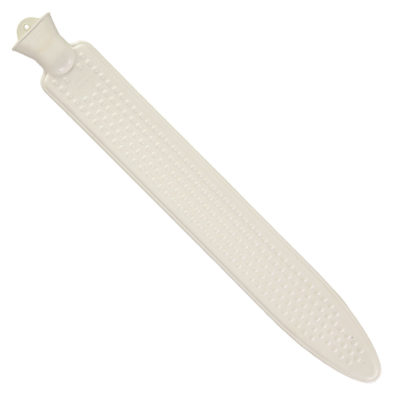 The YuYu has also been found to be beneficial to anyone unlucky enough to suffer from arthritis, IBS, endometriosis, stomach cramps and more.
It even has a use as a cooling agent when the summer comes.
As for those fabric covers – choose from tartans, Liberty Prints, Japanese cottons, Belgian linen and more. Also available are special children's designs, called Warm Worms, from £33.
Expect to pay From £25
Nikwax Cycling Cleaning Kit
Boy has cycling grown in popularity over the past year. And what better complement to your caravan, campervan or motorhome adventures than two-wheel power when you reach your holiday destinations?
The Nikwax Cycling Kit is perfect for any riders in your family. It comprises the ethical, environmentally-friendly brand's Tech Wash, TX Direct, Base Fresh and Glove Proof products – specifically designed to clean and protect your cycling clothing.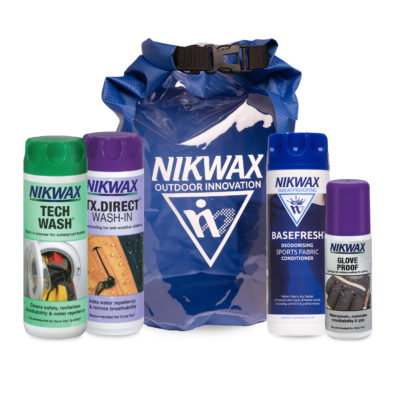 It also comes with a 10-litre Dry Bag, ideal for stowing mucky clothing before you get the chance to wash it.
Expect to pay £19.99
Coleman 360 Sound & Light LED Lantern
Jingle Bells? Or would you and your neighbours prefer Silent Night? This lantern from Coleman also has a built-in Bluetooth speaker so you can stream your favourite music as well as benefiting from 400 lumens worth of all-round light.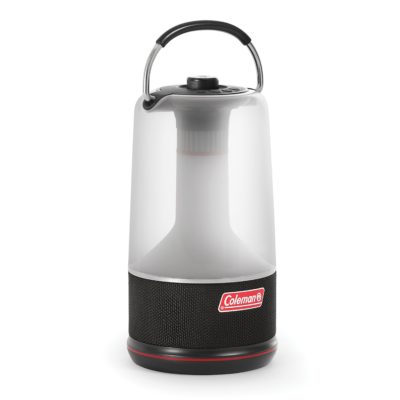 The lantern uses a rechargeable lithium-ion battery and has a USB port for charging (a cable is also included), while the casing has an IPX4 water-resistance rating, making it a truly outdoors performer.
Expect to pay £69.99
Habitation Service
You've treated yourselves. But how about the caravan or motorhome in your life? If you haven't already booked one, how about a habitation check for your very best friend, that one that's going to take you places in 2021?
It's a way of ensuring the safe and proper operation of all aspects of your leisure vehicle – including gas, electrical and water systems, as well as checking for any early signs of water ingress, plus working of all fitted equipment.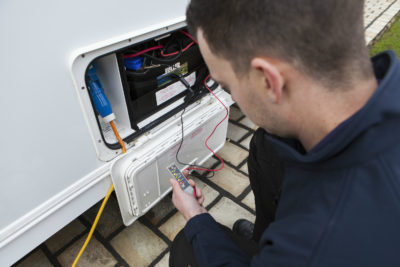 Also, you can sign up to be a Habcheck member for free via the website below, instantly giving you a discount on any servicing, plus other benefits.
Meanwhile, just remember: a leisure vehicle is not just for Christmas!
Expect to pay From £199
Your Christmas gifting ideas…
Got any Christmas gift ideas that you'd like to pass on to fellow Caravan Guard blog readers? Add your comments below.
Cost to insure: *
---
factfile
| | |
| --- | --- |
| Model | |
| Base vehicle | |
| Axle type | |
| Dimensions | |
| Shipping length | |
| RRP | |
---
Search our blog
---