Electric pulling power caused a real split amongst caravanners in our recent poll on electric tow cars!
As we see a rise in the popularity of electric cars, particularly the hybrid variety, we asked caravanners if they'd consider using an electric car or an electric hybrid car to tow their tourer.
Here's the results….
With almost 500 votes, a third of caravanners (33 per cent)  said they wouldn't consider using an electric car to tow but 32 per cent said they would use an electric hybrid car.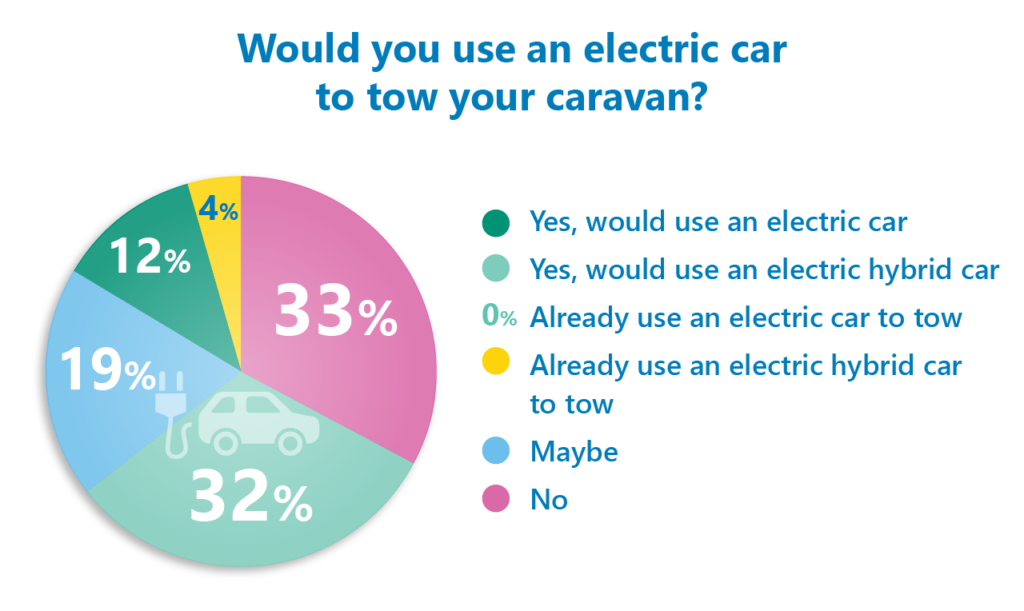 A small section of voters – four per cent – said they already use an electric hybrid car to tow but nobody said they used an electric car.
A further 19 per cent were undecided, opting for maybe and 12 per cent said they would use an electric car.
Your comments…
This poll certainly caused a debate with a mixture of love and hate for electric pulling power. One of the main concerns is having enough charge for long journeys as well as the cost of electric cars.
John Pye had a hybrid DS5 but feels there's still a long way to go before electric cars can cope with the load and distances associated with caravanning.
"Yes they are great for nipping to shops but long journeys or put under load and the battery will be drained in no time," he said. "We are still some way off cars that will charge quick enough or simply having enough charging stations to be viable. Sure Tesla and Porsche's Mission E now offer long range and fast charging if you have £80K to £100K+ to spend. I am not saying never, just don't think they are advanced enough yet."
Mike Lowe agreed and said the range of the best electric cars, especially those capable of towing a 1.4 ton caravan, was limited.
"The range whilst actually towing a caravan … well, I doubt it would get my van as far as the gates of the storage yard!" he added. "Technology has a long way to go before towing with an electric car becomes a realistic prospect."
Norman thinks there are more advancements to be made before electric 4x4s will give him the brake horse power and torque to tow his heavy caravan.
"I think this is a long way off and certainly not possible in my life time," he said. "Until then I'll stick to my trusty diesel."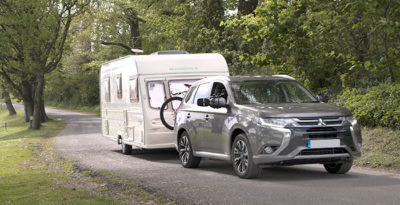 But David shared his experience of towing with a Mitsubishi Outlander PHEV plug-in hybrid:
"It's very disconcerting towing for the first time on electric only, as you can hear so much noise from the hitch, but you soon get used to it.,"he said. "For motorway driving I always select the petrol engine, as that is an efficient use of the engines. For driving through towns, villages and sites I use the electric. Five up it will pull my Elddis in either electric or petrol modes. I'm happy to take the 25 mph hit when towing as I don't do it too often, and can do my daily commute on electric only. Easter 2017 was very wet on the grass pitch I was on and faux 4×4's were spinning wheels even before hitching up. The PHEV has a four-wheel drive lock, and pulling the van away silently through the wetness received many incredulous looks!"
Some voters also voiced concerns about the green credentials of the batteries used to power electric cars.
M Comber voted no, adding: "They haven't got the range and required charging points are not readily available. I am dubious about their green credentials as battery's are notoriously hard to recycle."
Paulus said: "Would have one if it could go far enough, batteries were not expensive and were made environmentally friendly both in manufacture and disposal (which they are not at the moment), and the electricity used to charge the batteries were generated in an environmentally friendly way (which it mostly isn't at the moment) … and, of course, if the cars were suitable for towing (which the information available at the moment says they are not … yet !)"
Over to you…
What do you make of the results and comments? Feel free to share your thoughts in the box below.
Cost to insure: *
---
factfile
| | |
| --- | --- |
| Model | |
| Base vehicle | |
| Axle type | |
| Dimensions | |
| Shipping length | |
| RRP | |
---
Search our blog
---