What a showstopper!
It was another bumper turnout at the Spring Caravan, Camping and Motorhome Show 2018, as caravan, campervan, motorhome and camping lovers flocked to Birmingham's NEC last month.
Our friendly advisers welcomed thousands of visitors to our show stand and gave away lots of Caravan Guard water bottles and playing cards – plus one lucky caravanner scooped a year's free caravan insurance after taking part in our spin the wheel game.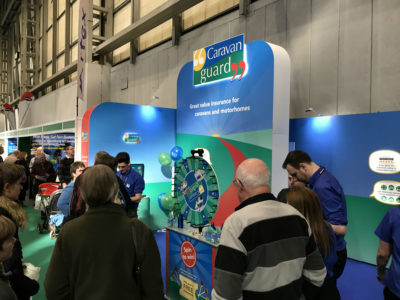 The UK's biggest start-of-season showcase attracted 90,107 visitors over the six days of the show. Here are some of the new caravan and motorhome releases which caught our eye, as well as other highlights…
Bailey's Birthday releases….
Bailey of Bristol is celebrating 70 years of leisure vehicle production and as well as launching their new, second generation Advance motorhome they also brought a bit of history to the show.
Alongside their brand new Pursuit and Unicorn caravans, a 1967 Bailey Maestro T caravan named Gladys was a showstopper.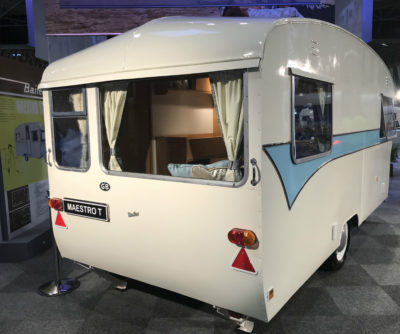 We got an exclusive interview with its owner Lee Davey, who rescued the vintage caravan from a ditch and has spent 18 months restoring it back to glory, with his young son Charlie. As well as adding some modern touches, such as Whale underfloor heating and a Thetford cool box, Bailey has also built the furniture, keeping the original door handles. Click below to watch our video as we get to see inside this fabulous restoration project.
The new Bailey Advance motorhomes also got their first showing at the NEC. Available in a choice of six layouts, including two best-sellers and four exciting new additions, all models in the new Advance range have a MTPLM of up to 3,500kgs meaning anybody holding a full UK driving licence can drive all vehicles in the range.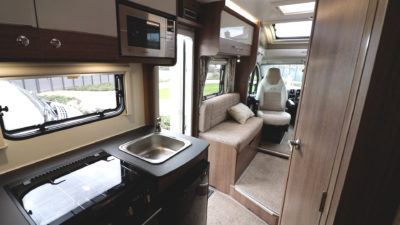 Check out our review of the new 74-2 model, complete with rear transverse double island bed, centre washroom and twin parallel front seats.
A super-wide Sprite
Swift has broadened its horizons and super-sized its offerings with a new 8ft version of its best-selling Sprite range. They revealed the spacious Swift Sprite Super at the show, claiming it will have the widest and most spacious front parallel lounge of any caravan on the market.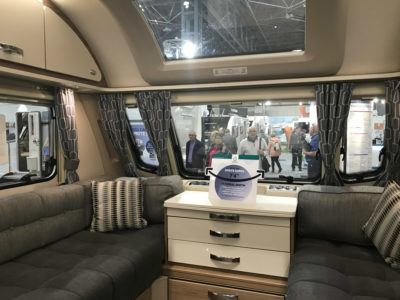 The new Sprite Super is 8ft 1 wide compared to the 7ft 4 wide Sprite and comes amid a growing demand from caravanners for more space.
Lunar's new motorhome and camper
Lunar Caravans unveiled their new Roadstar SB motorhome on a Fiat chassis. Visitors were wowed by its 6ft 3″ fixed beds, a boutique-styled washroom and spacious kitchen and dining area.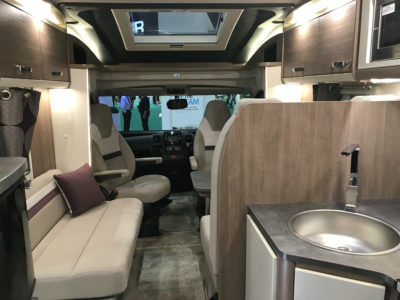 And for campervan lovers, they unveiled the VW Caledonia camper.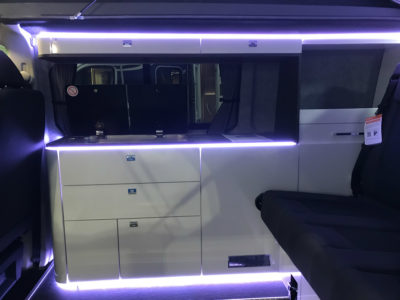 It was a very much a prototype but featured SCA elevating roof, a sliding seat system, 100w solar panel, and factory swivel seats, with a choice of 150ps Diesel or 150ps TSi petrol.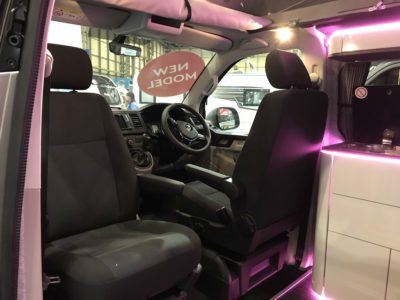 A very important Coachman
Taking a prime position in Hall One was the new five-berth Coachman VIP 570 caravan, promising luxury and a sumptuous interior.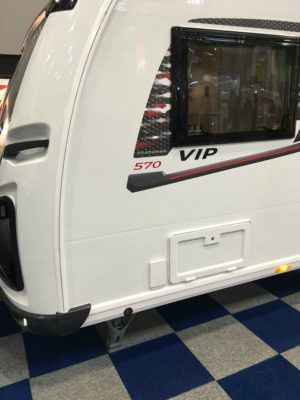 With a generously proportioned kitchen and well-planned living space visitors enjoyed spending time in this flagship VIP range.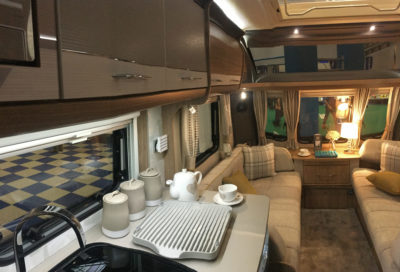 Luxurious end-lounging
New for 2018 the Roller Team Pegaso 745 motorhome has a stunning spacious rear lounge – we didn't want to leave!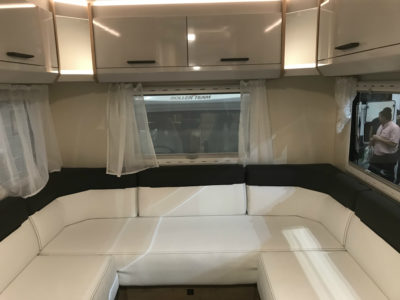 The 745 A-Class motorhome is full of modern design features and is not only luxusrious – it's practical as well, with a drop-down double bed over the cab and that huge U-shaped lounge at the back, with plenty of space to  relax and unwind. The seating also transforms into a second 7ft by 6ft 1″ giant double bed.
Rooftop camping
For those looking for more camping space, the cool i-Kamper made its debut at the show.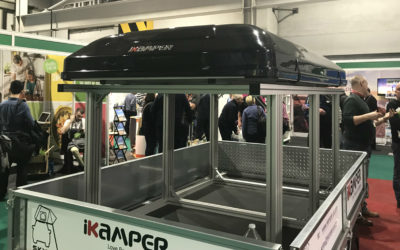 This roof-top tent sleeps four and folds out of a compact roof box, which will fit on to most standard roof bars. Simply flip the lid open and the tent extends up and across your vehicle, a ladder drops down and small poles then lift the tent at the front to gain access. Inside there's also a comfortable padded mattress – it's all ready to go in a matter of minutes!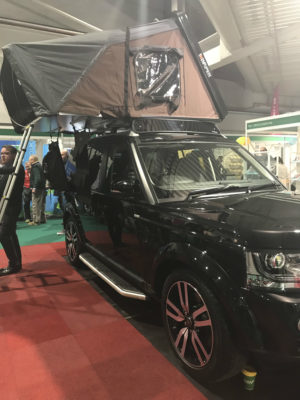 Funky and retro
Other small funky caravans and campers which caught our eye were:
The T@b Mexican Sunset with its bright and colourful exterior and curvy lines!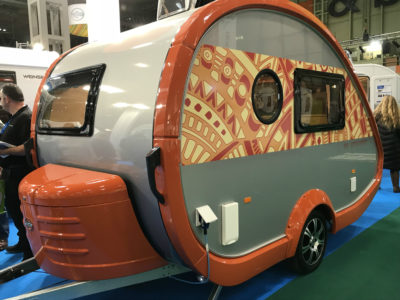 The limited edition Danbury VW T2 campervan – a nod back to the early history of Danbury MotorCaravans.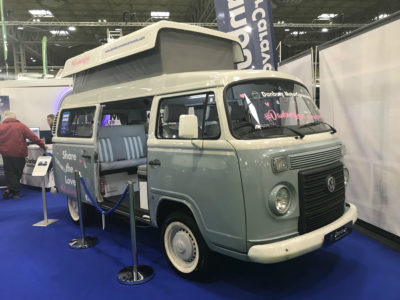 The small and perfectly compact Eriba Rockability with its funky red and white colour scheme – inside and out – attracted many visitors in the camping hall.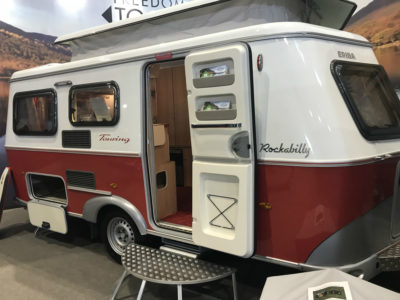 And the Westfalia Keplar Six campervan with its sumptuous interior, complete with LED package, and super glittery paintwork, wowed visitors from across the land!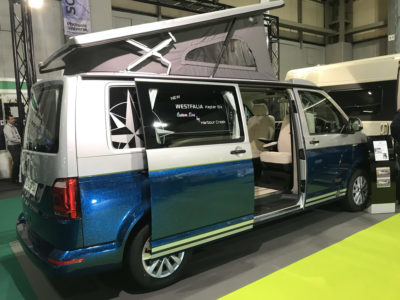 The next big UK show is the Motorhome and Caravan Show 2018 at the NEC from October 16th to October 21st. We hope to see you there!
Search our blog
---