In this video, we go through the insurance discounts we offer to safety and security conscious caravanners.
Here at Caravan Guard, we offer a number of caravan insurance discounts to customers who invest in extra safety and security devices or products to reduce the risk of theft, road accidents or reversing damage.
Caravan security discounts
All touring caravans we can insure need the minimum security of a hitchlock and a wheel clamp, however, if you're able to fit an axle wheel lock, then we can offer a 10 per cent discount on your premium, because of their anti-theft protection. Note an axle wheel lock will also be accepted in lieu of a standard wheel clamp.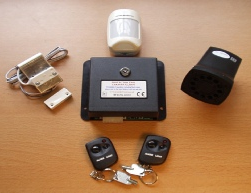 If your caravan already has a fixed alarm or you plan to fit one, you can claim another insurance discount of five per cent. There are many alarm systems available for caravans. The best types of alarm monitor movement inside the caravan using Passive Infra-Red (PIR) sensors and will trigger via tilt sensors if a thief attempts to tow your caravan away.
Approved tracking devices  attract a generous discount on our caravan insurance policy. These devices can help locate your stolen caravan by guiding police to its position using GPS, GSM or VHF technology. An approved tracking device would give a 15% discount.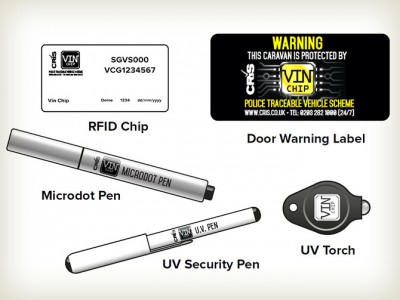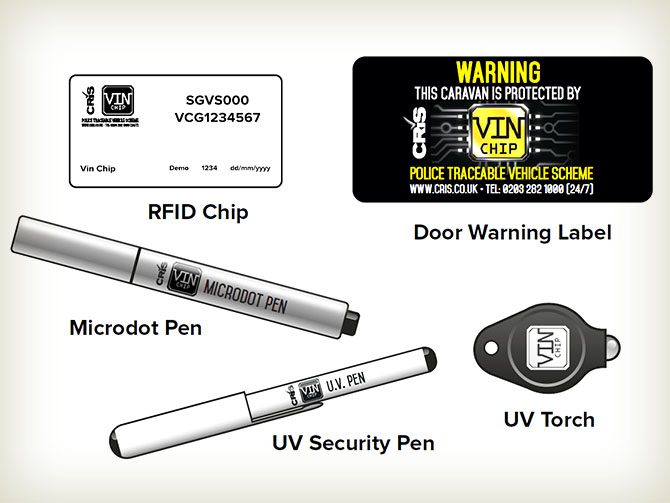 We also offer a five per cent insurance discount for VIN Chip Plus where it's fitted on top of the basic VIN Chip kit found as standard on all new UK caravans from 2016 onwards. VIN Chip Plus provides an extra electronic RFID chip, microdot solution, UV marker and additional tamper resistant labels, all coded with a caravan's unique VIN number. The kit makes it even harder for thieves to hide a caravan's true identity or helps police make contact with its legal owner following recovery of a stolen caravan.
There are other alternative security marking solutions available such as the CRiS Extra/Plus, Data Tag, DNA+ and Micro-Tag, all of which get offer a two-and-a-half per cent discount.
Caravan safety discounts
With your Caravan Guard policy, we offer also reductions for caravan safety devices.
Tyre blowouts can cause serious accidents or damage, so as part of our drive to reward the careful caravanner we offer a five per cent discount for Tyre Pressure Monitoring Systems. Not only is this device something that could potentially save your life and the lives of others but it could also save you money on costly tyre wear and fuel consumption, as well as being better for the environment by helping to reduce CO2 emissions.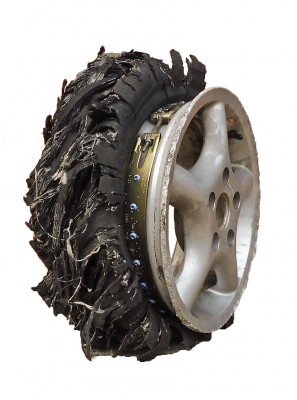 Other tyre safety devices which give you the same five per cent savings include Tyron safety bands and tyre sealant. These products are found within the tyres themselves – the Tyron bands sit in the well of the wheel underneath the tyre and the sealant or slime layers the tyre itself. In the event of a blowout the Tyron bands are designed to keep the tyre in place reducing the risk of control loss whereas the sealant essentially plugs up any punctures with a flexible seal.
We can also give a discount for touring caravans fitted with an electronic trailer control system – also known as an electronic anti-snaking device. The systems such as 'Al-Ko ATC' or 'BPW iDC' work in a similar way to ESP in cars by braking the caravan's wheels if it senses loss of control. This helps to prevent snaking and keep the caravan under control during extreme driving conditions, such as hard braking or swerving to avoid an accident. Many new caravans have such systems fitted as standard. It can also be retro fitted to some caravan chassis.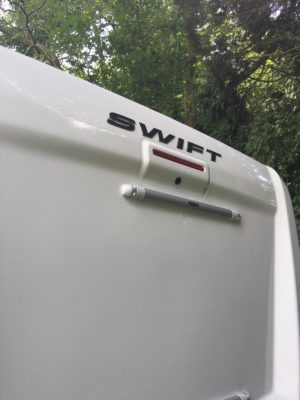 The fitting of reversing aids will attract a five per cent discount off our touring caravan insurance policies. These devices have been found to reduce manoeuvring accidents and come in two forms; a reversing camera or parking sensors.
These are just some of the ways of keeping your caravan insurance premium low. To find out more about our 5-Star Rated and great value touring caravan insurance click here.
*Discounts correct as of 20/03/2018 but may be subject to change. Discounts are subject to terms and conditions, cover level and underwriting criteria. Minimum premiums apply. Caravan Guard Limited is authorised and regulated by the Financial Conduct Authority.
Cost to insure: *
---
factfile
| | |
| --- | --- |
| Model | |
| Base vehicle | |
| Axle type | |
| Dimensions | |
| Shipping length | |
| RRP | |
---
Search our blog
---