Want extra reassurance when it comes to reversing your caravan and help to avoid an insurance claim? How about a camera system?
One of the most-effective caravan reversing systems is also the least expensive (although that might depend on how you look at it). It's a travelling companion who can leap out at the appropriate moment and guide you into place via a system of agreed hand signals and, if necessary, audio back-up!
There are alternatives that involve a bit more technology – and offer just as much peace of mind.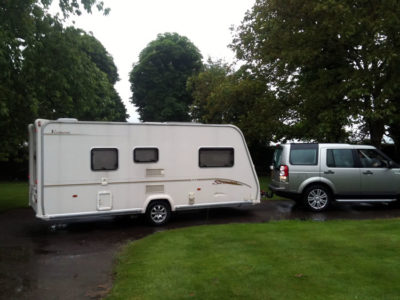 Cabling requirements mean reversing camera for caravans aren't as popular as they should be. Nevertheless, a wireless system is undoubtedly best for a caravan as there's no requirement for cables running between it and the car.
Also, a DW (digital wireless) system should mean no other interference, while a number plate camera means no need to drill any holes in your caravan.
Wireless systems are also potentially a lot less expensive and more practical than wired systems. They have, in the past, tended simply to be not as good. In particular, there was the issue of latency – where the image that appears on the monitor could arrive, critically, too late.
Reversing sensors are a possible, too, albeit with the same wiring issues as cameras. And any connections must be proper and waterproof.
It's the proper cable connections that cost. And it's not a cost most caravanners are prepared to pay. You could consider the DIY route, of course…
But, rear-view camera systems can come in handy for other manoeuvres, too, e.g. overtaking.
Insurance considerations
As reported last month, one of our most common caravan insurance claims is for accidental damage, particularly damage caused when manoeuvring the caravan.
Caravan reversing cameras are designed to give drivers a complete view of what's behind their caravan – helping to reduce that likelihood of having to make a claim. And don't forget, a reversing camera or sensor will get you a 5% discount on your caravan insurance.
Here we look at five caravan reversing systems:
Waeco PerfectView VT100 Camera
Why not use your tablet or smartphone as a reversing monitor? That's what's behind this latest idea from Waeco. The VT100 is a wi-fi transmitter that connects to a Waeco camera, allowing you to then use your existing portable device as a monitor. The only wiring needed is a 12V feed to the camera.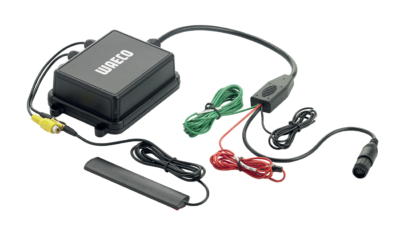 The price below is for the receiver only – it's up to you what camera you choose from the wide range on offer at Waeco. At the time of writing, Waeco said it was hoping for a package price of around £199.
All you then need to do is download the app from www.dometic.co.uk/vt100. There's also a detachable antenna to align.
Price from £99
Key features: Needs just one 12V feed, suitable for all Android/iOS operating systems, 60m operating distance, waterproof to IP65
More info: www.dometic.co.uk
Trailer Vision Digi-Lite Camera
Specialist supplier Trailer Vision claimed a first with this, as it uses DW (digital wireless) technology to keep it free from any unwarranted interference, including Bluetooth devices.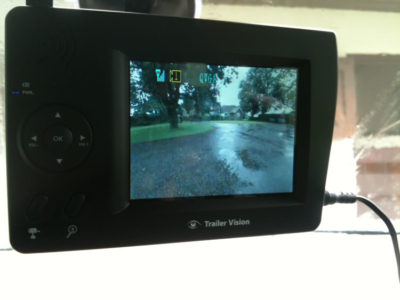 There's also a small, wide-angle camera that's designed to fit in or around the caravan's number plate holder. The camera connects to the DW transmitter via a cable and then both are connected to the power supply.
Price from £329.99
Key features: 3.5in colour monitor with built-in rechargeable battery, dashboard and windscreen mounts, AV out socket
More info: www.trailervision.co.uk
Xvision Caravan Reversing Sensor System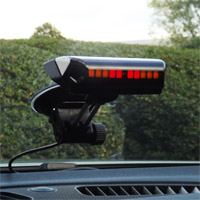 There's no extra wiring needed here, all you need to do is attach the LED display to your windscreen and plug it into the cigarette lighter socket.
It automatically activates when you select reverse gear.
Sensors detect objects up to 150cm from the rear of your caravan and a solid sound is emitted – plus the LEDs light up when you're within 60cm of any object.
Price from £399 (including fitting)
Key features: LED display, ultra-sonic sensors, can be installed on any caravan, three-year guarantee
More info: www.xvisionsystems.com
Autowatch AW3000
There are two units to this system – the transmitter (Tx) and receiver (Rx) – the former connecting to a reversing camera on the caravan and the latter connecting to the reverse wire in the car. When you select reverse, the Tx then sends data back down the wire via your caravan connection plug (seven-pin or 13-pin), which the Rx decodes and sends to the monitor.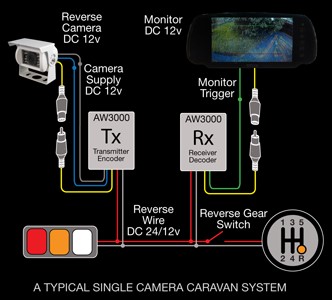 You can also upgrade to a two-camera system – one on the caravan and one on the car (it's also handy when hitching up) – with software switching automatically between the two.
Price from £tbc
Key features: Automatically switches between towing and towed vehicles, easy installation, no extra cables required
More info: www.autowatch.co.uk
RoadPro Reversing Sensor Kit
A four-sensor "intelligent" system with visual display as well as buzzer warning.
It's available in silver, black or white, although the display unit can also be fitted under your dashboard so that only the warning sound is used. Ask RoadPro direct about fitting to your caravan.
Price from £105
Key features: Detection range 30cm to 1.5m, 11m cabling in total
More info: www.roadpro.co.uk
You can also see our guide on reversing your caravan like a pro for more handy tips on those tricky caravan manoeuvres.
Over to you…
Got any advice on reversing systems to pass on to others? Feel free to add your comments below
Cost to insure: *
---
factfile
| | |
| --- | --- |
| Model | |
| Base vehicle | |
| Axle type | |
| Dimensions | |
| Shipping length | |
| RRP | |
---
Search our blog
---