With tens of thousands of new and seasoned caravanners enjoying the great British staycation, not every trip will be trouble-free. All kinds of caravan accidents do happen and more so when the camping season is in full swing.
Common caravan insurance claims
So we've delved into our records to give you an insight into the most common caravan insurance claims we have settled from April 12th and August 31st, 2021.
Our top three types of caravan insurance claims are damage-related – all the more reason to make sure you insure your caravan against the unexpected or those accidental mishaps.
We also take a look at how many theft and road accident claims we've paid out since many UK campsites re-opened after lockdown on April 12th, 2021.
See our full caravan insurance claims infographic, then don't forget to read below to see how you can minimise your chances of suffering a caravanning mishap.

#1 Accidental damage
More than a third of our caravan insurance claims were for accidental damage, making up 37 per cent of settled claims, with an average cost of £1,712! With many more awaiting repair and settlement, these accidental damage claim percentages could go higher.
Bumps and scrapes when pitching up and putting into storage were very common with gates, walls, posts, branches and even a garden rockery causing damage.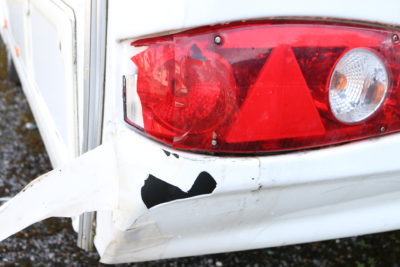 Certain locations seem to be problematic for caravanners, with keypads at storage site entrances causing damage to a few 'vans and two caravans collided with a low bridge.
Two caravans have also been damaged by flying pheasants!
One per cent of accidental damage claims were inside the caravan, highlighting the importance of keeping heavy items down low and remembering that things might have moved around in your caravan lockers whilst towing. We've dealt with a handful of caravan insurance claims for dents in worktops caused by items falling out of overhead lockers!
How can you prevent caravan manoeuvring mishaps?
Many of our readers tell us a motor mover can help to manoeuvre your caravan into the tightest of spaces, trouble-free. Also, check out our guide on reversing like a pro.
Not many owners have them but it's possible to buy caravan reversing cameras or sensors that can help to reduce the likelihood of this kind of damage and will get you a small discount on your caravan insurance.
#2 Storm damage
We all know the weather can turn in the UK, even in the spring and summer months. When it comes to caravanning, the weather accounted for almost a quarter of our claims from April to the end of August 2021.
And the biggest casualty was caravan awnings, accounting for 82 per cent of storm damage claims and highlighting the importance of making sure your caravan insurance includes storm cover for awnings and making sure you've insured your awning for the correct value.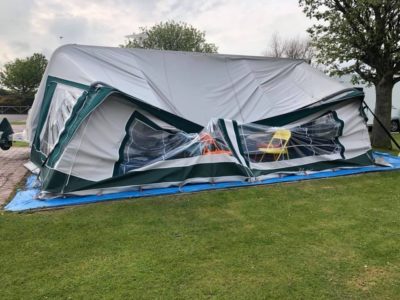 Three-quarters of those damaged awnings were poled caravan awnings, with average claims costs of £1,205!
Hailstones caused £1,295 of damage to a caravan roof, lights and door and four skylights were damaged during windy weather.
How can you prepare for the weather?
Of course, the weather is very hard to predict and therefore such caravan damage is very often unavoidable. It's always worth checking the weather forecast before towing and taking extra care driving in bad weather.
Take down awnings if high winds are forecast and if on a seasonal pitch use awning straps to keep it securely fastened. Also, see our video on how to set up your caravan awning for maximum strength.
#3 Window damage
The third most common reason for putting in a caravan insurance claim was for window damage, making up 15 per cent of settled claims.
As a large area of the caravan is made up of windows they tend to suffer damage from stones flying up when towing, or falling debris such as tree branches when in storage.
However, three windows were damaged when owners were cleaning their caravan!
How can you prevent caravan window damage?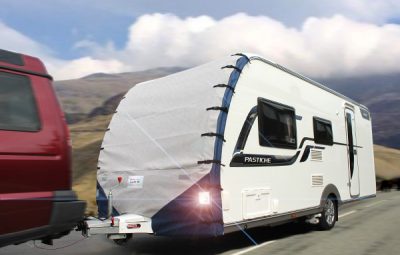 A caravan towing cover will add an extra layer of protection to the front window when towing, and when in storage a caravan cover can offer protection from falling branches and anything else high winds might throw at it.
#4 Theft 
Caravan theft is always a big concern and during this year's touring season 10 per cent of our caravan insurance claims were theft-related.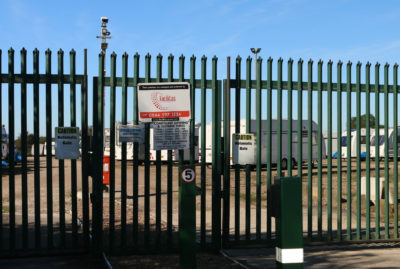 The majority of these thefts are when caravans are in storage, with criminals targeting storage sites. This highlights the importance of making sure your storage site is ultra-secure and regularly monitored by security staff and that access gates are kept locked 24 hours a day.
The average theft claims costs were £16,322.
Windows were stolen from one caravan in storage!
How do you prevent theft?
Stay security conscious, always using your hitchlock and wheel clamps, or axle wheel locks, and do think about fitting extra security. Make sure you activate alarms and tracking devices every time you leave the caravan unattended, particularly when in storage.
Theft protection devices can not only help to prevent someone stealing your pride and joy but will also help reduce your caravan insurance. Here at Caravan Guard, we offer a range of insurance discounts for approved tracking devices, alarms, secure storage, VIN Chip Plus and other security marking products.
Keep valuables locked away and out of sight and always close and lock caravan windows and doors when you go off for the day.
#5 Road accidents
Accidents on the road accounted for seven per cent of caravan insurance claims.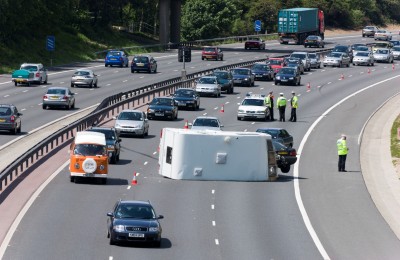 A third of these accident claims were detachments, where the caravan has come away from the towing vehicle car and in a quarter of cases a caravan wheel had come off.
Another third of these claims were for wheel and tyre damage, including blow-outs. We'd urge caravanners to make a PACT for wheel and tyre safety by checking the pressure, age and condition of tyres and the torque of caravan wheels before every trip to prevent these kinds of accidents.
How do I reduce the chance of a road accident?
As well as making sure you load your caravan properly, it's important you have your caravan serviced annually to spot for any signs of wear and tear or loose fittings.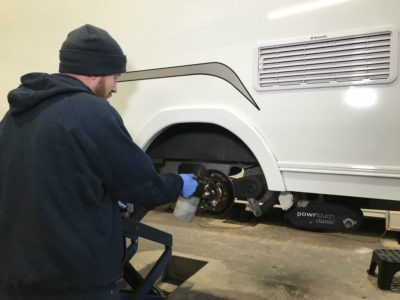 Make sure you check the tightness of your caravan wheel nuts regularly and if you don't already have them, consider fitting some high-performance wheel bolts such as WSL safety bolts to reduce the chances of loosening and wheels falling off.
Always make sure your caravan is properly attached to your tow car and that the breakaway cable is in a good condition and has been correctly fitted before every journey.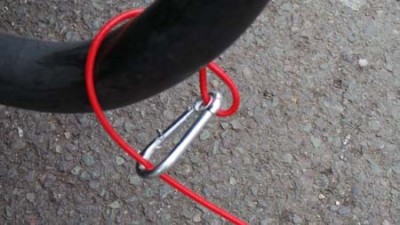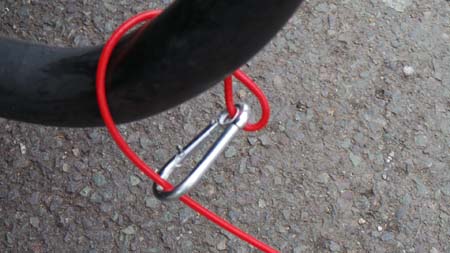 Consider investing in a tyre pressure monitoring system so you can monitor tyre pressures and temperatures whilst on the move. Tyron safety bands can also help you come to a safe stop and reduce damage in the event of a blowout.
If you're off touring during the high season or in the autumn or winter, always take those extra precautions whether it be when towing, moving your caravan in and out of storage, loading before transit, staying security conscious or keeping an eye on the weather!
See how these recent caravan insurance claims compare to a similar period in 2016.

Over to you…
Have you ever had to make a caravan insurance claim? Do you have any other tips for safe and secure touring? Feel free to share your stories in the comments box below.
Cost to insure: *
---
factfile
| | |
| --- | --- |
| Model | |
| Base vehicle | |
| Axle type | |
| Dimensions | |
| Shipping length | |
| RRP | |
---
Search our blog
---