There are plenty of caravan security devices to keep your pride and joy safe from thieves and to prevent caravan theft or a break-in.
And not only will these devices give you added peace of mind – many will help to reduce your caravan insurance premium.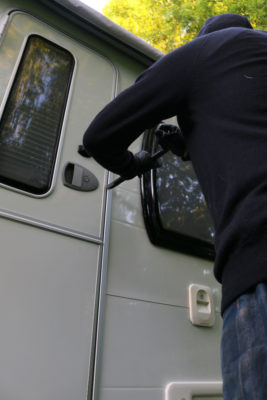 Looking at Caravan Guard's claims figures for caravan theft over the last six to 12 months we've seen a slight increase in theft of caravans, as well as caravan break-ins and attempted theft.
After your house, a caravan and all the caravanning equipment and belongings you take touring will probably be the second biggest investment you make, so it's important to invest in some extra security.
Over the last 12 months, Caravan Guard's Claims Liaison Team has also been dealing with an increase in claims for theft of equipment from caravans and attempted break-ins.
We received reports of thieves stealing all kinds of caravan equipment, including awnings, barbecues, camping stoves, batteries, gas bottles, TVs, satellites, and in some cases the caravan keys. We've even had reports of a caravan window and a quilt cover being stolen! More expensive gadget and leisure equipment that has been taken include bikes, sound systems and laptops.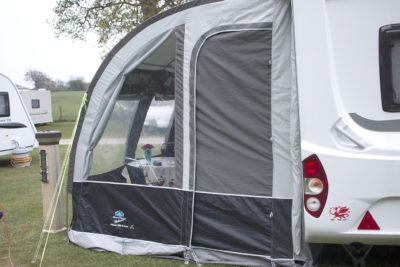 It's certainly important to keep things out of view if leaving your caravan on a seasonal pitch as we've also dealt with reports of theft of furniture from awnings. Plus, always stay alert on your summer touring trips as we often see a spike in theft claims at this time of year.
Caravan storage locations are often a target for thieves so it's also important to make sure you take extra precautions and choose good, secure storage facilities.
Fitting extra security devices will make it harder for your caravan to be broken into or worst still, stolen. Here's an infographic of our ultimate secure caravan and some security tips.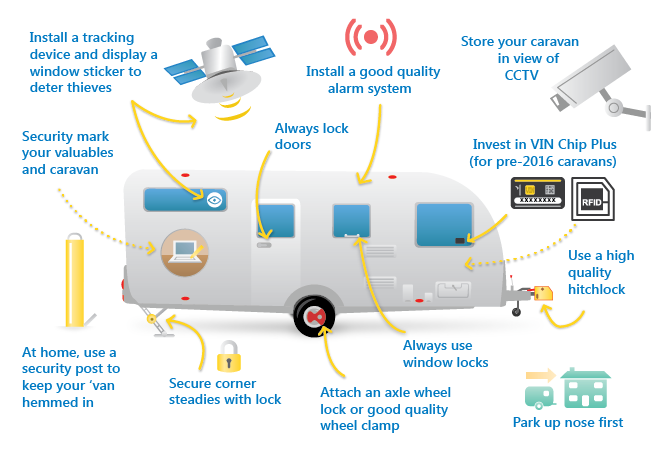 Window and door locks
Look after your door and window locks and always close and lock windows, doors and rooflights when you leave your caravan – even for a short time. There are extra security door locks and security door hand rails on the market that you can retrofit to your caravan, but check to make sure they don't invalidate you caravan warranty.
Approved tracking device
A caravan tracking device will help locate your caravan if it's stolen by using GPS, GSM or VHF technology. Some 'proactive' tracking devices will also tell you if there's been a break in via movement sensors. It's important that you keep your tracking device's registration up to date and keep it activated when in storage or left on a seasonal pitch. Caravan Guard offers a 15% insurance discount for approved tracking devices.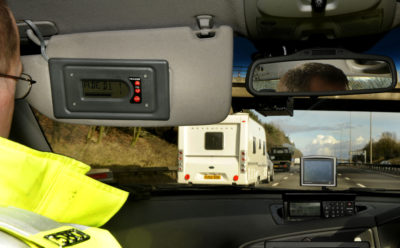 Put up a sticker to warn potential thieves there's a 'tracker' on board.
Caravan alarm
An alarm is a good deterrent for any thief intent on stealing your caravan or your belongings inside. The best caravan alarms monitor movement inside the caravan using Passive Infra-Red (PIR) sensors – making a startling noise when activated. A caravan alarm may also activate using via tilt sensors detecting movement of the caravan itself. PIR or tilt sensor alarms attract a 5% insurance discount. Remember to turn on your alarm whenever you leave your caravan – even for just a short time.
VIN Chip and VIN Chip Plus 
All UK caravans from 2016 are fitted with a basic VIN Chip kit, which uses both visible and invisible markings containing a touring caravan's unique 17 digit Vehicle Identification Number (also commonly known as the CRiS number). Tamper-evident stickers are displayed on windows and gas bottle lockers. The stickers, which are applied on the inside of caravan windows, replace window etching seen on caravans between 1988 and 2015.
If you have a pre-1998 UK caravan, it wouldn't have originally come with a RFID chip. VIN Chip packs can be bought from CriS for £24.99 and include a master window label, gas bottle warning label, RFID chip and 10 window stickers. If your caravan isn't CRiS registered you can get a VIN Chip pack as part of CRiS  registration.
For added identification, VIN Chip Plus offers unique VIN marking for internal and removable items. The kit includes a microdot solution which  contains your caravan's VIN and can be used on any internal surface; a UV pen to mark any items within your caravan; a UV torch; tamper resistant labels all coded with your caravan's VIN, which you place out of sight around your caravan; and additional RFID Chip; and window warning labels which warn potential thieves that your caravan is protected and should be left alone.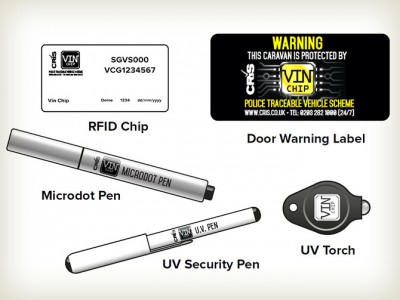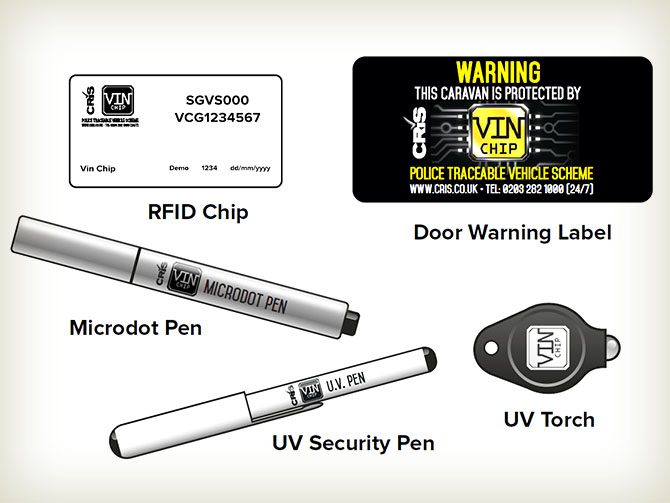 Other property marking
Property marking kits will improve the chances of your valuables being recovered if stolen. Marking is applied either using a forensic microdot solution or using a UV pen. Mark your valuables with your postcode, then if recovered by the police you could be reunited with your belongings. It's also worth registering your valuables at www.immobilise.com to improve your chances of getting them back in the event of loss or theft.
Caravan hitchlock
A hitchlock is a minimum insurance requirement for Caravan Guard policyholders and must always been in place when your caravan is unattended and detached from the tow car. Investing in a high quality hitchlock that meets Sold Secure Standard will give you that extra protection. You can search for Sold Secure devices at www.soldsecure.com.
Wheel lock
Our policyholders must also fit a wheel clamp to their caravan when detached and unattended to comply with our security requirements. But we do offer a 10% discount if you fit an axle wheel lock which fits into the caravan chassis, such as AL-KO Secure. If you buy a traditional wheel clamp, again we'd recommend buying a model with a Sold Secure accreditation.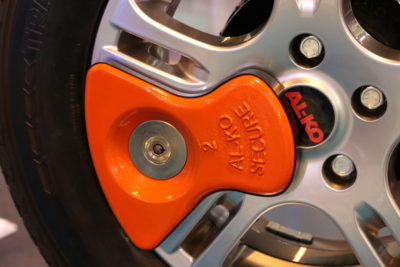 Other crime prevention tips 
Secure storage
Be mindful where you store your caravan. If not at home, we'd always advise choosing a storage location with good security, such as gates that are locked 24/7, or a storage facility with 24 hour access control, perimeter fencing, and CCTV. Storing your tourer at a CaSSoa Platinum, Gold or Silver approved secure storage site will also get you an extra 5% discount.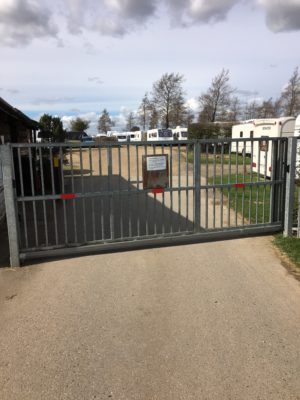 If storing your tourer at home, consider fitting gates at the end of your driveway that can be locked, or investing in a robust security post. And always park up nose first. Remove all your personal belongings and contents when you're not using your caravan and leave cupboard doors and curtains or blinds open.
Secure corner steadies
Think about securing each corner steady by using a specific corner steady lock.
Stay security conscious
Don't let your guard down when on your caravan holidays. We know it can be easy to forget about security when enjoying time away with friends on family in the caravan, but thieves can strike at any time and we do see an increase in theft from caravans at this time of year.
Always close and lock caravan doors and windows when you're away from the 'van and take your keys with you. At home, always keep your caravan keys in a safe place and out of sight.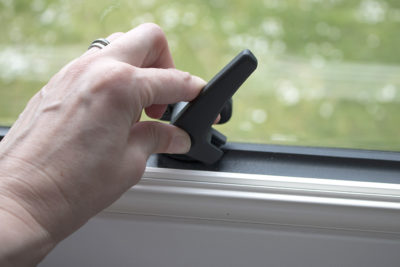 Store any valuables out of view to reduce the chances of a break in. Make sure your hitchlock and wheel locks are on when pitched up and activate any alarms or trackers whenever your caravan is left unattended.
Get to know your caravanning neighbours and keep an eye out for each other. Don't be afraid to report anyone you don't recognise, or acting suspiciously, to the site manager.
Here at Caravan Guard we like to reward the security conscious caravanner with a range of discounts – fitting extra security to your caravan will not only help to reduce your insurance premium but it will also help to protect your investment for the long term. Click here to read more about our discounts.
Over to you…
Have you suffered at the hands of a caravan thief? What security tips do you have to share? As always, feel free to add any comments below.
Cost to insure: *
---
factfile
| | |
| --- | --- |
| Model | |
| Base vehicle | |
| Axle type | |
| Dimensions | |
| Shipping length | |
| RRP | |
---
Search our blog
---