There's something in the air
Things continue to move apace in the inflatables sector of the caravan awnings market, with yet more innovative models being announced for the 2019 season. Here, we've picked out four.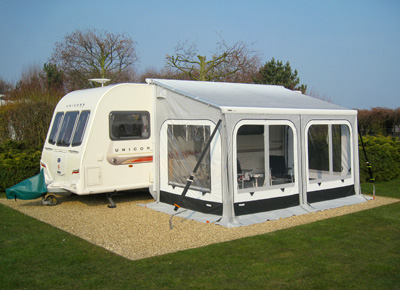 Do your research before buying a caravan awning
There's no doubt buying an awning can significantly enhance your "leisure experience", but it's worth taking time to select the right one for you. Even after you've bought a caravan awning, it helps to familiarise yourself with how it works to avoid extra stress when you actually arrive on site.
Our top awning buying tips
If you want a better bargain, look for "bundles" that include an awning and any number of extras, such as carpet, verandah pole, footprint, lighting and more.
Consider storage. Inflatable awnings tend to be bulkier than their more traditional equivalents where the poles and the fabric can usually be kept apart for storing.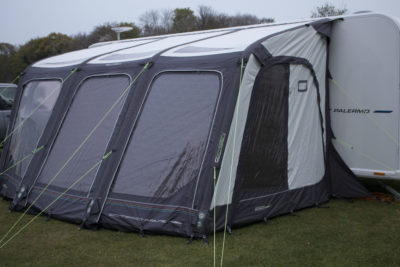 Most brands have videos with helpful tips and guidance. It's definitely worth striking up a dialogue with local specialist awning retailers too – especially any where you can see awnings set up on display.
You can also research caravan awnings on campsites. Ask the owners…and indeed any site staff.
Putting a groundsheet and/or footprint in place before setting up your awning will help prevent it coming into direct contact with the ground.
Removing any zip-out panels before putting up your caravan awning will make it easier to handle.
A spot of washing-up liquid will offer some vital extra lubrication to your awning rail. Be careful not to get any on the fabric, though.
Caravan insurance considerations
Our caravan insurance policy covers any damage to your awning or worse still if it causes damage to your caravan during stormy weather from a something like a wayward awning pole.
One of the benefits of an inflatable awning is the likelihood of less damage when caravanning in windy weather. Although it's always a good idea to take down your awning if stormy weather is forecast.
Just remember to make sure you include its value in your equipment when taking out a caravan insurance policy.
Star Player #1
SunnCamp Icon Air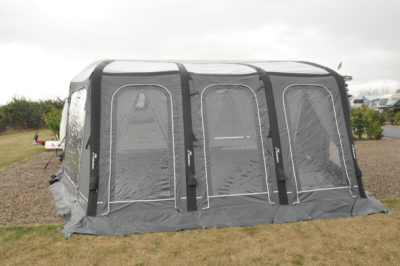 SunnCamp is among a growing number of manufacturers looking to produce a full awning using inflatable technology, after a considerable amount of development time.
So, you get heavier duty features such as the 300 denier fabric with a high hydrostatic head (i.e. waterproof) rating of 6,000mm. It's pretty lightweight, too – typically, 43kg for a size 14 – but you'll need to bear in mind it's a pole-and-fabric in-one package as far as storing is concerned.
Access is via two side doors, two angled side doors and three front doors. As well as being a full awning, it has a slightly unusual 325cm depth. There's the option to add an inflatable annexe either side (or both), for sleeping or extra storage.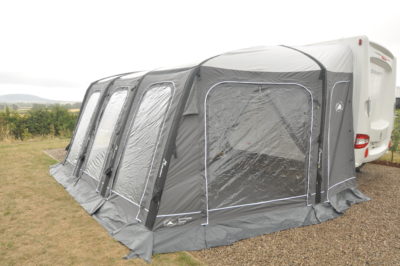 Just note, despite all the space and insulating abilities of being a full awning, because it's an inflatable it's not suitable for long-term pitching.
Key features: Single-point inflation, 300D Pro-Tek fabric, dual-pitch roof design, vertical storm pole pockets, zipped curtains, night-visibility guylines, storm buckles and straps, rear weather poles, draught skirt with pockets
Expect to pay: £1,265 (size 11)  £1,465 (size 18)
For more info: www.sunncamp.co.uk
Star Player #2
Kampa Club Air Pro 390
This new-for-2019 model is called the 390 because that's the number of centimetres of rail you'll need to attach this to your caravan – yet it comes complete with a side extension. Indeed, that extra section can be ordered on the left or right hand side.
The extension means oodles of extra storage space. Or you can add an inner to turn it into a bedroom. Or take out its wall panel so the whole of this awning is devoted to living space.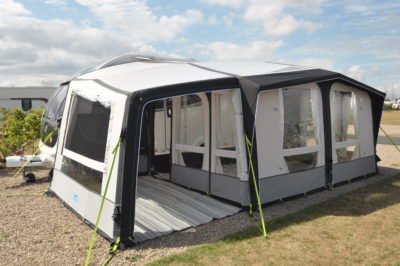 Also new is the front door design. Its two panels can be rolled back for doorways, while the window panels can be part-opened for a veranda effect. Plus, there are central permanent vents.
Its main fabric is a polycotton, which often has a more pleasant ambience compared to all-polyester.
Other extras to consider here include a conservatory, mesh panel kit, rear upright poles set, carpet and hanging rail and an extra-tall windbreak.
Dimensions when up are 580cm wide x 275cm deep. It weighs 41kg and you'll need a fixing height between 235cm and 250cm.
Key features 300D Weathershield Pro fabric (with 6000mm hydrostatic head), pre-shaped beams, side doors with mesh panels, short canopy.
Expect to pay £1,750
For more info: www.kampa.co.uk
Star Player #3
Outwell Cove 340A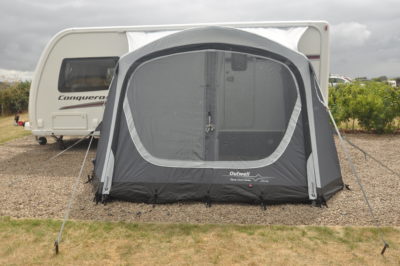 An all-new, starter model in Outwell's Nordic Coast collection of inflatable awnings is the Cove 340A. This is a neat little porch awning that fits the bill if you want convenience and just a day room/storage area.
Dimensions are 340cm wide x 250cm deep, with a fixing height of 240cm-255cm, and it weighs 13.8kg. Fabric is Outtex Peak 100% Oxford polyester with polyurethane coating and taped seams for optimum waterproofing.
Among a number of innovations, the pole-free rear uprights system keeps the awning tight to the caravan sides without the need for metal poles. Features like pre-shaped tubes (for full standing height throughout), tinted windows (for extra privacy and escape for the sun's glare) and attached storm straps with reflective detailing help keep this awning a cut above the rest.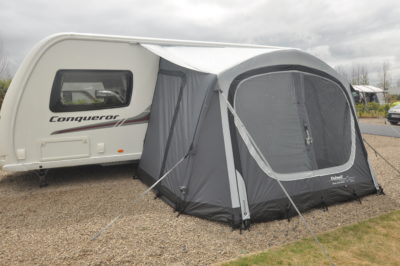 Options include Sailshade canopies in a choice of two sizes, roof lining (to block off the heat), and blocks to adapt the height at the foot of each beam in order to get your awning perfectly level.
Key features: Power Air System single-point inflation, Outtex Peak Oxford polyester fabric, a removable front wall, side door rain shield, PVC draught skirt.
Expect to pay £550
For more info: www.outwell.com or see our video demonstration from the Motorhome and Caravan Show 2018 below.
Star Player #4
Vango Montelena 400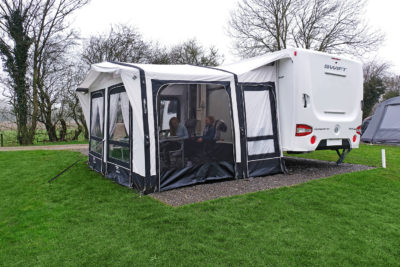 Another new model for 2019, this comes in at the top of the Vango range. It boasts a traditional look but is packed with modern-day features, not least the Sentinel Luxe Taslan double-weave ripstop fabric, which claims to be fully water and windproof, as well as UV-resistant capabilities.
Unlike so many, it comes with steel ground pegs for pitching on hardstandings. It also has a SkyLiner ceiling as standard, to provide a bit of insulation from cold/heat as well as reducing the effect of the condensation that can build up in an inflatable awning. Meanwhile, the pole-free Draught Free System provides a snug fit of awning to caravan without the use of metal poles, while the adjustable pegging design means even pitching on any surfaces.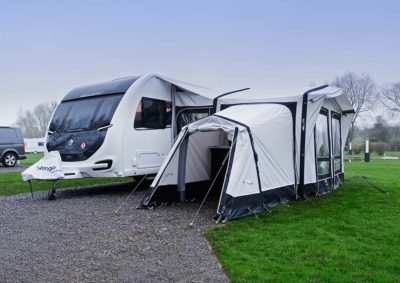 Other features range from rain protection over the main doorways, to skylight windows, SkyTrack (for adding lighting or storage pockets), reflective webbing straps and more.
Dimensions are 400cm long by 300cm deep. It weighs in at 37.1kg. Side mesh doors are among the options, as are side annexes and free-standing bedroom inners.
Key features: Pre-angled beams, zipped curtains, PVC mud strip and draught skirt.
Expect to pay £1,200
For more info: www.vango.co.uk
Over to you…
Got any caravan awning stories you'd like to pass on to other Caravan Guard blog readers? Please feel free to add your comments below.
Search our blog
---