Fresh snow, temperatures below zero, and après-ski. Not usually the first thing you'd associate with a caravan or motorhome holiday, but even so, winter camping is very popular.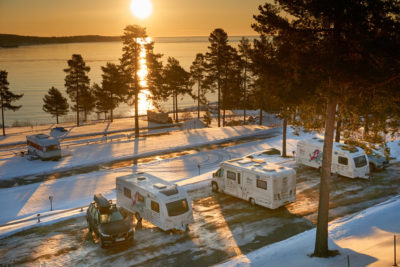 Many campsites in the famous ski resorts are winterproof and centrally located to surrounding villages, making them ideal for quick grocery stops.
The campsites themselves often have a fairytale backdrop, and with a caravan, motorhome and campervan, you have everything at hand. So all you skiers and snowboarders: pull on your goggles and experience a cool winter on the campsite!
Here's what Dutch campsite specialists ACSI have to say about heading for some winter adventures in your caravan or motorhome.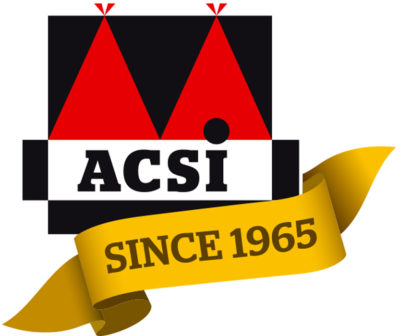 Camping in the snow is definitely a very special experience. In the mornings you step out of your motorhome or caravan, inhale the wonderfully fresh mountain air and enjoy the picture-postcard view. For children, winter camping is also an incredible adventure. For them, the campsite is one huge outdoor play area.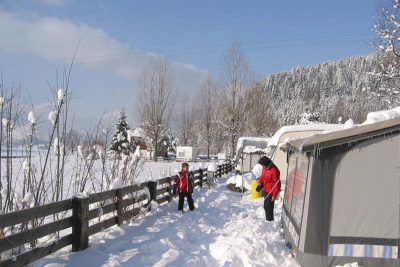 Let the grand adventure begin
Winter camping is still camping, but it's a considerably different experience to caravanning or motorhoming in the summer.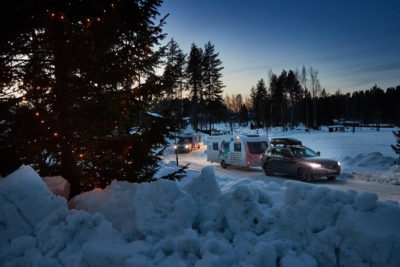 You'll probably also be outside all day, but you'll spend less time at the campsite. And when you are on the campsite, the staff there make sure it's as pleasant as possible. This means that:
• The sanitation facilities are heated
• Skis are available for hire
• The stop for the ski bus is within walking distance
• You can use an indoor communal space, for example to dry your things
• The campsite often holds fun activities, such as a campfire with a glass of mulled wine or an exciting sleigh ride in the dark!
• The owner usually has a tractor at their disposal, to help campers get to their allocated place without them slipping on the ice!
ACSI's top tip: Campsites with winter camping facilities are often busy in the high season. Reserve your space in good time.
Winter touring tips 
If you're taking your own motorhome or caravan to the snow, it's good to consider a few things in advance:
A properly working heating system is vital, so make sure you test it before departure, or book in a habitation service before you go to make sure the heating and everything is in good working order, such as your leisure battery.
In the winter you probably won't be sitting in the awning – unless you have heating in there – but a small porch will give you that extra space for storing skis and wet shoes. Remember to bring awning pegs that are suitable for frozen ground.
Leave with two full cylinders of propane gas, as propane also stays liquid in hard frost. The other type of gas, butane, can freeze when the temperature drops. Most winter campers manage approximately one to one-and-a-half weeks with two gas 11kg cylinders. Also check that the gas hose is not damaged and  remember that Calor gas cylinders are not available in mainland Europe, so you either need to stock up before you go, or switch to a new regulator and cylinder set-up.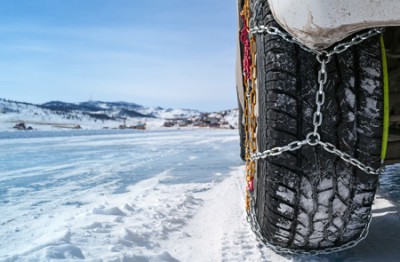 Snow chains are obligatory in many European countries. Look out for the signs and practice putting these on a few times before leaving so you don't get caught out!
For better traction, winter tyres for your tow car or motorhome are also obligatory in some European countries, such as Austria, Sweden and Germany. Don't forget to check your tyre pressures (including the spare), and watch your speed, of course.
Take a floor mat or a rug if your caravan or motorhome has no carpet. It's nice when you get out of bed in the morning. There are even special heated mats available that work on electricity.
Take a hairdryer, as they can come in handy when you need to defrost something. But only if site's mains electricity has the amperage…you will be in big trouble with your neighbours if you trip the electricity supply!
Rub in talcum powder in the rubbers of doors and windows regularly. This might help prevent them from freezing closed.
Keep water carriers off the ground, in the awning or insulate it to help stop if from freezing.
Check for snow on the roof before you go out on the road.
Make the most of the low-season
Want to enjoy camping in winter, but don't want to spend too much? Why not go camping in Europe with the CampingCard ACSI. You pay just € 12, € 14, € 16, € 18 or € 20 per night. This discount card saves you up to sixty per cent on your camping pitches in the low season.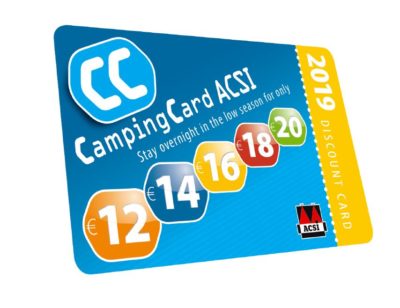 In 2019 you can use this discount card at more than 3,400 different campsites! To order the guide and corresponding discount card visit www.ACSI.eu/caravanguard.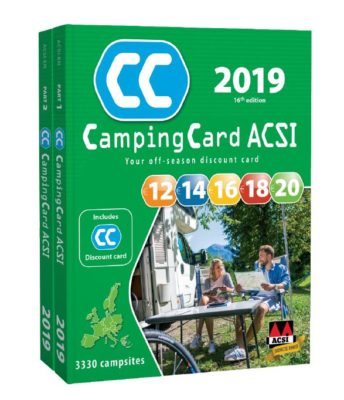 Cost to insure: *
---
factfile
| | |
| --- | --- |
| Model | |
| Base vehicle | |
| Axle type | |
| Dimensions | |
| Shipping length | |
| RRP | |
---
Search our blog
---