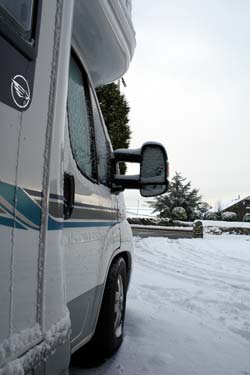 For the parts of Europe which receive heavy snowfall every year, winter tyres are required to be fitted by law, and as such every car on the road is better equipped to drive safely in all weather conditions, including snow and ice.
The UK weather is a little less predictable though, and as such the fitting of winter tyres is not required by law and is something which only a small minority of people choose to do. However the benefits of fitting winter tyres is huge, with a massive improvement in steering control, acceleration and, most importantly, stopping distances when compared to the regular low tread 'summer' tyres fitted to most cars and motorhomes.
Anybody that has tried to drive a motorhome off a wet grass or muddy pitch will be able to vouch for the lack of grip provided by regular motorhome tyres in anything approaching slippery conditions.
However it's important to remember the difference between true "Winter tyres", which should only be used below a specific temperature (often between 7 and 9 degrees), and "mud and snow" tyres which are really "all weather" tyres, and can be used in warmer conditions too – making autumn and winter touring in the UK much safer for you and your passengers.*
Plus if you intend on travelling to Europe in your motorhome during the winter months, or visiting more mountainous regions at any time of year, then winter tyres can be an essential purchase for ensuring you can drive safely in all conditions. Also as previously mentioned winter weather tyres may actually be legally required by certain countries during winter months, so be sure to check local traffic laws before crossing the border without the suitable tyres fitted.
Winter tyres don't come cheap (what tyres do?) A set of 4 is likely to cost upwards of £500 with fitting for a typical motorhome base vehicle such as a the latest Fiat Ducato.
However, winter tyres can be used for a number of years as they only need to be fitted for the 4 to 6 months of the year which give us the worst of our weather. When not in use they can simply be stored safely in your garage or loft. In other words you can spread tyre wear between your regular set and winter set of tyres so especially if you plan to retain your motorhome for a number of years your overall tyre costs may not massively increase.
It is important to remove winter tyres when the bad weather ends though as they will wear quickly in warmer conditions and that could prove expensive.
If you're unsure what winter tyres fit your motorhome then the Michelin website has a useful tool to help you choose the right set: http://www.michelin.co.uk/tyres/van-motorhome-tyres
Not all motorhome types are listed though and obviously only Michelin tyres are recommended so our recommendation would be to speak to your local motorhome dealership (or the dealership where you purchased your 'van) about which winter tyres would be best.
For anybody that has never driven a vehicle fitted with winter tyres in wet or icy conditions, the improvement in control is something which has to be experienced firsthand, and an investment that we think few people will regret.
*This paragraph was edited on the 23/01/13 to make clearer the difference between "Mud and Snow Tyres" and "Winter Tyres".
Cost to insure: *
---
factfile
| | |
| --- | --- |
| Model | |
| Base vehicle | |
| Axle type | |
| Dimensions | |
| Shipping length | |
| RRP | |
---
Search our blog
---