Caravan insurance
Specialist cover with big discounts for careful owners
Fantastic value and great benefits
As a customer, we'll make sure you get the best value caravan insurance deal and discounts you deserve. Caravan Guard offer low prices to reward our careful owners.
95%



We have 693 feedback comments on independent review site ReviewCentre.com, with 95% recommending Caravan Guard for our exceptional customer service and value for money.
(Updated 06/09/2023)
Award winning
Caravan Guard give you friendly expert advice from our Yorkshire based team. Our award winning training programme for advisers ensures you receive great customer service.

View all our awards and commendations here
9 /10

Our claimants rate our overall claims service 9/10 on average!
A huge help from start to finish. Great customer service and so comforting that my caravan is insured with you.
Mr Stell, South Yorkshire
28/04/2017

Plain English policy

Confidence in a trusted family business




Number one for service and value

Safe and Secure online quotes

Member of the National Caravan Council
Extensive cover
Caravan Guard's 5 Star rated tourer policy comes with the reassurance of extensive cover backed by a leading UK insurance provider,
(Royal & Sun Alliance Insurance Ltd).
You can tailor your levels of cover with options to suit your needs.
Extensive cover whilst touring or in storage
Reassurance of cover for fire, theft, storm, flood and accidental damage.
Awning storm damage
Cover for both your caravan and awning if damaged by bad weather.
New for old option up to 15 years old
Enjoy a new caravan and equipment if yours is damaged beyond economic repair or stolen
Highly rated claims service in the UK
Our experienced team of experts at RSA will settle your claim quickly and efficiently.
Protected no claim discount option
Help to keep your premiums low, even if you have to claim.
24 hour emergency assistance and recovery, even when abroad
When crisis strikes a specialist team will always be on hand to help.
Legal expenses cover option up to £100,000
To pursue injury, consumer and employment claims and recover uninsured losse.
£5,000,000 public liability cover
Protection for legal claims made against you following accidents, injuries or damage.
Emergency accommodation or caravan hire options
Benefit from up to £100 a day for 30 days so you can continue your holiday.
European cover options*
Enjoy the freedom to take trips abroad for up to 180 days, or pay to extend this up to 240 days.
Ill driver cover
Including getting your caravan home from anywhere in the UK if the only driver falls ill.
Flexible excess from £100
You can increase your excess to reduce your premium.
£25,000 fatal accident benefit
A little extra peace of mind provided by a lump sum payment.
£500 locks & keys cover for caravan & security devices
Stay secure with replacement locks and keys following loss or damage.
Family and friends
Feel free to loan your caravan knowing that the same extensive cover applies.
14 day money back guarantee (subject to no claims)
Our plain English policy comes with the reassurance of a satisfaction guarantee.


Plus, for every paperless caravan policy we provide, we will donate £1 to our chosen charity – Heart Research UK.
This website provides a brief summary of the policy cover and options that are available to you. Your schedule will confirm cover features and levels applying. Benefits and discounts are subject to change and are subject to terms and conditions, cover level and underwriting criteria. Minimum premiums apply. For more information you can download a specimen policy or policy summary from our touring caravan insurance documents section. New for old option available on fifth wheelers up to 5 years old only, and the alarm, axle wheel lock, anti-snaking device, security marking, tyre safety and reversing aid discounts do not apply to fifth wheelers.
I'm with Caravan Guard because...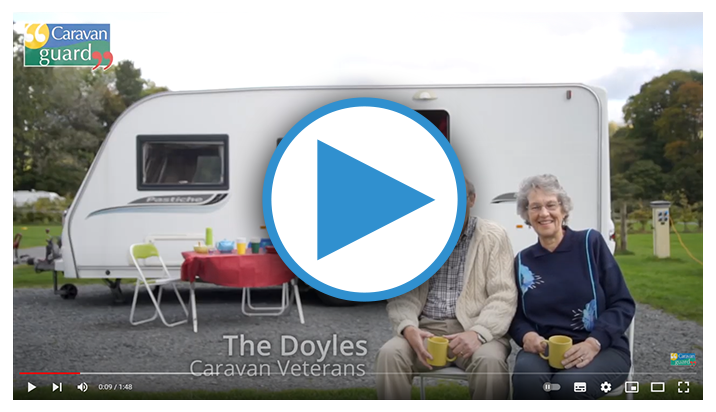 Watch our video and see what our customers think



"Platinum standard service"



We were unfortunate recently to have our porch damaged beyond economical repair. We decided to place a claim against our insurance to have it replaced. We contacted the claims dept on 19th May at about 09:30 am. We provided the information requested, and we were advised that we would be contacted within 24/48 hrs.

On the 20th at 10am or thereabouts we had the word that the claim was approved. By 3pm, we had our replacement ready for our next trip out. That can only be classed as PLATINUM standard service. The claims handler Cheryl was extremely professional when dealing with our claim, taking us through the process effortlessly.

We are now in our fourth year with CG it's our first claim but be sure we will always recommend them when ever we can.

Mr Carter, Flintshire
Don't take our word for it
Our guide to insuring your touring caravan
Why is having insurance for your caravan a good idea?
A specialist insurance policy ensures that in the event of the caravan being badly damaged or stolen you aren't left out of pocket.
What to look out for when buying insurance
What's covered? Our policy covers you for damage to the caravan itself, plus fixed kitchen equipment such as fridges, freezers and cookers, as well as 'caravan equipment' which includes things such as Aquarolls and security devices, and any items which are used solely in the caravan, such as televisions or radios.
Removable items such as clothes and toys are known as 'personal possessions' and are often covered by your household policy. These can be covered on our touring caravan policy but be sure to check with your home contents insurer first to avoid paying for the same cover twice.

High risk items such as laptops, tablets, e-readers, MP3 players, fishing equipment, and pedal or electric cycles cannot be covered on this policy.
'New for old' cover means that if your caravan is stolen or damaged beyond economic repair you will be provided a brand new caravan of the same or equivalent specification. Our policy offers replacement with new cover for caravans up to 15 years old.
We offer excellent security discounts for satellite tracking devices, alarms, axle wheel locks and secure storage sites.
Does my car insurance cover my caravan?
In the event of a road accident whilst towing your caravan which is your fault, your car insurance only covers you for damage sustained to a third party, it does not cover any damage sustained to your caravan. Also your caravan is just as likely to be damaged or stolen when detached from your towing vehicle - and in this instance there is absolutely no cover provided by a car insurance policy.
Get a
quote
Call
us
Retrieve
a quote
More reasons to choose us
Number one for service and value
Reassuringly good cover from a leading insurer
Award winning company
Safe and secure online quotes
Confidence in a trusted family business
Highly rated claims service
Money back guarantee
Member of the National Caravan Council
Heart Research donation for every paperless policy
Plain English policy and documents
Great value for money