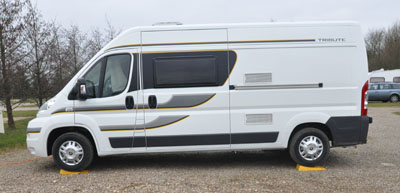 Just take another look at price tag in the proverbial window. At £34,995, nothing else gets near this for a brand new high-top van conversion. Indeed, it would surely be churlish not to request the £995 cab air conditioning option. It's not even as if it's a meaningless "starter" price to which you're expected to add all kinds of options packs to make it a feasible package. Nope, it all adds up here, right from the start.
In fact, apart from engine and transmission upgrades, the only other key manufacturer-supplied extra is the facility to add a second double bed at the rear, at £295, and make this a full four-berth. Second? Yes, this is a rather unique layout that can happily seat four for travel – thanks to a half-dinette behind the driver – with a central kitchen and washroom, topped off with a "permanent" transverse double bed at the back.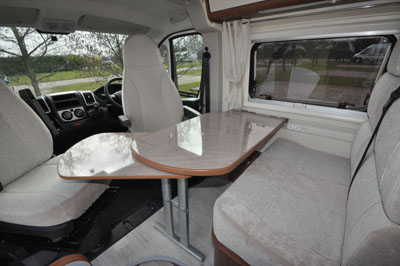 For those that don't know, Tribute motorhomes are marketed and distributed here in the UK by Auto-Trail, both marques being part of the extensive Trigano empire. If Auto-Trail stands for premium British coachbuilts, Tribute plays the budget card with aplomb. Whilst the 669 is the sole high-top van conversion available, there's also a line-up of six Ford Transit-based coachbuilts in the UK Tribute stable. Again, it's the 669 that's the exception, as it's the only UK-bound Tribute that's made in Italy.
There's little compromise on the base vehicle here. It gets Fiat's excellent 2.3 litre engine in 130bhp guise with six-speed gearbox, while the front bumpers are colour-matched to the rest of the white exterior. OK, the door mirrors have to be adjusted manually, although a bigger concern may be foregoing a passenger airbag.
Inside, all efforts are made to provide the key components of any motorhome. The lounge – both cab seats swivel to face the rear bench – gets a side-fixed table, while 'amidships, the kitchen cuts across the sliding door entrance, leaving some space to manoeuvre past as long as you don't have the extension piece up; indeed, this, and the table extension, may be great for the extra worktop they provide, but they do make things a tad tricky for moving about.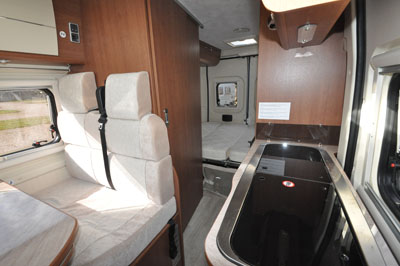 Specification is pretty good, however. There's a Smev two-ring hob and sink in stainless steel, with a separate Smev grill/oven. Opposite the kitchen, the washroom cleverly makes the most of the space available by offering a sliding sink that stays out of the way when other ablutions are being performed.
Heating and hot water are via Webasto's excellent Dual Top unit, operated off the base vehicle's fuel supply system.
The bed's a slightly short 1.83m but reasonably wide 1.40m, and the mattress sections are certainly more comfortable than what you're going to get from a bed made up from daytime seating. Storage space generally is at a bit of a premium, but the wall-mounted main clothes locker over the bed is a neat bit of thinking.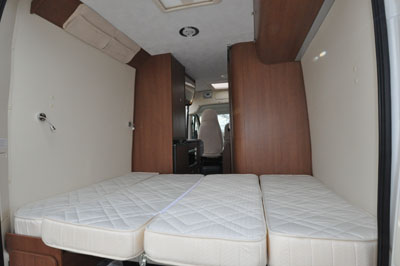 Plus, the bed framework and mattresses here are such that it can all be tucked away to leave the kind of luggage area suitable for transporting bikes and the like. All that's missing here are some suitable retainers and/or strapping.
The pricing strategy shows in the furniture and fittings, however. It's pretty frill-free, with rather lightweight plastic mouldings and basic furniture construction. Dare we complain at this price, though? These 669s are already proving strong seller, so arguably it's the customer that's right.
Verdict: You can forgive so much at a price like this
Plus: Amazing price, 130bhp engine, full right-hand drive conversion and Webasto heating
Minus: Quality compromises, ergonomics issues
In a nutshell: Great value, but with some drawbacks
Cost to insure: £290.50*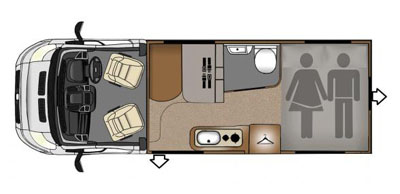 In summary:
Tribute 669
Based on Fiat Ducato, 2.3-litre, 130bhp, Euro V
Dimensions 5.99m L x 2.05m W x 2.68m H
Maximum weight 3300kg
Payload 500kg
Key options: Cab air conditioning £995, Comfort-Matic automatic transmission £1,420, second double bed £295
Security and safety Central locking to all doors, ABS, driver's airbag
MPG estimate 23-27
Recommended Retail Price from £34,995**
*Motorhome insurance cost based on Tribute 669 retailing for £34,995. Fitted with standard security. UK travel only. Kept on driveway at home at TD9 8ED. Motorhome owners
– teachers both over 50 years old with no claims, convictions or health conditions in last 3 years. 4 years no claims bonus mirrored from car policy and 2 years motorhome driving experience. Members of motorhome club doing less than 5000 miles annually. £300 excess applies. Quote correct as of 20/05/2013.
**Price is ex-works, includes VAT at 20%, but excludes delivery, installation and any other costs as determined by the manufacturer, distributor, dealer or park owner. Please check the price carefully before you buy as it can vary considerably dependent on many factors including the geographical location of your chosen park.
For everything you need to know about Tribute Motorhomes visit www.tributemotorhomes.co.uk
Cost to insure: *
---
factfile
| | |
| --- | --- |
| Model | |
| Base vehicle | |
| Axle type | |
| Dimensions | |
| Shipping length | |
| RRP | |
---
Search our blog
---