Pure choice  
There's some radical stuff to come for season 2017 for Autocruise, the biggest van conversion brand in the UK. Parent company Swift has completely overhauled its Autocruise offerings, claiming it's set to redefine the panel van market.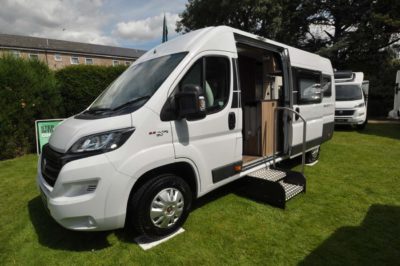 In particular, the different approach means Autocruises can also offer attractive starting prices – starting out from £36,000 on-the-road. That's thanks to a new policy of providing a choice of four upgrade Packs – Driver's, Vogue, Living and Luxury, as well as further individually priced options. There's too much to list in each "pack" here, suffice to say it's a mix-and-match approach that will prove severely tempting.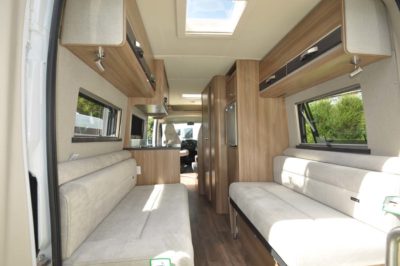 This, the 184, tops what will be a four model range for the season ahead. It's effectively a straight reincarnation of the previous Forte, which started at £49,300, albeit there's far more choice in terms of levels of overall specification. It's hard to envisage anyone buying the base model – attractive as the new £38,500 headline price is. The key is right there in the name for the 2017 range – Select.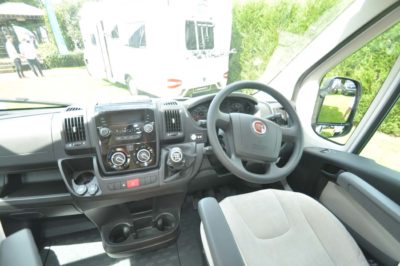 As well as the travel seat, the Select featured here has the 130bhp engine, Driver's Pack and Living Pack options – taking it all to a more "realistic" £44,570, whilst still leaving a healthy 577kg of load margin.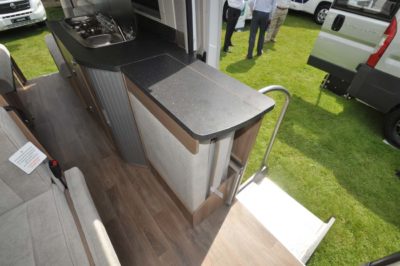 Based, like all new Autocruises, on Fiat's highly popular Ducato, there's also the line-up of Euro VI engines to consider, starting with a new 115bhp unit as standard. The 184 uses the extra-long Ducato and comes with a floorplan comprising front and rear lounges, the latter two settees facing each other that convert easily enough into a double bed that's 1.86m x 1.20m. However, it's not a full four-berth as standard – if you want the forward-facing seat in the front lounge to be suitable for passenger carrying, it's a £1,395 extra that also adds some 80kg to the mass in running order.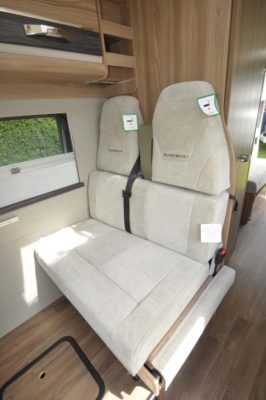 If you want metallic silver paintwork rather than the standard white, it's part of the Vogue Pack.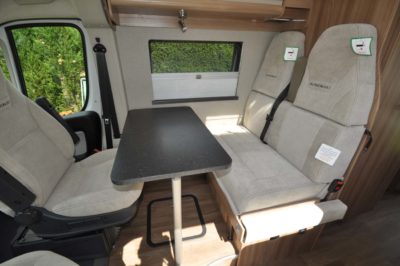 Cab highlights include the captain's style swivel seats with single armrests. The rest is familiar Fiat Ducato, with cup holder central console. Air conditioning, cruise control, passenger airbag, even seat upholstery and more, are all part of the Driver's Pack. Don't forget as with all 2017 Swift motorhomes, the Select is fitted with the Swift Command Tracker which promises buyers, who pay a £95 annual monitoring subscription, significant motorhome insurance savings.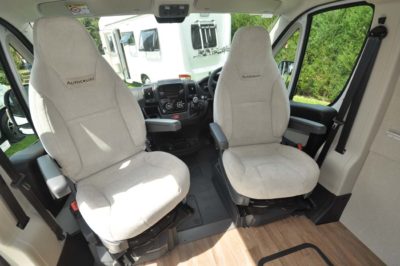 That 6.36m long Fiat base vehicle of course means Autocruise has plenty of space to play with inside, with the previous Forte formula left alone, save for the usual new soft furnishings and a few other details. As well as those lounges (the rearmost of which could, in theory, be left as a permanent bed), there's an extensive kitchen area along the nearside – with facilities more in keeping with a campervan than a full-blown coachbuilt motorhome. You get a two gas rings and sink combination, plus a compressor fridge, set at a higher level and within easy reach of the rear lounge. You also get an extended area of worktop, with the space below being used to house cushions for the bedmaking.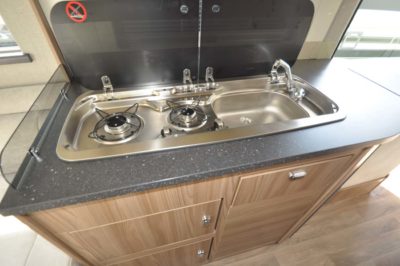 The washroom takes the offside mid-'van area. There's some neat plastic moulding work in the washroom, too, where a small fixed basin and swivel-bowl toilet are side-by-side, and there's a decent amount of space for showering.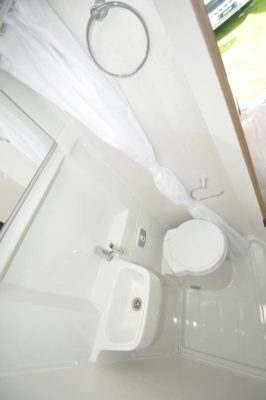 So, is the Autocruise Select 184 a good choice? That, almost entirely, is up to you now…
---
Verdict: Interesting reworking that could have you reaching for your calculators
Plus: Low starting price. Great value options packs.
Minus: It could get pricey if you decide you want most of the options.
In-a-nutshell: The choices are all yours!
There's more information on the Autocruise Select series on the Swift Group website. Find out more about insuring this or your current motorhome on our motorhome insurance discounts page.
---
Alternatives: Auto-Sleeper Fairford, Globecar Campscout Revolution
Cost to insure: £252*
---
Autocruise Select 184 factfile
| | |
| --- | --- |
| Model | Autocruise Select 184 |
| Base vehicle | Fiat Ducato, 2.0-litre, 115bhp, Euro VI |
| Axle type | |
| Dimensions | 6.36m L x 2.26m W x 2.72m H |
| Shipping length | |
| Berths | 4 |
| Travel seats | 2 (optional 4) |
| Maximum weight | 3,500kg |
| Payload | From 730kg |
| MPG estimate | 28-32 |
| RRP | From £38,490 on the road |
| Safety & security | Thatcham Category 6 approved Swift Command Tracker, Electronic immobiliser, remote central locking, European Whole Vehicle Type Approval |
| Key options | Driver's Pack (£1,995),Vogue Pack (£1,995), Living Pack (£1,695), Luxury Pack (£1,795), 130bhp engine (£995), Rear travel seat (£1,395), leather upholstery (£595), awning (£795), Swift Command Tracker subscription (£95) |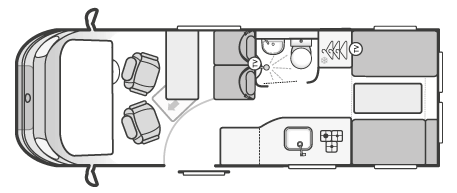 ---
Search our blog
---