The fourth way!
There's one crucial factor where Bailey scores over its rivals – space. It's reiterated in the Autograph 74-4 motorhome here, where the front lounge, in particular, just seems to be roomier than its peers.
Not just seems. The slightly wider coachbuilt body makes a big difference, of course. As does the light upholstery, opening overcab sunroof, and decent-sized side windows.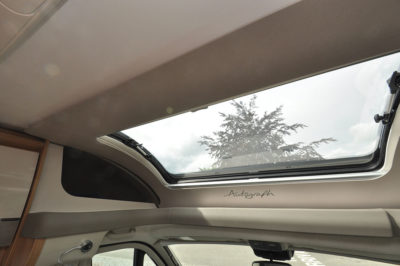 And that extra floor space will endear you not just to the rest of the family, but your pet dog, too (and how many designers seriously contemplate such aspects when they're at the drawing board?).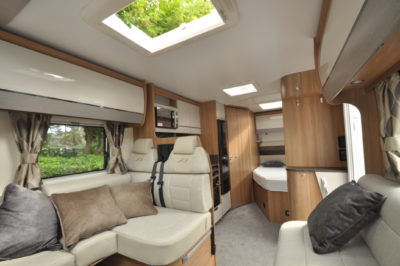 Bailey also scores over its opponents in its offering of Peugeot's Boxer cab with Al-Ko chassis extension – standard across all of its motorhomes. There are enhancements to the chassis – outriggers add rigidity, for instance – and Bailey also opts for the most powerful Boxer engine – its 2.2 litres pumping out some 165bhp at a peak of 3,750rpm. The torque figure of 370Nm from just 1,750rpm is even more impressive. It all bodes well for relaxed driving. The only shame is there's still no automatic transmission option from Peugeot.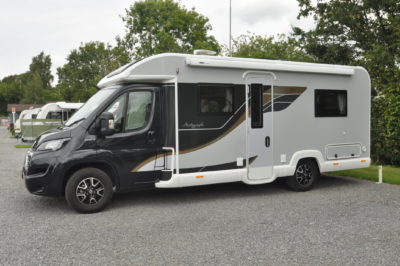 The cab is otherwise well-featured thanks to air conditioning, DAB stereo with satnav and reversing camera, padded steering wheel, Remis blinds and more. Again, all as standard. That reversing camera will also attract a little discount on a Caravan Guard motorhome insurance policy.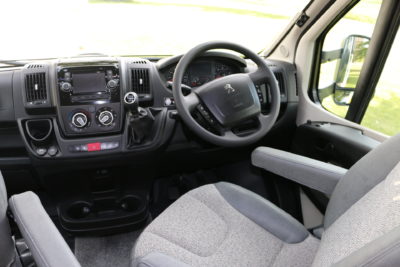 The Autograph 74-4 motorhome's coachbuilt body is sleeker than ever, thanks mainly to a restyling of the overcab pod, but all still relying on Bailey's Alu-Tech manufacturing process that's backed by a six-year integrity warranty.
What you see is what you get with all Bailey motorhomes, hence the following are part of the standard Autograph package – graphite cab, black alloy wheels, bike rack fixings, awning, silver-sided main bodywork, exterior gas and mains sockets etc – and, even though you can barely spot them, a 100Watt solar panel and Status 550 TV aerial.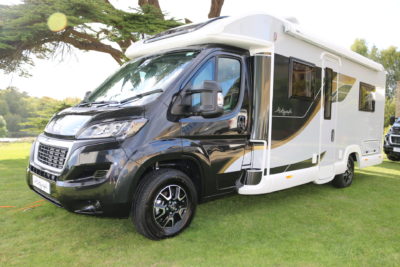 Do note, also, with a starting weight of 3,055kg, this Autograph 74-4 motorhome has a few speed restrictions you need to be wary of. There is, however, sister model 74-2, at 3,014kg and £1,000 less, although that means keeping things strictly two-berth.
Inside, it's not just about the extra "elbow room". The specification extends to Alde programmable central heating and hot water, as befits a range at the top of the Bailey portfolio.
The lounge in this Bailey Autograph 74-4 motorhome includes easy-to-swivel front seats as well as a choice of two tables.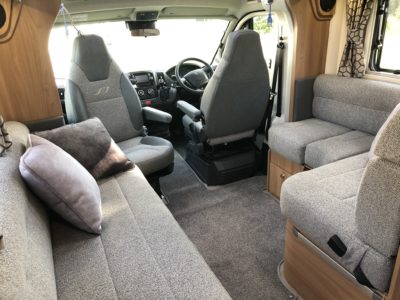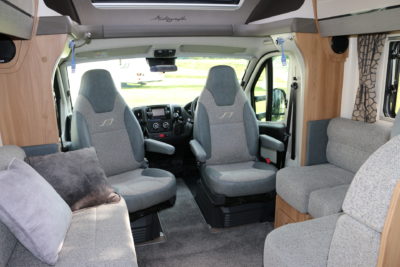 The main one, a free-stander, is large and sturdy but a little cumbersome. Having to stow it on the underside of the main bed for travel isn't ideal, either.
On from the lounge, the kitchen stretches along the mid-'van offside. It includes a full Thetford cooker plus a microwave set at a convenient height over the sink.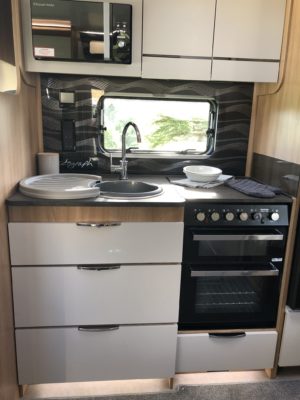 The fridge – a Dometic 8-series model with 134-litre capacity and a removable freezer compartment (should you wish to use it all for chilling) is easy to hand at the right of the cooker.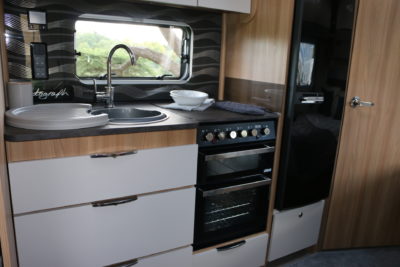 Kitchen storage includes a mix of drawers and lockers, while other practical features include a plastic splash panel/window surround to two mains sockets.
Bailey is starting to become recognised for its signature kitchen features – witness the section of worktop over the hob when its lid is closed and the two mains sockets (one at right angles to the other).
The Autograph 74-4 washroom follows on from the kitchen and in here you'll find the usual fixed corner basin, swivel-bowl toilet and separate shower cubicle trio.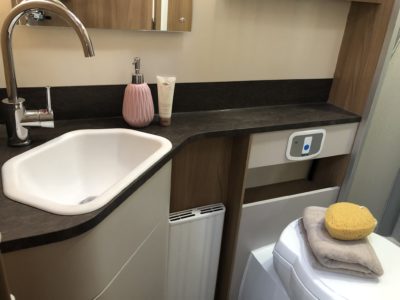 The lack of a window is a minus point, but positives include the water-efficient Ecocamel showerhead on a riser bar, good locker storage (two), drop-down rail in the shower for wet clothes, plus clothes/towel hooks.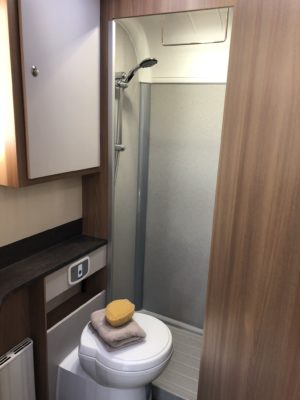 Ultimately, though, it's the sleeping arrangements that will decide whether this is the right motorhome for you. French doubles like here have their following, and the mattress cutaway need not be an issue for the right couple.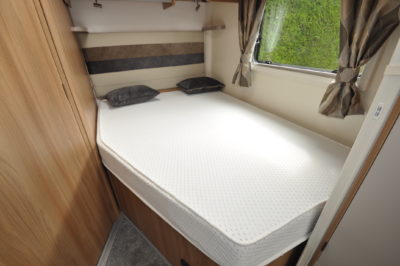 There's good storage space – also accessible from outside – under the bed, with the whole metal/wooden slatted frame hinging up for interior access (the free-standing table stowage point impedes, however).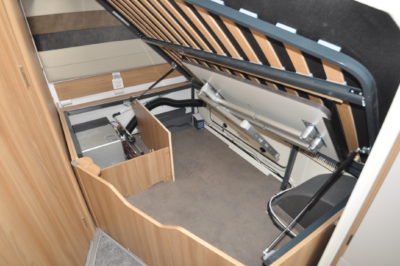 Bright reading lights, mini corner shelves and the facility to sit fully upright should you wish to watch TV in bed are also among the pluses.
---
Verdict: A practical all-rounder (with no hidden extras)
Plus: Keen price for an Al-Ko chassis'd motorhome, spacious interior
Minus: No automatic transmission offering, kitchen drawer storage is curtailed
In-a-nutshell: Fluent French from Bailey of Bristol
There's more information on the Autograph range on the Bailey website. Find out more about insuring this or your current motorhome on our motorhome insurance discounts page.
---
Alternatives: Auto-Trail Tracker FB, Swift Kon-tiki Sport 560
Cost to insure: £392.50*
---
Bailey Autograph 74-4 factfile
| | |
| --- | --- |
| Model | Bailey Autograph 74-4 |
| Base vehicle | Peugeot Boxer/Al-Ko |
| Axle type | |
| Dimensions | 7.37m L x 2.42m W x 2.71m H |
| Shipping length | |
| Berths | Four |
| Travel seats | Four |
| Maximum weight | 3,500kg |
| MPG estimate | 28-34 |
| RRP | From £59,399 on the road |
| Safety & security | Al-Ko chassis with outriggers, ESP (Electronic Stability Program), ABS with monitoring system, engine immobiliser, twin airbags, battery isolator, reversing camera, tyre pressure sensors |
| Key options | Portobello upholstery (£225), four-year extension to bodywork warranty (£265), three-year extension to manufacturer's warranty (£849), bedding set (£229.99), spare wheel and carrier (£375) |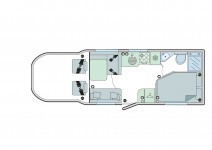 ---
Search our blog
---