Tow's company! Add a towbar to your motorhome and you might just give your life other dimensions. Here's our guide to towing with your motorhome.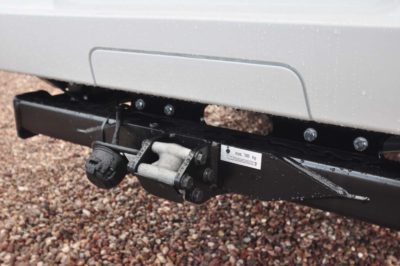 Going for the tow…
Plenty of folk choose to extend their motorhoming lifestyle – literally – by towing any manner of items to add to the pleasure of the pastime. And motorhomes themselves are often perfectly suited to towing.
Is my motorhome suitable for towing?
Typically, campervans and van conversions make for great towing vehicles. Diesel engines have the "grunt" (torque) that makes towing less of a strain (on the vehicle as well as you, the driver). As most motorhomes are based on commercial vehicles, they have been designed to cope with hauling heavy loads, too.
However, most motorhomes are front-wheel drive, whereas ideally rear- or all-wheel drive is more favourable for towing.
Check also, how much tail overhang you have (the point between the middle of the rear wheels and the back of the vehicle). The less the better here!
*Motorhome manufacturers should quote maximum towing limits in their owner's manuals. Lost yours? Your supplying dealer should be the first port of call for further help.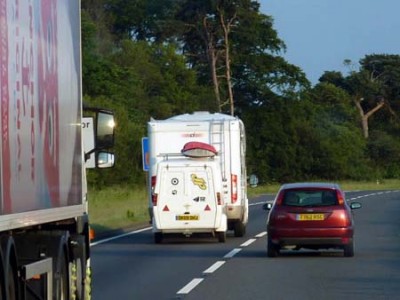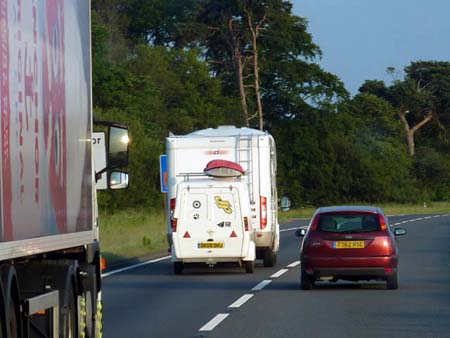 Key advantages of towing with a motorhome…
You can take heavier bikes, even motorbikes, and/or a small car with you, for extra independence when you're pitched up on site. Some folk even tow a caravan with their motorhome. Or you just might want to hook up a small trailer for a trip to the tip…
…And some disadvantages
Add any weight to your motorhome and fuel economy will inevitably suffer.
Not cheap. As well as the fittings you'll have to invest in – towbar and electrics, trailer – there could be extra costs involved with ferry travel, pitch fees (indeed, getting a suitably sized pitch to accommodate your whole outfit), storage logistics etc.
Reversing your motorhome with a trailer of any type isn't always easy. Ironically, the shorter the trailer the trickier it is to reverse it.
What the law says about towing with a motorhome
Check your driving licence. It will at least have 'B1' on it, this is the classification that allows you to tow trailers up to 750kg (as long as the towing vehicle weight is not more than 3,500kg).
Many motorhomes fall into the C1 category, i.e. vehicles with a maximum weight between 3,500kg and 7,500kg.
If you have C1+E on your driving licence, you'll be able to tow with most vehicle and trailer outfits typical of the motorhome lifestyle. Do check further before you consider towing anything.
On the road: Remember, you're restricted to maximum speeds of 50mph and 60mph on single carriageways and motorways and dual carriageways respectively when you're towing a trailer. And you're not allowed in the outside lane of the motorway.
You will need towing mirrors. They are a legal requirement if your trailer is wider than the towing vehicle.
Don't forget, also, you'll need a suitable number plate on any unit you're towing.
You'll need to make sure the noseweight of your towed unit doesn't exceed the limit given for the towbar.
You do need to be aware of other weights when it comes to towing. See our guide to safe towing.
A few words about towbars
Before hitching up always check your towbar for defects. Regular inspection and maintenance will help maximise the performance and life of your towbar.
Keep the towball clean with thinners, white spirit or brake cleaner to remove grease or other residue. The surface of the tow ball must be free of grooves, rust or seizing marks.
Check all levers, flexible joints and parts for tightness, correct operation and integrity. Replace any worn parts or have the bar serviced at your local towbar specialist.
Keep any housings free of dirt and corrosion, especially on the points of contact.
Any surfaces should only require cleaning with a cloth. Grease or other lubricants should never be used (unless specified by the manufacturer).
For detachable tow bars, when the tow ball is not in use, it should be removed – the dummy should then be inserted for protection and to prevent dirt. Store the ball in a case.
If your motorhome was first registered after 1 April 2012 you need to fit a type-approved towbar. For vehicles registered before that date, you do not need a type-approved towbar.
Are we insured to tow a car with our motorhome?
We say…Caravan Guard motorhome insurance provides third party cover whilst a car is being towed behind your motorhome by a trailer. It is your responsibility to make sure that if you use a device to tow a vehicle behind your motorhome it meets any legal requirements and you are towing subject to any limitations on your driving licence or cover might not be in force.
Under the Road Traffic Act, we cover any legal liability for damage caused by a car on a trailer to third parties whilst being towed using the motorhome – this includes damage caused when the car trailer becomes detached during towing. We also provide cover for the trailer up to a value of £1000 (refer to our policy wording for the definition of a trailer). However, understandably our motorhome insurance policy would not provide cover for any damage to a car itself whilst it was being towed behind a motorhome.
The trailer must be used solely in connection with the motorhome and must be locked away or fitted with a hitchlock or wheelclamp when not in use.
In the event of the motorhome breaking down, it is important when calling the helpline to advise that a car trailer is fitted.
Other trailer towing considerations
You might not use a trailer regularly, but that's no excuse for not having a maintenance programme. Tyres (pressure, condition etc), wheel bolts, brakes and lubrication of key points should top your list.
Like a caravan, a twin axle trailer will be more steady on the road than a single axle version.
If you're going abroad, check up on the laws about trailers in any countries you're planning to visit.
Some coachbuilt motorhomes with an extended chassis might not be suitable for towing.
Useful contacts for towing with a motorhome
National Trailer and Towing Association
This is the trade body for the towing industry. It publishes a free information sheet, The NTTA Guide to Safe and Legal Towing, downloadable direct from its website.
Watling Engineers
They have a long history of providing advice and products for towing with motorhomes: www.watling-towbars.co.uk.
For Government advice on towing, see www.gov.uk.
Over to you…
Got any advice on towing with a motorhome you'd like to share with other owners? Please feel free to add a comment below.
Cost to insure: *
---
factfile
| | |
| --- | --- |
| Model | |
| Base vehicle | |
| Axle type | |
| Dimensions | |
| Shipping length | |
| RRP | |
---
Search our blog
---