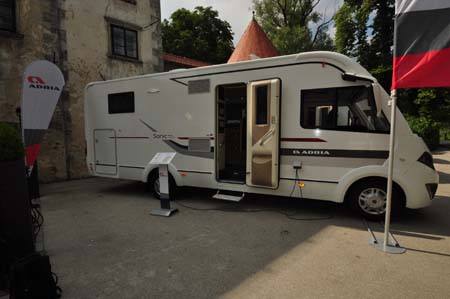 Adria comes into 2015 with a much simpler pricing policy and a portfolio that continues to offer a full range of motorhome types. This, the larger of two new A-class Sonic models introduced for the season ahead, is the I 700 SBC, reviewed here in Plus trim (it's also in more upmarket and even more distinctive Supreme format).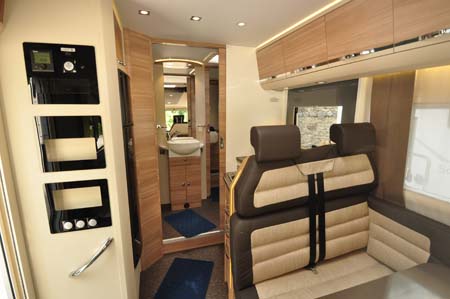 Not only is that pricing being made easier to understand, in many cases on-going models from last season are actually cheaper, although there's also been some jiggling with specifications.
Start price for the I 700 SBC may be just over £65,000, but it's hard to see anyone foregoing the £1,699 Driver's Pack that brings the cab up to a more suitable specification, while the silver-sided Supreme version tips the scales at over £75,000.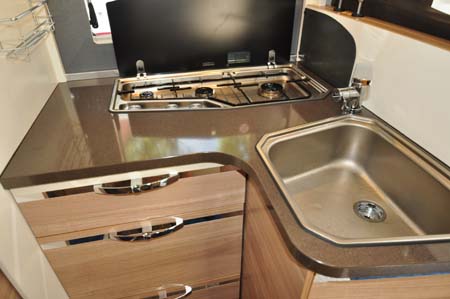 Golden Anniversary Editions celebrate Adria's 50th year as a leisure vehicle manufacturer (and 40 years' continuous presence here in the UK, too). They come with all kinds of extra kit at no additional cost – ranging from rear mud flaps to TV bracket to Truma Combi 6 upgrade. At last, too, a leisure battery is a standard factory fitting.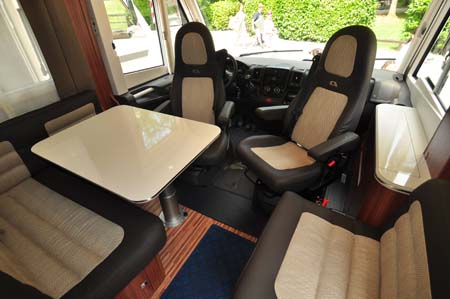 Dimmable LED lighting adds the kind of touch of class you expect in a vehicle like this. Ditto the "media wall" just inside the habitation door (with its more accessible 60cm width), designed to take your tablet and more.
There's more Golden stuff, of course – too much to list here – but what it does do is all add up to an A-class worthy of the name, but at a razor-sharp price.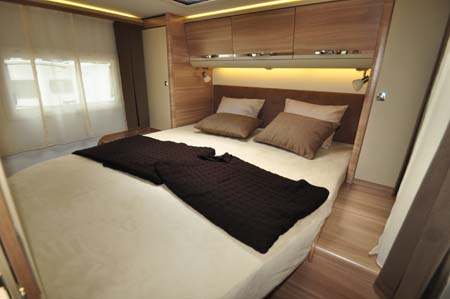 The model here also benefits from Adria's latest Comprex construction, which claims greater rigidity and includes a GRP (Adria prefers to use the word polyester) underfloor to complement the rest of the bodywork. It all comes with a ten-year water ingress warranty. At the same time, Adria claims a weight loss of around five per cent.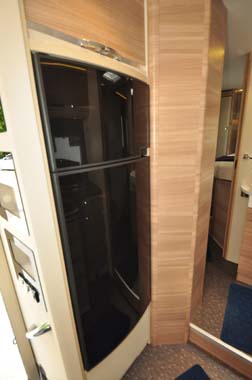 It needs it. As standard on the Adria Sonic Plus I 700, you get a paltry 300kg or so of payload, making a chassis upgrade almost inevitable here. However, go for the top-level three-litre engine and 4,300kg chassis and you get well over a tonne of load margin.
Meanwhile, if you think the L-shaped lounge (itself that bit more spacious than others) and overcab bed are pretty standard fare for a vehicle like this, be prepared for a few surprises the further you head on your journey to the island bed at the back.
First, the kitchen may start off looking a tad compact, but a rather clever hob (the three gas rings are in a line and different sizes) – that provides worktop in front of it – and a decent, deep sink.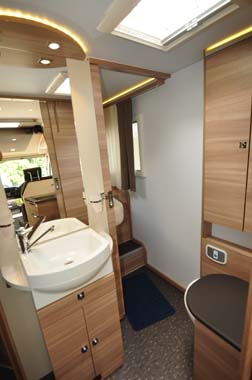 Adria calls it its V-shaped kitchen, but you can see for yourself how it ekes out the most of the space available. You'll also appreciate the extensive splashback panel, with mood lighting, here.
It's the washroom arrangement that intrigues more. Initially, there's a separate toilet area (UK nearside,) and shower cubicle (offside). Between the two – and at the foot of the bed – sits the washbasin. That might seem like three separate entities, but the clever stuff starts when you realise you can create a fully-enclosed washroom here – thanks to sliding doors – which acts as a direct en suite to that island bed. There's also a rather nifty wardrobe here, with a vertical riser for hanging your clothes on.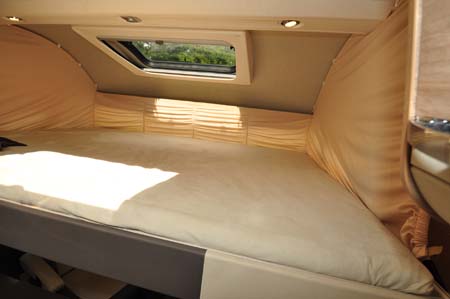 Another full size double is provided by the overcab bed, which has electric operation. The opening sunroof here is a boon in an area that can sometimes feel a little claustrophobic and/or lacking in ventilation, especially at night.
Storage is that bit better than many, too, thanks to noteworthy features such as both sides access to the garage area under the bed.
Locating the fresh water tank away from the expected location under the rear travel seat also frees up some storage space, although much of this area is taken by the Truma water heater – it does leave room for a handy shoe locker, however.
Shown here is the Horizon interior. Forest is a glossier alternative.
Pre-wiring is in place, but you'll still need some budget for a stereo system, although your local Adria dealer may well offer such a fitting as part of its own retail package (it varies around the country).
Verdict: Clever thinking makes this all add up
Plus: Great all-round value, Golden Anniversary Editions up the ante
Minus: Lacks a bit of star quality
In-a-nutshell: Going for gold!
Cost to insure: £351.50*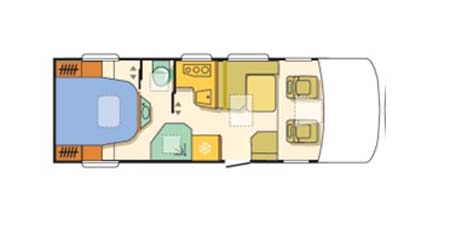 In summary
Adria Sonic Plus I 700 SBC
Fiat Ducato, 2.3-litre, 130bhp Euro V
Dimensions 7.52m L, 2.32m W, 2.98m H
Maximum weight 3,500kg (upgrades available)
Payload 305kg
Key options: Driver's Pack – cab air conditioning, passenger airbag, cruise control (£1,699), chassis upgrade and 177bhp three-litre engine (£4,999), Comfort-Matic semi-automatic transmission (£1,920), alloy wheels (£899), spare wheel and holder (£179)
Security and Safety Electronic immobiliser, remote central locking to cab and caravan doors, ABS and EBD
MPG estimate 20-25
Recommended retail price from £65,393**
There's more information on the Sonic I 700 SC on the Adria website and to find out more about our low-cost premiums visit the motorhome insurance discounts page.
Alternatives: Pilote Galaxy G741C, Rapido 990dF
*Motorhome insurance cost based on Adria Sonic Plus I 700 SBC retailing at £65,393 fitted with an approved tracking device, and a manufacturers immobiliser. UK travel only. Kept in secure storage at TD9 8ED. Motorhome owners – professionals over 50 years old with no claims, convictions or health conditions in last 3 years. 4 years no claims bonus mirrored from car policy and 2 years motorhome driving experience. Members of motorhome club doing less than 5000 miles annually. £300 excess applies. Premiums include insurance premium tax at 6% and are correct at 11/09/2014.
**On-the-road, including VAT at 20%
Cost to insure: *
---
factfile
| | |
| --- | --- |
| Model | |
| Base vehicle | |
| Axle type | |
| Dimensions | |
| Shipping length | |
| RRP | |
---
Search our blog
---