After we announced improvements to our motorhome breakdown and roadside assistance cover, we started thinking about whether enough is known about what goes on during a breakdown recovery situation.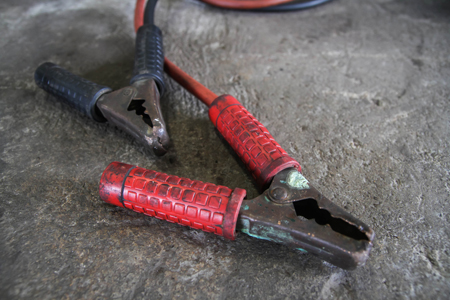 Breaking down in a motorhome can be incredibly stressful, especially if you're travelling with young children or elderly passengers. Knowing who to call, how long you should expect to wait and the steps involved in getting you to your intended destination will not only help to put your mind at ease, it could speed the whole process up too.
We asked our breakdown and roadside recovery partners, AXA Assistance, to explain exactly what happens when a customer's motorhome breaks down.

If I breakdown on a campsite or at the roadside, what should I do first? 
If you've identified a fault with your motorhome you should call your breakdown provider. If you're a Caravan Guard customer call the breakdown assistance and accident recovery 24hr hotline on 01737 815 123. If you're calling from outside the UK (and have taken the European Breakdown option on your policy) please call 0044 1737 815 123.
What information should I have to-hand? 
In order for the breakdown call operator to arrange assistance, they will usually ask you to provide:
Your policy number (for Caravan Guard customers, this is the same as the policy number)
Registration of the insured vehicle
Make and model of the vehicle (possibly its length and height too)
Number of passengers
Details of what's happened and the suspected fault
Intended destination
Depending on the nature of the breakdown, the breakdown call operator may also need to determine if specialist equipment is required or whether there are any other vehicles involved.
What happens then?
With the information provided, an AXA Assistance call operator would then locate one of its approved service agents who has the right equipment to undertake the job in question.
How long does it take for assistance to arrive? 
Each insurance provider is different, but Caravan Guard motorhome policyholders can expect to wait an average of just 47 minutes* to be recovered in the UK.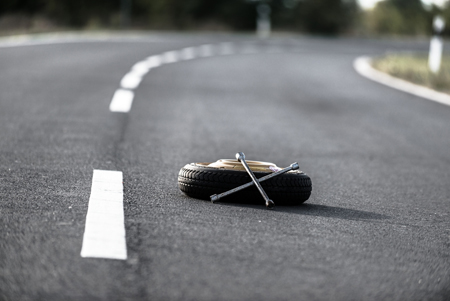 Will my motorhome be repaired at the campsite/roadside?
In 85% of cases yes but this really depends on the nature of the fault**. Common repairs for what we call 'fast moving breakdown items' can be done at the roadside because they don't require specialist parts.
These include things like wheel changes, problems with filters, electrical faults (replacing bulbs etc), repairs to drive and fan belts, and non-starter issues such as battery faults.
If you have misfuelled AXA Assistance will drain and flush the fuel tank before replenishing it with up to 10 litres of correct fuel.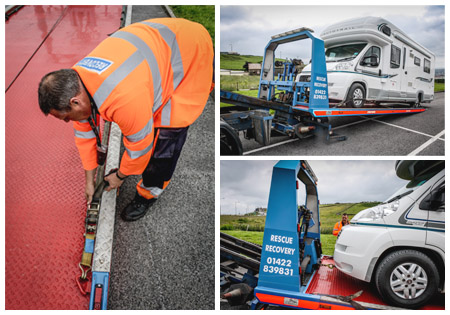 What happens if I lose my keys?
If you're travelling anywhere in the British Isles and you lose your keys, and are unable to gain access to your motorhome, AXA Assistance will recover you in the same way as they would in a fault breakdown scenario. You're also covered if you break your keys or if you lock them in the motorhome by mistake.
If either of these scenarios play out whilst at your intended destination, AXA Assistance would either get the vehicle to a garage to have new keys made, obtain spare keys from your home address, or failing that, transport the vehicle home.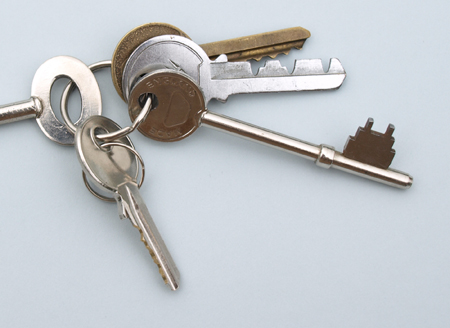 What happens if repairs can't be made at the roadside/campsite?
The motorhome will be transported to a suitable nearby garage for repair.
Alternatively, and only out of hours when all garages are closed, the vehicle will be taken back to one of AXA Assistance's service provider bases for storage. When garages reopen the motorhome will be towed to the nearest available repair centre.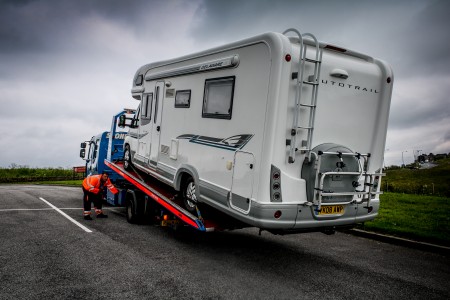 Will a recovery truck be used?
If repairs can be made at the roadside, an equipped service van will be sent out, but if the fault is more substantial and the motorhome needs to be taken away, a 'moving' vehicle would be dispatched. In most cases this would be a Crew Cab Transporter with a 10-12 ton chassis that's capable of carrying around 5 ton, plenty for most motorhomes.
Suspend tow vehicles and low loader trailers may also be dispatched.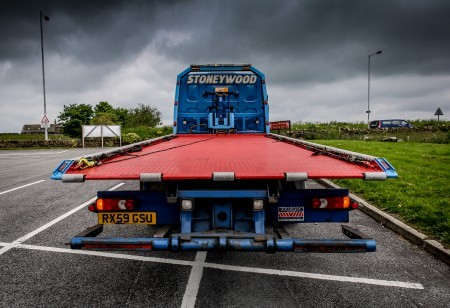 My motorhome is a huge American A-Class – can you still recover it?
Because we appreciate that motorhomes come in all different shapes and sizes, we don't apply any weight restrictions or limits for recovery. This means we can recover every type of model from a large A-Class to a campervan. 
I've broken down in Europe – what happens now? 
The same process applies when in Europe; in fact AXA Assistance's breakdown recovery network extends across Europe's 28 countries. You can add optional EU breakdown cover to a Caravan Guard policy for a small additional fee. 
Will my passengers be taken to the intended destination too?   
If your motorhome can't be repaired the same day we will arrange to recover you and your passengers to your intended destination. Alternatively, and where appropriate, AXA Assistance can arrange a taxi, despatch a secondary vehicle for the passengers or offer a loan or hire car to get you back home or to your intended destination, subject to the terms and conditions of the policy.
We spoke with an existing policyholder to find out what happened when her motorhome broke down in 2014…
Mrs Farr from Anglesey was on site at Park Coppice Caravan Park in Conniston, Cumbria one evening when she noticed water coming out from under her motorhome's engine bay. On further inspection she realised it was coming from the radiator.
She called AXA Assistance and gave details of the fault. The operator took down all the details and assured Mrs Farr that a recovery vehicle would be along within the hour, suggesting she call back if she further help was needed. Shortly after, Mrs Farr received a text message with the details of the approved recovery agent and the approximate recovery time (under one hour).
"I found this very reassuring…communication is key."

Not long after that text message, Mrs Farr received another message from the approved recovery agent, in this case Furness Cars and Commercials. The recovery agent assessed the radiator on arrival but repairs could not be made on site which meant the motorhome would need to go to a garage to be repaired.
The agent then offered to arrange recovery for Mrs Farr, her family (husband, three children and a dog) and their motorhome to be taken back home to Anglesey (over 190 miles) or to take the motorhome back to a garage for repair. Mrs Farr chose for the motorhome to be taken to the garage for repair.
The next day the motorhome was loaded onto a truck and taken to the garage whilst Mrs Farr and family continued their holiday. Later that day the garage confirmed that the motorhome was fixed and ready for collection meaning.
Want to know more?
If like Mrs Farr you want the peace of mind of knowing you're covered if your motorhome ever fails, the breakdown and roadside recovery page has all the details on cover features including alternative driver cover, overnight accommodation or car hire cover and the new stranded in mud cover. 
*Repairs between January and May 2014.
**85% excludes extreme failures such as accidents, clutch/throttle cable faults, and tyre issues affecting more than one wheel and therefore no serviceable spare for the second tyre
Cost to insure: *
---
factfile
| | |
| --- | --- |
| Model | |
| Base vehicle | |
| Axle type | |
| Dimensions | |
| Shipping length | |
| RRP | |
---
Search our blog
---