Many Caravan Guard claimants rate our service as excellent or good when returning our claims satisfaction survey.
A huge thank you to all the customers who've taken the time to give us their feedback on how well we handled their claim.
Hundreds of claimants have been sent a survey in the last 12 months and asked to rate their experience so we can use their feedback to continue to make any improvements. All of these were entered into a prize draw.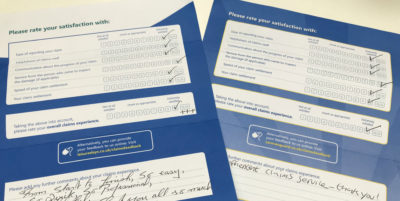 Nine out of 10 respondents were extremely satisfied with their overall experience, as well as the helpfulness of our staff, the ease of reporting their claim and their settlement. Below shows how our customers rated their claims experience between June 2017 and May 2018.

Our team is committed to delivering brilliant customer experiences and it was fantastic to receive so many positive comments from satisfied customers.
"The speed and efficiency of Caravan Guard staff were excellent" said one motorhome claimant. "Everything happened when I was told it would and I was kept fully informed."
A touring caravan customer also said: "Great help and communication from all involved.  Many thanks.  Very pleased!"
Congratulations to Mrs Pamela Powell from Caerphilly in Wales, who made a claim for awning damage last year. She was the lucky winner of our prize draw and wins £50 of Marks & Spencer vouchers.
Search our blog
---