Modern caravans are designed to be used all year round. So to get the most out of your investment means you'll sometimes be caravanning in bad weather.
But with a bit of pre-planning you can make sure you get the maximum amount of enjoyment from your caravan. First and foremost, stay safe and check the weather warnings for your destination. Avoid towing in stormy weather.
Here are nine tips for caravanning in bad weather:
Pads and blocks
Consider where you're setting up your caravan in bad weather. Avoid grassy pitches if the weather is very wet and the ground is boggy and in stormy weather be mindful of pitching up under trees.
If your caravan doesn't have captive pads fitted to the steadies you can make your own. We recommend using four pieces of 12mm thick wood 15cm x 15cm square. Placed under the steadies they will prevent them from sinking into boggy ground. It's also a good idea to make a fifth pad to go under the jockey wheel. This will prevent it from sinking when you're levelling the caravan.
Place blocks in front or behind the wheels as appropriate, to prevent the caravan from moving when pitched on a slope. Similarly, because the caravan handbrake should be left in the off position to prevent the brakes from freezing onto the drums in sub-zero temperatures, use blocks to chock the wheels.
Track mats and tow ropes
A pair of track mats – available from any good caravan accessory shop – can be used to help your tow vehicle off a boggy pitch. However, if the tow car is unable to pull the caravan off the pitch, unhitch the caravan and drive the tow car forward onto firmer ground. Then use a tow rope to pull the caravan off the pitch. But remember that tow ropes available from high street car accessory shops are intended to be used with rolling loads – not bogged down caravans so make sure everyone stands well clear in case the rope breaks.
And never let anyone push the caravan as it will only apply its brakes as it moves towards the tow car.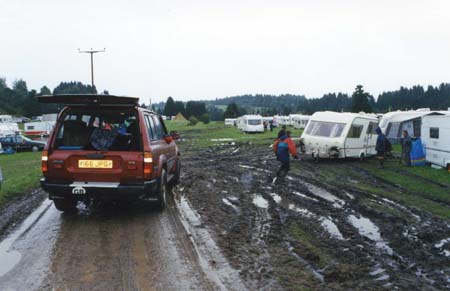 If it isn't possible for the tow car to pull the caravan off a boggy pitch move the tow car to firmer ground and use a tow rope
Wet gear
Regardless of weather forecasts, expect poor weather so make sure you have adequate suitable clothing with you. Similarly, suitable bedding will make sure you don't get cold in bed so replace the summer duvet with a winter one – or take extra blankets.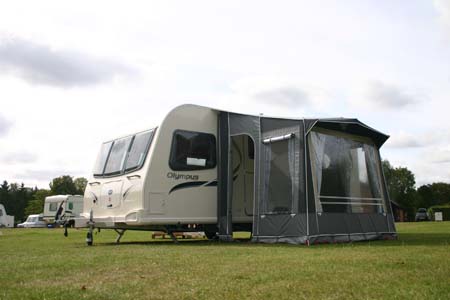 A porch awning gives you somewhere to leave wet clothes, boots etc, and helps keep the cold out of the caravan
Porch awnings
A porch awning is ideal for caravanning in bad weather. It gives you somewhere to hang your wet gear rather than having it in the caravan, as well as somewhere to dry the dog! It also helps prevent heat from escaping because the caravan door is inside it. An awning carpet will also help prevent mud etc from being taken into the caravan.
Mains electricity
If you stay on a site offering electric hook-ups you could supplement your caravan's heating system with a portable heater.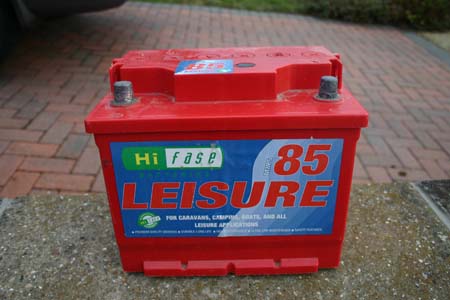 When the days are short and the nights are long it makes sense to take a spare battery with you
12V DC
Make sure the caravan's leisure battery is fully charged before setting off; if you intend touring more than a few days a second battery is worth considering in case of a power outage.  And take some spare fuses and a toolkit in case of any emergency repairs.
LPG gas
If you're caravanning in the winter months you'll need propane LPG because butane will not 'gas' below 1oC whereas propane will do so down to -40oC. You'll also need a propane regulator available from caravan dealers. To make sure you don't run out of gas we recommend taking two cylinders – say a 6kg and a 3.9kg.
Warning: Never use the oven and/or grill to help warm the caravan. Carbon monoxide, a by-product of combustion, is a killer.
Preventing the water freezing
An onboard water tank is the ideal water container in bad weather conditions. But if an Aquaroll or other external water container is used it will need insulating to prevent the water from freezing and it's worth standing it on block of wood or something to lift it off the ground. For the best results use a purpose-designed jacket. Avoid jackets that need the full container having to be lifted into the jacket. Instead buy a wrap-around jacket.
Some salt added to the wastewater container after emptying will help prevent freezing.

In cold conditions leave the handbrake off to prevent the brakes from freezing on the drums
Snow and rain
Snow build up on the roof of the caravan isn't usually a problem in the UK but on an awning it can be. Make sure to brush it off before it causes the awning to collapse. Similarly, make sure the awning roof is set at an angle that allows rain to run off.
Make sure to keep the caravan's air vents clear of snow build-up in blizzard conditions and never block them to reduce draughts.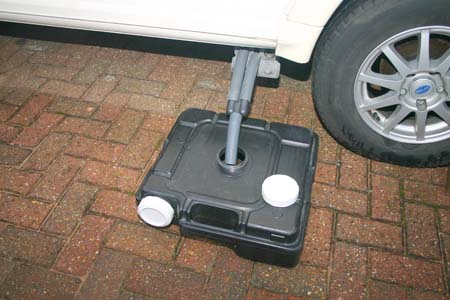 In cold weather add some salt to the wastewater container to prevent the waste water from freezing
Draining down
Before leaving for home don't forget to drain down the hot water tank and the onboard tank to prevent the water in them from freezing. And leave all taps slightly open so that if the residual water in the pipes freezes the air can escape as the ice expands.
Bad weather can strike at any time, that's why provide cover for when your caravan is out on the road and also when it's stored away. We also cover storm, flood and accidental damage which means that you're insured whatever the weather. Find out more about our touring caravan insurance policy.
Do you have any hints on caravanning in bad weather?
We'd love to hear your tips for bad weather caravanning. Simply share in the comments box below. And don't forget to check out our tips for winter caravanning and accessories for touring in the cold months.
Cost to insure: *
---
factfile
| | |
| --- | --- |
| Model | |
| Base vehicle | |
| Axle type | |
| Dimensions | |
| Shipping length | |
| RRP | |
---
Search our blog
---