Last winter we dealt with lots of claims for damage when a number of storms hit the UK. Here we bring you some top tips on towing, using and storing your caravan when the winter winds pick up speed.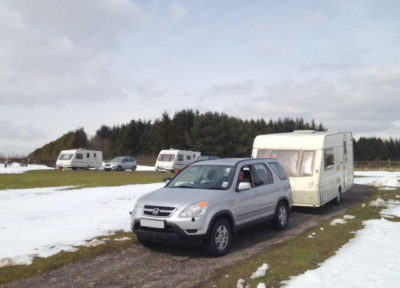 Firstly if you're heading off for a winter trip, keep a close eye on the weather, before you set off and when on site. Unfortunately the weather accounts for almost a quarter of our insurance claims, with storms often being the biggest cause of damage to caravans and awnings.
Avoid towing in windy weather
Take extra care when towing in windy, wet or wintry weather. If it's very windy you should avoid towing your caravan until the winds have died down. If you really do need to travel then avoid motorways and exposed roads where strong winds will make for very difficult driving. Keep a close eye on the weather forecast to help plan your journey.
Stay in control
Driving slowly in windy weather will help you to stay in control of your unit so keep your speed down. But an electronic anti-snaking device such as AL-KO ATC will help and will also qualify for an insurance discount with Caravan Guard.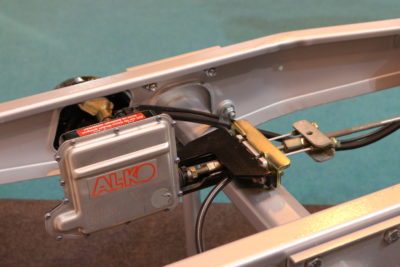 Watch the weight when touring

Before towing, to create stability, load your caravan carefully so the weight of your caravanning equipment is distributed equally. Also check your tyre treads and tyre pressure.
Seek shelter in high winds
When in storage or on site, if possible, move your caravan to a sheltered location in stormy weather, particularly away from any trees, and check structures like nearby fences, sheds or canopies won't cause any damage. If the wind is blowing in a particular direction then you could rotate your caravan so the wind hits it head on. A caravan cover will also offer some extra protection from any flying debris.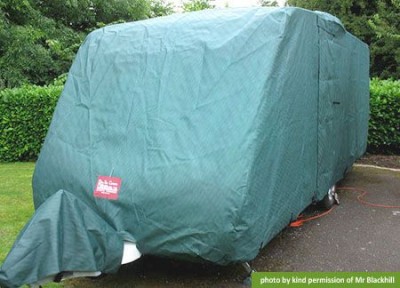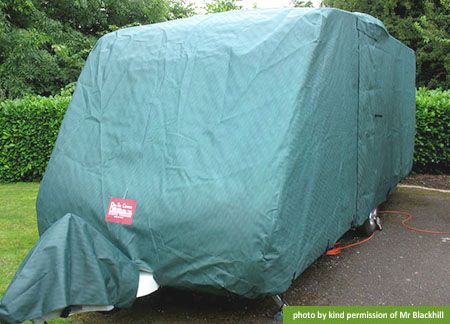 Remove or secure fixings
During stormy weather or high winds, remove or secure fixings like bike racks, solar panels and satellite dishes from your caravan. Take down the awning or use storm straps, anchors or poles to keep it securely fastened. We often deal with insurance claims for awning damage after a bout of bad weather.
Add some weight
When storing your tourer, place heavy items, like your awning, on the floor of your caravan; over the axle balancing makes it more bottom heavy when it's windy. Make sure weight is distributed equally across the width of the caravan so it's not got all the weight to one side.
Anchor it
If you store or seasonally pitch your caravan in a particularly exposed area you could consider anchoring it to the ground to stop it from tipping over.
Emergency kit
When towing in winter, always carry an emergency kit in your car in case you get stuck. For example; blankets, hi-vis jacket, boots, torch, shovel, ice scraper, warning triangle, mobile phone charger, water and snacks.
Driving in snowy, icy and foggy conditions
In snow and ice, drive in the highest gear possible and slower than usual. Increase your stopping distance and avoid harsh braking or steering. If you do skid, take your foot off the accelerator and steer into the skid to try to straighten up your outfit. Always make sure you've cleared snow from the windscreen, mirrors, window, lights and roof of the car and your caravan.
In foggy weather use dipped headlights and fog lights and drive slower. Use your brakes to slow so people behind you can see that you're slowing and don't drive too close to other vehicles.
Move to higher ground when it rains heavily

If there's heavy rainfall and risk of flooding when you're on site then move your caravan to a pitch on higher ground if possible. Otherwise, it will likely be written off if flood waters reach above the floor level of the 'van. If towing don't be tempted to drive through large puddles or flooded roads.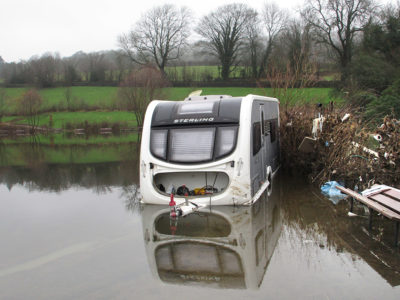 Don't forget to have your caravan insurance contact details handy in case you need to make a claim.
Over to you
If you've got any towing or storage tips to share when the weather gets stormy then let us know in the comments box below. And remember our extensive touring caravan insurance policy will protect you in the event storm, flood and accidental damage. We can provide cover for both your caravan and awning if damaged by bad weather.
Cost to insure: *
---
factfile
| | |
| --- | --- |
| Model | |
| Base vehicle | |
| Axle type | |
| Dimensions | |
| Shipping length | |
| RRP | |
---
Search our blog
---