Q: How hard can it be to go caravanning with children?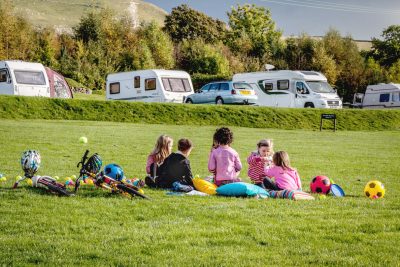 The answer: Very easy!
Go caravanning with children
We speak to experienced caravanners, James and Katy Butler from The wobble boxers, who have both caravanned from a very young age and are now sharing their love of touring with their daughter.
"I've caravanned from being six months old," explained Katy. "We were delighted when we found out we were expecting our daughter and couldn't wait to start making memories as a small family."
The couple caravanned right up until three weeks before their daughter was due and at a mere 15 days old she was taken on her first caravanning trip.
"We found our feet very quickly and soon learned what were necessary items to take and what wasn't. The most important thing we found was to stick to the same well-established routine as we had at home to help prevent hungry or overtired meltdowns!"
Sleeping in the caravan
At home, their daughter slept in her pram carrycot so they took it in the caravan. Night-time feeding was easy with this at the foot of the caravan bed and on days out it went back on top of the pushchair.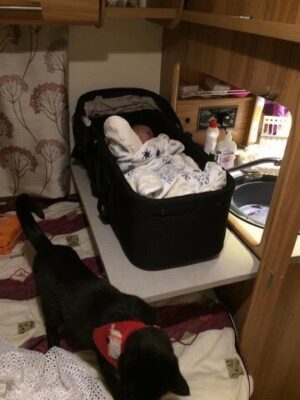 As she got older they used a pop tent for sleeping which they placed on the bed of their side dinette.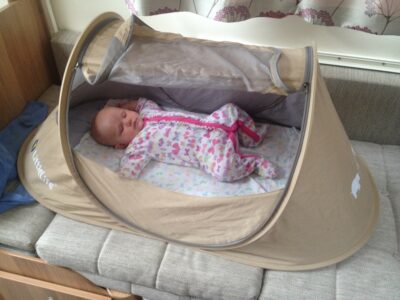 "It still gave her a very safe place to sleep, especially as we take our cats with us I could zip her up at night knowing that she was completely safe", said Katy. "She took to this straight away and it was also perfect for daytime naps."
Then a lightweight wooden cot was adapted to fit on the side dinette bunk. This worked very well until she was 18 months to two years. Katy and James then changed their caravan to one with fixed bunk beds so moved her to the bottom bunk and used an inflatable wedge so she didn't roll out of bed.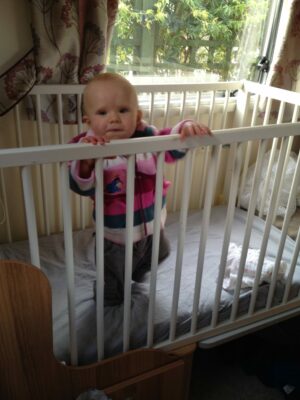 Now at five years old she sleeps soundly in one of the bunks.
Feeding and eating
Their daughter was breastfed as a baby but sterilising any bottles would be easy with a coldwater steriliser if caravanning off grid or by using a microwave steriliser when hooked up.
"Once she was able to sit up by herself we used a Bumbo seat that we placed on the seat next to us so that she was able to sit at the table with us at meal times," said Katy.
When she outgrew the Bumbo they bought the Ikea Antilop high chair and cut the legs down so it would  slide under the side dinette table so they could all eat together.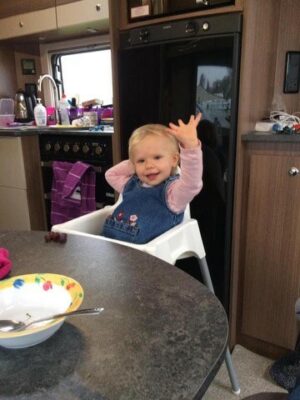 When not in use they removed the legs and stored it on the bed or under the seats.
Washing
It's easy to keep babies and children clean when caravanning. When James and Katy's daughter was a small baby would bath her in the caravan kitchen sink and once she'd outgrown that they used a small inflatable paddling pool in the shower tray – lots of room for playing.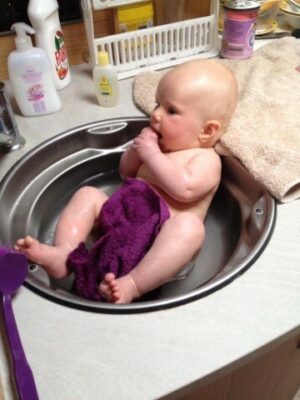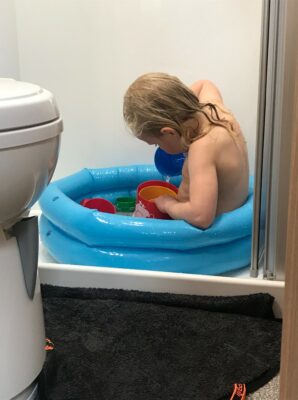 Choosing a campsite when caravanning with children
Generally, the Wobble Boxers stay on CL or CS campsites as they like the peace and quiet of them and you often get a much bigger pitch, and sometimes, you get the whole site to yourself!
"This gives our daughter a lot more space to play, whilst still keeping far away from others enjoying their holiday," said Katy. "It's very important for parents to continuously supervise children on site, especially on working farm sites. You will sometimes find that farmers are only too happy to show children the animals on the farm."
Their daughter has been lucky enough to have seen cows being milked and calves being born – fantastic life experiences.
"When we arrive at a site we set out her boundaries – the distance she can roam from the caravan within our sight and earshot without disturbing other campers," said Katy. "This often includes the freshwater tap which brings me nicely to my next point – helping out with caravanning life."
Setting up a caravan with children
"When setting up the caravan and if the weather was pleasant we'd put her in the buggy or in her Bumbo on the ground to watch us put the awning up," said Katy. "As she got older and wanted to move around we bought a collapsible, lightweight playpen."
Now she's older, Katy and James are great believers that family life is all about teamwork – it's everyone's holiday after all.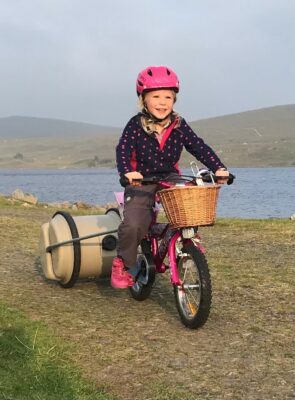 "Since our daughter could walk she helps to pull the empty Aquaroll to fetch water – it's something that she's always enjoyed," explained Katy. "It wasn't long before 'Miss Independent' was insisting on pulling it further or fuller on the return trip with some help from us. Now, she's quite happy to go and refill it by herself, reading the sign to check that it's drinking water."
Another job she's always loved to do is winding up and down the corner steadies.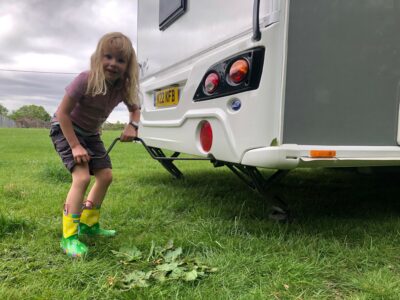 "In fact, I've never come across a child who doesn't like doing them!" added Katy. "She now knows exactly what jobs need doing when we arrive on site and is eager to get out of the car to get them done.
With supervision, she can even hitch and unhitch the caravan from the car – with Katy and James always doing the final checks.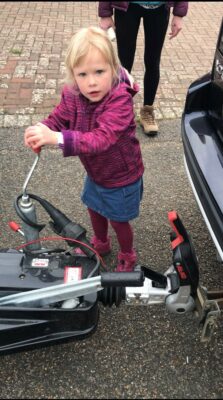 She's learned the correct sequence and how to test that the caravan is hitched up correctly by using the jockey wheel to raise the back of the car slightly to check that the caravan is secure on the tow ball.
Activities when caravanning with children
James and Katy don't take a TV with them when caravanning as a family.
"For us, caravan time is family time – time to spend together," said Katy. "Ninety-nine percent of the time we're off grid, running off solar."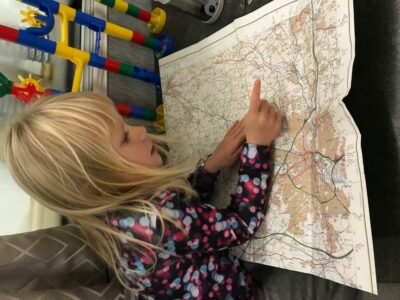 So they take board games, puzzles and have recently introduced their daughter to diamond painting and Hama beads, which they can do together and are great for rainy days.
They also keep a sponge ball in the caravan, so if it accidentally hits a vehicle there's no damage, plus Velcro bats and a tennis ball and a frisbee.
"We do a lot of walking and our daughter is a very good reader of OS Maps and enjoys plotting out a walk and then looking for the footpath signs, gates and styles on the wall," said Katy. "We also have the OS App for trickier, badly signposted walks that we occasionally come across."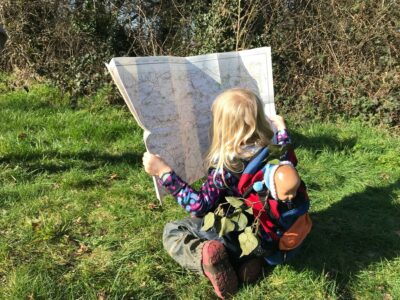 Geocaching is another great and free activity to do with children of all ages – it's basically a countrywide treasure hunt. You look on the Geocaching website or App for the area you're staying in and there'll be instructions and directions for where to find the cache. These are usually little boxes with a pencil and paper to note your name and date, and quite often little trinkets such as a badge, button, special stone etc.
"It's super exciting when caravanning with children," added Katy.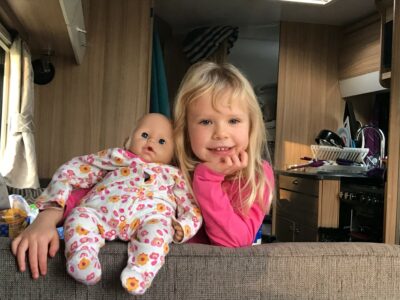 So as you can see, it can be very easy to go caravanning with children, babies, toddlers, and even teenagers. You'll make some amazing family memories.
Also see our tips for caravanning with kids here, in association with Coachman Caravans.
Over to you…
Have you got any advice or experience of caravanning with children to share? Is your child a caravanning whizz too? We'd love to hear from you. Add a comment below.
Cost to insure: *
---
factfile
| | |
| --- | --- |
| Model | |
| Base vehicle | |
| Axle type | |
| Dimensions | |
| Shipping length | |
| RRP | |
---
Search our blog
---