Caravanning, camping and motorhoming in Europe is fantastic. There's an enormous variety of languages, cultures, and landscapes to explore, all within just a few days' drive on good roads. And whether you're travelling to the North Cape or the Atlantic coast, camping is a great option everywhere!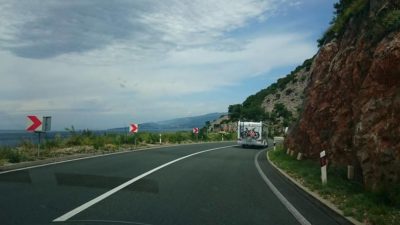 Relax as you discover Europe
Okay, so you're off to your camping holiday in southern Spain, Portugal, or Croatia, but really, the trip is almost as gorgeous as the destination! You can cover a lot of ground in a day, but why not consider stopping off every four hours or so and finding a campground or campsite. Go out to eat at a nice local restaurant or café or maybe take a stroll. With these kinds of smaller stopovers, you'll arrive at your destination relaxed and sometimes even make surprising discoveries along the way!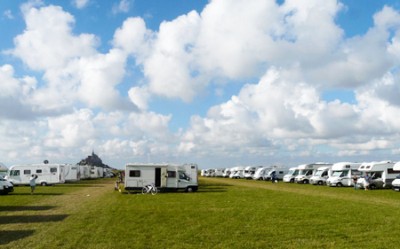 Do you need to make a reservation?
Reservations usually aren't necessary for just one night. There's generally space available, especially if you're not travelling during high season. Want to guarantee that you'll have plenty of space or a waterfront spot? Then it might be wise to book in advance.
We highly recommend using a campsite app if you want to use your smartphone to quickly and conveniently find campsites on the go. The ACSI Campsites Europe app contains information about 8,100 campsites across Europe, and it's easy to search for nearby campsites when on your travels.
Five fantastic camping regions in Europe
So you're all packed up and ready to hit the road with your caravan, campervan or motorhome. But do you know where you're going yet?
Here are five must-see regions in Europe:
The Netherlands: water and wide-open spaces in Friesland
The province of Friesland is located on the northern end of the Netherlands. The region is much quieter than the west and has a unique ambience, with vast green landscapes, charming historic towns, and, more than anything, plenty of water.
Many of the region's towns and villages are connected via an extensive network of canals and lakes. You can rent a sailboat or motorboat at the campsite and spend a day on the water. Bird watchers should definitely bring their binoculars because there are plenty of unique varieties to be found here!
Friesland also borders the Wadden Sea, a unique tidal area where you can 'walk the mudflats' with a guide. They'll take you across the sand and through the water over the partially dry mudflats at low tide. It's a truly unique experience.
Camping tip: de Domp Campsite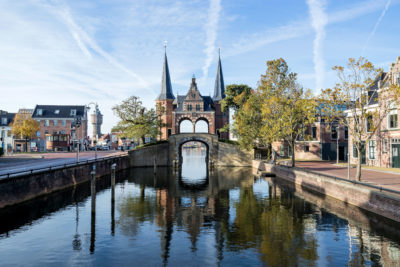 This campsite is close to the heart of the picturesque town of Sneek. It's within walking distance of the charming city centre and the striking fifteenth-century water gate. De Domp has a marina, where you can rent boats and bicycles. It's an oasis of tranquil green, with a number of pitches directly on the waterfront.
For more information visit www.eurocampings.co.uk.
Germany: Romantic castles and vineyards in the Moselle region
The Moselle region is the area around the Moselle River in southern Germany, roughly halfway between Saarburg and Koblenz. Here you'll find the historic city of Trier, with its impressive Roman buildings. Cochem's gorgeous castle is also a popular day trip destination.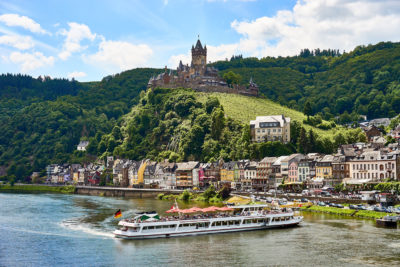 If you're mad about castles, ruins, and Roman history, you'll certainly never be bored in this region. The winding river and steep vineyards make the landscape an unforgettable sight, too. We definitely recommend a boat trip down the Moselle River but you can also explore the Moselle region by bike, thanks to the well laid out cycle paths.
The region really is easy to explore without a car. And that's a good thing because this area is dotted with charming villages where you can sample delicious local wines.
Campsite tip: Zum Feuerberg
This campsite is on the banks of the Moselle River and close to the wine village of Ediger-Eller. There is a small outdoor pool and you can also swim in the river. The Calmont, the steepest vineyard in Europe, is five kilometres from the campsite. If you aren't afraid of heights, the mountain climbing tour is definitely a must!
For more information visit www.eurocampings.co.uk.
Spain: Cathedrals, beaches, and mountains in Valencia
The famous Spanish city of Valencia is the capital of the province that shares its name. And there's so much to do in this city on the Costa del Ahazar.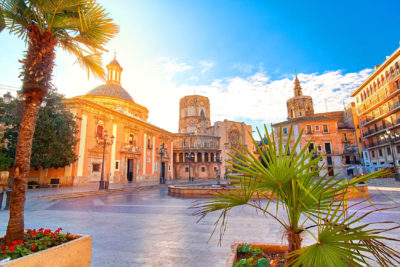 The City of Arts and Sciences is home to the Oceanogràfic aquarium and the science museum. You can also visit cathedrals and castles and walk the 'Route of the Grail'. Or shop till you drop and experience the scents and flavours of Spain in the impressive indoor central market.
There's also plenty to see and do in the surrounding region. You can relax on one of the picturesque beaches, hike in the Sierra Calderona Mountains, or visit the Albufera Nature Preserve. And don't forget to try the region's most famous dish – paella!
Campsite tip: Camping Valencia
Valencia Campsite is just 50 metres from a sandy beach and 20 kilometres from the city of Valencia. This new campsite features a large outdoor swimming pool, campsite restaurant, bar, and supermarket. You'll be right on the charming promenade, and the underground train from the local Puçol station will take you straight to Valencia city centre.
For more information visit www.eurocampings.co.uk.
France: Mountains, cable cars, and lakes in Haute-Savoie
The French region of Haute-Savoie is located near the border of Switzerland and Italy. It borders Lake Geneva to the north, Lake Annecy to the southwest, and the towering Mont Blanc massif in the southeast. It's the perfect place for outdoor aficionados.
The crystal-clear Lake Annecy is a popular camping destination, where you can swim, sail, and visit the delightful town of Annecy. There's a cycle path that circles the entire lake.
You can take a challenging hike on the Mont Blanc massif, or for a less physically demanding outing, try admiring the beautiful mountain scenery on the mountain railway from Chamonix to the Mer de Glace glacier. Or take a cable car 3842 metres up!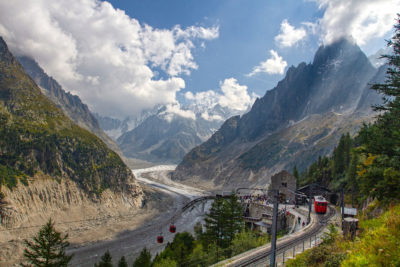 Campsite tip: L'Idéal
L'Idéal Campsite is around a kilometre from Lake Annecy and 16 kilometres from the town of Annecy. There's a large outdoor pool and an indoor pool, as well as endless opportunities for walks in the mountains around the lake.
For more information visit www.eurocampings.co.uk.
Italy: Water sports, culture, and wine around Lake Garda
Lake Garda is the largest and most famous lake in Italy – and, of course, a popular holiday destination.
It's an incredibly varied region. The mountainous north end of the lake looks a bit like a fjord and is a popular destination for surfers. The flatter south side is home to several large family campsites. The west side is a bit steeper than the east side, where you will find some smaller, quieter campsites.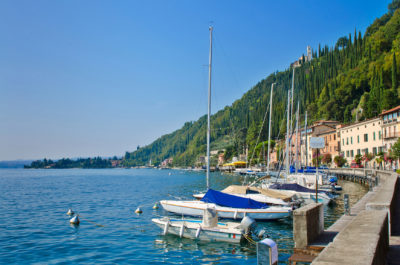 There are plenty of picturesque villages nestled around Lake Garda. The town of Sirmione is a must-see, thanks to the unique 'Grotte di Catullo', a large, excavated Roman villa.
The historic city of Verona is also home to many Roman ruins. On the east side of the lake, you can visit the Bardolino vineyards and taste their eponymous wines.
This region is also known for its olive oil. Pay a visit to the olive oil museum in Cisano to learn more.
Campsite tip:  Zocco Campsite
Zocco Campsite is perched on the west coast of Lake Garda near the village of Manerba del Garda. From the campsite, you can easily reach the pebble beach and there's an outdoor swimming pool on site. The restaurant is a great option if you're in the mood for a delicious pizza.
For more information visit www.eurocampings.co.uk.
Insuring your caravan or motorhome for trips abroad
Caravan Guard's touring caravan insurance policy can offer 180 or 240 days European cover per annum.
Our motorhome insurance policy can offer up to 270 days of cover per annum for travel abroad. There's also a European breakdown option.
If you're an existing Caravan Guard customer and you're planning a trip abroad, please check your policy schedule to see if European cover is in place.
Also if travelling before January 31st, 2020 please check our Brexit caravan and motorhome European travel blog.
Not only does this guide describe some of the loveliest campsites in Great Britain, Ireland, France, Spain and Portugal, but it's also full of tourist information about all these wonderful destinations. It really is a guide to find your perfect overnight spot when still at home or on the road.
It features:
Comprehensive details of more than 3,100 campsites
The most popular regions of five countries
Campsites which are annually selected, inspected and reviewed, for your peace of mind
The ACSI discount card for big savings in the low season.
Hitting the road with the ACSI Campsite Guide? Then you get free access to the ACSI Campsites Europe app for Great Britain, Ireland, France, Spain, and Portugal.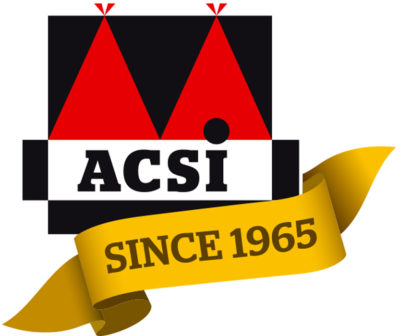 Order your ACSI Campsite Guide here. 
Cost to insure: *
---
factfile
| | |
| --- | --- |
| Model | |
| Base vehicle | |
| Axle type | |
| Dimensions | |
| Shipping length | |
| RRP | |
---
Search our blog
---