Want a traditional poled awning for your caravan? It might just be the best fit.
All the talk out in the field is about inflatable awnings, but more traditional poled awnings still have their place on the side of your caravan.
The secret is, poled awnings can be just as easy to put up as their inflatable counterparts – there's still the threading through the awning rail and pegging out to achieve, afterall. OK, packing away again can take a bit more time, but then again the subsequent separate bags of poles and canvas are often easier to handle, and stow, than an all-in-one package.
Poled awnings can cost less than their inflatable rivals. But, there are other plus points to be aware of, such as:
On uneven ground, the legs can be adjusted to accommodate
Poles are considered stronger
Traditional awnings can weigh considerably less than inflatable equivalents.
Intended uses for your awning have a major bearing, too. It's generally agreed that traditional poled full awnings are more suitable for all year round pitching, for example. Top models use acrylic material which is breathable, durable and anti-fade, too
Some full awning designs can be altered in size, saving you the cost of buying a brand new model if you switch caravans
Unlike the all-in-one nature of an inflatable awning, the weight of a traditional awning is split between the poles and the canvas. It makes things easier to carry as well as store
If a pole breaks, the awning is still usable as other poles can often be substituted. If there's a real emergency, you could even use something like a broom handle as a temporary measure.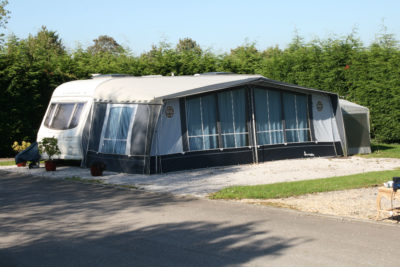 Insurance considerations
Plus, it's worth noting that both pole and inflatable awnings are covered for damage as part of a Caravan Guard caravan insurance policy – just make sure you include it in your sums insured. Plus, if any damage is caused to your caravan by an awning pole during stormy weather then it's good to know that we have it covered.
If the forecast is windy when you're on site it's always a good idea to take down your awning to avoid any damage to your tourer or at worst fit an awning strap to pin it down and keep it more secure.
Full or porch – you still need to measure up
This might seem obvious, but getting the right sized awning for your caravan is crucial – especially if you're buying a full awning. Manufacturers and specialist dealers can help, but – if you're going for a full awning (one that matches directly to the dimensions of your 'van) you might also want to check for yourself by measuring the distance from the ground all the way around your awning rail and back to the ground again on the other side (this is known as the A measurement).
For a porch awning, you just need measurements for height and a length that, ideally, won't impinge on your caravan's windows, external lockers etc.
Pick your poles
Steel, aluminium or glass fibre is the choice here. There are sometimes also opportunities to order increased diameter poles, for great all-round strength.
Top Tips
Visit an awning display before you commit to buy. You'll notice a different ambience inside each, depending on the fabrics used. You'll get good advice from top caravan dealers who have specialist awning sales folk
You can also do your research on campsites. Ask the owners about their experiences
If at all possible, try putting up your awning before you take it away for the first time
It's a good idea to put down your groundsheet first when putting up your awning. It means it won't attract any dirt.
Removing any zip-out panels before putting up your awning will make things easier. It means there's less bulk of material to handle.
Having problems with your awning rail? Try a dab of washing-up liquid – it acts as a handy lubricant. Don't get any on the main material, though.
Don't forget, also, to budget for any extras you feel you might want, immediately or in the future – such as a carpet, storm tie-down kit, extra poles (rear upright, canopy, verandah).

Isabella Ambassador Seed
Top-of-the-bill full awning from Isabella, in a choice of three colours, this is a 250cm deep model. Sizes run from 836cm to 1,185cm.
The fabric is Isabella's own Isacryl – a strong, breathable, fibre-dyed (so more UV-resistant) acrylic that's designed to stand up to prolonged use.  Removable front and sides can also be folded down on sunny days. There are plenty of standard fittings here, too – draught skirt and wheel arch cover, curtains, verandah pole, storm ties… right down to a peg puller.
Key accessories include steel or carbon pole upgrades, annexe, storm kit, net front, guttering, door canopy.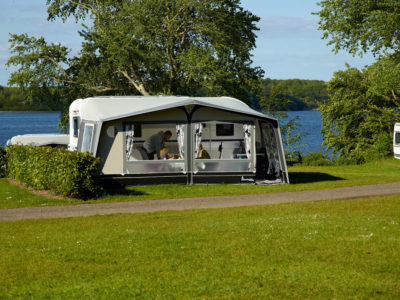 Price from £1,802
Key features Isacryl fabric, frosted lower window panels, mosquito nets to both sides
More info www.isabella.net

Dorema Daytona
A keenly priced full awning in sizes ranging from 725cm to 1,125cm and a choice of three depths – 240cm, 270cm and 300cm.
Designed for all-season use, the main material is a premium Ten Cate coated polyester and the frame has 25mm steel poles in standard format.
The front and side panels can be zipped out, plus a high level zipped panel at the front acts as a vent. Latest versions have a flyscreen panel on the right-hand side, so there are plenty of ventilation opportunities.
There's a choice of red, blue or grey colourings and upgrades include annexes (standard, or tall with pointed roof) and frames in 28mm steel, aluminium or Fibre Tech Plus glass fibre.
Consider, also, add-ons ranging from Quick Lock pads and Safe Lock System Kit to verandah and storm poles.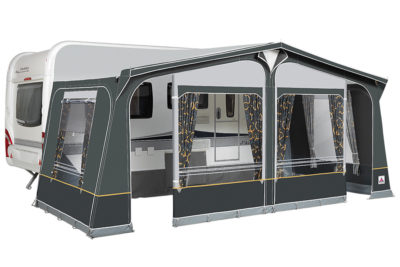 Price from From £489
Key features Ten Cate fabric, choice of depths, range of options
Weight 30kg (size 7, 800cm-825cm)
More info www.dorema.co.uk

Kampa Rally 330
A porch awning that's available in 220, 260 and 390 sizes, Kampa's Rally series is the bedrock on which the rest of its portfolio – including inflatables – is founded.
The 330 is a good bridge between a weekender-style small porch and a fuller size for longer breaks, but it's pretty easy to put up. It's lightweight, some 20.5kg, is a help, too.
Suitable for caravans between 235cm and 250cm high, the 330 refers to the awning's width, and it's 250cm deep. There are also more premium "Pro" equivalents for each standard Rally with extra heavy duty 300D Weathershield material.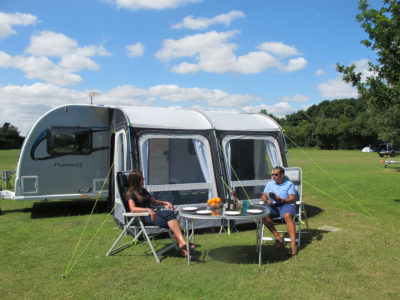 Price from £349.99
Key features 150D Weathershield fire retardant UV stabilised fabric (4000mm hydrostatic head), Dynaflex roof poles, steel adjustable legs, aluminium adjustable spreader bars, roll-up front panels, fixed side panels with opening doors, secondary mesh panels on side doors, Crystal Clear windows with roll-away blinds, draught skirt.
More info www.kampa.co.uk

Ventura Pacific
Ventura is the budget brand of Isabella, but there aren't as many quality compromises as you might think. The Pacific is a full awning in A-sizes 800cm to 1,075cm and a choice of depths – 250cm or 300cm.
It still uses a Ten Cate fabric, too, coated on one side, and all main panels can be folded down or removed altogether (and there's a mesh panel on one side). Curtains, draught skirt and wheel arch cover all come as standard, with popular options including an annexe and verandah pole. You can also choose between steel and fibreglass frame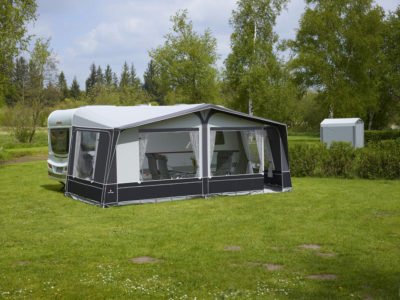 Price from £829
Key features Tan Cate fabric, screw-free Fixon fittings, draught skirt and wheel arch cover, curtains, good range of sizes and depths.
More info www.ventura-camping.com
Over to you…
Got any advice on poled awnings to pass on to others? Does the small matter of erecting the awning, live up to its name – a divorce in a bag?! Do poled or inflatable air awnings get your vote? Feel free to add your comments below.
Search our blog
---