Cycling is on the up, so you might want to take your bikes with you when you go caravanning. Here's our round-up of the different types of bike rack available to transport your bicycles safely when towing a caravan.
Rack it up
On the back of the caravan? Or the A-frame? Or on your towing vehicle? There's lots to consider when you start looking at a rack to carry your bikes when caravanning. And there are lots of choices – technical as well as practical – for you to make.
Where can your caravan accept a bike rack fitting? In what way will its location affect performance? How many and how heavy are the bikes you want to carry?
Here's an introduction to the world of bike carriers if you're also towing a caravan. Your caravan dealer will also be able to help with advice.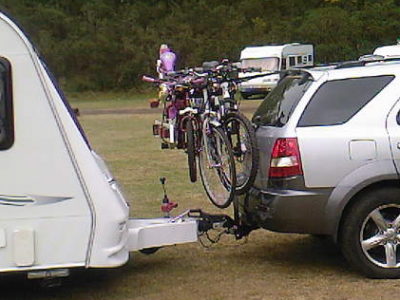 Top tips for carrying bikes while towing
Weigh your bikes. Wherever they end up being carried, do note the extra weight they add. This is particularly crucial if you're using a bike rack added to your towbar and the ensuing affect it will have on overall noseweight. Similarly, if carrying them at the back of your caravan, as this will add extra weight here and could affect towing stability as well as significantly eat into your payload.
You'll also want to make sure any bike rack fitting has sufficient clearance around it so that it does not impinge on any bodywork and so you're able to manoeuvre your caravan.
As with the aftermarket fitting of any permanent accessories to your caravan, always check in case any warranties are invalidated.
Don't forget you might need an extra number plate and lighting tailboard if you're transporting bikes when not towing your caravan.
Do also consider some kind of cover for any bikes you're carrying – for extra security, as well as protection from road dirt etc. But also, do check with individual products as to whether this is advisable.
Star Player #1
Thule Elite G2 two cycle
Not all caravans are suited to having a bike rack fitted on their back wall, so do check before you investigate any further with this type of fitting. Latest Swift's however, are among those configured to take this rack as an optional extra.
The Elite G2 is suitable for bikes (and e-bikes) up to 60kg total (30kg maximum per bike). It has a lockable platform to prevent any unwanted movement whilst driving, plus adjustable rails that slide from left to right. The wheel holders are also adjustable.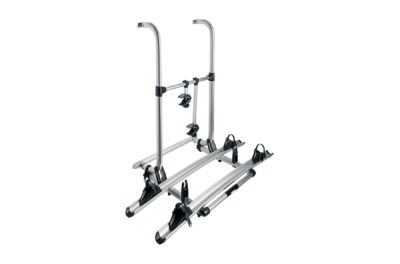 There are also detachable arms with a locking function that clicks when you have reached optimal torque (tightness).
It can also be extended to carry three or four bikes, as an option.
Key features Anodised aluminium, suitable for all kinds of bike (including children's), manual lockable platform, adjustable rails
Expect to pay £299.99
Star Player #2
Fiamma Carry-Bike Caravan XL A
From arguably the biggest name in racks for bikes, Italy's Fiamma boasts a massive portfolio of products for all types of leisure vehicle.
The Carry-Bike Caravan XL A fits on any standard A-frame (drawbar) and has a pivoting action that means you can still access any front locker.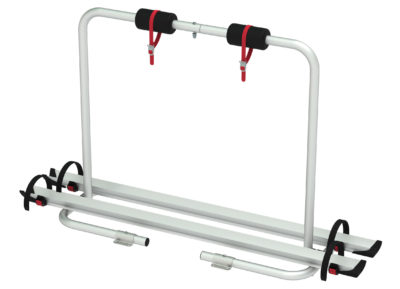 It weighs 5.3kg and maximum load is 35kg. Its dimensions are 128cm wide x 78cm high x 33cm deep.
Key features Anodised aluminium construction, supplied with two rails and two straps, other accessories available
Expect to pay £122
Star Player #3
Maxxraxx 2 Bicycle Voyager Swan Neck Tow and Cycle Carrier
Maxxraxx's Voyager series, which fix directly onto the neck of a swan-neck (fixed or detachable) towbar (other Voyager models are also available for more traditional flange ball fixings). The company is very strict on the safety aspects of these racks, insisting on fitting by a qualified specialist.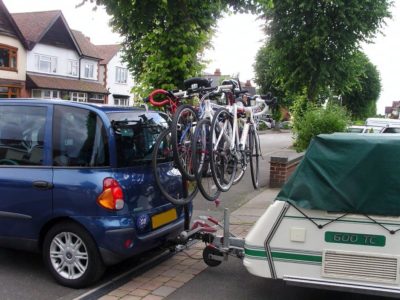 This bike carrier is made from structural steel with a powder coat finish and it comes with two padlocks. Other features include a tilt facility that can operate when bikes are loaded that also allows access to your tailgate, built-in security cable and the company's exclusive ratchet tie-down mechanism. It can also be taken apart for easier storage back at home.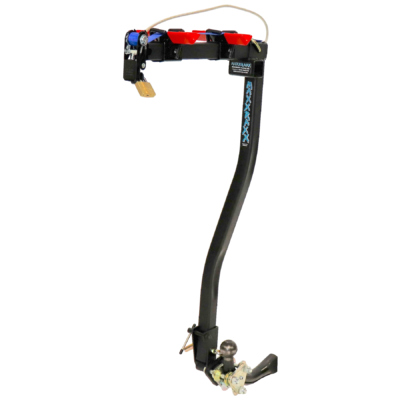 Key features British-made, weight 13kg, 80kg payload, also available for three or four bikes, five-year guarantee
Expect to pay £360
Star Player #4
LAS Drawbar Carrier
This unit, for mounting on the caravan's A-frame, weighs just 6kg, but is designed to carry up to 35kg. It comes with full instructions for assembling and mounting.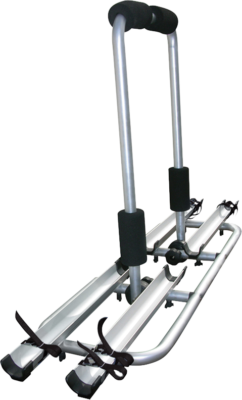 The design also allows for some movement so you can access the front locker of your 'van.
Key features Aluminium construction, stainless steel and plastic fittings, adjustable rails, 35kg weight limit, safety strap
Expect to pay £130
Star Player #5
Thule Caravan Smart 307129
From an extensive portfolio of bike racks, this model is designed for e-bikes (model 306958, at around £130, is more suited to normal bikes). This is suitable for caravans with normal and short A-frames (the fitting instructions even show you how to drill through an A-frame cover).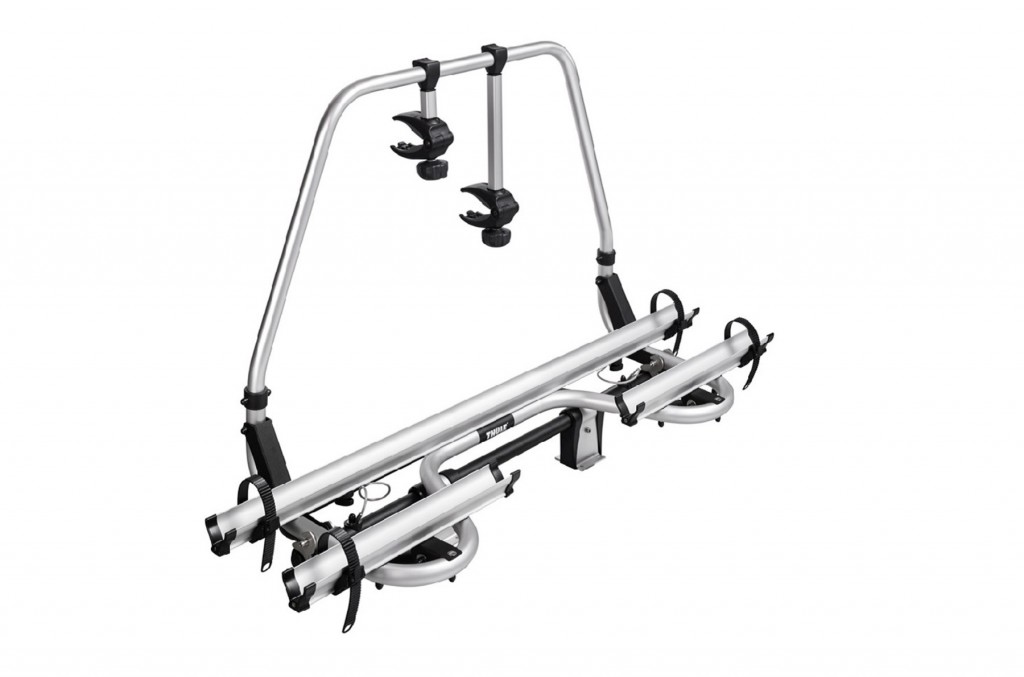 The clever adjustable tilt-stop system allows you to operate single-handedly, to help protect both car and caravan.
Non-extending, it's some 130cm wide (85cm high and 44cm deep), with a locking platform to prevent any movement in transit
A range of accessories is also available, including lockable straps, frame adaptor and locking knobs. Bike covers are not recommended with this product.
Key features Anodised aluminium, lowered platform, 50kg maximum weight allowance, rack weight 8.9kg
Expect to pay £300
Star Player #6
Halfords Roof Mount Bike Rack
An alternative to fitting a bicycle carrier to your caravan or towbar is this – a roof-mounted product. Much of the success of an item like this depends on how strong and athletic you are, as there's always going to be some cumbersome lifting involved. It also assumes you already have roof bars fitted to your car (or you intend to add them anyway).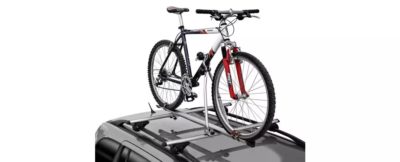 It's limited to one bike with a maximum weight of 15kg (although you can add carriers up to a maximum of four). Supplied pre-assembled, all you need to do is add the wheel caps and wheel mounting straps.
Key features Suitable for bikes with 20in-29in wheels, fits a variety of roof bars, wheel straps with rubber protection included
Expect to pay £30
There's more on bike racks for caravans…
There are also bespoke opportunities if you have any really specific needs. Consider the services of the likes of Dave Cooper Bike Racks, Pendle Bike Racks and Watling Engineers.
Also, specialist retailers like the Roofbox Company are an excellent source of independent advice.
Or if you're concerned about exceeding your noseweight or creating instability at the back of your caravan, you could always put your bikes inside the caravan. Again, be careful of your weight limits and make sure they're secured inside the caravan when towing.
Over to you…
Got any advice on cycle racks for caravans you'd like to share with other owners? Please feel free to add a comment below.
Cost to insure: *
---
factfile
| | |
| --- | --- |
| Model | |
| Base vehicle | |
| Axle type | |
| Dimensions | |
| Shipping length | |
| RRP | |
---
Search our blog
---