New technology and manufacturing advancements are making modern caravans a lot safer to tow but you must always make sure you load your caravan correctly, as well as drive carefully if you want to maintain good towing stability.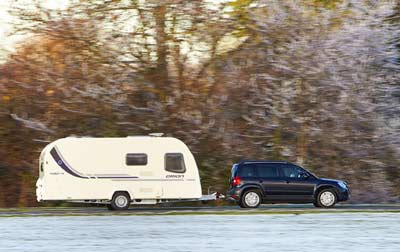 One of the first considerations for a stable towing experience is having the right tow car for your caravan so you have the perfectly matched outfit. Towsafe will help you match your car and caravan so you stay safe and legal. There are also a range of devices available to help even the most nervous of tow car drivers feel more confident.
Here we offer some guidance on how you can improve your caravan's towing stability, plus we look at some of the safety devices and systems available.
Our top tips
Always load your caravan correctly. Avoid putting heavy items at the extreme ends of the caravan and in the high level lockers. Put weighty items on the floor and in the middle area of your tourer, as near to the axle as you can. Heavy items in high lockers might cause your caravan to lean badly when driving around bends.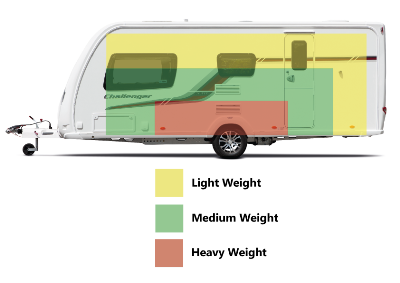 Try to carry heavy items in your tow car if you have room or secure them as near to the caravan floor as possible with straps. Cargo bars will also help to prevent items from moving around and minimise instability.
Avoid too much or too little noseweight. Don't have too much weight bearing down on the nose of the caravan and onto the towbar. Check your nosewight using a purpose weight gauge or a broom handle and set of bathroom scales. Click for our guide on how to measure your caravan's noseweight. The correct noseweight for the caravan is the lowest of three noseweight figures: that of the caravan chassis manufacturer; that of the tow vehicle manufacturer; and that of the towbar manufacturer.
A bike rack is best fitted to the front of a caravan as it's less likely to affect the lateral stability. Where a rack is fitted to the back of the caravan be careful not to carry bikes which are too heavy.
Remove black paint from your tow car's towball to prevent damage to the caravan's hitch stabiliser.
Aim to hitch up on a flat surface so your caravan is in a horizontal position when coupled to the tow car.
A correctly loaded caravan, coupled with a well matched two car and caravan, plus steady driving, should offer a stable towing experience. But other external factors might come into play, such as a sudden gust of wind, a pothole or unexpected bump in the road. That's where devices such as a stabiliser or trailer control systems can offer that extra bit of stability.
Stabilisers
There are a number of stabilisers which grip the towball to help restrict the lateral movement of the caravan.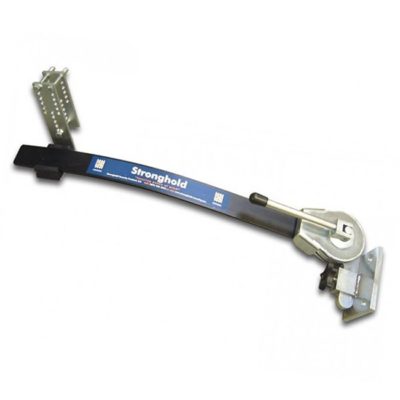 A blade stabiliser is attached along a caravan's A-frame and clamped into a bracket by the towball. Any sideways movement is resisted by friction pads in the turntable. The friction pads on the turntable will wear over time and will need to be replaced.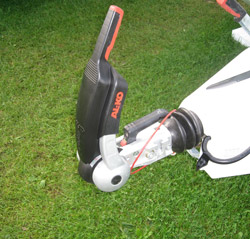 A hitch stabiliser, such as the Al-Ko 3004, will suppress lateral and pitching movements when towing via friction pads which grip a clean towball when the clamp is lowered. Similarly the friction pads on the BPW WS 3000 stabiliser will grip directly onto a grease-free towball to dampen down any unwanted movements.
It's important when using a hitch stabiliser to keep the towball free of paint, grease or oil and to periodically replace the friction pads when worn. This is usually detected by a groaning noise at the hitch head.
Before retro-fitting a stabiliser make sure it's suitable for your chassis and towball and clean your towball before every trip.
Automatic trailer control systems
Electronic trailer control systems work in a different way and help to control snaking – when a caravan swings from side to side. Sensors detect instability and apply the caravan's brakes to bring the tourer back into line.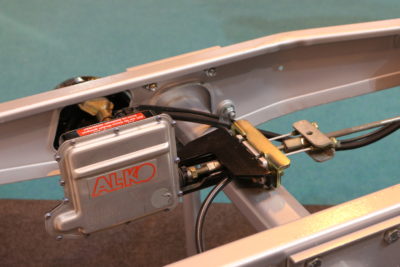 There are two main electronic systems, also known as anti-snaking devices – the Al-Ko ATC and the BPW intelligent Drive Control (iDC). Both are commonly fitted to modern day mid or high range caravans but can also be retro-fitted to a compatible chassis. These systems draw power from the towcar's electrics so it's essential that your vehicle can supply enough power.
Because these electronic devices can help to prevent snaking and help caravanners avoid an accident, we offer a 5% discount on your touring caravan insurance premium.
A stabiliser or electronic anti-snaking device, will certainly help with safe towing but should be regarded as an extra safety feature to help if things do go wrong. You should always start with a well matched outfit and a correctly loaded caravan.
Over to you…
Got any safe towing advice to share? Leave them in the comments box below.
Cost to insure: *
---
factfile
| | |
| --- | --- |
| Model | |
| Base vehicle | |
| Axle type | |
| Dimensions | |
| Shipping length | |
| RRP | |
---
Search our blog
---