The caravanning and camping season is underway and your 'van might be shiny on the outside, but it's also time to give the inside some extra TLC too so it's ready for this year's adventures.
Here's our top five tips for cleaning the inside of your caravan or motorhome, including sterilising your aquaroll and water system.
1. When you fling open the doors to your tourer or motorhome it's probably going to smell a bit musty, so the first job is to sterilise the water system so you can be sure the water you're drinking and using is nice and clean. First close all your taps and valves and then add a cleaning agent, such as Puriclean to the fresh water tank, and fill with water.
Turn on the taps, one at a time, starting with the one furthest away from your tank, to get some water into your leisure vehicle's pipes and to clear any air. It might start to splutter as air comes through the system. Once water is running through and you can smell the cleaning solution turn off the taps and leave for up to 12 hours to thoroughly sterilise the pipes.
The next day, turn on the water so you're running water from the fresh water tank into the grey water tank. Then, fill the tank again and keep the taps running until you can no longer smell the cleaning solution and you're confident it's flushed through the system. A lack of cleaning product scent will be a sign that the pipes and water are clean. Then empty the grey water tank.
It's also worth changing your water filters at this point.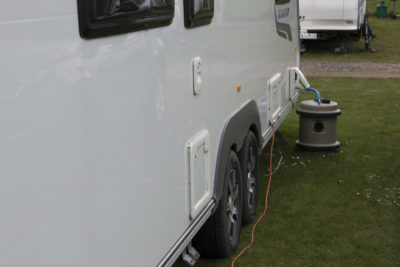 2. By cleaning your Aquaroll regularly and thoroughly you'll make sure you'll be able to use it for many years to come. Simply sterilise the Aquaroll by adding four heaped tablespoons of bicarbonate of soda inside it. Fill it with water and then place the Aquaroll on its side and roll gently. Stand it back on its end and leave for 24 hours. Finally, rinse it thoroughly with fresh water and you're good to go. Some caravanners also use Milton.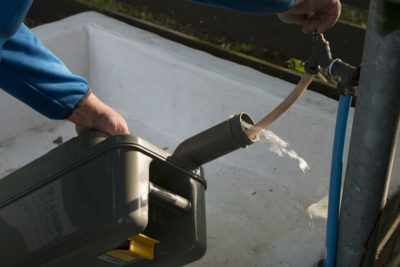 3. Periodically cleaning your toilet cassette will also prolong the tank's life. You can clean your toilet cassette with a specialist cleaner, such as Thetford's cassette tank cleaner. Add around 300 ml of cleaner into the empty holding tank, then add at least five litres of lukewarm water. Gently swill the liquid around the tank so it coats the inside well. Leave the tank for at least 16 hours, giving it a rock every now and again. Empty the tank and then rinse thoroughly with fresh water.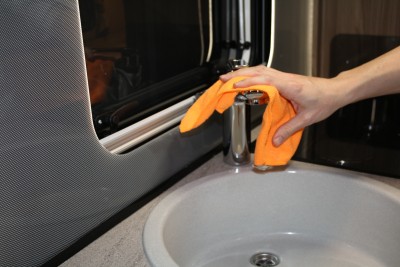 4. Treat your caravan or motorhome like your home. Regular vacuuming of the flooring, upholstery and inside of lockers, as well as dusting and wiping all surfaces, will help keep dirt at bay. Use the same cleaning products you would at home, such as furniture polish and anti-bacterial wipes but avoid products which contain bleach.
In the kitchen area, the usual cleaning products for the hob and cooker are fine. Wipe out the fridge with anti-bacterial wipes and clean the stainless steel sink with a cream cleaner.
In the bathrooms, be careful when cleaning the plastics as some detergent cleaners can cause damage to areas such as the toilets and shower trays, as well as the seals. Thetford have a specialist spray cleaner, as well as a toilet bowl cleaner, and recommend spraying the toilet seal with their maintenance spray to protect it and keep the blade working smoothly. Alternatively olive oil can be used.
Fenwicks Fendox cleaner can also be diluted with water and used to clean working surfaces, cookers, fridges, sinks, wash basins, showers, and toilets, or their multi-surface cleaner.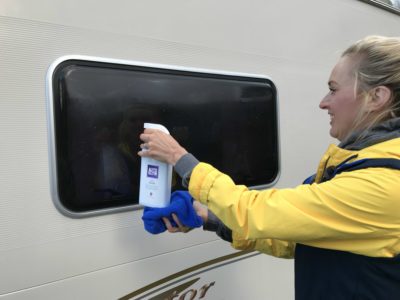 5. Clean acrylic caravan and motorhome windows with a specialist cleaner to avoid scratching or damaging the surface. There are a range of products available, such as Autoglym's Fast Glass, Fenwicks Windowize, or Care-avan's window cleaner. Apply and polish with a microfibre cloth to remove minor scratching and haze, buffing well for a great shine.
You could finish off your hard work by adding some scented drawer liners or lavender bags into lockers and then pouring yourself a nice glass of your favourite tipple or a mug of tea or coffee!
Then sit back and dream of those holidays in your caravan or motorhome and where your next trip will take you.
Also, check out our articles on cleaning your caravan and motorhome exterior and our top 10 Spring caravan and motorhome checks to get those wheels ready to roll.
Your cleaning tips
Have you got any internal caravan or motorhome cleaning tips to share. Leave your advice in the comments box below.
Cost to insure: *
---
factfile
| | |
| --- | --- |
| Model | |
| Base vehicle | |
| Axle type | |
| Dimensions | |
| Shipping length | |
| RRP | |
---
Search our blog
---