Buying a brand new motorhome should be all about making a dream come true. Don't let it be a nightmare, though. There's lots of groundwork you can do as you prepare to invest a considerable amount of money into a pastime that's already loved by hundreds of thousands.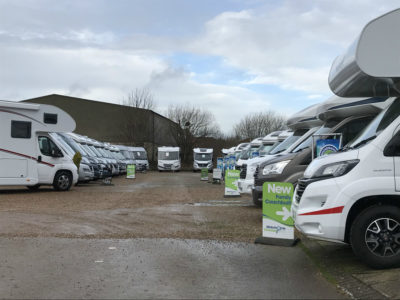 First impressions do indeed count for a lot. If your instincts tell you that a certain type of motorhome looks and – more importantly – feels right, then it probably is going to be right.
Here are our 10 top tips for buying a new motorhome. However, do note at the time of writing (November 2021) there's a marked shortage of new vehicles in the showrooms and dealers are quoting long lead times as well as the prospect of rising prices.
So, don't get too carried away with the dream, but do think of a brand new motorhome in terms of the investment – not just financially, but in a lifetime's worth of holiday memories. They also hold their value far better than any luxury car.
Do your research
Great, you want to buy a brand new motorhome. The fun really does start here. But, the ground work is laid by thorough research – the more you do, the more rewarding you'll find it in the longer term. It's all too easy to get carried away at the thought of a shiny motorhome ready to whisk you away to new adventures. There's just a bit of work to do before that.
Talk to family, friends, get to know dealers, visit shows, speak with fellow motorhome owners – all will be delighted to share their views and offer advice.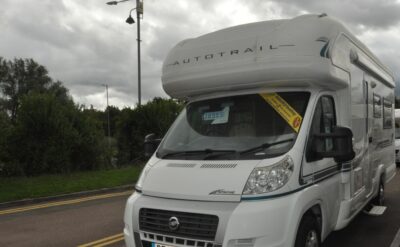 Amongst your initial research should be considerations regarding weights and dimensions, where to store your vehicle etc. Before you get too far, you need to realise the key factor is getting the right floorplan for your specific needs. That, and making sure you have the right driving licence qualifications to use larger, heavier vehicles (i.e. those over 3,500kg).
See also… our article on choosing the right motorhome layout. Also, if you think a pre-owned motorhome is a better way to start off (and generally it is), see our article on buying a second-hand motorhome. 
Checklists
As part of your research, it's an ideal time to start listing what you want from your motorhome. That's everything from particular activities you want to enjoy as part of your lifestyle, to where you intend to travel and at what times of the year.
This will also give you the chance to prioritise what's most important for you.
Start with berths – seating and bedding (the current trend is very much for permanent beds, but this does limit your daytime living space). Then it's onto kitchen, washroom and overall storage. A list of key items of kit – including "must-haves" and "would like to haves" is also a great help.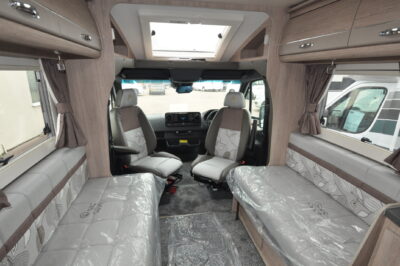 See also… Our article on twenty top motorhome essentials and top three must-have motorhome accessories as voted for by our readers. 
Get to know the motorhome lingo
A-class, coachbuilt, van conversion, campervan… they're just some of the different terms for types of motorhome. There's a whole lot more motorhome jargon to take on board. A fair amount is self-explanatory, fortunately.
See also… our Motorhome Glossary is a great introduction to some of the industry words. 
Get a good motorhome dealer
Get a good dealer and you're well on the way to getting a good deal. Someone local to you is ideal. Look out for overall credentials – how long they've been in business, how long they've had specific manufacturer franchises, customer ratings etc… right down to any other links they might have with your local community. Key also is the after-sales back-up any proper specialist motorhome dealer can give you in terms of its workshop, accessories and more.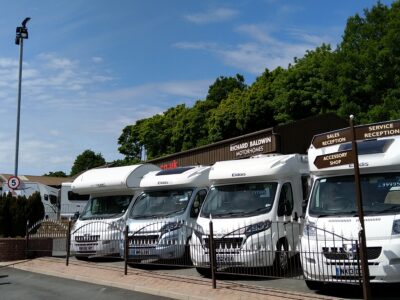 See also… Leading dealers tend to be (although aren't always necessarily) members of the UK trade body for caravans, the NCC (National Caravan Council). 
Focus on preferred models
The more you research, the more you'll be able to narrow down to a shorter list of the makes and models you'd like to go and see. That can mean quite a bit of travelling, so do make sure any specific vehicle you want to see is in stock before you venture out.
If you do like the look of a particular layout or even a specific make and model, why not see if it features on any motorhome rental companies' fleets? Try-before-you-buy is a great way to investigate what it's like living with a motorhome.


See also… our article on using a motorhome for the first time. 
Go, view
Once you have a good idea of the type of motorhome you want to buy, the time has come to get out there and view some vehicles "in the flesh". That means visiting specialist motorhome dealers or shows.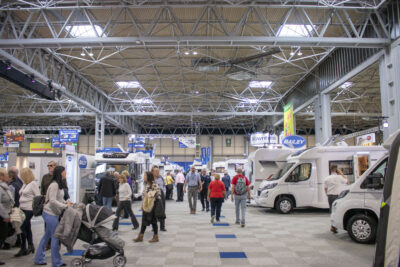 Whilst online buying is very much the retail experience of the moment, there really is no substitute for getting out and seeing things for yourself when it comes to an important purchase such as a motorhome.
Sales staff will, of course, be on hand to offer plenty of advice. But, just as important is the opportunity to have time alone in a motorhome for yourselves.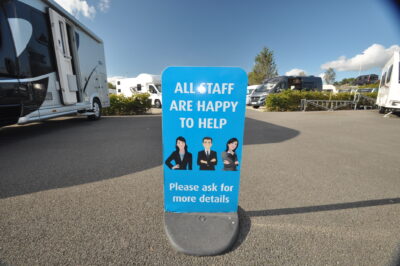 Décor etc is always going to be up to you.
That also involves getting your finances in order. Are you buying with cash or taking out a loan? Whichever way you decide to go, stick to your budget.
Once you're at the point of deciding a vehicle you really would like to buy, now's the time to ask about a test drive – that's when you can have an early assessment of what it's like to drive, how it handles, the user-friendliness of the cab and more.
See also… For more about the UK's two main caravan exhibitions, see www.thencc.org.uk/our_industry/ourshows.aspx. Look out for regional events near you, too.
Consider aftersales
Following on from the above, the right dealer for you will be able to offer lots in terms of aftersales service. Everything from service centres staffed by qualified motorhome technicians, to accessories shops selling everything you need for happy motorhoming experiences.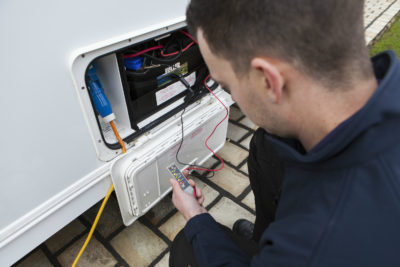 Look out for any customer satisfaction awards from the likes of Practical Motorhome magazine. Online reviews are also good indicators.
See also… Find out more about the Approved Workshop Scheme here, award-winning manufacturers and dealers, as voted for by caravan owners, can be found here. 
Focus on the details
Again, this is where a good retailer can be a real help. Offering a choice of motorhomes that you can go and view is the perfect way to compare, contrast and really get down to the nitty-gritty of what's going to be the best for you. It's also your chance to grill sales staff and check out if they really do know their stuff!
There's plenty to consider when it comes to details. Everything from standing room (at the kitchen and in the shower are two key areas) to bed dimensions (rely on your tape measure rather than sales brochures), to storage space (locker sizes and accessibility)…even aspects such as leg and elbow room around the toilet, location and/or ease of access to key fittings like the cooker, microwave oven or fridge, and so much more.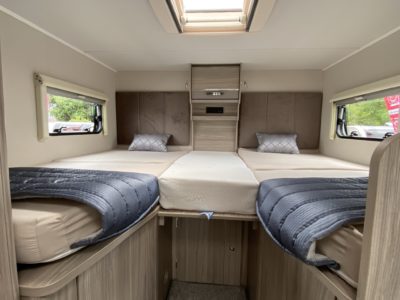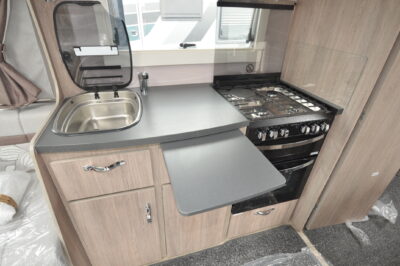 Again, it's going to come down to your priorities. Meanwhile, aspects such as overall styling and décor are, of course, all down to your personal tastes.
See also… our regular motorhome reviews of the latest models. 
Don't just negotiate on price
Everyone loves a bit of a haggle, but there's a bit more craft to sales negotiation than that.
You're usually better off bargaining for any extras to be fitted – awnings, solar panels, bike racks, satellite TV systems and more are popular options – rather than concentrating solely on price. There might even be offers on future servicing work.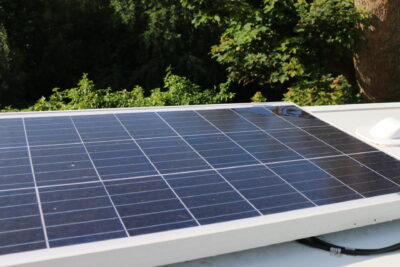 Also, as a (possibly total) newcomer, your dealer should be looking to give you a complete package – including accessories such as hosepipes, levelling chocks, mains lead, leisure battery, toilet chemicals, security fittings and even gas cylinders. Anything you need to get started in your brand new motorhome.
See also… There's an introduction to key motorhome accessories here.
Enjoy yourselves
The process of choosing and buying a new motorhome should be almost as much fun as using one. So, do relax and make the most of your experience. Don't feel any obligation to rush any decisions you might later come to regret. Remember, motorhoming is a lovely pastime that will bring you many memories over the years (and even when things don't quite go to plan, you'll have great stories to tell at a later date!).
Incidentally, it's ideal to go away for a night or two (keep it local) as soon as you get your new motorhome – just to make sure you have all the right kit for future holidays and to make sure you're happy with the way everything works. Some dealers may even have camping areas on site so you can spend the night there getting used to your motorhome with expert advice on hand.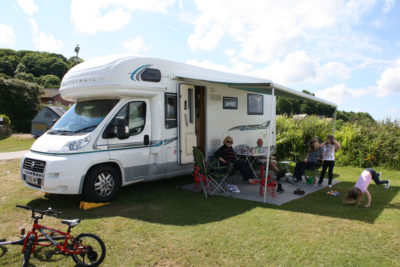 Finally, don't forget to insure your motorhome. Well, we would say that, wouldn't we? But seriously, it's important you have the right level of cover to meet your needs. Find out more about our award-winning motorhome insurance here.
Welcome on board!
See also…For more great ideas on where to go motorhoming see www.freedomtogo.co.uk and don't forget there are loads of forums, groups and owner's clubs on social media as well as some handy videos on You Tube.
Over to you…
Got any advice to pass on to newcomers to motorhoming or current owners about
Cost to insure: *
---
factfile
| | |
| --- | --- |
| Model | |
| Base vehicle | |
| Axle type | |
| Dimensions | |
| Shipping length | |
| RRP | |
---
Search our blog
---