Get to know the key motorhome jargon with our easy-to-read guide to over 50 of the most commonly used terms in our motorhome glossary.
The Caravan Guard motorhome glossary
A-class
A specific type of motorhome built from the floor up, using a complete coachbuilt body on a chassis cowl.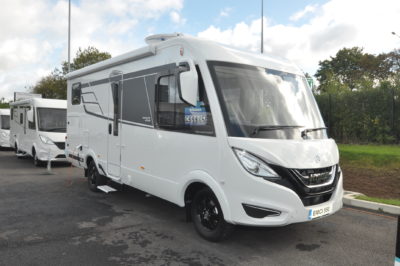 Approved Workshop
Member of a scheme operated by trade body the NCC (see below), which inspects and lists specialist service centres capable of carrying out all levels of work on all aspects of the living quarters as well as the bodywork (for coachbuilts) of a motorhome.

Awning
Extra shelter or living space for any motorhome. This can be in the form of a canopy that's permanently fixed to the wide of the vehicle and winds out to provide shelter, or a fuller awning that's more of a tent-like structure that fixes to your motorhome via a rail or similar, to give you extra seating, sleeping or storage space.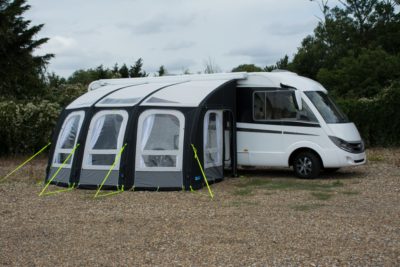 Axle weight
Literally, the weight placed on any axle, front or back. It is illegal to exceed these limits, as set by the base vehicle manufacturer.
Base vehicle
The donor vehicle that provides the foundations for any motorhome conversion. Common base vehicles are Volkswagen's Transporter (for campervan conversions) and Fiat's Ducato or Peugeot's Boxer (for van conversions and coachbuilts).


Barn doors
Twin side-hinged rear doors at the back of a campervan (rather than the preferred usual of a top-hinged tailgate).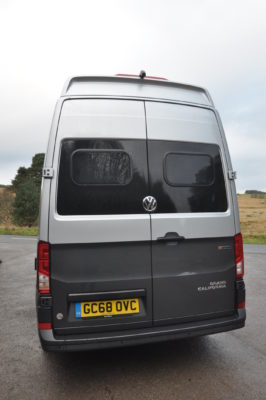 Belted seats
The number of seats fitted with belts and therefore safe for travel.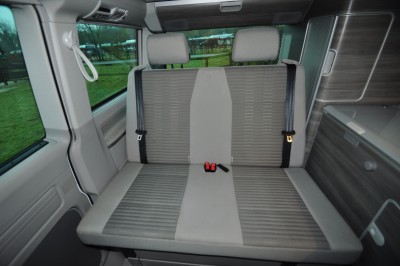 Berths
The number of people a motorhome can accommodate in terms of travel as well as sleeping, for example a typical four-berth motorhome will have safety-belted seats for four as well as sleeping accommodation for the same number in a variety of double and/or single bed configurations.
Bike rack or Cycle rack
A popular option for carrying bikes on the exterior (usually the back) of a motorhome.
Blown-air
A system of heating the interior of a motorhome, using a network of pipes and outlets throughout the living quarters.
Cab
The driving area of a motorhome with a driver and passenger seat, which will often swivel into the lounge area. The driver's seat is sometimes called a "captain's chair".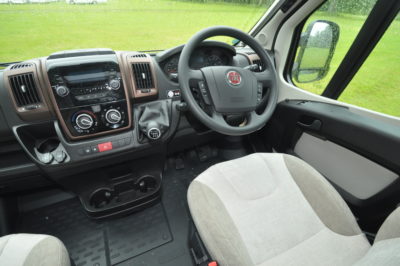 Campervan
Typically based on Volkswagen's Transporter (other base vehicles available), a campervan conversion offers minimal camping facilities offset against the capability of being used more conveniently as a daily driver. Most campervans come with an elevating roof section that raises to give you more standing room and/or additional bed space when parked up.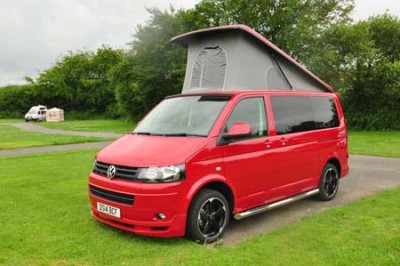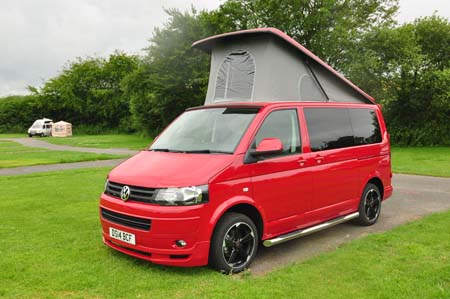 Campsite
An area of land that's officially licensed to offer overnight stays for motorhomes. Facilities vary widely, but must start with a suitable supply of fresh water and somewhere to empty waste. Some sites go on to offer club houses, bars, eateries, swimming pools, play areas, dog walking facilities, fishing lakes and more. Sometimes known as holiday parks.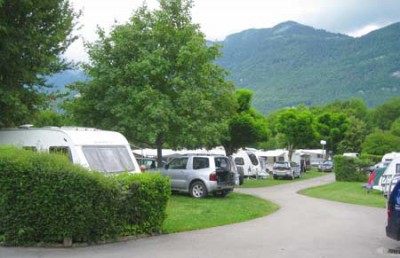 Cassette toilet
A plumbed-in, flushing (electric or, less commonly these days, manual) toilet with a holding tank (cassette) that can be easily removed when you want to discharge its contents. Specialist chemicals ensure hygiene and break down of human waste.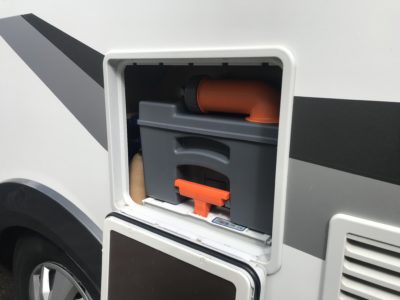 CDP
Chemical Disposal Point. A designated dump station on a campsite for emptying toilet cassettes (see above). Also known as an elsan point.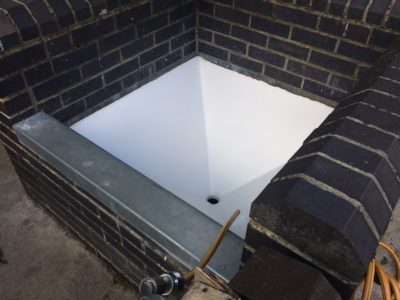 Coachbuilt
A motorhome based on a chassis-cab (supplied by the likes of Fiat, Peugeot, Ford, Mercedes etc) to which a body has been added on the rear to house the living quarters. Coachbuilt bodywork usually features aluminium or GRP exteriors as well as a construction that allows for insulation (typically polystyrene, but often Styrofoam or similar in more expensive models).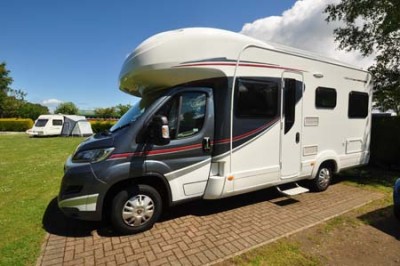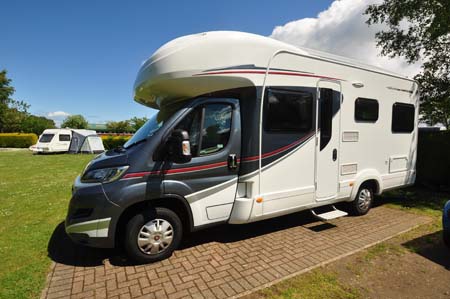 Compact coachbuilt
Usually, a coachbuilt motorhome with an overall length under 6m.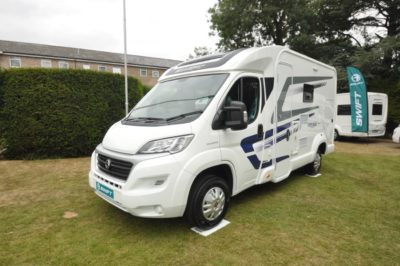 Dinette
A type of seating arrangement in the living quarters of a motorhome where two seats (they can be singles or doubles) face each other on either side of a table.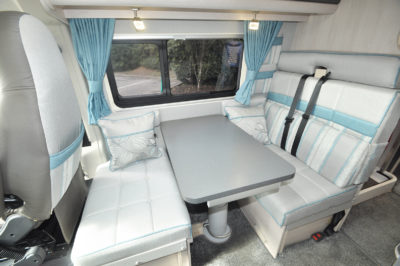 Double floor
A specific way of making the floor of a more upmarket coachbuilt motorhome. The double floor allows for optimum insulation as well as the opportunity to build in floor lockers and run pipework (including for heating).
Draining down
If you're laying up your motorhome for a long period –  especially thought winter, for example – it's essential to remove all water from the fresh and wate water tanks and associated pipework, including taps and showerheads to prevent freezing.
Drop-down bed
A bed (nearly always a double) that tucks away neatly at almost ceiling level when not needed and  literally comes down (manually or electrically) when you want to go to sleep.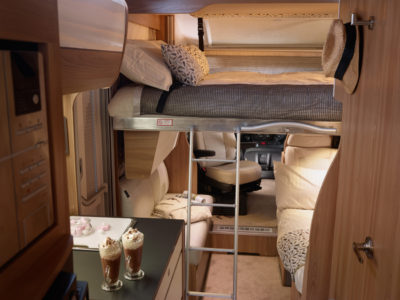 Elevating roof
A roof section that pushes up once you're parked up on-site, to provide extra standing space and/or beds in a campervan or van conversion. Most elevating roofs have canvas sides.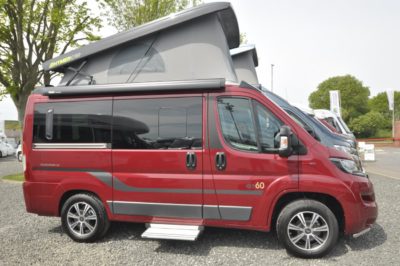 85% Guide
An industry-wide guideline relating to the heaviest weight of trailer your motorhome can tow. Aimed especially at newcomers to towing, it suggests you tow with your trailer no more than 85% of your motorhome's official kerbweight figure.
Electric step or slide-out step
A step at the habitation door that comes out electrically. It's often wired to retract automatically when you start your engine.
French bed
A permanent double bed with a cutaway section at the foot end (usually, to allow easier access to the washroom adjacent).
Fresh water tank
Literally that. A tank, located either in-board or under the floor, for storing a ready supply of fresh water to any taps or showerhead via a pump.
Full-timing
Living permanently in a motorhome. This is not something Caravan Guard can currently provide insurance for.
Garage
A large storage area accessible from outside (sometimes also inside) on a coachbuilt motorhome. Some garages are big enough to accept bikes.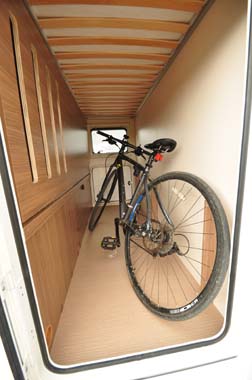 Grey water
Any waste water created as a result of using your motorhomes appliances, except toilet waste (which sometimes known as black water to differentiate it). Most motorhomes have waste water tanks for holding waste water until a suitable occasion to dump it.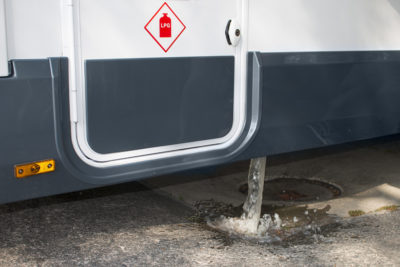 Grip mats
Specially designed mats for slipping under a motorhome's driven wheels, to prevent wheelspin and/or getting stuck in muddy conditions – on campsites, for instance.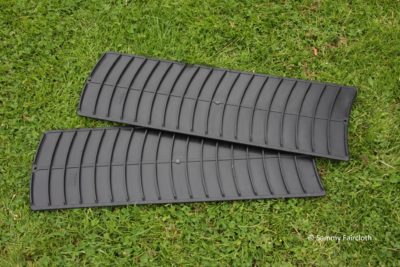 GRP
Glass Reinforced Plastic (also known as glass-fibre or fibreglass) is a particularly durable product that's often used in the manufacture of motorhomes – for anything from small panels to whole coachbuilt bodies.
Habitation area
The living quarters of a motorhome.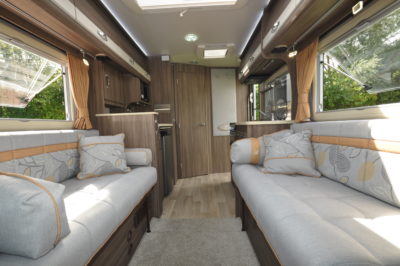 Habitation check
A recommended annual service for the living aspects of all motorhomes. Regular servicing of the habitation side – including water, gas and electrical systems – helps ensure overall safety of any motorhome for its users and neighbours.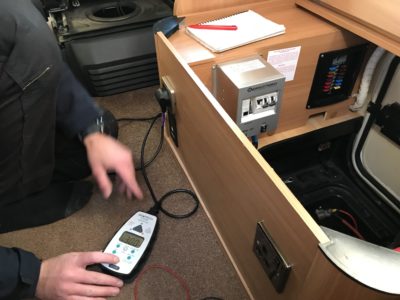 Habitation door
The main entrance to the living quarters in a coachbuilt motorhome.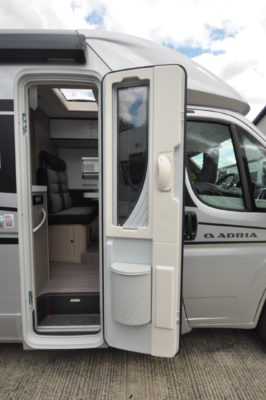 High-top
Literally, a roof addition to a van conversion that adds further space inside, sometimes to allow for a bed.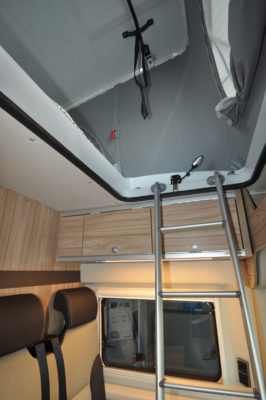 Immobiliser
A device that cuts in to prevent the engine starting if a thief attempt to start your motorhome without the keys.
Inverter
A device for changing 12V power to 230V.
Insurance
A legal necessity for any motorhome that's going on the road. Look for specialist motorhome insurance that will provide cover for accidental damage, storm damage, road accidents, fire, theft and vandalism, whilst your motorhome is on its travels, pitched up or in storage. Cover will also be provided for motorhome equipment, such as awnings, gas bottles, pots, pans, bedding and any camping equipment.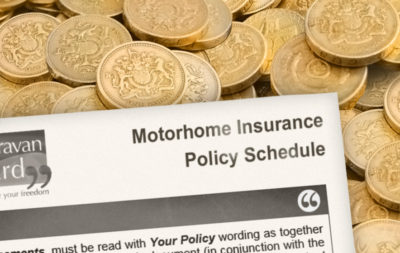 Island bed
A permanent double bed with access around three sides.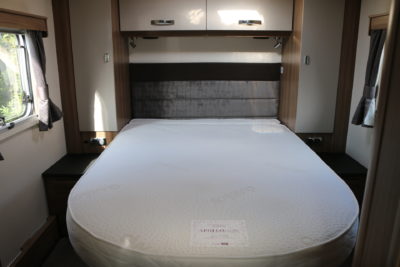 Leisure battery
Sometimes referred to as an auxiliary battery, a leisure battery is what provides a consistent supply of 12V power to a motorhome's habitation electrical systems. Not to be confused with similar looking starter batteries for engines.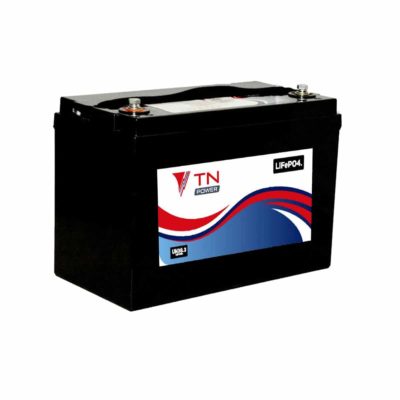 Levelling ramps or chocks
Wedges for driving on to level up your vehicle when you're otherwise pitched unevenly. The more level you can get your vehicle, the more efficient will be aspects such as water supply and drainage, the workings of fittings such as the fridge and cooker… not forgetting seating and bedding comfort!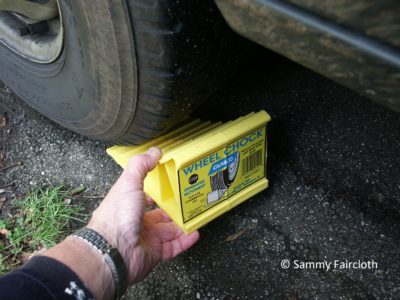 Low-profile
A particular type of coachbuilt motorhome that has a more streamlined overcab section.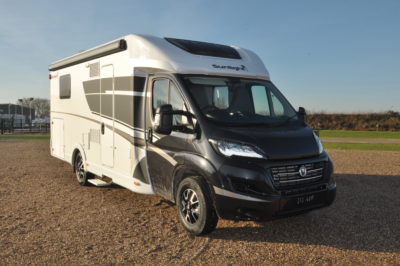 LPG
Liquefied Petroleum Gas. Butane or propane, the type of gas used to fire appliances such as cookers, heating and hot water systems in motorhomes.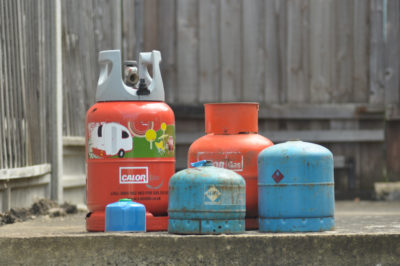 Mains hook-up or electric hook-up (or simply just hook-up)
A purpose-made cable with plug one end and socket the other that allows you to plug-in to mains electricity when you're pitched up on a campsite and/or parked at home.
MiRO Mass in Running Order
Sometimes called unladen weight or kerbweight. The MiRO includes a 75kg allowance for the driver, fuel tank filled to 90%, one full gas cylinder (tare weight) and any fluids if a "wet" central heating system is fitted. It also assumes the fresh and waste water tanks are empty. Deducting the MiRO from the MTPLM gives you your payload figure.
Motor caravan/Motorcaravan
Defined by the DVLA as "a special purpose M category (ie passenger-carrying) vehicle constructed to include living accommodation which contains at least the following internal equipment:
seats and a table
sleeping accommodation which may be converted from the seats
cooking facilities
storage facilities
This equipment must be rigidly fixed to the living compartment; however, the table may be designed to be easily removable."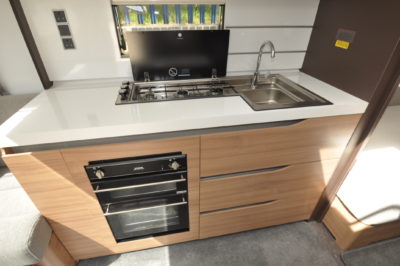 Motorhome
The generic term for all kinds of motorised leisure vehicles, including campervans, but most commonly for coachbuilt models.
MTPLM
Maximum Technically Permissible Laden Mass. The absolute maximum weight of a motorhome taking into account kerbweight plus overall payload capacity.
NCC (National Caravan Council)
The trade body for motorhomes in the UK, also the organiser of the UK's two largest shows. Key players across the industry – manufacturers, retailers, campsite operators, accessories suppliers and more (including Caravan Guard) are NCC members.

Off grid camping
Staying in your motorhome without an electric hook up.
Overcab
An overcab coachbuilt which features a pronounced hump over the cab, usually to provide a bed area. Sometimes called a Luton.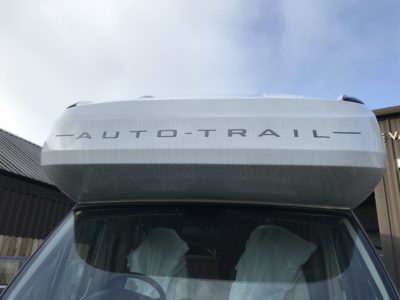 Panel van
A light commercial vehicle, with or without windows, but which provides the base for a van conversion.
Payload
The weight of load allowed for luggage and personal belongings in your motorhome. It's usually expressed as the MTPLM minus the kerbweight.
PDI Pre delivery inspection
An inspection of the motorhome by a dealership or trader before it's sold and handed over to the customer.
Pitch
A designated spot on a campsite for a motorhome to park up overnight. Pitches can be grass or hardstanding (i.e. concrete, asphalt or gravel) and usually come with plug-in facilities starting with mains hook-up but possibly also fresh water tap, waste water disposal, even connection to a TV aerial (in which case they're often referred to as serviced pitches or super pitches).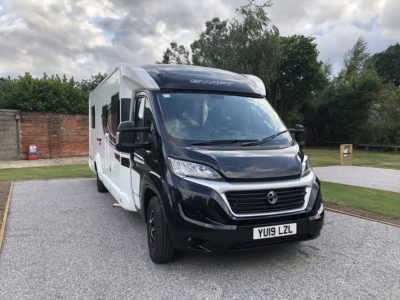 Regulator
Usually a reference to the fitting that allows the flow of gas from the cylinder to the appliances onboard any motorhome.
Reversing sensor or camera
A device that can detect hazards behind a motorhome when reversing and warn the driver via an audible bleep (sensors), and either a digital display indicating how close the vehicle is to an object or via a dashboard mounted live TV screen. Due to their ability to prevent bumps and scapes motorhome insurers often give premium discounts for their fitment.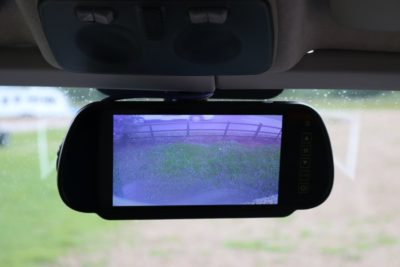 Rock and roll bed
A rear seating arrangement, commonly found in campervans, that folds down into a (small) double bed.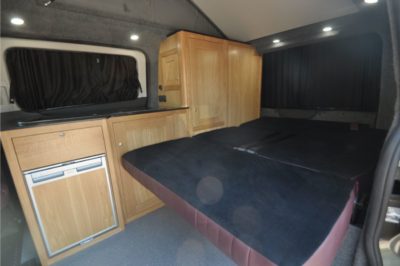 RV
Recreational vehicle The American term for a motorhome, sometimes used in the UK.
Self-build
A motorhome conversion that's been carried out by an individual, usually for his/her personal use. Currently Caravan Guard cannot insure self build motorhomes.
Service point or Motorhome Service Point
A drive-through area on a campsite where you can stop to fill up with fresh water, dump any waste water (including cassette toilet contents, but always at a separate station to a grey water dump point).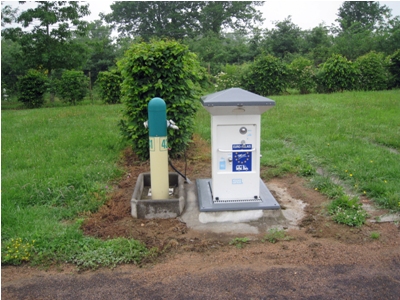 Slide-out
A section of bodywork that literally slides out at the side to give more living space when a motorhome is parked up. Often found on American RV's.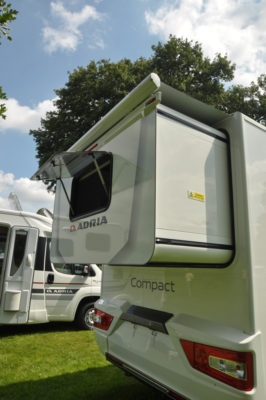 Step-in height
The depth from the ground to the first step at the habitation door.
Swivel seat
A cab seat with a fitted mechanism that allows it to be turned around to face the rest of the living quarters, so it can be used as seating when you're parked up on site.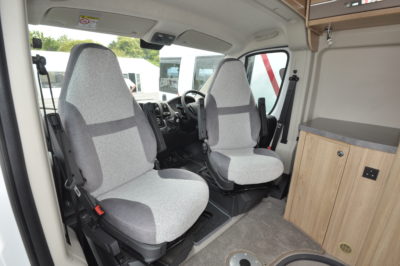 Towing limit or Maximum towing limit
The highest weight your vehicle can legally tow. This can sometimes be significantly more or indeed less than your 85% guideline figure.
TPMS Tyre Pressure Monitoring System
A standard system fitted to your base vehicle or an aftermarket safety system that allows you to keep a close eye on the air pressure and temperature of your tyres from the safety of your cab. Insurance discounts are often given for these.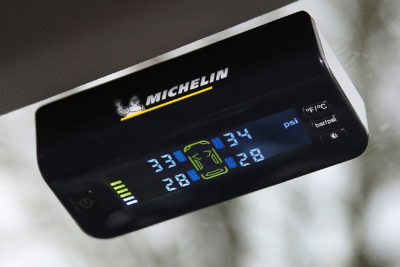 Tracking system
A motorhome tracking device is a security fitting that allows you to track down the location of your motorhome if it has been moved without your consent. The better systems are Thatcham approved and/or will be monitored by an operating centre at all times. A subscription usually applies for the monitoring service. It can be used to direct the police to a stolen motorhome's whereabouts and lead to recovery. Significant motorhome insurance savings usually apply when these are fitted.
Transverse bed
A permanent bed, such as a bunk, French or island, that sits across the vehicle.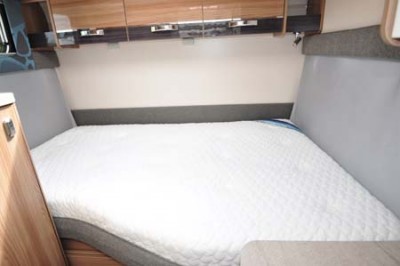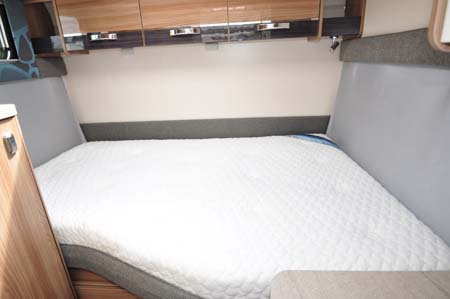 Twin beds
Two single beds that are across from each other.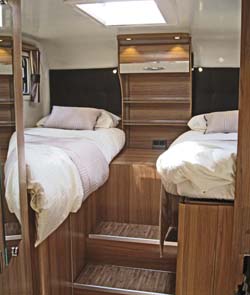 Van conversion
A panel van that's been converted into a motorhome.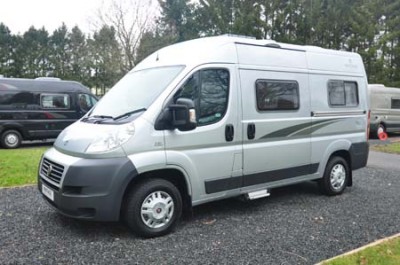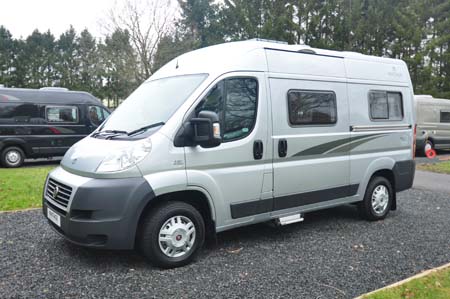 Warden
Widely used term for a member of staff on a campsite. Other terms include holiday site managers, hosts or simply site staff.
Water ingress
A particular problem where water gets into the body of a coachbuilt motorhome.
Wild camping
Using your motorhome for overnight stays anywhere other than on an official campsite (or your home)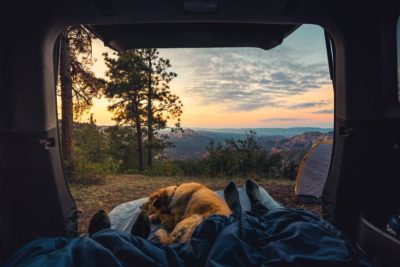 What have we missed?
Think we've forgotten to mention something in our motorhome glossary? Why not leave a comment below and we'll do our best to keep this glossary updated?
See also the Caravan Guard caravan glossary
Cost to insure: *
---
factfile
| | |
| --- | --- |
| Model | |
| Base vehicle | |
| Axle type | |
| Dimensions | |
| Shipping length | |
| RRP | |
---
Search our blog
---