Live leisure vehicle life on the level – and you'll sleep better, too. Here's our guide to caravan and motorhome levelling ramps.
The levellers!
Among the lists of essential motorhome kit it's the humble levelling ramp that can easily be overlooked – hopefully, only once. But that's when you're most likely to find, even on hardstanding campsite pitches, the UK (and beyond) isn't quite as flat as you might think!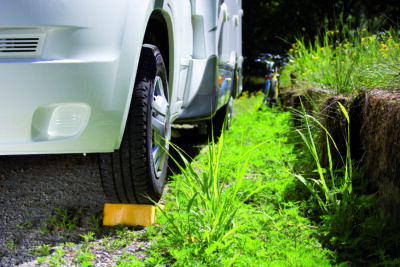 Assuming you'd rather not go to the lengths of having a self-levelling system fitted – typical price in the mid-£ thousands – the easiest way to level up your motorhome is with ramps.
There's a bit of choice out there but, as ever, do shop around to see which best suits your specific needs.
Top tips for using motorhome levellers
Remember, gently and slowly does it when driving onto motorhome levelling ramps. Great if you can get someone to give you directions
As with parking up on any kind of incline, it's worth leaving your engine in gear as well as engaging the handbrake. For ultimate peace of mind, you might also want to consider using levelling ramps that are compatible with chocks
Easy to clean? Most levelling ramps are made from some kind of plastic, so do be wary of cleaning with any strong chemicals. In most cases, a mild solution of detergent will suffice to clean your ramps. Remember to let them dry completely before putting them away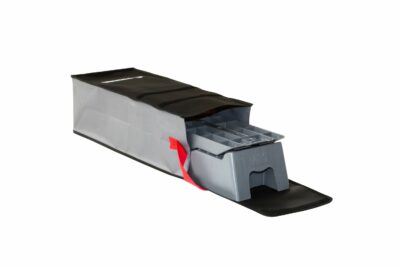 As for packing, a bespoke bag can be very handy. In many ways, the bigger the ramps the better, but do consider how you're going to store them in your motorhome when not in use.
Plastics can get brittle over time. Check regularly for damage that could affect structural stability
Unless otherwise told, do not be tempted to stack levels when using them – either on top of each other or on blocks, bricks etc
And don't leave them behind when you set off from your pitch. Seriously, give yourself a system – even if it's just draping their carry bag over the steering wheel – to make sure you don't join the hundreds, possibly thousands, of owners who leave their motorhome levellers behind!
Also see our video on how to level a motorhome here: www.caravanguard.co.uk/news/video-how-to-level-a-motorhome
Star Player #1
Milenco Quattro 3
Probably the UK's most popular levelling ramps (there are no official statistics to support this, but top retailers like Prima Leisure are happy to say these outsell others by at least a 2:1 ratio). Milenco's Quattro 3 comes as a pair of heavy-duty, larger-than-average units.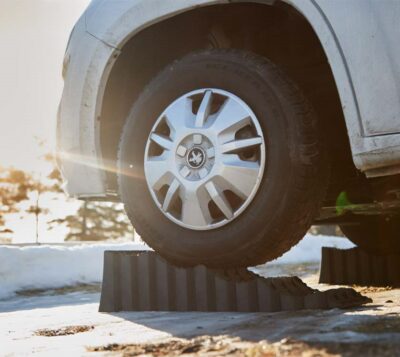 But also, such is the heavy-duty design here there's no need for chocks or extra grips etc. Instead, there's a particularly high leading edge and then four different levels to rest your wheels – at heights of 4cm, 9cm, 13cm and a sector-leading 18cm. Designs like this, that cradle the wheel at each height, mean you don't need to think about adding chocks.
Each level can take up to 1,500kg, i.e. more than you're going to need for any typical motorhome. They weigh in at 3.85kg per level.
Downsides? At 20cm high and 81cm long and a wider-than-most 24.5cm, , they're pretty chunky, so you'll want to make sure you've got the space to stow them when not in use.
Key features Patented design, solid base, zipped carry bag included, can be used with Milenco's Super Level indicator
Expect to pay £79
Star Player #2
Fiamma Level Up
From a full range of levelling ramps suited for vehicles from campervans through to the largest of motorhomes, the Level Up is one of the most popular models.
It offers three levels – 4cm, 7cm and 10cm – taking a total weight of 5,000kg.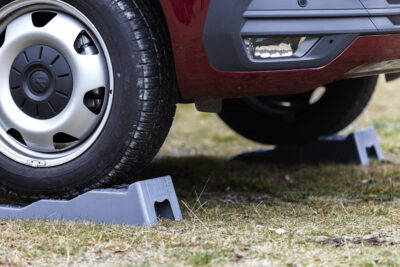 Each ramp weighs 1.45kg and measures 57cm long x 20cm wide x 13cm high.
The Level Up is also available in Pro format, typically at around £10 less.
Look out, also, for Fiamma levels sold in "kit" format, which means they come with a storage bag (which is otherwise an option). Other extras include chocks, anti-slip plates (for driving on and off) and level plates.
Key features UV-resistant polyethylene, grey colour, three heights, low weight, carrybag option
Expect to pay £29
Star Player #3
Froli Twin Level Ramp Set
Another popular set, these come from Germany manufacturer Froli. Dimensions for each are relatively compact, at 16cm wide x 45cm long, making storage easier. The maximum levelling height of 8cm that may well be perfectly acceptable for some, too.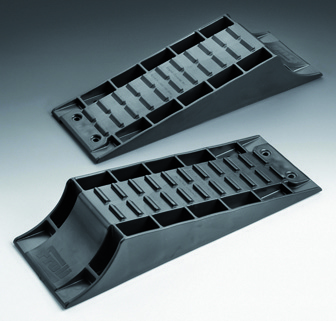 They're also very light, each tipping the scales at just over 1kg.
Find your nearest stockist from the importer/wholesaler web address below.
Key features Curved rear end, for motorhomes up to 8,000kg, tested load capacity 2,000kg per wheel
Expect to pay £16.99
Star Player #4
Thule Levelers
Maximum load is an impressive 5,000kg for this set of levelling ramps from Thule. There are three heights – 4.4cm, 7.8cm and 11.2cm.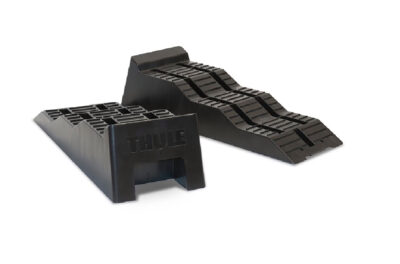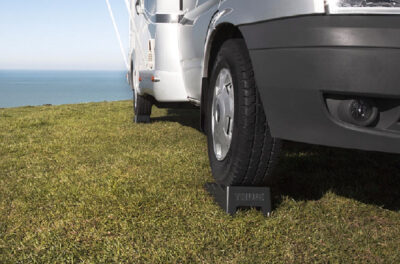 Dimensions are 56cm long x 15cm high and, at 20cm, these can cope with wider tyres. Total weight is 3.6kg.
Key features UV-proof high-density polyethylene (HD PE), carrybag, two-year warranty
Expect to pay £39.95
Star Player #5
Fiamma Level System Magnum
If it's a proven product you're after, how about this from Italy's Fiamma? It says its Magnum levelling ramps have been around for around a quarter of a century!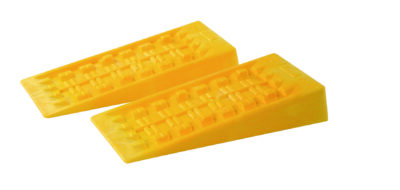 In eye-catching yellow (so hopefully you won't forget them) these are suitable for axle weights of up to 8,000kg. They're 50cm long, 20cm wide and 9cm high, and each weigh some 1.3kg. Again, interlocking chocks and add-on anti-slip mats are among the optional extras.
Key features UV-resistant polyethylene,
Expect to pay £30
Star Player #6
MGI Mini T1
In case you didn't know, MGI is the budget brand of market-leading Milenco, benefitting from all of the company's expertise in this sector. The Mini T1 is the smallest motorhome leveller in the range here, which tops out with the "largest three-step level in the world", the T3.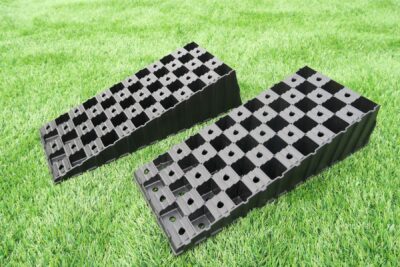 Specifically designed for smaller motorhomes and campervans, the Mini T1 nevertheless can take a maximum weight of up to 1,250kg per wheel (or combined total weight of 5,000kg if you have a ramp under all four wheels). It offers a maximum lift of 7cm, as well as 3.5cm. Each ramp is 43cm long and 22cm wide, with a height of 11cm.
A base area that's 50% plastic means it won't sink into softer ground, also offering great overall rigidity. Yet each weighs just 0.9kg.
Key features High-grip leading edge, low weight and compact dimensions
Expect to pay £19
Star Player #7
Milenco Aluminium Leveller
A genuine alternative to traditional levelling ramps, from the company that offers more such products than its rivals. You're going to need at least two of these for your motorhome, however.
The Aluminium Leveller works via a ratchet to offer a lift height of anything up to 15cm. Milenco says the maximum load should be 1,000kg per wheel.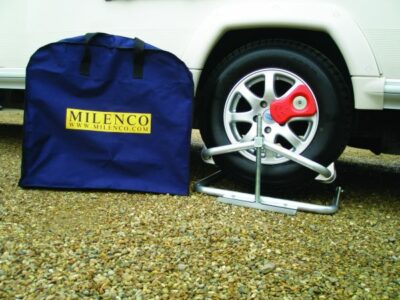 It can be used on grass or hardstandings.
Dimensions are 81cm long x 24.5cm wide x 20cm high. Weight is 4.8kg.
Key features All-aluminium construction, carrycase, ratchet winding for optimal accurate levelling
Expect to pay £110 (per level)
Motorhome insurance tip: Levelling ramps and devices are covered under our motorhome insurance as part of the £5000 automatic cover we give for motorhome equipment.
Over to you…
Got any advice on caravan, campervan or motorhome levelling ramps you'd like to pass on to fellow owners? Please feel free to add a comment below.
Cost to insure: *
---
factfile
| | |
| --- | --- |
| Model | |
| Base vehicle | |
| Axle type | |
| Dimensions | |
| Shipping length | |
| RRP | |
---
Search our blog
---