About to buy your first motorhome or campervan? Check out our list of 20 key items of kit that no motorhome owner should be without
Congratulations. You've bought – or nearly bought – your first motorhome. Now's the time to take stock of all the motorhome essentials you're going to need to help you out on your travels. And what better place to start than with our 20 top motorhome essentials list right here?
The good news is, most motorhome dealers also operate accessory shops so they're an ideal place to start. But you'll probably find you already have some of the stuff mentioned here.
Remember also, if you're about to buy your first motorhome, you might be able to negotiate with your dealer for the fitting of some of the products mentioned below.
Also, see top motorhome accessories from the experts: www.caravanguard.co.uk/news/top-motorhome-accessories-from-the-experts-29726/ 
Go motorhoming safely
On-board safety is surely the number one priority for any motorhome. Fittings for your personal safety, as well as others, should include an appropriate fire extinguisher (one that can tackle automotive as well as habitation fires) as well as a smoke alarm and carbon monoxide detector. Consider also a fire blanket.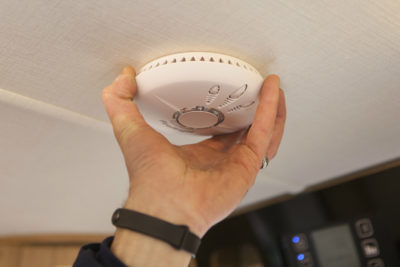 Point to ponder: The workings of safety items like the above should be assessed as part of a Habitation Check. We advise all motorhomes should undergo this check on an annual basis
2. Water supply
Whether or not you have fixed fresh and waste tanks fitted to your motorhome, you're going to want to guarantee yourself a supply of water.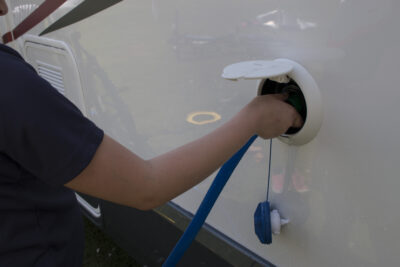 At the very least you'll need a short run of pipe, possibly with the right connections and definitely rated as being food-grade quality, to get water into your vehicle from a supply (sound advice is not to travel long distances with large amounts of water on-board – it will affect your fuel economy and, possibly, the way your vehicle handles).
A separate water container – ideally, one that compresses to a small size when not being used – will always come in handy, too.
Point to ponder: If you're planning to go touring in colder weather, consider extra insulation for your fresh water container(s) and associated pipework
3. A decent leisure battery
Worth its weight in gold – which is not far off what it will weigh – a properly maintained leisure battery won't let you down. And that's great for peace of mind, especially bearing in mind most of the electrical fittings on the habitation side of your motorhome rely on 12V power.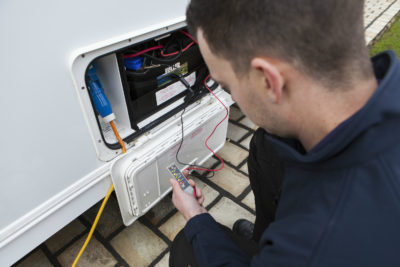 Leisure batteries do tend to suffer in extreme cold. Make sure yours has adequate protection in such situations. Or, if you're not planning to use your vehicle for long periods (during winter, for example), take out the leisure battery and keep it in a well-ventilated area on a trickle charge (but only if your battery isn't powering any electronic security devices such as tracking devices!).
Point to ponder: Check out the Verified Leisure Battery Scheme, as promoted by motorhome trade body the National Caravan Council. For more information email [email protected].
4. Chemically yours
Get the right chemicals for your motorhome's toilet flush and waste tank (if fitted) – to break down waste and mask unwanted odours. Check out other specialist motorhome chemicals, too. Everything from toilet bowl cleaner to specialist toilet paper. Try and only carry what you need of all of this – the rest is simply excess weight.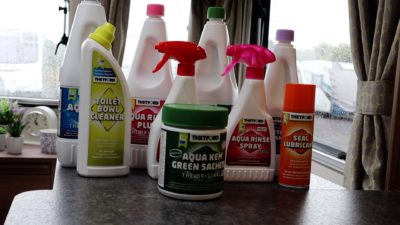 Point to ponder: Many toilet chemicals contain formaldehyde. You might want to consider greener alternatives.
5. Get hooked up
If one isn't supplied, make sure you get yourself a mains hook-up lead with suitable connections at either end for use on a campsite.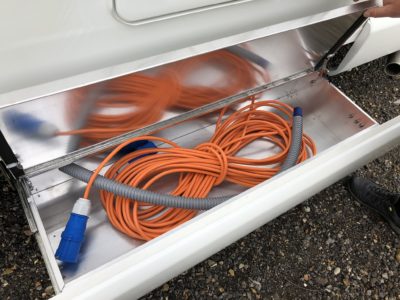 Point to ponder: Typically, there's a choice of mains lead – 10m or 25m. Work out which is best for you. The shorter version might be sufficient – plus, it saves space and doesn't make such a mess!
6. Step on the gas
Initially, you'll need to buy a gas cylinder (or two). Thereafter, you'll get refills as part of a cylinder exchange programme offered by major suppliers. Make sure you have the right regulator, too, for the type of gas you use – butane or propane.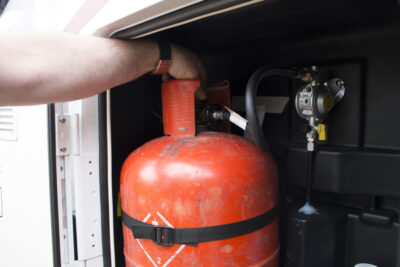 Point to ponder: Keep your weight down by having a small cylinder as a back-up in case you ever run out of gas, rather than lugging around two large cylinders.
7. Get kitted out
Pack a few essential tools – screwdrivers, pliers, hammer etc – so that you can undertake any small repair tasks as you go. Even waterproof tape.
You should also have full sets of spare light bulbs (for the base vehicle – a legal requirement – as well as for interior lighting) and fuses. Don't forget a spanner for your gas cylinder, too.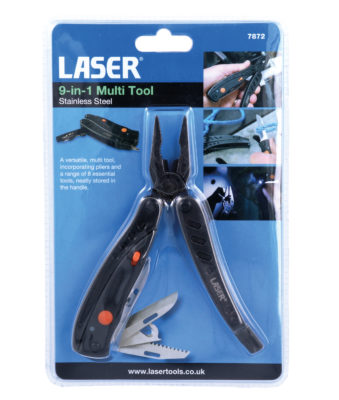 You should also have a first aid kit (make sure the products in this are within their use-by dates).
Point to ponder: A decent quality multi-tool can carry out a huge range of tasks that would otherwise be done by a full set of heavy and bulky tools
8. A bit of lubrication goes a long way
Silicon spray and/or a proprietary product like WD40 etc are ideal for everything from reducing the noise from squeaky hinges to enabling curtains to run smoothly on their tracks, to loosening overtight nuts. A small can is all you need.
Point to ponder: Some lubricants can leave an unwanted, lingering smell. Choose carefully.
9. On the level
Levelling ramps and chocks are a bit like umbrellas: leave these at home and you're asking for trouble.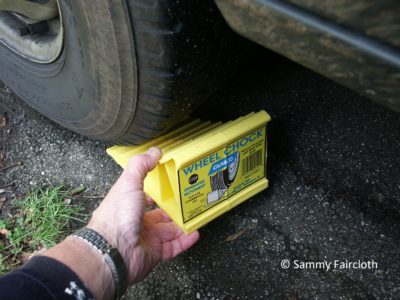 Ideally, wherever you pitch up, you'll want your motorhome as level as possible. If not, you might find fittings such as the fridge and any gas appliances don't work as well as they should.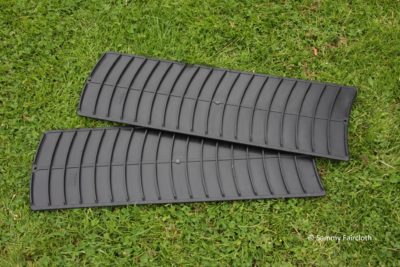 Also under this heading, invest in some grip mats – again, there's every chance you'll need them one day should your motorhome wheels need added traction to get off a muddy camping field.
Point to ponder: Definitely essential. Even so-called level pitches often have a slight slope to them. Take a small spirit level with you if you really want to do things right.
10. Motorhome cleaning
A brush and dustpan are essentials in any motorhome. No matter how big or large. Or maybe you want to go a step further and buy a mini vacuum cleaner for your motorhome?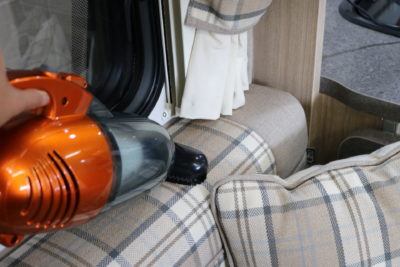 Meanwhile, a mat just inside the habitation door is always a help.
Point to ponder: If your motorhome has removable floor carpet sections, you might want to take some out and leave them at home. The permanent vinyl covering is easier to keep clean.
11. Crocks and pots
You'll need a full set of cutlery, crockery, pots and pans, of course. Don't forget, also, some extra food containers – they always come in handy. Indeed, kit your motorhome out as you would your home – but do consider lighter-weight versions of the products you're using on tour.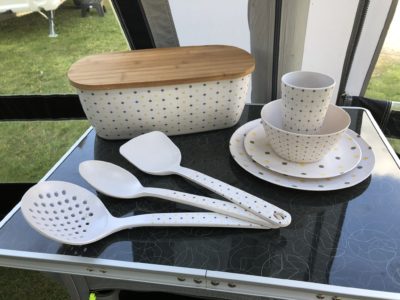 There's plenty of choice out there – melamine or bamboo crockery are far lighter than domestic variants, for example, and collapsible camping gear are great space savers.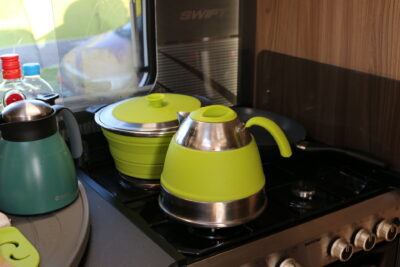 Point to ponder: Like all other gear, only take what you really need (to save weight and optimise storage space)
12. Time for bedding
Duvets or sleeping bags? There are pros and cons for each. You'll soon find out what's best for you. However, do consider where you can store your sleeping kit on-board. Don't forget all-important pillows, too. Again, only you know what's best for you.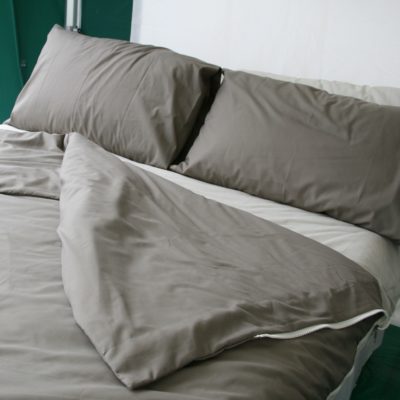 Consider also mattress toppers for extra support and comfort (but make sure there's somewhere to store them when they're not needed).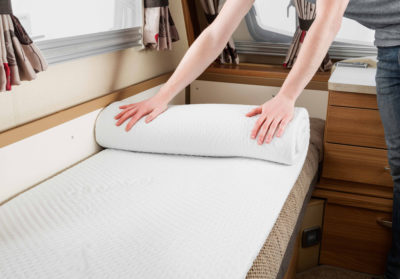 Point to ponder: Plump up your pillows and use them as you would scatter cushions during the day? You could even use different covers.
13. Stay secure
You can beef up the security of any motorhome by adding a wheelclamp, a steering wheel lock and other security devices. They're highly effective as visual deterrents, too.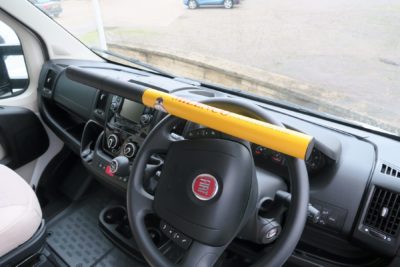 Point to ponder: Add the right security items to your vehicle, such as an insurer approved motorhome tracking device, and you might qualify for discounts on your annual motorhome insurance.
14. Outdoor seating and tables
You're going to want to sit outside at some point – and there really are all kinds of camping chairs available; everything from small stools to large sun loungers and everything in between. Plus inflatable seats and sofas.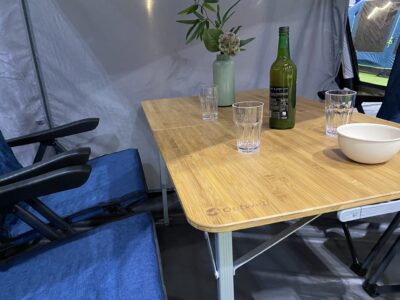 A camping table is a natural progression, too. Your motorhome's table might be free-standing and suitable for use outdoors, but most folk prefer to get a separate, folding item.
You might even want to add a windbreak for a bit of privacy for your outdoor ensemble.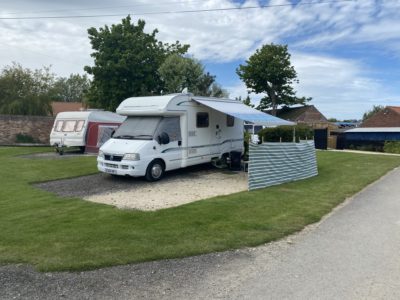 Point to ponder: Ideally, seats and tables should fold up as compactly as possible so they take up minimal space when you're on the move.
15. Barbecues and beyond
Following on from the above… For many, the outdoors life isn't complete without the opportunity to cook meals outdoors. First thoughts usually turn to barbecues (you'll need to decide whether you want gas or charcoal, but electric models are now available).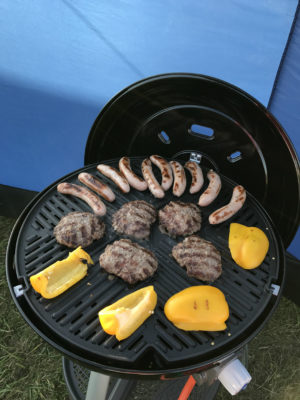 It's worth knowing there are plenty of other cookers designed for use outdoors – griddles, hotplates, even pizza ovens and more, right up to exclusive designs.
Point to ponder: Something that's easy to clean and won't make a mess when stowed on-board is usually ideal. Be careful with any smoke. You don't want to upset your neighbours.
16. Know where you're coming and going?
It always helps to know where you're going. A satellite navigation system (sat-nav) that allows you to enter in the height of your motorhome and also includes details of campsites (in the UK and further afield) is a real positive for giving you reassurance as to your final destinations. Do carry a road atlas with you, too, though.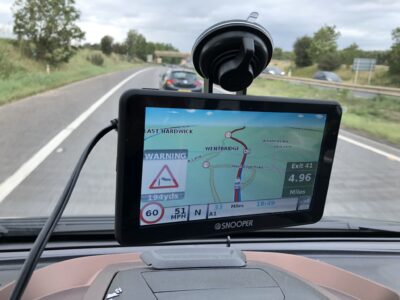 Also, if not already fitted, consider the added benefits of a motorhome reversing camera and/or parking sensors.
Point to ponder: Here at Caravan Guard, we deal with more claims involving damage caused by reversing mishaps than any other kind of accident
17. Pet products
Taking your pet(s) motorhoming with you? They're going to want their own special kit – everything from a travel harness to food and drink bowls.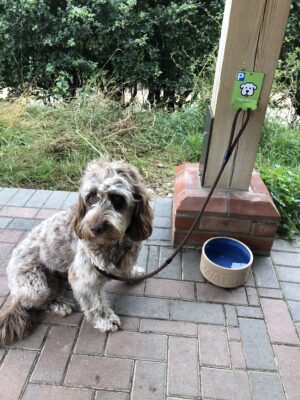 Remember also, most campsites insist dogs are kept on leads. You'll probably want to make sure your dog is kept safely tethered outside your motorhome when you're parked up, as well as indoors whilst travelling.
Point to ponder: Giving your dog its own bed in your motorhome will help it feel more at ease in what, initially, might seem strange circumstances.
18. Weight watching
Of course, you'll want to add as much kit and more in terms of home-from-home comforts, but do bear in mind the risk of overloading your vehicle. Know your motorhome's safe weight limits and always load your motorhome safely.
Point to ponder: Do consider taking your motorhome to a local public weighbridge when you're packed up to go away. The results of your loading up might come as a surprise!
19. Put the kettle on
A fresh cuppa in your motorhome? Now you're sorted! Electric or hob – there's a wide range of camping kettles out there. You might want to even carry both types with you.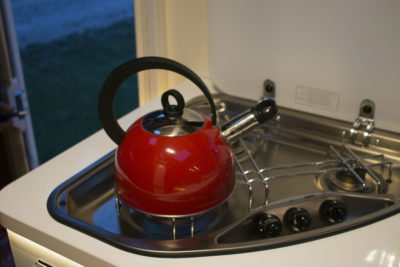 Point to ponder: Complete your essentials with a corkscrew and bottle opener. Cheers!
20. A sense of humour
There's no getting away from it – things can and will go wrong on a motorhome holiday. Stay positive, is our advice. Nobody's perfect and things just happen sometimes over which you have no control.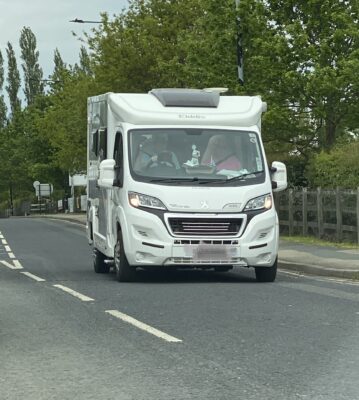 Point to ponder: More often it's the minor mishaps that make for better stories in the future!
And finally…
Treat this as a start. You'll soon find your own motorhome essentials and bits of kit that are key to your further enjoyment of your motorhome – anything from awnings, to bike racks, to solar panels, to on-board wi-fi, to protective guards for your wing mirrors….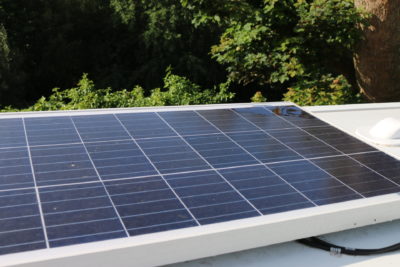 Happy motorhoming!
Point to ponder Keep a notebook, or similar, as a checklist of essential items you need for each trip out. You can add to this as you go.
Over to you…
Got any advice to pass on to newcomers to motorhoming or current owners about essential motorhome kit? Please feel free to add a comment below.
Cost to insure: *
---
factfile
| | |
| --- | --- |
| Model | |
| Base vehicle | |
| Axle type | |
| Dimensions | |
| Shipping length | |
| RRP | |
---
Search our blog
---