Keeping your loading light has lots of benefits for you and your leisure vehicle
474g or 1lb 1oz – that's the typical weight of a can of baked beans. It might not seem much in the context of a caravan or motorhome but, when it comes to lessening the load you carry around with you, every little helps*.
*Other typical weights you might like to be aware of include:
1.1kg – bottle of wine
1kg – one-litre plastic bottle of olive oil
14kg – a full "6kg" cylinder of propane gas
Think of it this way. Every extra kilogram you load into your leisure vehicle or outfit makes an adverse difference to, for starters, overall fuel consumption. Any load will also have an effect on handling and road holding, times to accelerate and, just as critically, braking distances.
Also, as you load up, you add to the overall stresses and strains on your caravan and motorhome every time it moves – that's everything from tyres up.
Things get even worse if you overload. As well as increased wear and tear,  your caravan or motorhome insurance will be invalid if it's proved that your vehicle exceeds its maximum weight limits and has contributed to an accident.
Luckily, there are lots of ways you can minimise the weight your carry…
Top caravan and motorhome weight watching tips
Next time you clean out your caravan or motorhome, take out as much of your gear as possible and weigh each piece individually. You'll soon see how things add up and remove what never gets used.
Be aware of the essential weight data for your vehicle – maximum (MTPLM), mass in running order (MIRO, i.e. unladen weight), payload figures etc.
Remember, any added extras that are permanent fittings (e.g. bike racks, satellite TV systems, awnings) will increase overall weight and eat into your payload allowance.
Consider inflatable or carbon fibre poled awnings rather than steel framed versions for touring.
Keep any liquids transported to a minimum… everything from fresh water to that bottle of gin you'd stashed away! Make sure you always travel with empty waste and flush tanks, too.
Consider replacing things with lightweight alternatives (see below for ideas). Plastics are usually lighter than glass, steel etc. And less likely to cause damage or break if if they fall out of a cupboard en route.
Take out any items you don't personally need – e.g. loose floor carpet sections, excess cushions, even paperwork (can you keep your documents on a portable device?).
Cut back on your clothing. Where possible, look for lighter weight items such as footwear, outdoor jackets, trousers and microfibre towels etc. Technical (i.e. premium) brands for outdoor gear specialise in superior quality products that are often also particularly light.
Consider the "shop local" mantra for your groceries when you're away. You'll save money by keeping your fuel consumption minimised if you're not lugging heavy loads of shopping from home to campsite (and, indeed, back again).
For car/caravan outfits, where possible it's better to put heftier loads in the car, if possible.
See our videos on how to load your motorhome correctly and on safely loading your caravan.
Here we look at 10 low weight accessories you might want to consider for your caravan and motorhome holidays…
Star Player #1
Easy Camp Comfy Chair
Check out the Easy Camp Comfy range for some weight-saving inflatable seating ideas. This is the chair – also available is a sofa, lounger and even a pouffe. Also, because they're inflatable, you can adjust overall support to suit your own needs.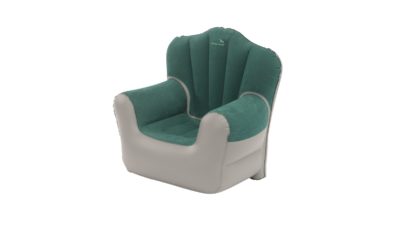 The Comfy Chair gives you all the comfort of a traditional armchair, in inflatable format. Total weight is 1.5kg (true, you'll probably want an electric pump for easy inflation) and there's a maximum weight limit of 100kg.
Total size is 90cm x 60cm x 90cm (width x depth x height), with seat height of 30cm.
It's also competitively priced compared to its more traditional folding metal rivals. Also, whisper it quietly, but you might find an alternative use for an inflatable seat – as a bouncy castle for small kids (we didn't say that)!
Key features 100% PVC, flock seat surface
Expect to pay £34
Star Player #2
Campingaz Party Grill 400 CV
Want to carry on (motor)caravanning but don't want the extra weight of a conventional barbecue? A disposable barbecue is going to be lightest of all – especially as you probably won't be taking it home with you – otherwise, how about this as a half-way house?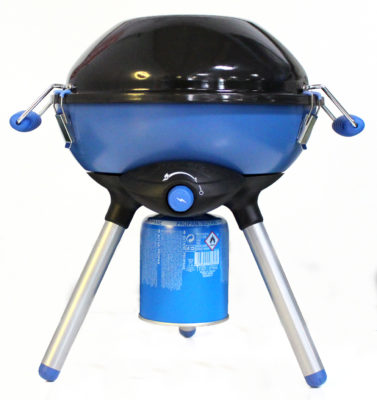 Operating via Campingaz CV Plus cartridges (they're small, they're light) – each of which can provide up to three hours' cooking time – the tabletop cooker itself weighs in at 4.92kg.
That's a total. You get a non-stick grid and griddle, and the lid doubles as a wok – or you can leave some items at home if you're not going to use them.
Key features Designed for pan cooking as well as barbecuing, Piezo ignition, lockable lid, carry bag
Expect to pay £109.99
Star Player #3
OlPro Signature eight-piece crockery set
Time to chuck the china? This eight-piece set of crockery comprises two each of 25.5cm diameter dinner plates, side plates (20cm), bowls (15.5cm) and wide-topped mugs. And, unpackaged, it all weighs just 1kg – that's a half kilogram saving on a typical ceramic dinner set!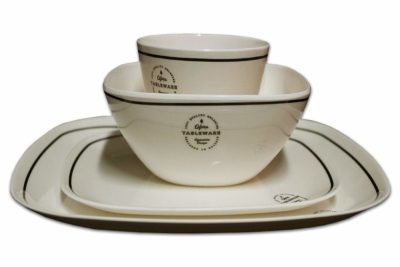 It's all-melamine, so it's less likely – indeed, almost impossible – to break. And the design is supposed to replicate a traditional classic crockery manufacturer.
OlPro's Signature is also available as a 16-piece set but, as we're saving weight, why not make do with the eight-piece here and save yourself money, too?
Key features 100% melamine, dishwasher safe
Expect to pay £19
Star Player #4
Prima bamboo dinner set
Save weight on your tableware and be more green by swapping from melamine to bamboo.
The Prima bamboo dinner set is made from natural bamboo fibre and it's not only lightweight, but it retains heat for longer than other manmade materials – perfect when dining al fresco!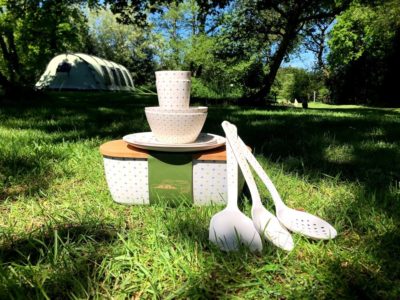 Prima Leisure stocks a range of bamboo home and tableware including plates, cups, bowls, bread bins and utensils – all available in four different patterns and colourways to match any vehicle.
This eight-piece dinner set for two includes four plates, two bowls and two cups and is available in Polka Ochre, Blue Sky or Green Clover. And it weighs in under 1kg at 0.96kg.
Key features Natural bamboo fibre, dishwasher safe, mix and match
Expect to pay £13.99
www.primaleisure.com 
Star Player #5
Robens Adventure Table
Head for a "technical brand" like Robens and you'll find yourself looking at all manner of quality camping gear that also happens to be light in weight.
It might not look it, but this table is as sturdy as they come – perfect for in the awning or when you're eating outdoors.
When up, it's some 58cm wide x 77cm long x 53cm high.
This is the large version (there's also a small) and it weighs just 2.2kg. It also has a particularly small pack size – just 78cm x 11.5cm x 10cm. It can take a maximum weight of 20kg.
Key features Aluminium frame and slatted table top, supplied with carrybag
Expect to pay £62.50
Star Player #6
LifeSaver Cube
This could be a handy and hygienic alternative to using an on-board fresh water tank (motorhomes, some caravans) and/or Aqua Roll-type product (caravans).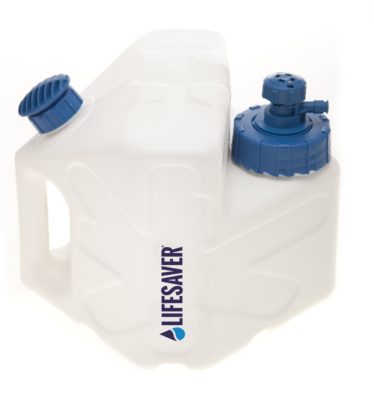 It certainly takes away any potential risk associated with a water supply from a tap that might have not been used for a while. Its in-built filter can treat up to 5,000 litres of water and it says it will remove 99.999% of bacteria, 99.99% of cysts and 99.999% of viruses. Plus, an activated carbon filter will remove any lingering tastes or smells, including chlorine.
Also, a failsafe feature means it's impossible to accidentally drink any unclean water.
Capacity is five litres. Empty, it's just 1.2kg.
Key features Developed in conjunction with Oxfam, Maintenance Pack (protective cartridge cap, five spare O-rings) included, replacement cartridges available, two-year warranty
Expect to pay £119.99
Star Player #7
Primus Leisure Cutlery
Sometimes, it's the very little things that can make a difference. This fork, knife and spoon combination with heat-resistant silicone grip is just 0.8kg.
There's a choice of six colours for the grip, so you can even keep tabs on what belongs to who. Also available in packs of 24.
Key features Stainless steel, die-cut handle
Expect to pay £12
Star Player #8
Kampa 10m mains lead
At around 1.25kg, this is quite a bit lighter than a more conventional 25m long mains hook-up lead – plus, you'll find it a lot easier to manhandle and store.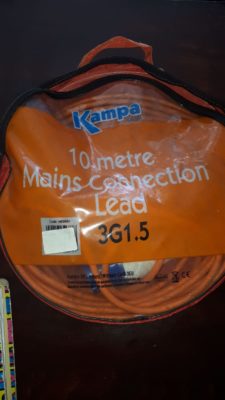 This has all the usual qualities of the longer lead – three x 1.5mm core, 16amp – and is certainly worth considering if you know you'll always be pitched withing 10m of a mains hook-up point.
Key features Weatherproof plug and socket, 3G1.5 cable, zipped carry bag
Expect to pay £19.99
Star Player #9
Go Travel Travel Towel XL
Generous in size – it's 1.6m long and 70cm wide – this microfibre towel comes in a striped design that's great for the beach as well as campsite use. The polyester fabric dries quickly, too, so you won't be carrying around extra weight from moisture.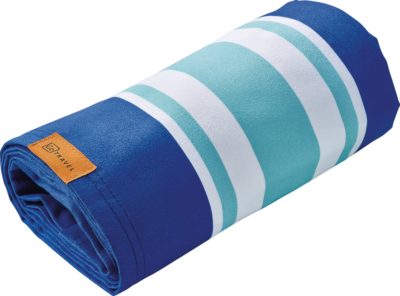 All this and it weighs just 205g – considerably lighter than a conventional towel of the same size. Even if you still prefer a conventional towel, this is a handy back-up. Useful for towelling down wet pets, too.
Key features Polyester microfibre, hanging loop, machine-washable
Expect to pay £14.99
Star Player #10
Victorinox SwissChamp
Why bother lumping around a toolkit when you can get away with the many functions of something like this? Victorinox has been making Swiss Army knives for some 130 years now and today boasts a massive portfolio of such products – there'll be one there exactly for you.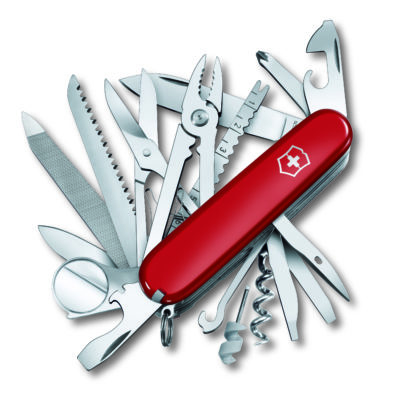 This, the SwissChamp, comes in a variety of guises and lists some 33 functions from its three layers of blades. That includes pliers, wood saw, files, screwdrivers, chisel and loads more.
Dimensions are 91mm long x 27mm wide x 33mm high and it weighs 187g.
You can even add personalised engraving (at extra cost).
Key features Classic design, lifetime warranty
Expect to pay £78.99
Over to you…
As always, caravanners don't forget to make sure your caravan insurance equipment value reflects the sum of all your crockery and outdoor furniture so you'll be covered in the event of theft or damage.
Got any advice on saving weight when caravanning or motorhoming you'd like to share with other owners? Please feel free to add a comment below.
Cost to insure: *
---
factfile
| | |
| --- | --- |
| Model | |
| Base vehicle | |
| Axle type | |
| Dimensions | |
| Shipping length | |
| RRP | |
---
Search our blog
---