Want extra reassurance when it comes to reversing your motorhome? How about a camera system? Here's our handy guide to motorhome reversing cameras.
Reverse, camera, action
One of the biggest number of motorhome insurance claims we receive? Damage caused accidentally when reversing.
We all need as much help as possible when it comes to reversing our motorhomes. Reversing sensors are always going to be a boon, but the next step up – a reversing camera – should certainly be a priority.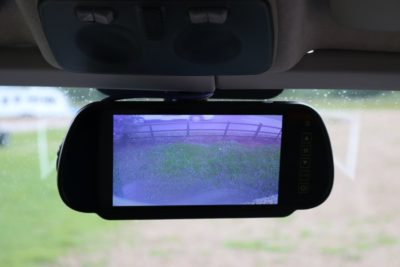 Indeed, a reversing camera or full rear-view system? Whichever best suits your needs. At the very least, such fittings could lessen the embarrassment – not to say, cost – of any damage caused by even the merest ding when you're heading backwards.
Top motorhome reversing camera tips
It's worth checking if your motorhome already has cabling in place for the fitting of a motorhome reversing camera.
Do make sure cable connections are weatherproof as well as sealed properly where they go through any bodywork.
Take extra care when washing your motorhome if it has a reversing camera fitted.
Cameras can pick up road dirt and water which will blur any view – you might want to locate it where it can be easily cleaned or look for systems with dirt busting casings or self cleaning technology.
Don't forget, anyone travelling with you can also come in handy with guidance when it comes to reversing your pride and joy. Agree a system of hand signals and audio calls etc.
Don't be afraid to ask for help (from fellow passengers or even standers-by) for any motorhome reversing manoeuvre. Keep your cab windows open so that you can hear what's going on.
If your rearwards view is restricted under normal driving conditions, consider a full rear-view system instead of just a reversing camera.
Don't forget to tell us if you add a reversing camera to your motorhome. It will save you some money on your motorhome insurance.
Here we take a look at eight motorhome reversing cameras that will give you that extra bit of help when making any kind of manoeuvre.
Star Player #1
Omni-Vue™ 360º Digital HD
This next-generation, surround-view camera system will give you a 360-degree view around your motorhome for stress-free manoeuvring. The Omni-Vue™ 360º Digital HD system comes with four, high definition, ultra-wide, digital cameras are configured to display a "look down" view and individual camera views.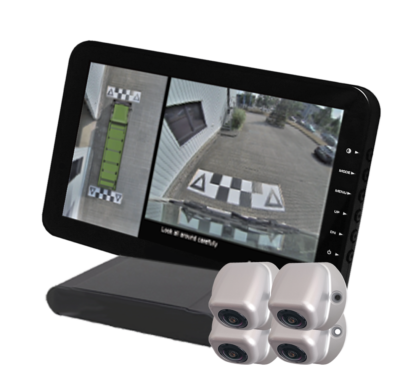 The cameras are connected to an Electronic Control Unit which "stiches" the images together to form a seamless view for the driver, elimating all blind spots and reducing the chances of a costly bump or scrape, when reversing, driving or parking up.
Key features Digital HD video-recording available, four 720p/WDR cameras with 190-degree viewing angle, 12-24V power supply, 7 or 10-inch monitor, UK-designed
Expect to pay From £1980* (including fitting and VAT).
Caravan Guard discount code
​We've secured an exclusive discount code with Trailer Vision for £50 off an Omni-Vue™ 360º Digital HD system. Simply enter CGuard22 at the checkout here.*
Star Player #2
Dometic PerfectView CAM 44
A sister model to the CAM 45 single-camera, the twin arrangement for the 44 here features lenses of 100-degrees as well as 34-degrees, the first for parking, the second for an optimum view when driving forwards – and you can switch manually or automatically between each.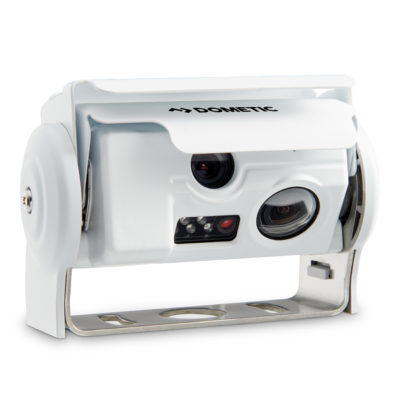 It also has distance marks so you can gauge situations accurately. Plus, infra-red lighting helps you see in darker conditions.
The full package here comes with 20m of cabling as well as lots of kit and guidance for home-installation (although you might prefer to let your dealer do it for you).
The Dometic PerfectView CAM 44 reversing camera is finished in silver, the motorised cover means the lenses aren't so likely to suffer from distorted vision caused by a build-up of road dirt whilst out with other traffic. Also, there's a microphone, for when you want audio back-up.
Key features Aluminium casing, supplied with colour monitor, infra-red LEDs for night vision
Expect to pay £622
Star Player #3
Camos Jewel Plus V2
Camos systems are renowned for their quality and reliability. There's a portfolio of products to choose from, starting with a Plus V1 or V2 reversing camera – the latter, featured here, is by far the most popular. The only difference is their respective housings – so budget for anything up to £500 for a full system including a monitor (choose from four), with fitting extra.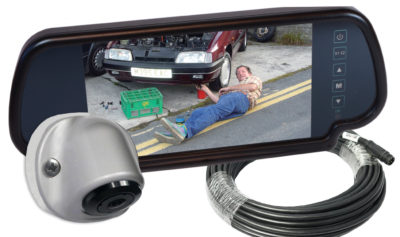 The camera offers views for reversing as well as normal driving. There's also a choice of cabling accessories.
There's an added bonus if you own an Adria motorhome – if it was manufactured from season 2015 onwards, it's pre-wired to accept a Camos system.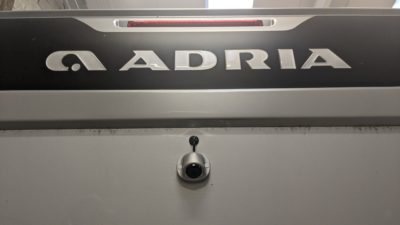 Dimensions are 60mm x 53mm x 35mm.
Key features 1.3megapixel CMOS sensor, waterproof plastic casing with IP68 protection rating, two-year warranty
Expect to pay £249 (camera only)
Star Player #4
Dometic PerfectView CAM200
A rear-view camera, with patents, that's been designed specifically for leisure vehicles with bike racks and to overcome the challenge of getting a proper view when bikes are loaded. A common issue according to the comments in our recent poll.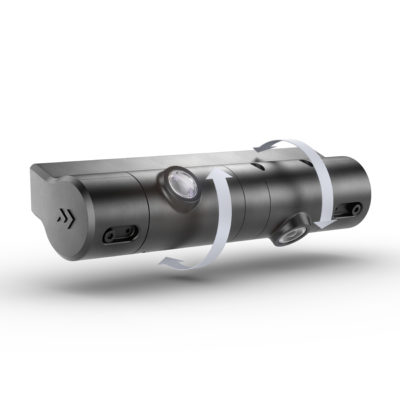 It attaches directly to a typical bike rack – there's no drilling needed, it just slides onto a suitable rail – and offers two views, automatically switching between each. Cabling is detachable – ideal if, for any reason, you want to take off the whole rack.
Key features IP69K water- and dust-proof rating, adjustable cameras with automatic switching, electronic brightness adjustment
Expect to pay £351.17
Star Player #5
Digi-Lite™ Solar
A digital wireless reversing camera specifically designed for motorhomes and campervans, the small Digi-Lite™ Solar reversing camera is integrated into a vehicle's number plate holder. The camera is powered by a built-in rechargeable battery, which is recharged via a built-in solar panel, so, no wires!  The reversing camera/number plate holder measures just 53cm x 15cm x 1.3cm.

The Digi-Lite™ Solar's 4.3-inch monitor can be mounted onto your vehicle's dashboard, air-vent, or windscreen and is powered via a cigarette lighter power adapter.
Key features 135-degree angle, USB charging point also provided, no wiring!
Expect to pay £159.99
Star Player #6
Snooper RC60
Designed to work with a whole host of Snooper sat nav products as well as other similar items from other companies, and for DIY or professional fitting. This is the lowest-priced Snooper reversing camera-only offering. Add at least another £70 to the price below if you don't have a dashboard device and need a monitor.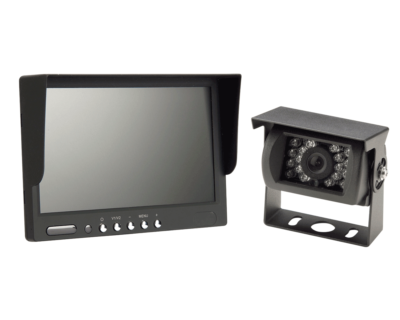 The RC60 comes with an extension cable (for up to 20m) as well as a hardwire power lead (actual consumption is a relatively light 100mA), plus fixing bracket and shield. A series of 18 infra-red lights gives you night-time vision.
Key features 300,000-pixel imaging, weight 222g, 120 degrees field of view, automatic white balance, IP67 waterproof rating
Expect to pay £49.99
Star Player #7
Road Angel Halo RA8100
A fast-acting, energy-efficient sensor is the key feature here. The ability to remove bright streaks from direct sunlight is another one you'll benefit from. This motorhome reversing camera also adjusts automatically depending on your driving conditions, day or night.
The camera is universal so not only will it fit to any Road Angel system that is set up for a rear camera addition but also connects to all types of in-car monitors, including sat navs. It has good wide viewing angles – 129 degrees horizontally and 105 degrees vertically.
Camera size is 23.8mm x 23.8mm x 25.5mm, weighing 132g (186g including cables).
Key features 310,000-pixel resolution, 129-degree viewing angle, 10.8V-15.1V power supply, UK-designed
Expect to pay £89.99
www.roadangelgroup.com
Star Player #8
EchoMaster Monitor and Reversing Camera Kit
This is a full reversing camera kit that comes with a 4.3in monitor that can be suction or surface-mounted. Also included are a wiring harness, fitting accessories and a manual. Should you want it fitting professionally, Halfords charges an extra £80.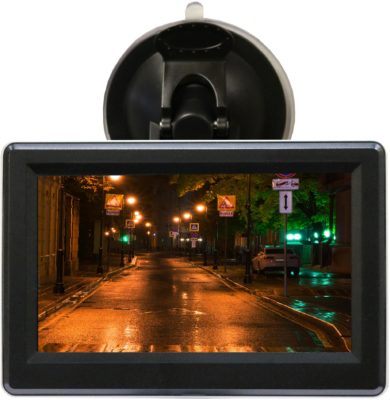 This item is part of a comprehensive range of parking aids carrying the EchoMaster brand name and this camera claims to be water and debris proof.
Key features 170-degree viewing angle, CMOS sensor, supplied with 6.7m of cable
Expect to pay £89
Over to you…
Got any advice on motorhome reversing camera systems you'd like to pass on to fellow Caravan Guard blog readers? Please feel free to add a comment below.
*Discount code valid for 2022 only.
Search our blog
---