Reversing cameras can certainly reduce your chances of having a motorhome accident. Here we consider the key features of motorhome reversing cameras and how they can reduce your insurance premium.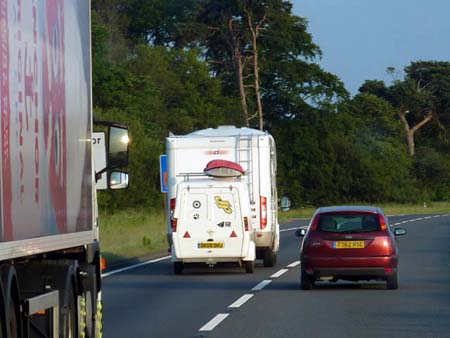 Image courtesy of Trailer Vision
If you own an A-Class or large coachbuilt motorhome, you'll know that manoeuvring, parking or reversing without a camera or sensor is not always straightforward. Chances are you paid a lot of money for your motorhome so it makes sense to protect it from being damaged by a bump or scrape.
If you're still debating whether or not to invest in a reversing camera, we have a few statistics that might just surprise you…
Of all the motorhome damaged claims handled by our claims team in 2012, 10.2% were from customers who had hit an immobile object or a third party when reversing.
These bumps and scrapes may have seemed minor at first, but in fact the average reversing claim costs a surprising £1,504.
Reversing camera systems for motorhomes are very similar to those available for touring caravans. They are categorised as being wired or wireless and they usually feature a monitor (usually fixed to the dashboard) and adjoining camera (fixed to the back of the motorhome).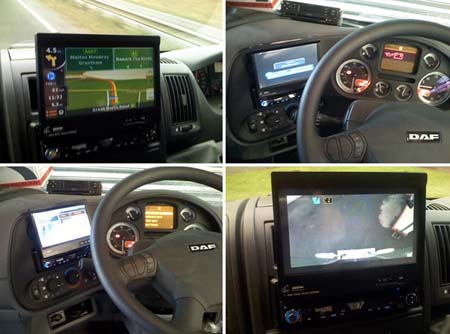 Image courtesy of Trailer Vision 
Motorhome Reversing Camera Features
If you're new to reversing cameras and aren't not sure what to look for, here are some details on the different features available:
Wired or Wireless
As the name suggests, wired reversing cameras use a connective cable from the monitor viewing screen to the camera. Wired systems offer improved picture quality and compared with wireless models, there's less chance of signal interference. Wired systems tend to be more expensive though so you will need to be prepared to spend that little bit more.
Camera: Single or Twin Camera or Tilt
A twin camera allows the driver to see further behind the motorhome which gives better visibility and means that potential blind spots are covered. Twin systems are also useful when driving on motorways as drivers can see vehicles further in the distance and judge movements easier. Twin cameras are less likely to break than motorized tilts but then usually cost more.
Audio Facility
There are systems available that mount a microphone on the camera at the back of the motorhome. This means that information can be relayed from a person outside the vehicle directly to the driver.
Mirrors
Reversing cameras that have a mirror facility allow the image shown on the monitor to be turned horizontally to give a better idea of positioning.
Screen sizes
Most monitors come in either 5″ or 7″ varieties – larger screens offer more visibility, better resolution and can be connected up to external equipment to use as screens for DVDs/cameras etc.
System mounts
Cameras do come in different varieties so you may need to invest in more substantial bracket mounts depending on which system you go for. For the monitor, there are different types of sucker or adhesive mounts to choose from.
Charging
Many systems have USB Charging points on the screens allowing you to charge up the device while driving
Other features available include:
Automatic or manual switch on
Loudspeaker (on systems with microphone facility)
Colour camera
Water-proof microphone
Electronic brightness adjustment
Integrated infrared night vision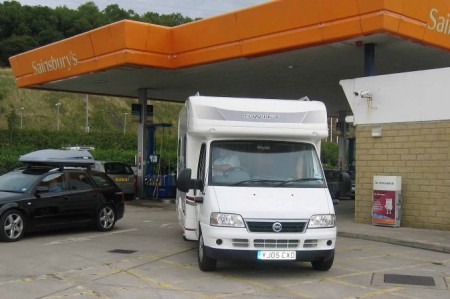 Nowadays, most new motorhomes will have a reversing camera fitted as standard or will offer one as an optional extra. Your dealer might be able to recommended a system so it's well worth asking their advice before you buy. If you're looking for a reversing camera that also features a sensor which beeps when necessary, again, it's worth speaking to your dealer.
Over to you…
Have you considered fitting a reversing camera to your motorhome? Or if you have one already we'd love to hear your views. Just add your comments below or share your stories or pictures on the Caravan Guard Facebook page.
After looking in to our claims stats, we're confident that fitting a parking sensor or rear view camera to your motorhome can reduce the likelihood of you making an accidental damage claim. With this in mind, we offer a 2.5% insurance discount for motorhomes that have either a reversing camera or reversing sensor/s fitted.*
*The device must be a proprietary make (i.e. not homemade) and must be kept in full working order.
Cost to insure: *
---
factfile
| | |
| --- | --- |
| Model | |
| Base vehicle | |
| Axle type | |
| Dimensions | |
| Shipping length | |
| RRP | |
---
Search our blog
---