Keep calm and call your insurance provider
If you're involved in a road traffic accident with your caravan whilst towing in the UK remember that safety is paramount, although it's good to inform your insurer as soon as possible.
Much of the major roads network of the UK is managed by National Highways, Transport Scotland and Welsh Government, via their Traffic Officers, so in the event of any breakdown, or even a minor accident these officers will help you and try to keep you safe until the matter can be resolved.
If you're travelling with passengers, you should first make sure that everyone is safe. When serious accidents happen people can become trapped so it's important to check that all passengers are out of imminent danger.
If the incident is on a section of road where there are barriers then everyone should move to the area 'behind' the barrier – away from the main carriageway. If there is an embankment then they should move up towards the top of the embankment.
Next, you need to make a judgement on whether the caravan is safe to tow; if it has been badly damaged and if for any reason can't be moved. Towing it could potentially cause more damage and put people at greater risk.
Tim Booth, Leisure Vehicles Officer for the National Vehicle Crime Intelligence Service, part of the Caravan Safety and Security Group, said in the event of an accident it was important that you consider just how safe it is to continue.
"Caravans are complicated vehicles and whilst it might appear after an accident that very little damage has been caused, some damage is not always going to be immediately apparent," said Tim. "If you have your caravan insured then, as a protection for both yourself and other road users, your car/caravan combination should be removed by a recovery firm to a safe place where the caravan can be checked out – and confirmed as safe to continue with.
"If you don't have specific caravan insurance then your car insurer will on most occasions manage the recovery of the whole combination but remember that their cover provides only third party risk protection (there are as usual variances across policies).
"It is of course important to remember that to be able to react to other traffic on the roads you need to be able to see that traffic – whilst the view ahead is important for those towing caravans, the view of traffic approaching from behind is equally important. It is often the case that turbulence from a vehicle passing the caravan is the main cause of an incident, e.g lorries, coaches and large vans – so always remember to use towing mirrors – not only will this help to keep you safe – it is the law!"
If you've been in a caravan accident and the caravan is okay to tow, simply exchange details with all third parties involved – try and do this as soon as possible to avoid other drivers leaving the scene without providing the relevant information. All drivers involved legally have to provide their name and address at the time of the accident.
Extra information, such as vehicle registration number(s) and insurance policy number(s) are also useful to get hold of, if available. Also make note of the date, location, driving/road conditions and cause of damage – your insurer may ask for this information when processing a claim. Taking photos of the accident scene and any damage could also come in handy when making a caravan insurance claim.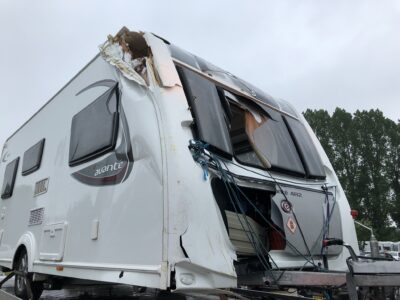 "If you're on a major road you might see that there are marker posts which will help with identifying the location later – these can also help if you need to call for help," added Tim.
Alan Mitchum of Pulse Recovery Services urged anyone who replaced a caravan's wheel after a puncture or blow-out should always make sure that the wheel nuts were tightened to the correct torque setting.
"This torque setting can be found on the side of the caravan or in the handbook," said Alan. "There are so many people who have a puncture or replace a wheel and find that it comes off half mile down the road creating another accident. The caravan wheel should not be overtightened. It's also worth getting it checked out when you can get to a local garage with a torque setting wrench, or better still, buy one to keep in your caravan."
If your caravan has been involved in an accident and cannot be towed please call our 24-hour claims helpline on 01422 501 083 and we'll guide you through what to do.
Caravan Guard customers also benefit from a 24-hour breakdown recovery service to be used if your caravan has broken down. To access this service please call 01422 501 087. Customers will have to pay for recovery unless there has been damage which is covered by our insurance policy.
It's always useful to keep a copy of your policy booklet in your towing vehicle so that you have these details to hand.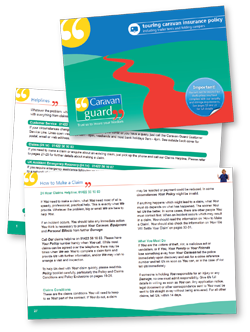 In the case of a serious collision, you must report the accident to the police immediately and notify them of any personal injuries or damage to property whose owner is not in attendance (your car insurance provider will take care of any damage caused to third party property/vehicles and your tow car).
Remember, don't ever assume or admit responsibility at the scene – details of the accident and third-party liability can emerge further down the line.
If a third party is to blame but has no motor insurance there's no need to worry. Although this might result in loss of no claims discount, you will still be able to claim under your caravan insurance policy.
Once you and your caravan are safely away from the scene of the accident, you should then call your insurance company.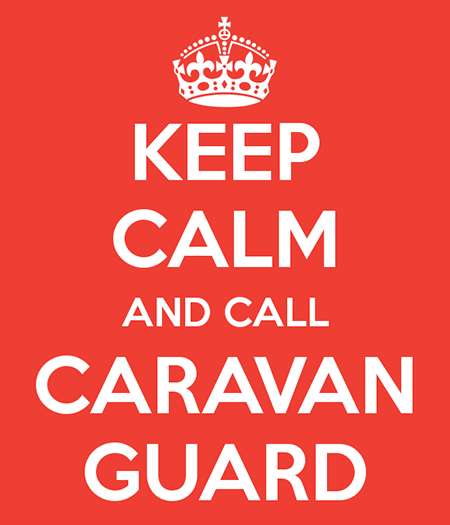 When making a claim you will need to provide your name, address, and contact details; as well as your policy number (as shown in your policy schedule). Caravan Guard customers can contact our 24-hour claims lines on 01422 501 083 and the in-house claims team will process details of the caravan accident and make sure the claim is resolved quickly and fairly.
If you aren't currently insured with Caravan Guard then visit our caravan insurance page for more information on our policy benefits and discounts.
Cost to insure: *
---
factfile
| | |
| --- | --- |
| Model | |
| Base vehicle | |
| Axle type | |
| Dimensions | |
| Shipping length | |
| RRP | |
---
Search our blog
---