How can you make the most of the storage in your motorhome? Here are a few ideas, backed up by sound advice.
One of the biggest considerations of any motorhome is arguably one of the least talked about. Storage. Just where do you put everything you want to take away with you, without encroaching too much on living space, endangering your passengers, affecting general handling or exceeding payload allowances?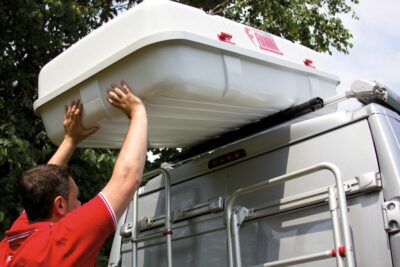 True, most motorhomes cope admirably with such demands, but there's often that time you want just a bit more luggage space. Short of adding a trailer, there are alternatives – from extra boxes, to simply making more of the original storage spaces on-board.
Stow aways
Just be wary of DIY – your own or others! Anything that might involve changes to the bodywork, for example adding an external hatch, might affect a vehicle's warranty and/or structural integrity. Similarly, with any bodywork, metal or GRP, there's the consideration of adding reinforcement around any hole you've cut.
Also, before you rush out and invest in potential expensive fittings, it's worth making sure simple, cost-effective changes can't be made to your existing storage options.
Top motorhome storage tips
Make sure you're happy with your payload. There's no point in adding extra storage if you're going to exceed your motorhome's MTPLM (Maximum Technically Permitted Mass, also referred to as gross vehicle weight). Be aware, also, of the maximum weights allowed on each axle (especially at the back). Remember, your motorhome insurance could be void in the event of a claim if you exceed such limits and it can be proven excess weight was the cause of an accident.
To make sure all is as it should be, consider taking your vehicle to your local weighbridge. It doesn't matter if it's loaded or not, what you will get is an instant reckoner as to its load capacities.
If you're thinking of adding a roof box, consider how you're going to access it. On taller vehicles, you might have to use a ladder.
One alternative is to find a storage box you can add to an existing cycle rack, although use of such an item might preclude carrying bikes, of course.
If adding a cargo box onto the back of your motorhome, consider what kind of items you store in it. You might want to move some heavier items forward.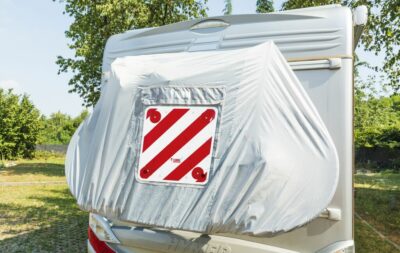 If driving your motorhome in Europe and you have a rear cargo box fitted (or even bikes on a bike rack) then you'll need to fit a red and white striped warning/safety board.
Westfalia storage box
This is designed to fit onto Westfalia's BC 60 towball-mounted cycle rack, so it's not a one-off buy.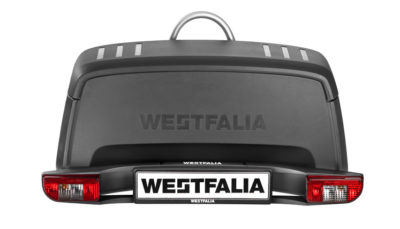 Just bear in mind, that although the box, which weighs 15kg, has a 45kg payload and a 200-litre capacity, you're adding a load to the furthest point beyond the rear axle. Off its fitting, there are wheels for easier transporting. It has a locking lid and also locks directly to the rack. It's particularly suited to the kind of kit you might not want in the habitation area of your vehicle, e.g. muddy gear, fishing tackle etc.
Features also include Moulded ABS plastic shell, lock, five-year warranty, rollers on the base
Expect to pay £264
Fiamma Ultra Box 
Fiamma produces a range of sturdy motorhome boxes for the top (roof) of your vehicle and for the back. The Back Box range is designed for use with their Carry Bike Pro range.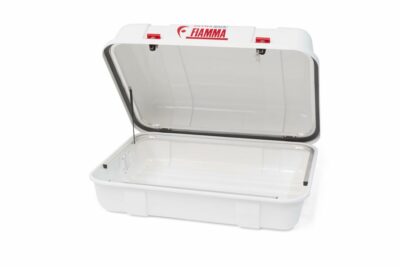 This Ultra Box 3 Top is a top box for your motorhome roof and comes with installation brackets that are designed to clamp onto your motorhome's existing roof rack or cross bars. Alternatively, you can buy Fiamma's roof rail and fixing bar rail systems.
It has a watertight foam seal and its ABS-PLUS structure makes it highly resistant to weather conditions and any impact. It weighs in at 17kg with a huge 520-litre capacity. The downside is you'll probably need some step ladders to access the storage box once it's on your motorhome's roof. But they're great for storing things like outside furniture, bedding and wet gear like wetsuits and inflatable gear or extra clothing and shoes that might not fit inside your internal lockers.
Dimensions are 170cm (L) x 91 cm (W) x 42 (H) cm. There's also a smaller Ultra Box 2 Top.
Features also include Rustproof stainless steel hinges, UV protection, reinforced aluminium structure
Expect to pay £790
Thule cargo box
Although designed primarily for use on cars, some motorhomes will be able to carry a cargo box like this – especially if your vehicle already has a towbar fitted. A cargo box is great for storing some of your outdoor gear like motorhome levelling ramps, grip mats, a barbecue etc. As above you'll want to make sure you're not loading too much gear onto the back of your motorhome.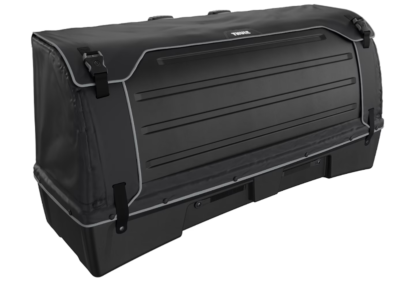 The Thule BackSpace XT cargo box fits onto Thule's towbar mounted bike carrier and can be easily removed when not needed with its integrated handles. It will provide extra motorhome storage of 300-litre volume and a load capacity of 50kg. The position on the bike rack makes its asy to access your motorhome gear stored inside. It weighs 8.6kg and measures 139cm x 26cm x 48cm high.
Features also include Lightweight and folds down for easy storage, no tools needed to fit, hard box bottom
Expect to pay £600
Outwell boxes and organisers
From leading family tent company Outwell, they have a selection of storage baskets, boxes, holders, and more that you could use to make the most of any places on board where a bit of extra organisation can be a boon. Or simply where you don't want too many things sliding about and/or to reduce motorhome rattles.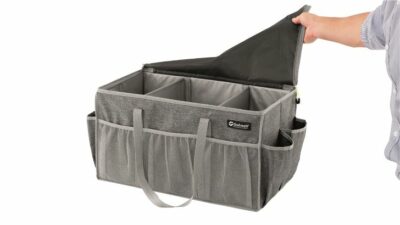 This storage series is in grey and some pack down virtually flat when not needed. Some of Outwell's storage solutions also double up as handy seats!
This Margate kitchen storage box folds flat and has many practical pockets, a zipped top lid, removable dividers plus a carry handle. It's lightweight too at 1.9kg.
Features also include Three external mesh pockets, five organiser pockets for cutlery, easy clean lining, practical handles for easy carrying
Expect to pay £45.99
Fiamma Pack organiser
Something like this can help optimise the space in a wardrobe, behind a door, or a motorhome garage zone. It's especially good for the latter, where you might want to keep smaller items together without the risk of losing them.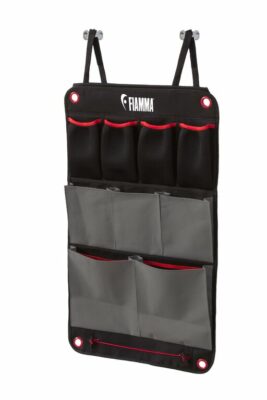 The Fiamma Pack Organiser S can be easily hung using the pre-installed eyelets or using the beading fitted to your awning rail. There are also optional Fix Organiser brackets. Measures 50cm x 84cm.
Also from Fiamma's storage and organiser range are storage solutions for shoes, toiletries, and the back of a travel seat as well as the Fiamma Pack Organiser box for transporting accessories or keeping your motorhome garage tidy.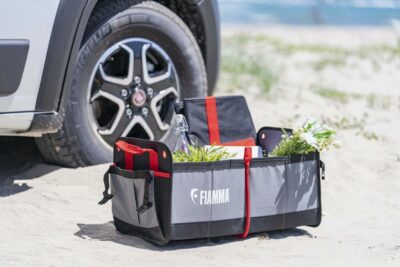 Features also include Made of strong waterproof resin polyester, 11 pockets and toggle bar for kitchen roll etc. Fold flat for storing
Expect to pay £35
Side access hatch
Plenty of motorhome workshops are in a position to source something like this extra exterior-access storage door that can be adapted to fit the majority of coachbuilt motorhomes. Its final location will depend on the interior layout, as it's designed to open onto an existing under-seat area.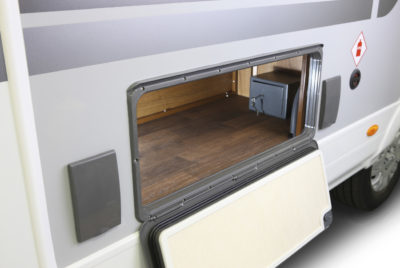 This particular example was spotted at the Auto-Sleeper Service Centre in Worcestershire, where a team of highly skilled and experienced technicians says it has added such fittings for plenty of other makes. With some notice they can be ordered in
Features also include Fully sealed hatch, lock
Expect to pay £550
Collapsible gear
Collapsible camping gear will save you quite a bit of motorhome storage space and there are all manner of motorhome accessories which collapse down – from kettles to pans, buckets and washing up bowls.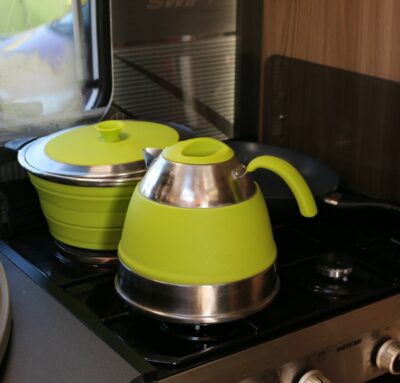 Also consider pans which stack inside each other as another motorhome space-saving idea.
Over to you…
Got any advice or suggestions on how to maximise storage in your motorhome?  Feel free to add your comments below.
Cost to insure: *
---
factfile
| | |
| --- | --- |
| Model | |
| Base vehicle | |
| Axle type | |
| Dimensions | |
| Shipping length | |
| RRP | |
---
Search our blog
---