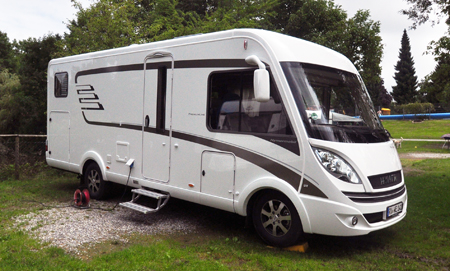 You have to mind your Bs and Cs when you deal with Hymer. That's because its B-series motorhomes are A-class by definition. In fact, they're more than that. Go back to the early 1960s and it was Hymer that introduced us to the concept of the A-class – a full motorhome built from the chassis up, giving you superior levels of space and insulation, as well as a full double bed that drops down from above the cab seating.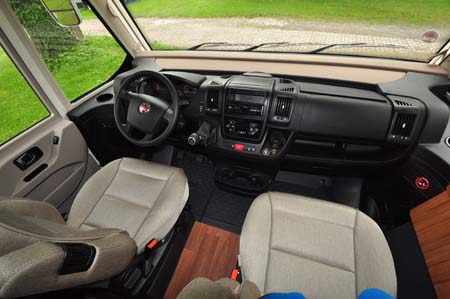 And the Hymer name has been synonymous with such vehicles ever since. It holds a market position it jealously guards to this day, despite having a high number of competitors now (sadly, none British).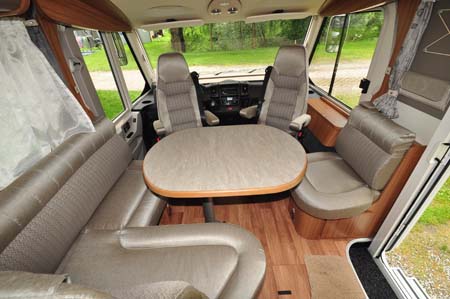 Hymers are built like no others, for starters. Despite other companies within the Hymer Group (Dethleffs, Bürstner, Niesmann+Bischoff etc), Hymer retains its highly-regarded PUAL bodywork construction for itself. Here, in the newly announced, upmarket PremiumLine series (seven models, initially) it's supplemented by features such as a full GRP underfloor.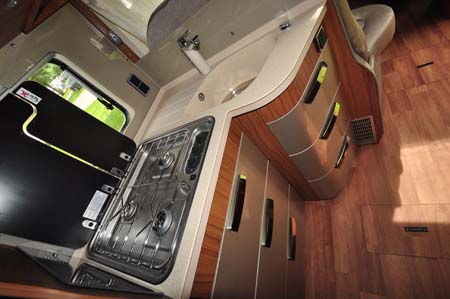 The details:
The Hymer B588 is also on a Fiat Ducato cowl (i.e. engine and dashboard) with Al-Ko chassis extension, plus front suspension courtesy of Goldschmitt (a specialist company that's now owned by Hymer). In the cab area, automatic air conditioning is standard, the impressive stereo system is an extra, but Hymer's sheer buying power ensure the Fiat base comes with a lot of automotive fittings you'll pay princely sums for elsewhere.
All of the above is certainly reflected in a more refined drive – and definitely also in terms of overall noise suppression.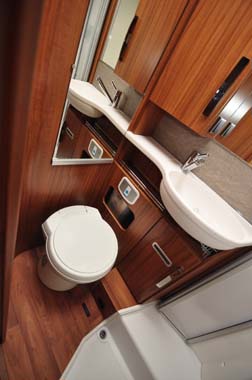 Swivel those Aguti cab seats and you're faced with a familiar floorplan. As you look, there's the rest of the lounge set around a pedestal table that's particularly easy to adjust. Beyond and right is the kitchen – complete with Thetford's new 142-litre SmartTower fridge/freezer, plus a three-ring hob and sink with drainer inset into the mineralwerkstoff work surface. There's also a reassuring soft-close action to the array of large drawers underneath (a benefit of not going for the oven option).
Opposite, the washroom holds few surprises (apart from the lack of a window), with its swivel-bowl toilet, separate shower cubicle etc. Storage here is particularly good, though.
At the back, it's a twin single beds set over a garage storage area arrangement. But, those beds are easily accessed, bringing the B588 up to full four-berth accommodation. There's the full double bed over the cab seats, too, of course, and whichever sleeping arrangements you choose you get superb "multi-zone, cold-foam" mattresses.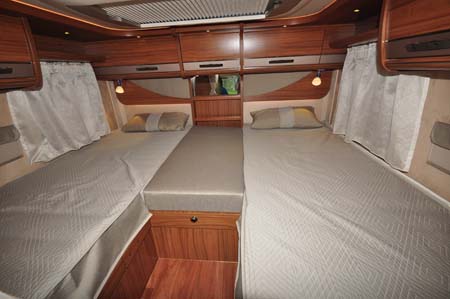 A quick walk…
around the outside and there's little to offend, unless you particularly dislike that rather upright (but space-efficient inside; also, good for views out when driving) front end. The main habitation door is a wide 70cm (a feature you can expect to see more of from this season) while, inside, it's not just the overall ambience but the many details that make this a great.
There's everything from the sturdy flatscreen TV holder design, to extensive (but not over-the-top) LED lighting, to the fit of the furniture doors and their sturdy but easy-to-use locking systems. And then there are trademark Hymer features such as the three windscreen wipers, wind-up sunroof etc.
But, take a look at the panel below and you'll see there are also plenty of highly desirable optional extras to consider.
And all that, in turn, will mean you'll have to consider a chassis upgrade… at which point Fiat's more powerful engine offerings are surely going to be a big temptation.
So, a more realistic price is going to be something in the £80,000s… and possibly the upper end of that. You might just find it's worth it.
Verdict:
Simply superior, in all aspects. With prices to match
Plus:  Great drive, superbly appointed
Minus: Still needs some options, chassis upgrade costs
In-a-nutshell: B for Best-in-class. And benchmark!
Cost to insure: £417.50*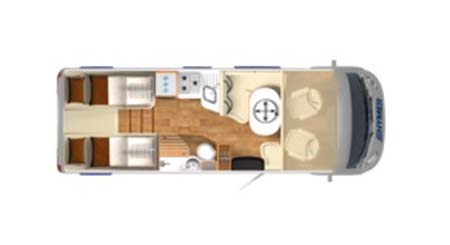 In summary:
Fiat Ducato, 2.3-litre, 130bhp Euro V
Dimensions 7.27m L x 2.35m W x 2.90m H
Maximum weight 3,500kg (upgradable)
Key options:
147bhp engine/4,500kg Maxi chassis (£2,230); tyre pressure sensor (£130); Comfort-Matic semi-automatic transmission (£1,670); front fog lights (£240); 16in alloy wheels (£830); radio/CD system (£250); rear corner steadies (£250); Truma Duo Control CS (£250); shower duckboarding (£120); HYMER-Panoramic skylight to the rear (£340);  Arktis-Package – includes insulating glazing for cab windows, windscreen exterior insulating mat, insulating mat for driver's footwell, Truma Combi 6 heating with 1800W electric, engine heat exchanger, Webasto cab heating (£2,420)
Alde-Arktis-Package – similar to above, with Alde heating and heat exchanger (£3,090); dashboard Style pack (from £130); padded steering wheel and leather gear lever cover (£250); Bi-xenon headlamps with washers and beam height control (£830); foglights (£240); spare wheel (£290); central locking for cab, habitation and garage doors (£580); towbar (£1,330); Sierra grey metallic exterior (£2,000); rear garage door (£410); extendable motorcycle rack (£2,000); electric step at cab door (£330); additional security locks, per door (£140); windscreen electric roller shutter (£1,080); electric overcab bed operation (£750); ceramic bowl toilet (£410); mini safe (£330); double DIN navigation system with DVD player and twin-camera reversing system (£2,500); Thetford Aspire 2 cooker (£630); second leisure battery with additional charger (£380); wood dashboard trim (£320)
Security and Safety Electronic immobiliser, ABS and EBD, EBA (emergency brake assist), twin airbags, smoke and carbon monoxide alarms, ESC (electronic stability control), Goldschmitt special springs (with axle weight upgrade), ESC (electronic stability control), LAC (load adaptive control), ASR (anti-slip regulation), MSR (motor schleppmoment regelung – prevents tyre grip loss in gearchange downshifting), HBA (hydraulic brake assistance), EBD (electronic brake distribution), Roll-over Mitigation (reduced swaying and improved stability when cornering), Traction+ and Hill Descent Control
MPG estimate 26-30
Recommended retail price from £78,050**
There's more information on the Hymer B588 PremiumLine on the Hymer website and to find out more about our low-cost premiums visit the motorhome insurance discounts page.
Alternatives: Carthago Chic C-line I 4.8, Frankia I790 GD, Rapido 9066dF
*Motorhome insurance cost based on Hymer B588 PremiumLine retailing at £78,050 fitted with an approved tracking device, and a manufacturers immobiliser. UK travel only. Kept in secure storage at TD9 8ED. Motorhome owners – professionals over 50 years old with no claims, convictions or health conditions in last 3 years. 4 years no claims bonus mirrored from car policy and 2 years motorhome driving experience. Members of motorhome club doing less than 5000 miles annually. £300 excess applies. Premiums include insurance premium tax at 6% and are correct at 11/09/2014.
**On-the-road, including VAT at 20%
Cost to insure: *
---
factfile
| | |
| --- | --- |
| Model | |
| Base vehicle | |
| Axle type | |
| Dimensions | |
| Shipping length | |
| RRP | |
---
Search our blog
---