Look around any campsite and you'll soon see a highly popular item of kit that's been added to many of the motorhomes (and even some caravans) around you – awnings.
This month's Drive-away awnings
They take many shapes and forms, ranging from a wind-out canopy that's permanently fixed to the side of the vehicle, to drive-away awnings. The latter are more akin to tents that affix to the side (or end) of your campervan or motorhome – adding valuable extra on-site space – for storage, living, shelter, sleeping, or all four!
For motorhomes, especially, a drive-away awning is a highly useful accessory. More recently, we've seen inflatable pole technology, which makes adding a drive-away awning all the easier.
Proven technology?
Inflatable tents have actually been around for decades, but it's only in the past two or three years that mainstream tent brands have to embrace the concept. More recently still, they've also announced inflatable drive-away awnings. So yes, you can argue it's a proven technology.
Quite simply, in lieu of metal poles, inflatable awnings come with ready-fitted piping in a strong material which, once inflated to an appropriate pressure, complete a solid structure.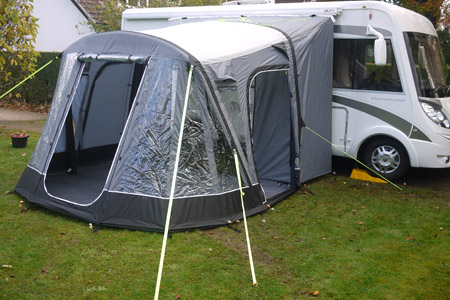 What else do you get?
All come with their own tent, of course and, usually, a sewn-in groundsheet, but actual inflation is easy and doesn't take much time. It's definitely a whole lot easier than a metal-framed unit!
A foot pump with connector is supplied, with a method of measuring to ensure you get the right pressure. As well as overall size, look out for features such as ventilation, location of doors and windows etc
Some also allow you to run a mains lead into the awning, although in most cases this will be superfluous as your vehicle is most likely to be hooked up to 230V electricity.
Pros
Ease of use These are much easier to put up than awnings with poles, although you still need to peg them out as you would any tent-like structure.
Extra room For living and sleeping as well as storage
Weight Because there are no bulky metal poles to worry about, you'll find there are vital weight savings to be made.
Safety Isolation valves should prevent accidental deflation, while the lack of metal poles should mean less accidents.
Pitch marker Leave the awning in situ while you drive off for the day and it will reserve your pitch for you
Cons
Bulk Because the "poles" are an integral part of the awning, it's all one unit, which can make packing away harder
Price Inflatable drive-away awnings tend to be more expensive than traditional models using steel and/or alloy or glass fibre poles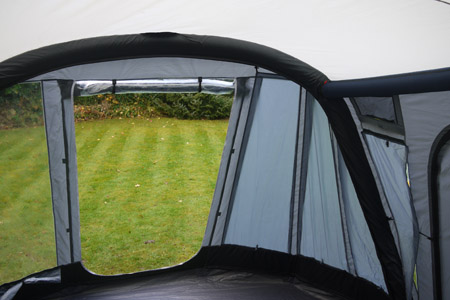 Will it affect my insurance?
As per metal framed awnings, inflatable awnings should be covered as equipment under a specialist motorhome insurance policy. Caravan Guard's motorhome insurance now automatically includes £5000 worth of equipment cover which includes awnings – so that's one less thing to worry about! (Subject to terms, conditions and underwriting criteria)
For caravan insurance again an inflatable awning can be covered under a specialist policy – just ensure your policy includes an adequate sum of cover for this and all your caravanning equipment.
Other considerations
Attachment points Generally, you'll want an awning rail attachment on your motorhome, and the awning will come with the right material to make an attachment to this as well as giving protection down the sides all the way to floor level. Some also provide straps to throw right over the roof of you vehicle for pegging out on the others side.
Get the height right Most awnings are available in a choice of heights to suit attachment points on your vehicle – it's best via an awning  rail, which can usually be attached retrospectively to your vehicle.
Hydrostatic head Measured in mm2, this figure is a guide to how waterproof the main flysheet fabric will be – the higher the figure the better.
Add-ons Bedrooms, carpet, footprint, poles for canopies etc are usually supplied at extra cost.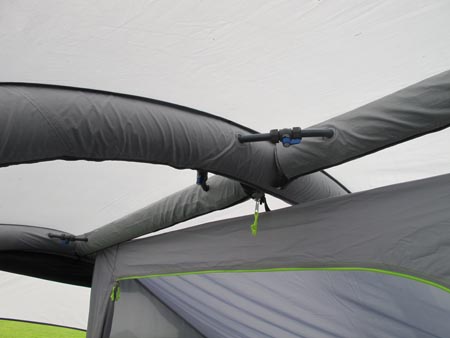 Click here to see which models we've chosen as Star Players in the inflatable awnings market as the Gear Guide continues.
Cost to insure: *
---
factfile
| | |
| --- | --- |
| Model | |
| Base vehicle | |
| Axle type | |
| Dimensions | |
| Shipping length | |
| RRP | |
---
Search our blog
---