Preparing your motorhome for the new season
If your motorhome hasn't been used over winter then it's important that come spring you know what checks need making before taking your 'van out for a spin.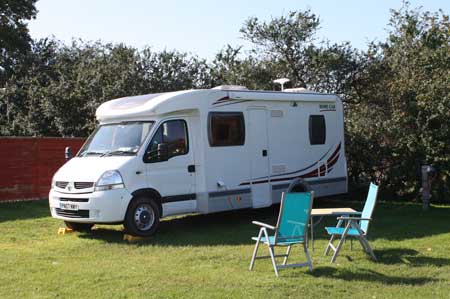 This article highlights some of the common issues we've encountered when using a motorhome for the first time after a winter layup, and also what parts of the motorhome need to be checked or prepared ready for the new season.
A spot of spring cleaning (or, the cheats way)
It's a job that nobody looks forward to but it's important that you give your motorhome a thorough clean inside and out to remove any residual dirt and grime that can actually cause damage or deterioration over time.
If the pink marigolds aren't your friend then why not book your motorhome in for a professional valet and let the experts do all the dirty work!
Windows, doors and seals
Whilst giving your motorhome a good clean it's an ideal opportunity to check for damage and also to make sure that all the seals which are there to keep the rain out are still intact and doing their job properly.
The easiest way to check seals is to get someone to sit on the inside whilst another gives the 'van a good soaking with the garden hose, any leaks spotted? Better to discover them now and get them sorted rather than discovering in the middle of a midnight downpour on site!
Also check for any existing signs of damp inside the motorhome such as watermarks, mould or a fusty smell, paying particular attention to habitation windows, doors and skylights.
If there seems to be no real signs of damp but there is a bit of a damp smell then you may want to invest in a dehumidifier which can be run for a few hours until the smell has lessened, and then simply open the windows and doors and let some fresh air blow through. Obviously, this is best done in whilst you are in and about your motorhome as having the doors and windows open is not a good idea from a security point of view!
Flush out the water system
When coming back to your motorhome after winter it's important that you flush out the system thoroughly by connecting to the mains water supply and running the taps continuously for a few minutes, leaving the sink plugs out so that the water also flushes out the dirty water system at the same time. You may want to position your motorhome near to a drain and open the exterior dirty water tap to allow the water to flow straight out of the motorhome rather than having to empty the dirty water tank.
Check for storm damage
High winds over winter can cause damage to the exterior of your motorhome which might not be immediately obvious. It's important that you carefully check skylights or aerials for signs of damage and also give the whole of the exterior bodywork a quick once over as if an object has hit the 'van and pierced the bodywork then water could seep in over time causing extensive damage.
By checking for damage now you make any repairs much simpler and avoid the likelihood that water will get into your motorhome over time, which can cause much more severe damage than if caught and fixed straight away.
Checking tyres
Tyre pressures will undoubtedly go down a little when left over winter so these are the first things to check and top up as necessary. Blowouts can be a cause of major motorhome road accidents so it's also extremely important that you check for any signs of bulging, cracking, low tread depth or impaled objects (nails etc stuck in the rubber) before embarking on any trips and always replace motorhome tyres after 5 years of use (or look up the manufactured date if you are unsure) regardless of how they look.
Get the paperwork in order
It's important when taking your motorhome out for its first trip of the year that all the more boring stuff is also taken care of, this means ensuring your breakdown cover is still running (this is included as standard in the UK for Caravan Guard customers, and can be added in Europe for a small fee) as well as double checking your tax and MOT are all still valid. It's worth making sure insurance for your motorhome won't run out whilst you're on your travels and if it is set to do so call your insurance specialist before you go away to ensure your cover continues.
Also, make sure that if you are travelling abroad your passport has at least six months left on it. It's an easy one to forget about!
Windscreen chips
One of the most common causes of claim we receive is for windscreen repairs or replacements. Often this is caused by a small chip which has spread into a crack, something which if caught early can often be avoided altogether. For more info read our article "How Autoglass prevent your windscreen chip from turning into a crack".
Security, electrics and safety

Security which requires a constant low level of electricity such as trackers or alarms should be the first thing you check, but also make sure that any other mechanical devices haven't been damaged or seized up over the winter months.
If you have a tracker type device, it's a good idea to take your motorhome for a spin, pull over in a random location and then give your tracking device company a call to check that they can pinpoint the location of your van' as this is proof that the device is working properly. This kind of service is exactly why paying for a monitored device is worthwhile, and they'll be more than happy to help.
Indeed it may even be worth giving your engine battery a charge if you haven't done so over the winter and your motorhome has been out of use for long periods. If electrical items aren't working inside your motorhome it could be worth giving your motorhome's leisure battery a recharge.
Plus it's worth getting a partner or friend to walk around the 'van as you test your headlights, brake lights and indicators all of which could be vital to avoiding an on the road accident whilst on your travels.
Fires in motorhomes are one of the top 5 claims in motorhomes. For your own safety and to stop a small fire spreading it's advisable to carry a small fire extinguisher. It is possible to get ABC dry powder fire extinguishers which are multi-purpose. These are suitable for class A fires which would include most things inside your motorhome such as woods and fabrics, class B fires that could include burning liquids such as fuel or solvents and class C fires that include flammable gasses such as butane or propane (note that burning cooking oils and fats are classed as Class F fires and therefore could not be tacked by a class ABC fire extinguisher). A fire blanket can also be a wise investment to throw over small cooking fires. Note that if you do already have a fire extinguisher that these do have expiry dates! Of course, we would never advise a motorhome owner to tackle anything but a small fire and if in any doubt to leave it and call the Fire Service.
Motorhome servicing
Also it's this time of year that often a motorhome's annual service is due; make sure you get your's booked in as the workshops at dealers start to get busy at this time of year. It is recommended both the base vehicle and habitation area are serviced every year to keep your motorhome in tip top shape and avoid any complications whilst you're enjoying touring.
Cost to insure: *
---
factfile
| | |
| --- | --- |
| Model | |
| Base vehicle | |
| Axle type | |
| Dimensions | |
| Shipping length | |
| RRP | |
---
Search our blog
---