What's new in awnings for caravans?
Plenty. Here's our round-up…
Give me shelter
Just because of recent global events, it doesn't mean things haven't continued in the world of caravan awnings. You'll see them springing up on campsites as the touring season gathers pace.
And arguably, they're more valuable than ever – providing vital extra space, privacy and security – for daytime, sleeping and storage use, or even a combination of all three.
There are lots of new-season awnings to look out for, too. We've picked the top contenders here. Just remember, supply is a particular issue this season (2021). Availability could prove patchy while things get back to some kind of normal.
Top awning tips
Plenty of caravan dealers also offer a full awning service – including displays of selected models. They're also great for offering top advice.
Do decide early on how often you want to use your awning. Those designed for all-season use (aka seasonal pitching) will have heavier-duty materials for the ability to withstand all weather conditions – and consequently will cost more.
Ideally, go and see an awning pitched before you buy. It gives you a chance to assess overall quality – including aspects such as zips, windows and ventilation points, as well as general ambience.
Lot of caravanners have both a full awning (for seasonal pitching) as well as a porch awning for more occasional use.
Consider any optional extras you might need. Retailers often offer "bundles" that end up representing best value for money.
Look out for specialist caravan insurance that will also provide cover for storm damage to your awning especially if you leave your awning up on a seasonal pitch.
Also check out our caravan awning buying guide if you're new to caravanning and unsure of where to start!
Star Player 1
Isabella Forum Etna
Welcome back! Isabella has re-introduced this to its portfolio for 2021 season, with the Etna part of its name referring to the colour scheme – a blend of "walnut" and "volcano"!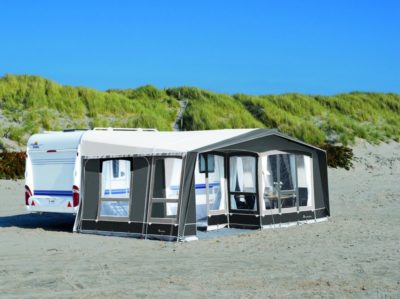 The Forum is a 3.5m deep full awning designed for seasonal pitching and has a particularly extensive 32mm tubular steel frame with welded corners and double-screw locking, while the awning itself comes with adjustable fronts – so you can adapt it to whatever configuration best suits you. Also, the front can be retracted a metre to allow space for what Isabella calls a "terraced area", or half can be pulled back to make a porch.
Check out the options, too, for extra choices of floorplan.
Key features Zinox MegaFrame, Isacryl fabrics, adjustable fronts, top-rated fabrics, storm securing set, full range of options, Isabella pedigree, sizes 950cm-1,225cm
Expect to pay £3,724 (size 1025)
Star Player 2
Dometic Ace Air Pro 400 S
You'll recognise many of the features here, and it's worth knowing the side story that the Kampa brand is now part of the Dometic empire. It's hardly surprising then, that the company has taken a previous top selling inflatable awning and given it a few tweaks.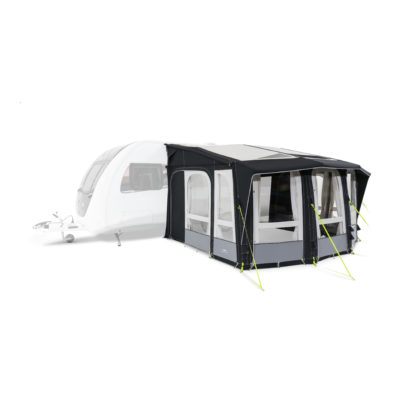 Key among these are an increase in depth, to 3.25m, and an integral front canopy that's also inflatable. Ventilation has been improved, too, with high-level triangular sections. Plus, a side wing section has been added to the optional extras.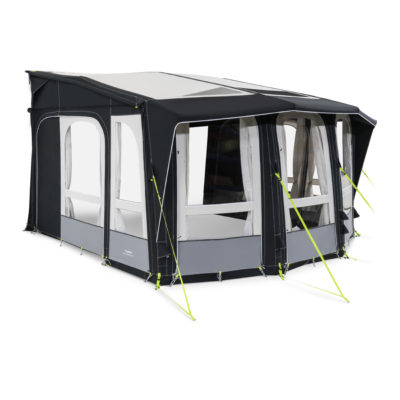 The Multi-Height System means it can attach to caravan with an awning rail height ranging from 235cm to 265cm.
Key features Weathershield Pro fabric, patented multi-height fitting system, dual-pitch roof (for enhanced standing space), single inflation point, multiple deflation points, 5mm and 7mm beading
Expect to pay £1,800
Star Player 3
Vango Riviera 420
A new flagship model from Vango, which has been very much at the forefront of the ever-increasing demand for inflatable awnings. It says the seasonal-pitch Riviera is part of an "exciting new chapter in Vango AirBeam technology, taking easy pitching to the next level…"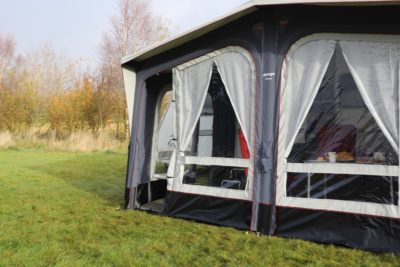 One specific feature here is that, as well as using a single inflation point, each beam (i.e. pole) isolates as air is pumped into it, so it can't flow back out. Each beam also has its own deflation valve, making taking the awning down particularly easy.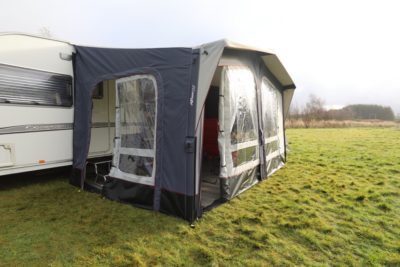 It also has Vango's new Elements All-Season fabric, which the company says makes the Riviera suitable for use from April to October (steel rock pegs are even included).
A neat touch is the Riviera comes with two carry bags, one for the main awning, the other for items such as the draught skirt, wheel arch covers, pump, storm straps, bracer beams etc that all come as standard. It will certainly be appreciated by anyone who's had to lug an inflatable awning and all its accompaniments in a single bag across a pitch.
Key features Skyliner ceiling fitting, hanging pockets, 60/40 split side door, clear windows, multi-zip curtains, fully removable zip-on window covers
Expect to pay £1,570
Star Player 4
SunnCamp Icon
Another recently introduced model that's seen significant enhancements for 2021. SunnCamp scored something of a first with the Icon, a full inflatable awning.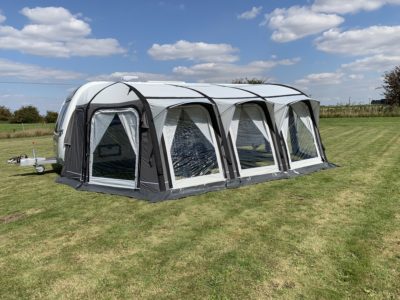 You'll notice a slightly different look to latest versions, though, thanks to small canopy sections to the front panels. Also, there are now returns on the back corners, which include extra storage pockets.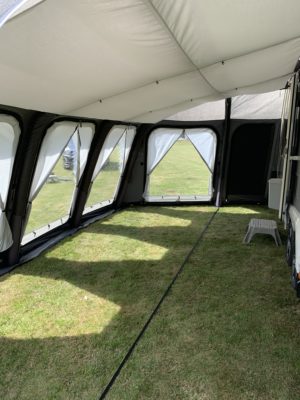 Look out, also, for reflective straps instead of more traditional guylines and that the door panels are now a lighter grey.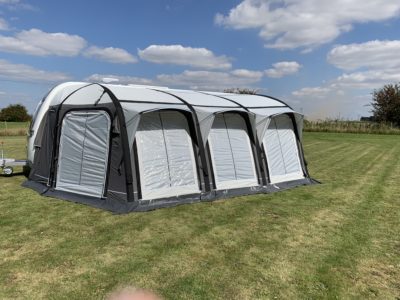 It uses SunnCamp's Pro-Tek 300 denier polyester, with 6000mm hydrostatic head water proof rating of 6000mm and additional roof coating.
Curtains are zipped and can also be fully rolled down. With all the usual full awning benefits, the Icon boasts plenty of features as standard – right down to packing pads that can be added to offer a perfect fit on uneven ground.
Key features Full inflatable awning, single-point inflation, secondary mesh on side doors, zip-in mesh panels elsewhere, removable panels, verandah pole, roof lining option
Expect to pay £1,530 (size 15)
Star Player 5
OlPro View 420
An inflatable porch awning that comes complete with a porch extension that can be fitted to either side. When used, it takes overall length to 560cm from the initial 420cm. Depth is 240cm and the panoramic styling, complemented by large windows, is ideal for the best possible views out.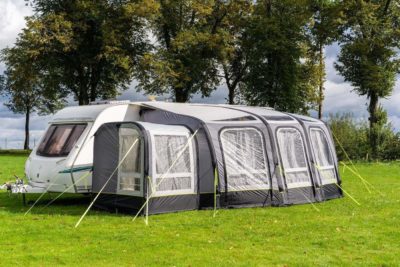 There's a total of five doors and nine windows here, so views and ventilation really are optimised.
Delivery is direct from OlPro, with no extra cost.
Key features 150D Oxford polyester fabric, 5000mm hydrostatic head, tinted skylight, zipped front panel, two-year warranty
Expect to pay £729
Star Player 6
Quest Elite Snowdon
New from Quest for 2021, this poled porch awning is designed with permanent pitching as well as occasional use in mind.
Fabric is HydroTech 300D polyester that replicates the feel of cotton, while the roof is PVC. It adds up to a particularly high hydrostatic head waterproof reading of 10,000mm.
With its adjustable framing, this kind of awning is particularly adept at pitching on ground that isn't necessarily even.
Dimensions are 340cm x 235cm. If you want a bedroom, a pop-up inner is also available as an option.
Key features All-season use, adjustable strengthened frame, two-year warranty
Expect to pay £885
Star Player 7
Outdoor Revolution Eclipse Pro 330
At 3.3m wide and 2.5m deep and with standing room of 1.95m, this is a popular caravan awning size (although also new is the larger 420 sister model). It features Outdoor Revolution's inflatable technology – single-point inflation and Intelligent Frame system to regulate air pressure and protect from over-inflation, Dynamic Speed Valve (for speedy inflation) etc.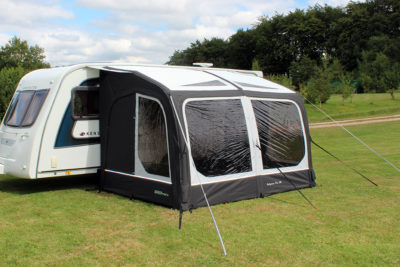 Both side doors come with mesh panels that can be zipped out and the main fabric has a 6000mm hydrostatic head rating. Construction is such that there's a pretty consistent 195cm standing height, including at the side entrances.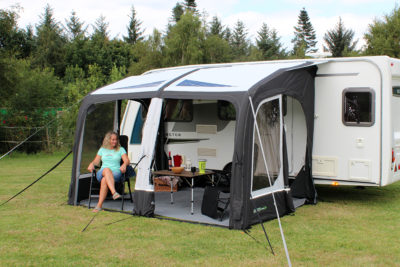 Other features range from tinted windows to adjustable webbing pegging system, zip-up curtains, storm straps and more.
Options include a conservatory annex – which can be added to either side and has lots of window space as well as the possibility of being used as a bedroom – and one-piece side mesh door, carpet, rear poles, ceiling liner, hanging storage and more.
Key features 3.3m width, Pro 600HD fabric, single-point inflation, lifetime guarantee (air tube system)
Expect to pay £849
www.outdoor-revolution.com
Over to you…
Got any advice on new-for-2021 awnings you'd like to pass on to fellow Caravan Guard blog readers? Please feel free to add a comment below.
Search our blog
---