Want to know what's new in awnings for motorhomes for 2002?
A feeling of attachment
No doubt about it, an awning is a great addition to any motorhome or campervan. It's the extra versatility it adds in terms of living and sleeping space as well as storage. And a drive-away awning can even be used to reserve your pitch when you're out for the day.
The advent of inflatable tube technology has been a boon, too, meaning you don't have to worry about losing loose poles or even the potential for damage to your vehicle caused by metal (or GRP structures) when you're putting up a motorhome or drive-away awning.
Don't forget our campervan and motorhome insurance gives you up to £5,000 of motorhome equipment which of course includes awnings. Storm damage to awnings is a popular insurance claim for us – covered by Caravan Guard's policy but not always by other policies.
Top motorhome awning buying tips
An awning can be a great bargaining tool when you're buying a motorhome, new or used. Rather than haggling on price, ask about an awning deal. Also, some retailers have a stock of pre-owned awnings at knockdown prices.
Decide what you want to use your motorhome awning for. Do you need bedrooms? They're sometimes an optional extra.
Okay for travel? Check you have space (and payload) to stow your packed awning in your motorhome or campervan. Some models, especially inflatables, can be bulky when packed down.
Deal with a specialist retailer. Their knowledge is vital. It's also great if you can go and see a motorhome awning pitched before you make a purchase.
Look at the options. Most motorhome awnings come with a choice of extras, some of which you might consider essential. You'll want to budget for these, but look out also for any special offers that include extra items.
Check what you get for your money in terms of pegs, pump (for inflatables) and other accessories (it does vary from model to model). Also, ideally there should be an oversized bag – motorhome awnings are often hard to pack down fully.
Star Player #1
Outwell Woodcrest drive-away campervan awning
A more traditional approach from Outwell here, where the Danish manufacturer goes for lightweight aluminium poles for this drive-away model, with a front door that can be rolled up to act as substantial canopy.
It's also different in that it attaches to the back of a campervan, while the smaller windows will appeal to those who want to optimise their privacy.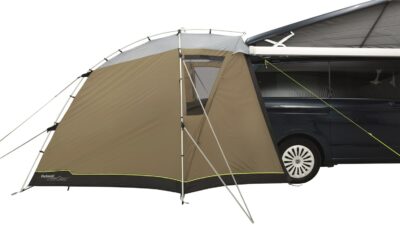 Also, here is Outwell's trademark bathtub groundsheet. It's detachable but, once in will act as a good insulator, as well as keeping unwanted bugs at bay.
Connecting kits are extra, allowing you to choose the system that you prefer for your vehicle. Also, among the options are a footprint (for extra protection and insulation from the ground) and a carpet (for more comfort underfoot as well as, again, insulation).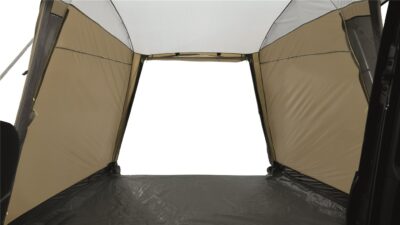 Key features Pre-bent poles, polyester flysheet with taped seams, waterproof zip-up curtains, front and rear doors, insect-proof mesh windows, storm guylines, colour-coded pegs 
Expect to pay £634
Star Player #2
Isabella Air X-Tension
Coming to us soon… Iconic caravan awning manufacturer Isabella's first venture into the campervan sector, although it also comes with the promise: "This is just a starting point… We will eventually make this to fit higher motorhomes."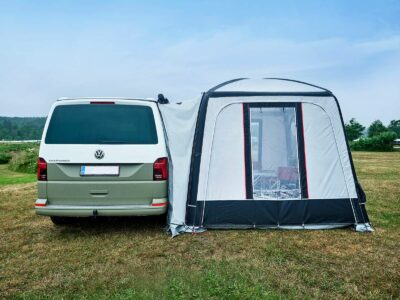 Although it's designed primarily for Volkswagen's California campervan and its many derivatives using the T4, T5 and T6 versions of the Transporter base vehicle, it will fit a selection of campervan base vehicles.
It also represents Isabella making further in-roads into the inflatables market.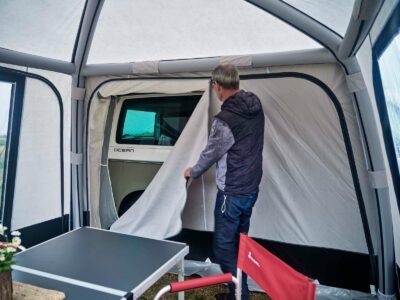 The X-Tension is a free-standing unit with inflation via any of two valves, both of which can be opened for speedier deflation. There's also a choice of tunnel for attaching to your vehicle.
Key features 250cm depth, IsaLite main fabric, PVC floor, roll-down curtains, removable front and side panels
Expect to pay £1,349
Star Player #3
Vango Cove II Air Low drive-away awning
Another company with its roots in tent manufacturing that has made big waves in the motorhome awnings market. That's thanks to its AirBeam inflatable tube technology, as featuring here on the Cove II.
Attaching to the side of the vehicle, its front and rear main doors open parallel to your campervan. There are also doors in the tunnel attachment section.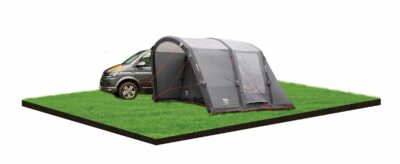 Flat entry at the doors means no lips, making for easier access for prams, bikes, wheelchairs etc. The front door has a flyscreen to keep bugs at bay as well as giving plenty of ventilation.
Also, the Tension Band System means the whole unit has optimal stability, even in windy conditions. A drive-away awning kit is also available.
Key features Pre-angled beams, sewn-in groundsheet, total weight 15.1kg, 180cm-210cm height adjustment, part-mesh inner door, pre-attached front canopy, toggle curtains, supplied with steel pegs, lantern hanging points, bedroom optional
Expect to pay £570
Star Player #4
Dometic Leggera AIR Redux 220 S motorhome awning
Things have moved fast since Dometic took over awnings, tents and camping accessories specialist Kampa. This, for example, is the latest version of the Leggera Air, but the Redux title tells you its fabric is made from recycled half-litre plastic bottles. It's not just durable and environmentally-friendly, it's also lightweight.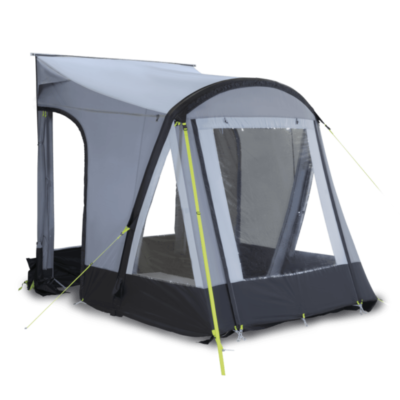 It's a static (i.e. not drive-away) motorhome awning with attachment heights in the 235cm to 265cm range. The angled front has a roll-up section for those sunny, balmy days. There are also two side doors.
Also available in a 260cm width.
Key features Single-point inflation, draught skirt, weather-protected corner vents, storm straps,
Expect to pay £500
Star Player #5
Coleman Journeymaster drive-away awning
Another manufacturer with a long tradition of tentmaking that's now entering the motorhome awnings arena. For 2022, Coleman has announced three inflatable drive-away awnings under the Journeymaster name.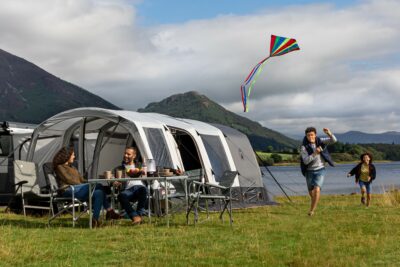 The M variant here is the smallest of the trio and it's designed for sleeping two people.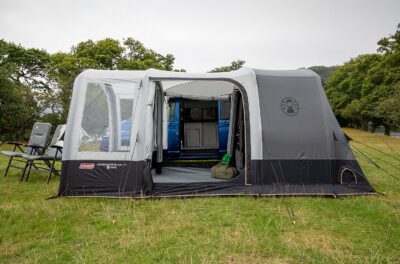 There are plenty of Coleman's popular tent features here, especially the BlackOut technology, which means it prevents something like 99% of daylight from getting into the bedroom
Its barrier-free access also means flat floors at the doorways, i.e. no potential trip hazards. Plenty of windows and mesh panels are key benefits too.
Key features 150D polyester fabric, groundsheet, full-width rear vent, pre-attached bedroom inner, zipped window covers, extended porch area, four storm straps plus guylines, lantern attachment rings
Expect to pay £999.99
Star Player #6
Outdoor Revolution Cayman Combo Air Low
New for the 2022 season (and aiming to be available from March), this latest addition to the Outdoor Revolution drive-away awning line-up attaches in a parallel fashion to the side of your motorhome or campervan, with zipped doors front and back.
The main structure is two inflatable tubes, with a canopy over each door using glass fibre poles.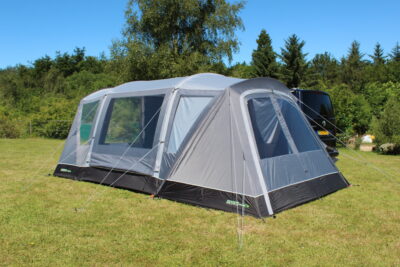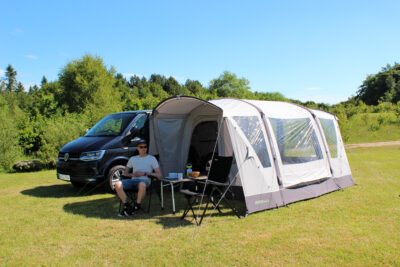 Connection heights are 180cm-210cm (the Mid version covers 210cm to 255cm). Total weight is 18.6kg.
Features include a "fold-flat" sewn-in groundsheet. There are also Velcro fittings for Outdoor Revolution's LumiLink LED lights system.
Key features Sewn-in polyurethane groundsheet, hanging points for (optional) bedroom, single-point inflation, steel pegs, reflective guylines, repair kit, lifetime guarantee (air tube system)
Expect to pay £699
www.outdoor-revolution.com
Star Player #7
Westfield Mars motorhome awning                           
Westfield calls this a "premium lightweight porch awning", but the key factor is it's aimed primarily at campervans with sliding side doors within the 245cm to 260cm height range. That's thanks to a unique central beam as a key part of its design, which also allow for clearance at the top of the door so it can be used in the usual way.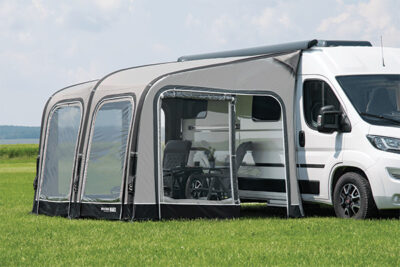 A static awning, there's a choice of three valves – the beams are interconnected and can be inflated from a single point, but the extra valves make it easier to remove all air when it comes to taking it down.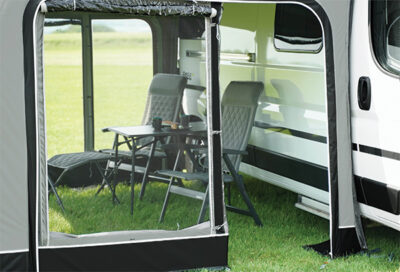 In a ripstop main fabric, it comes with removable main panel and can also be used as just a canopy. It also packs down to a particularly compact 96cm x 41cm x 32cm.
Key features Single-point inflation, 150D fabric, UV 50+ sun protection, tinted windows, draught skirt and wheel cover, zipped internal blinds, two-year warranty, total weight 19.5kg
Expect to pay £1,109
Over to you…
Got any advice on motorhome awnings you'd like to pass on to fellow owners? Please feel free to add a comment below.
Search our blog
---