Motorhome reversing can sometimes be a tricky affair and some drivers will want all the help they can get!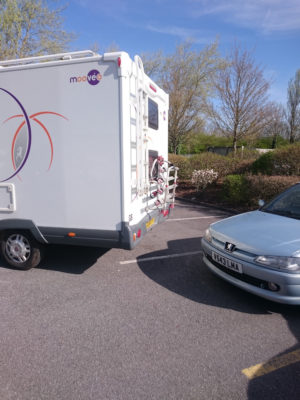 Many motorhome insurers, including here at Caravan Guard, will offer a small insurance discount for motorhome reversing aids, for their help in preventing claims for damage when parking or pitching up. Some reversing cameras offer a dual view, one for parking and also one whilst travelling to give drivers a great rear view on the road.
It's not uncommon for motorhome manufacturers or converters to offer reversing cameras as standard or as part of their optional extra packs. And there are lots of aftermarket motorhome reversing devices that can be fitted too – sensors often representing a lower cost option than a camera.
Our recent poll asked owners if they had a motorhome reversing camera or sensors and it was pleasing to see the results.
Here's the results…
With almost 200 votes, a huge 86 per cent said they had some kind of rear view help.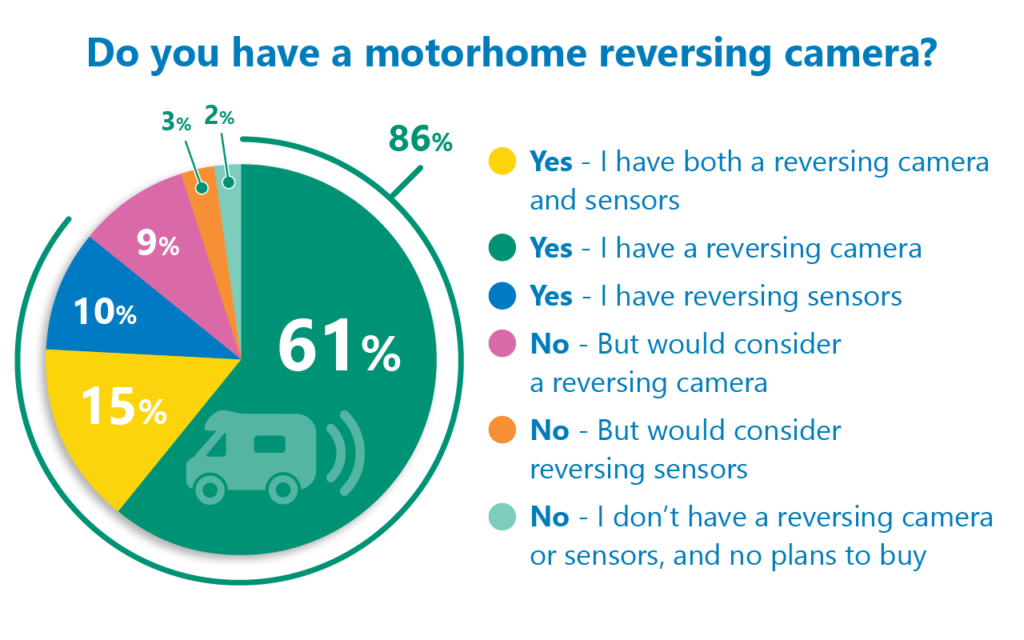 The most popular aid for reversing your motorhome was a reversing camera with 61 per cent of the votes. And 15 per cent of voters were extra safety conscious with both a motorhome reversing camera and sensors. Just 10 per cent had parking sensors on the back of their 'van.
Of the 13 per cent of voters who didn't have any motorhome reversing gadget, nine per cent said they would consider buying a camera and three per cent would consider sensors. Only two per cent had no plans to buy either.
Your comments…
Many of you commented about how useful a reversing camera is in saving a potential scrape, although we did receive a few comments about poor visibility if it's very bright sunlight or rain.
Ben Robinson has a dual camera setup on his motorhome, allowing for a rear view whilst driving and downwards view for parking, plus reversing sensors with audible beep, and said he would really struggle without them.
"I'm able to reverse park onto my awkward driveway on my own with ease now," he said. "An absolute must in my opinion."
Brian Barrow also has dual cameras on his motorhome. He said they were useful some of the time – but not in bright sunlight.
Philip Price said his reversing camera had saved many a potential scrape.
"Most recently, a pitch was overshadowed by tree branches and although the way was clear to reverse, it was not obvious that the branches were too low for my motorhome. A quick glance at the monitor whilst reversing avoided a disagreement with the tree," Philip added.
But many still rely on the good old fashioned ways when parking up – like using a partner or in some cases walkie talkies.
Whilst Paul Clarke thinks a motorhome reversing camera is a boon, he said there was no better way of preventing the back end saying "hello" to an obstacle, than the passenger getting out and watching too!
Richard agrees, commenting that it's not always easy to judge distance with the camera alone. He often enlists the passenger's help as well.
John Barton takes a pair of walkie-talkies on his motorhome travels.
"In difficult situations it's nothing like having someone on the end of the walkie-talkie to describe what is going on," he said.
For our top tips on reversing your motorhome like a pro click here.
Cost to insure: *
---
factfile
| | |
| --- | --- |
| Model | |
| Base vehicle | |
| Axle type | |
| Dimensions | |
| Shipping length | |
| RRP | |
---
Search our blog
---