If your motorhome is laid up for a number of months, some owners might consider applying for a Statutory Off Road Notice or SORN.
What does SORN mean?
As above, SORN stands for Statutory Off Road Notice and means you have taken your motorhome off the road because you want to stop taxing it. Your motorhome must be kept completely off the road, such as in a garage, on a private drive or on private land and it cannot be driven on a public road.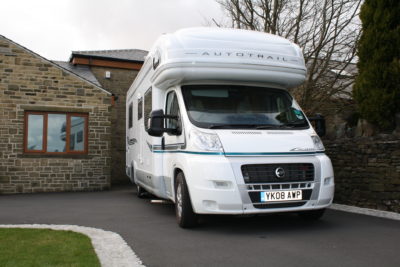 If you're laying up your motorhome but still parking it on the road you cannot apply for a SORN and legally you must pay road tax and have motorhome insurance.
What savings can I make by laying up my motorhome?
If you're taking your motorhome off the road then you can get a refund for any full months of remaining tax by cancelling your vehicle tax. You don't have to pay road tax whilst your motorhome is laid up but you must apply for a SORN first.
SORN insurance considerations
You don't legally need motorhome insurance if you have a valid SORN but it's still at risk so we would always recommend maintaining insurance cover.
Cancelling your motorhome insurance when it's laid up means your expensive vehicle is NOT covered for common risks such as theft, fire, storm, flood, vandalism, and accidental damage. We'd recommend maintaining a fully comprehensive motorhome insurance policy in case the worst should happen. As well as third party cover for fire and theft, our comprehensive motorhome policy has the added benefit of protecting your very valuable pride and joy and motorhome equipment from accidental damage, bad weather and vandalism.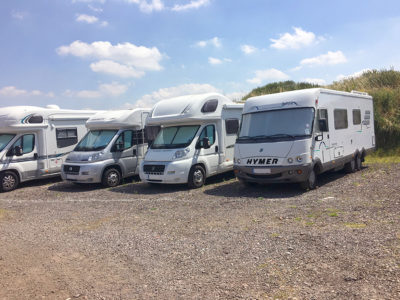 If your motorhome is kept at a storage site, also check their terms and conditions as they might insist on motorhome insurance cover for liability reasons, plus you'll want to protect it from damage caused by other vehicles.
Do I need to tell my insurance company if I SORN my motorhome?
Your motorhome insurance policy will not be affected if you have a valid SORN for your motorhome and you don't need to let Caravan Guard know.
You could look for a laid up motorhome insurance quote but this will only provide fire and theft cover for your motorhome. A fully comprehensive motorhome policy will pay for repairs should your motorhome be damaged whilst off the road and will also cover equipment stored in your vehicle. Bad weather can strike at any time of the year so you want to make sure you're covered for storm damage or even flooding. We've had claims for hailstone damage in the summer before as well as damage from falling tree branches and even birds, whilst motorhomes are in storage!
How can I SORN my motorhome?
The quickest way is to apply to register your motorhome as off-road is on the gov.uk website. You'll need the 11-digit number on your vehicle log book (V5C) or the 16 digit reference number from your V11 reminder. You can also call 0300 123 4321.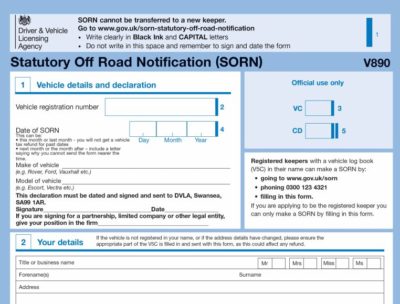 You can also make a SORN by downloading a form V890 and sending it to the DVLA.
Alternatively, tick the SORN box on your V11 tax renewal and take it to a Post Office.
How long can I SORN my motorhome for?
You can SORN your motorhome for as little or as long as you like. It will start immediately if applied for online or over the phone, or on the first day of the month if you use your V11 reference or on the date you put on the V890 form.
How do I cancel a SORN?
It is automatically cancelled when you tax or sell your motorhome.
Security considerations whilst your motorhome is SORN'd
It's important to keep your pride and joy secure when it's been taken off the road to prevent motorhome theft. Choose a secure storage site or if stored at home consider a drive post and other physical devices, such as a steering wheel lock, a clutch claw and extra door locks. An alarm is a good theft deterrent and a motorhome tracking device will help to recover your vehicle if it's stolen.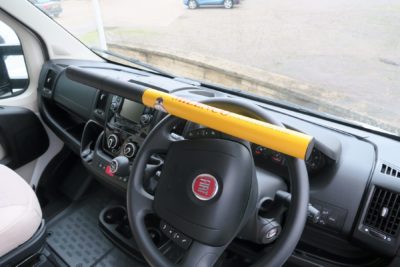 Whether your motorhome is laid up or on the road we can tailor an insurance policy for you and we offer a range of discounts for security devices fitted to your motorhome. To find a motorhome insurance policy to suit your needs call our friendly team on 01422 396769.
Cost to insure: *
---
factfile
| | |
| --- | --- |
| Model | |
| Base vehicle | |
| Axle type | |
| Dimensions | |
| Shipping length | |
| RRP | |
---
Search our blog
---