A caravan or motorhome sat nav is pretty much an essential piece of kit whether you're touring in the UK or Europe – and even better if it's set up specifically for your leisure vehicle – to help you find your way on your touring holidays.
Snooper S6900 Ventura sat nav
We tested the Snooper S6900 Ventura sat nav, from the pioneers of motorhome and caravan navigation, with a Swift Kon-tiki Sport motorhome.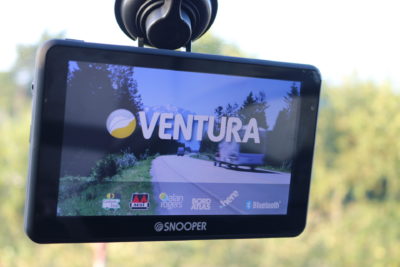 The set up and registration process of the sat nav was really easy. Simply switch it on and follow the on-screen instructions. It's quicker if you do this inside your vehicle (or outdoors) to enable the GPS and maps to load up more efficiently.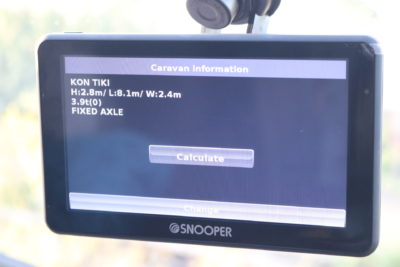 The Ventura software allows you to input your caravan or motorhome profile details, including height, length, width, weight and axle type, which means you won't be routed down unsuitable lanes and roads with low bridges etc. There's even the option to add up to 10 different profiles to provide route information that's specific for the vehicle selected.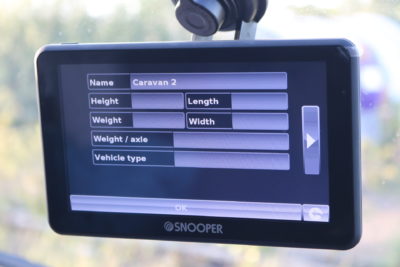 The magnetic mount provides powerful and sturdy support for the sat nav after you've fixed the mounting bracket to your motorhome or tow car windscreen with the suction pad. Once attached it didn't move or wobble throughout any of our journeys. Plus, it all comes in a neat little hard-backed pouch for added protection when not in use.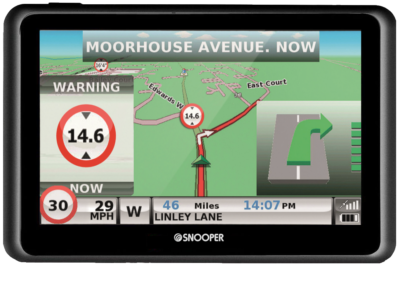 The 7-inch touchscreen is crystal clear and just the right size to provide simple directions and route information whilst you're driving, as well a constant reminder of the speed limit and warning signs if you're exceeding these limits. The sat nav also comes with a video input if you want to link up to a Snooper reversing camera.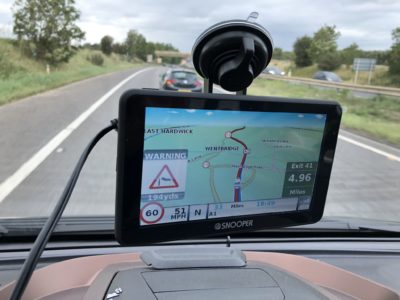 It's packed full of great features when travelling, including warnings for windy routes, steep hills and low bridges, and will re-route you if necessary.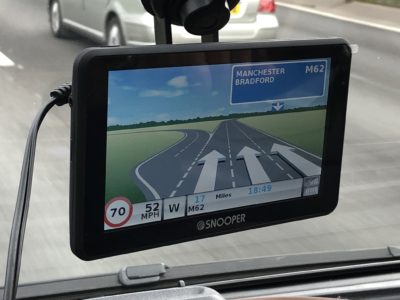 Plus when travelling on the motorway, the junctions are really well displayed as you approach, making it clear which lanes you need to use to exit or stay on course.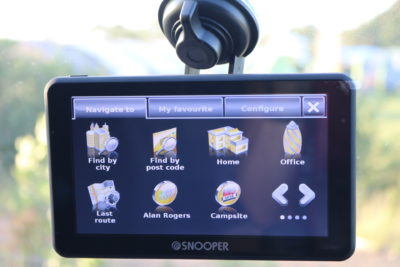 One of the great features for caravanners and motorhomers is the huge number of campsites listed on the Snooper S6900, via the ACSI, Alan Rogers, Bord Atlas or Camper Stop apps, or you can search for a campsite by name; along the route you're travelling; or where you are at any given time. You can even narrow down your search by location, such as the woods, or around a sports or leisure interest, such as golf or horse riding.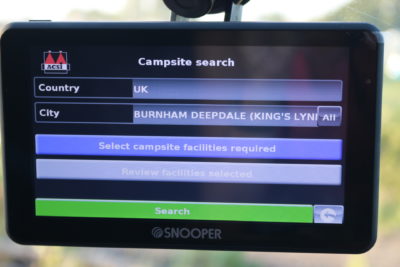 We found all the campsites we stayed at were listed on the sat nav and once you've selected your destination it quickly calculates the distance and estimated time of arrival, so you can let your campsite know if you're going to be early or late. It did a good job of excluding all unsuitable routes too on our 700-mile trip.
As well as 24,000 campsites there are also points of interest loaded on to the S6900, including all manner of restaurant types, tourist sites, cash machines, hospitals, museums, petrol stations and more.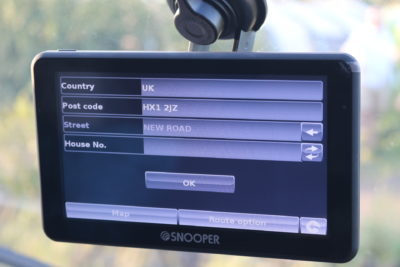 Planning a basic route from A to B is really easy on the Snooper S6900 Ventura but you can also create trips (in the UK and Europe) with multiple stops if needed. You can add up to 16 locations by postcode or points of interest.
Just like other Snooper Ventura sat navs the S6900 comes with free map updates as well as live traffic information via the inbuilt TMC traffic receiver and antenna.
We didn't use the hands-free function as there was one in the motorhome already, but you can pair the sat nav with your mobile phone via Bluetooth so you can make and receive phone calls without taking your hands off the steering wheel.
Key features of the Snooper S6900 Ventura sat nav
7 inch LCD touchscreen and active magnetic mount
Junction view and lane guidance
Free European lifetime map updates
Integrated traffic management control antenna
Multi-route technology
More than 24,000 campsites listed
More than 2 million specific points of interest
Ability to create up to 10 vehicle profiles
Bluetooth handsfree technology
In-vehicle charger and carry case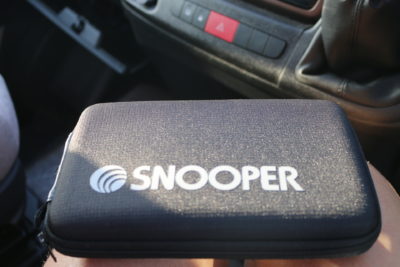 Plus points
Large and clear touchscreen display monitor
An extensive list of campsites in the UK and Europe
Free lifetime map updates and traffic information
Environmental settings to avoid towns or cities with emission zones
Minus points
Battery life could be better for long journeys. Often needed to plug in partway through journeys to remain charged – although the device is designed to be used with the power supply as the cable also incorporates the TMC antenna for the traffic information.
Earlier notification or motorway exits
In-a-nutshell
The Snooper S6900 Ventura sat nav is packed full of features and is a great motorhome and caravan accessory for a relatively stress-free journey. The fact that it calculates your route based on the dimensions of your vehicle means you won't get caught out by unsuitable lanes or low bridges and the extensive campsite database means you'll never be stuck for somewhere to stop off for a night or longer.  It's really easy to use, gives clear guidance, and the traffic management content (TMC) alerts you to any traffic congestion or accidents, so you're on top of your journey.
Dimensions: W:187mm x H:116mm x D:18.5mm
Weight: 300g
Screen size: 7 inch
Expect to pay: £349.99
For more information about the Snooper S6900 Ventura visit snooper.eu

Cost to insure: *
---
factfile
| | |
| --- | --- |
| Model | |
| Base vehicle | |
| Axle type | |
| Dimensions | |
| Shipping length | |
| RRP | |
---
Search our blog
---