If you have a motorhome insurance policy with Caravan Guard and you're having difficulty renewing your tax using the DVLA's online service or telephone line, don't panic, we're here to help…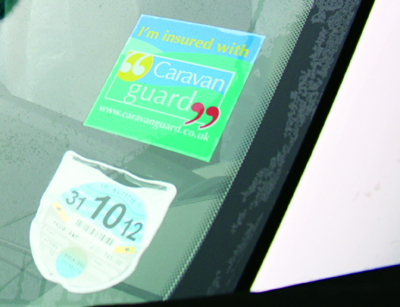 SCENARIO 1: "My motorhome tax disc is due for renewal after my current period of insurance expires (i.e. new tax period will be on or after my insurance renewal date)"
The DVLA Electronic Vehicle Licensing (EVL) system can only see one active insurance policy on a particular vehicle at a time. This is the insurance policy that is currently in force.
If your current motorhome insurance policy expires before your vehicle tax is due for renewal, the DVLA system will not be able to see a valid insurance policy is in force for the new tax period so a tax renewal cannot occur electronically (i.e. via the DVLA's phone or online service). This is even if you have already renewed your insurance policy for the next period of insurance.
Only after your existing insurance policy has expired and a new insurance policy has commenced will the DVLA EVL system be able see that valid cover is in place for when the new tax period begins and allow tax renewal electronically.
For example, if your existing insurance policy and tax disc expire on the 31st May you will not be able to renew your tax disc via the DVLA's online or telephone system until the 1st June when the new insurance policy shows as in force (or whenever your new policy shows on the Motor Insurance Database (MID) – see further details on MID below)
How to renew your tax before your new insurance policy commences:
Take your tax renewal reminder (V11 form) and valid MOT vehicle test certificate (if applicable), (plus a valid exemption Certificate if applying for disabled vehicle tax), to the Post Office and get a new tax disc over the counter.
If this is an issue you are suffering every year and you are keen to renew your motorhome tax disc via the DVLA's online or telephone service, you may want to consider on this occasion renewing tax for a 6 month period before resuming to a cycle of purchasing 12 month tax discs. Then in future tax renewals will occur mid way through your period of motorhome insurance and you shouldn't have any difficulties because the DVLA EVL system will then be able to confirm that insurance cover is in place for when the new tax period commences.
NB. Unfortunately buying a six month tax disc will of course mean the tax costs slightly more per day than paying for 12 months.
SCENARIO 2: "I have only just taken out motorhome cover or renewed my policy with Caravan Guard"
If you have just taken a new or renewed an existing policy with us you may have problems taxing online or by phone. An insurance provider must submit insurance records to the Motor Insurance Database (MID) within seven days of the policy commencement date. When applying for tax online or via telephone the DVLA's system will check against the MID to ensure insurance cover is in place for when the period of tax is due to commence.
Unfortunately to submit insurance records direct to the MID a company needs to have over 50,000 motor insurance customers. Caravan Guard do not yet have 50,000 motorhome insurance customers and we therefore submit our data to the MID via a third party company called Motor Data Solutions. Consequently updating of the MID is not instantaneous. We export our data to Motor Data Solutions every evening and they receive this the next morning and upload overnight on weekdays to the MID database. It will usually take at least two full working days before your new policy shows on the MID and it should certainly appear within 7 days.
We can offer the following suggestions to customers having problems taxing online or by phone:
1) Check Caravan Guard has your correct registration number – refer to your Certificate of Insurance or contact Caravan Guard on 01422 396777. You can check the MID website for free to confirm if your motorhome is showing as insured.
2) Tax your motorhome at the Post Office (by taking your hard copy certificate of insurance and if applicable, your MOT certificate)
Remember you will be committing an offence if your motorhome is driven or parked on a public road if your tax has expired and you have not renewed it.
Update October 2nd 2014: We have further information on the new vehicle tax system affecting motorhome owners on our article: New road tax disc rules – how they affect motorhome & caravan owners. For instance, motorhome owners in England, Scotland and Wales do not need to present Insurance Certificates when renewing their vehicle tax at the post office.
Cost to insure: *
---
factfile
| | |
| --- | --- |
| Model | |
| Base vehicle | |
| Axle type | |
| Dimensions | |
| Shipping length | |
| RRP | |
---
Search our blog
---