The big summer getaway is underway. If you're planning on towing your caravan or driving your motorhome in Europe here are some top tips.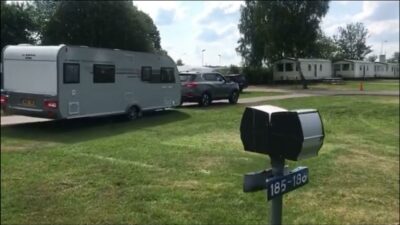 We've teamed up with our motorhome breakdown provider, AXA, to bring you a guide to towing or driving your motorhome in Europe this summer.
Before heading off across the waters in your motorhome or tow car make sure you know the overseas driving rules, including local speed limits and drink driving laws to avoid breaking the law and receiving a fine.
Also, check the Government travel advice for the countries you plan to visit here and see our article about driving your motorhome in Europe for information about the documents you'll need for your trip.
Display a UK sticker
From 28th September 2021, you now need a UK sticker on your vehicle, instead of a GB sticker. This must be displayed clearly on the back of your vehicle. However, if your number plate includes the UK identifier with the Union Jack, you don't need a sticker in some countries. Although you still need to display the UK sticker, no matter what is on your number plate if travelling in Spain, Cyprus or Malta.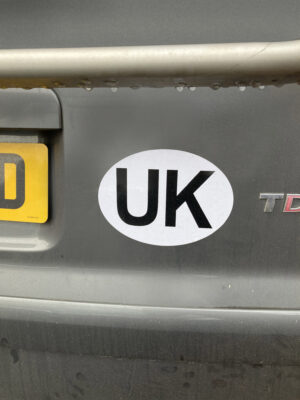 Pack reflective jackets
Many European countries require all drivers to carry reflective jackets and wear them as soon as anyone gets out of a vehicle in an emergency or breakdown.
Adjust your headlamps
Before travelling in Europe in your motorhome or tow car, you'll need to adjust your vehicle's headlamp beam pattern for driving on the right hand side of the road, so that the dipped beam does not dazzle oncoming drivers. This is compulsory in most countries. You'll either need deflector stickers or have to adjust the beam manually.
Take safety kit
A first aid kit is compulsory in Austria, France and Germany, and if you are travelling in France, you must carry a breathalyser.
Carry a warning triangle
Warning triangles are compulsory in most countries, so we'd recommend packing one in the boot of your tow car, motorhome or campervan.
Service checks
Get your tow car, caravan or motorhome serviced before your trip to reduce the chance of a breakdown while you're away, and always check your tyre pressures, age, condition and torque setting before you head off.
Check the sat nav
Be careful if your vehicle has a sat-nav system that can show fixed-speed camera locations, as some countries ban these. You might need to disable the function before you travel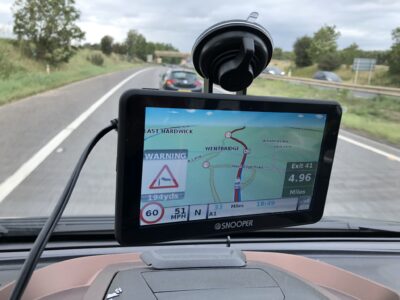 Don't get caught
Using or carrying a police speed trap detection device is illegal in most European countries and penalties can include a fine, driving ban, or even imprisonment.
Manage your emissions
Many cities across Europe operate low emission zones, where the most polluting vehicles are either banned or charged an access fee. You can check if this will affect your motorhome, campervan or tow vehicle and whether registration is needed here.
Check the COVID rules
Check the rules you need to follow with regards to COVID 19 on the gov.uk website here.
If you have European breakdown cover on your motorhome insurance policy with Caravan Guard and do breakdown in Europe call 00 44 1737 815 123. If you don't this can be added to your policy if you call before your trip.
Over to you…
In this other article former caravanners Karina and Jules share their tips for caravanning in Europe. Do you have any tips for driving your motorhome in Europe you wish to share with fellow owners? We'd love to hear them – simply comment in the box below.
Cost to insure: *
---
factfile
| | |
| --- | --- |
| Model | |
| Base vehicle | |
| Axle type | |
| Dimensions | |
| Shipping length | |
| RRP | |
---
Search our blog
---