Caravanning and motorhoming have taken on a new meaning during the Coronavirus lockdown. Say hello to the drivecation!
As 'vanners are unable to tour the country, many have pitched up on their driveways, making their leisure vehicles into temporary classrooms for homeschooling, home offices, games' rooms, storage space for household supplies or as a makeshift dining room for all the family to retreat to.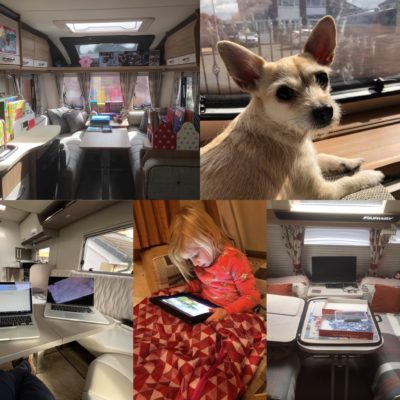 We asked our usually adventurous customers to share stories of how they were using their campers to add some fun to their routine and reduce the stuck-at-home blues.
Lorisa Talbot of Chalfont St Giles set up her Coachman Vision caravan as a temporary classroom, switching out caravan accessories for books, files, games and teaching aids on the locker doors.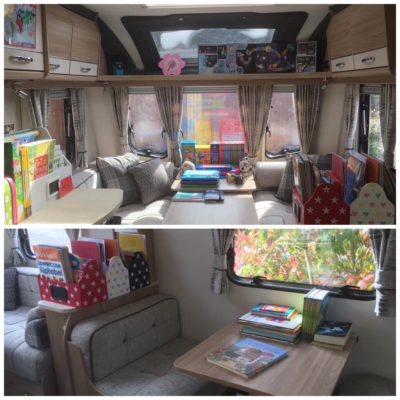 The two dining tables in the five-berth caravan have also been transformed into makeshift desks.
Bailey caravanner, Jimmy Butler and his caravan-mad young family, from Daventry have enjoyed a night's stay in their caravan as well as cooking, baking, sewing and reading as they plan their next "wobble box adventure".
And many dogs have retreated to the 'van for their own "drivecation" and some peace and quiet in their happy place.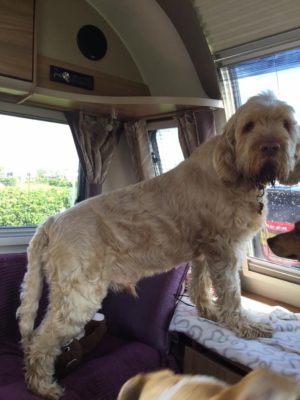 Here's Stewie, an Italian Spinonie enjoying drivecation time in his owner's Bailey Cartagena.
Emyr Jones, of South Wales has been using his Burstner motorhome as a swish home office and the Janaways, who are normally on their travels touring the UK and Europe in their Bailey Autograph motorhome, enjoyed the sun in "Costa Del Drive" in Kent!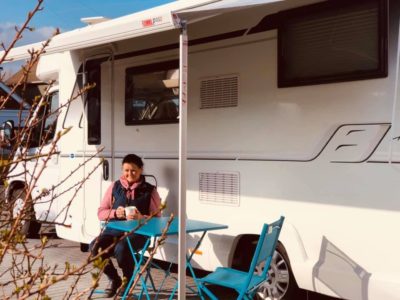 Marc Jordan bought a pop-top Rapido caravan in need of some TLC and is using lockdown to renovate it from the comfort of his home in Norfolk.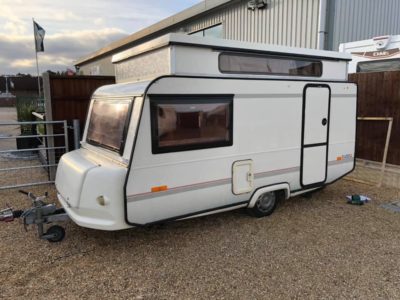 Ever resourceful campers have also made use of caravanning items in the house during the lockdown.
Jane Pollard, of Northamptonshire, and our PR & Communications Manager, Liz Harrison, have both dug out their camping tables for their children to do their home schoolwork on whilst schools are closed.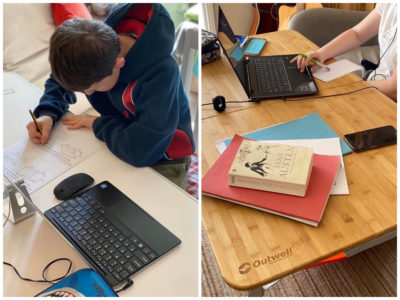 "It's great as it folds away after use and it's just the right size for schoolwork," said Liz. "We're even thinking about getting the tent out and pitching up in the garden to escape the house for a couple of nights over Easter – it's the new Staycation! We'll definitely be using the Cadac barbecue too in the coming weeks."
Other resourceful campers have raided their 'vans for supplies that have been hard to come by in the shops in recent weeks.
Susan Dyson of Cheshire said she'd emptied all the tinned food out of her Vito campervan: "We're eating like we're camping now!" she said. And motorhome owner Margaret Drury, from Skipton, added: "Raided our motorhome cupboards for TCP and paracetamol."
Meanwhile, Craig Thompson, Caravan Guard's Marketing Director, said he'd been able to empty his seasonal pitch caravan of key essentials just before the lockdown.
"I was lucky the caravan had a full pack of toilet rolls, pasta and even hand sanitiser gel and antiseptic wipes!" he said.
And to help caravanners dream of future trips we've published a video of the top 10 caravanning sounds voted for by our customers. The video features bacon sizzling and rain gently falling on the caravan roof, as well as other satisfying caravanning sounds, synonymous with the freedom and relaxation of caravanning holidays. Visit www.caravanguard.co.uk/sounds to hear the rest!
The Caravan Guard team is staying safe with all staff working from home and they're continuing to service the caravan, campervan and motorhome insurance policies of its customers, as well as provide quotes.
Caravan insurance and fully comprehensive motorhome insurance continues to give owners essential protection even when not touring. Cover is provided for storm, flood, vandalism, theft and accidental damage, all of which are common when the caravan or motorhome is in storage.
Cost to insure: *
---
factfile
| | |
| --- | --- |
| Model | |
| Base vehicle | |
| Axle type | |
| Dimensions | |
| Shipping length | |
| RRP | |
---
Search our blog
---