All awnings, whether on a touring caravan, a motorhome, or a seasonal pitch, where they're left standing for several months of the year, will get grubby after use. A clean, well-maintained awning will last for years, so it's important to keep on top of cleaning.
In this video, we ask awning manufacturer, Isabella, for their top tips on cleaning and reproofing your awning.
What equipment do you need to need to clean your awning?
Before you start cleaning your awning here's the equipment you'll need: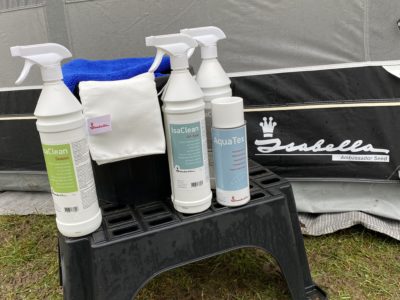 A bucket
Warm water
Sponges or cloths
Soft brush
A long reach brush
Towels
And finally plenty of time and a warm dry day!
When is the best time to clean your awning?
The best time to clean your awning is at the end of your touring holiday.
If you're a seasonal user, it's best to keep on top of cleaning the awning each time that you visit your caravan, by wiping down small stains, dirt and light marks with warm water.
Where should you clean your awning?
The best place to clean your actual awning is on-site and when it's still attached to your caravan or motorhome. This means you can get to the awning roof without putting it onto the floor.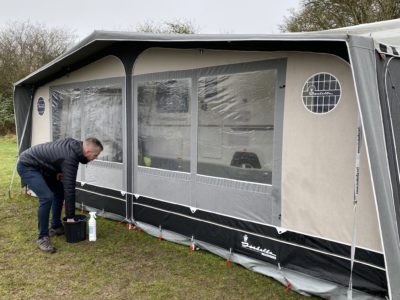 If the conditions aren't great though, it's best to take out the awning panels and clean them at home by laying them down on a groundsheet or piece of tarpaulin.
"It goes without saying, not to try to clean your awning on wet or muddy ground," said Nathan from Isabella. "Equally, if you're on a hard standing pitch try to put a groundsheet down first before cleaning your awning, just to protect it, and try not to stand on the awning."
Top tips for cleaning your awning
Step 1
Remove curtains from the awning and clean these separately.
Step 2
Remove panels and clean individually, using warm water and a cloth or soft brush. For more light stains or mud, remove these with a light cleaner.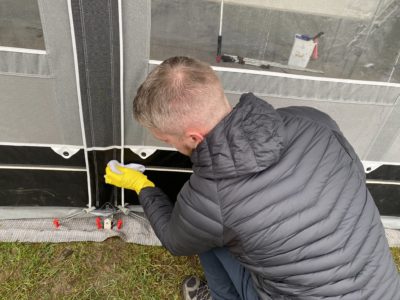 If you're on a seasonal pitch you can do this whilst the panels are in on the awning, by again wiping down with warm water and a light cleaner, if needed.
Step 3
Clean the awning roof with warm water
With the panels removed and the awning still in the rail, let the roof drape down against the 'van, and clean down with warm water and a cloth, or if you've got it, a soft long-handed brush.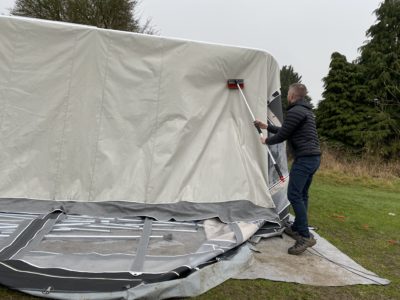 If there are any stubborn stains on the awning, for example, if you've been pitched under a tree and there's tree sap on the roof, use a more abrasive cleaner to remove this from the material.
Remove stains with a specialist cleaner
Common stains include tree sap, birdlime, grease from food, and thick mud. To remove those you'll need to use a more abrasive cleaner, such as IsaClean seasonal cleaner. Brush over the stain, then dampen with water and a wet brush, Spray the cleaner onto the stain and brush or clean with a wet brush or cloth.
Step 4
Rinse and wipe
If you've used a cleaner, wipe this away with warm water to remove any chemicals from your awning material.
Step 5
Dry awning with a towel or leave to dry
Dry the awning down with a towel, or if it's a fine day, let it dry naturally ready for it to be packed away.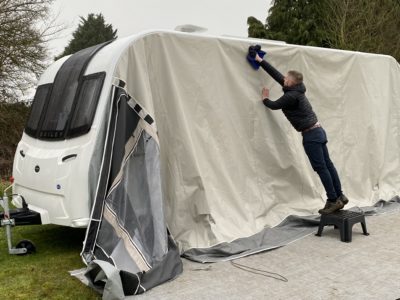 Whilst it's drying, clean down your poles and pegs, by scraping off any excess mud with another peg and then use a soft brush and warm water to wash down and make them nice and clean.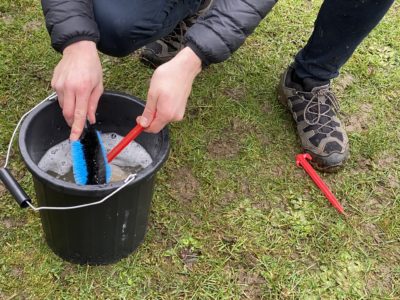 Step 6
Pack awning away
Once the awning is clean and dry, pack it away, ready for your next trip.
Do I need re-proof my awning after cleaning?
You only need to reproof your awning if you've carried out a deep-clean or used an abrasive cleaner on your awning fabric. This is because abrasive cleaners will start to take off the waterproof coating the awnings are made with.
How do you re-proof an awning?
Before re-proofing your awning, make sure it's clean and dry, and use a specialist awning re-proofing spray that is suitable for your fabric. Follow the instructions and spray it directly onto the canvas and then letting it dry.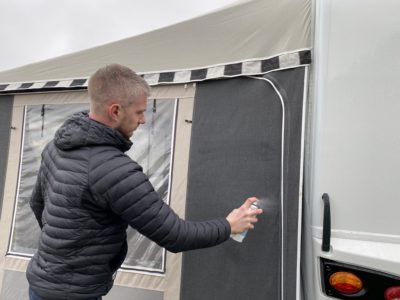 Top tip: Break your awning fabric down into sections and go from top to bottom in small sections, working your way across the fabric.
Awning reproofing spray can be applied on the outside of the awning, and on the inside.
Insurance considerations
Our motorhome and caravan insurance includes cover for awnings should they be damaged, or cause damage to your vehicle in stormy weather.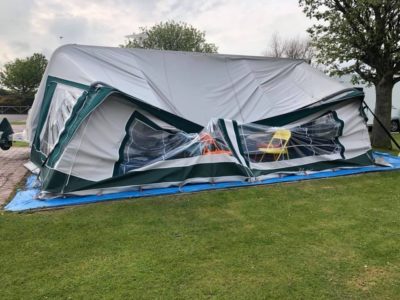 Over to you…
Do you have any tips on cleaning your caravan awning that you want to share? As always, please comment in the box below.
Cost to insure: *
---
factfile
| | |
| --- | --- |
| Model | |
| Base vehicle | |
| Axle type | |
| Dimensions | |
| Shipping length | |
| RRP | |
---
Search our blog
---