Did you know? A significant proportion of motorhome insurance claims are for accidental damage when they're being kept at home  
Here are our 10 handy hacks and tips for avoiding a motorhome bump or scrape when parking up at home.
Crash course!
They say you never stop learning – especially when you own a motorhome. Well, that particular adage starts at home, where it's amazing how many little accidents can occur. More often than not, these involve parking manoeuvres.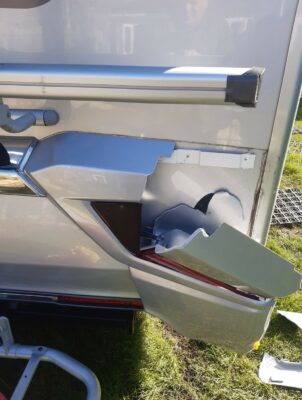 Classic clangers and common motorhome insurance claims include: hitting your own driveway gatepost; clashing with an overhead projection – a canopy or guttering; coming into unwanted contact with an unseen garden wall or edging; failing to apply the handbrake and rolling into the garage door; catching an opened window; and more.
Occasionally, minor motorhome mishaps can happen after journeys of hundreds, even thousands of trouble-free miles, when you get back home.
Plain bad luck? All are avoidable with a bit of forethought, of course.
Even if you think you know everything, do be aware of complacency. In case you think it can't happen to you… maybe it can. Hopefully it won't!
What to do to avoid a motorhome bump
Not everyone will want to go to the expense of more £2,000 for an all-seeing, all-warning 360-degree monitoring system with cameras fitted all around their vehicle. Instead, there are much cheaper motorhome reversing camera alternatives.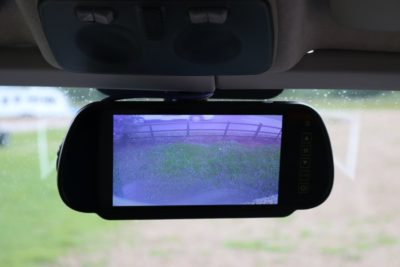 First stop could be the supplying dealer for your motorhome. Any dealer worth his or her salt will be able to give good advice on how to avoid the slightest of motorhome mishaps. That might include going on a motorhome manoeuvring course, where you should gain lots of great tips on how to pilot your motorhome – whether going forwards or backwards.
Lucky you if you have a bespoke building to keep your vehicle in, too. However, the same guidance below applies for anywhere you might be parking your motorhome. Do consider these:
Get help
The least expensive way of making sure your motorhome parking goes to plan. If there are two of you, the non-driver can get out and help with any small manoeuvres – by offering verbal and physical feedback, including a pre-agreed system of hand signals. Keep your windows wound down, too – you'll hear any shouts of encouragement all the easier, as well as any other untoward sounds.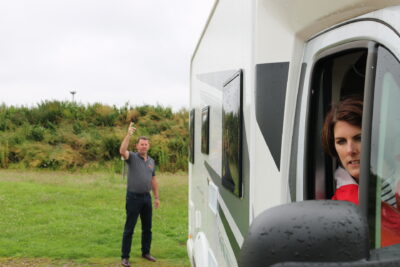 Look up
Most folk are happy to look all around when it comes to small motorhome manoeuvres, but it's all too easy to forget to look upwards as well. Extended roof sections and gutters etc are a fairly common source of accidental damage.
Height warning
A label displaying your vehicle's dimensions – especially height – within sight of the driver (but not obstructing views out) is a good, constant reminder that you're in a vehicle of larger than normal height, length and width. Your sun visor could be the perfect place.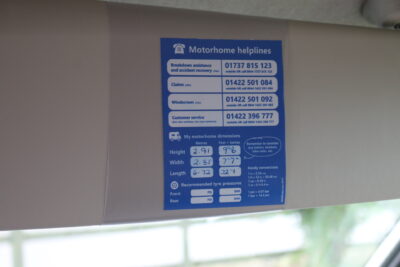 Extra mirrors
It helps to be aware of your vehicle's blind spots, whichever direction you're travelling in. If you notice a blind spot that can be remedied by adding an extra mirror, it's a very cost-effective way of making sure you don't get an unexpected bump. Just remember mirrors don't always give an accurate assessment of distance.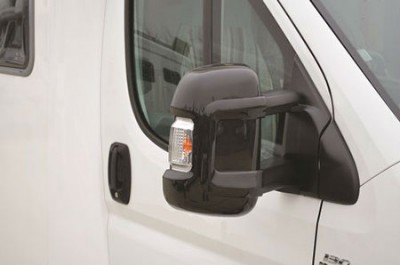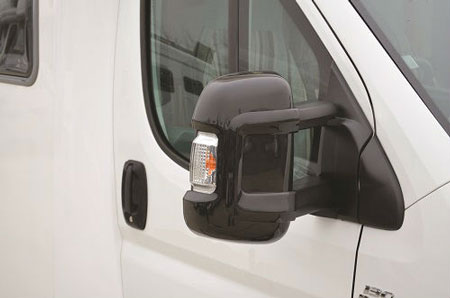 Consider, also, fitting motorhome mirror guards. They're cheaper to repair or replace than the whole mirror they protect.
Small things that count
Anything that keeps your motorhome from coming into contact with a surface that can cause damage is a great idea. When it comes to home parking, you can do what you like, of course, but common fixes or motorhome parking hacks include:
Blocks on the floor (when you sense your tyres touching them you know to go no further)
If you keep your motorhome under cover a tennis ball on a string hung from the roof (again, when it touches your vehicle – for example, the windscreen, you'll know you've reached your limit)
Markings on walls, floors etc (for visual guidance) to help you know when to stop. For instance this could be a mark on the wall so when your wing mirror is in line with the mark you know to go no further forward.
Adding foam pads to gate posts or walls or other potential crunch points – domestic foam pipe insulation works particularly well.
Adding cushioning to garage or garden walls for when you open up your cab doors in a tight spot can prevent a nasty scrape – an old bedhead does the trick here!
Reflective pads are a boon when lighting is dim, too. Add them to gate posts and similar for an effective visual reminder.
Get out of the way and into gear
You can lower the risk of accidental damage to your motorhome by removing any potential crunch points, e.g. unwanted posts. Failing that, you might want to make them more visible (see above – adding reflectors).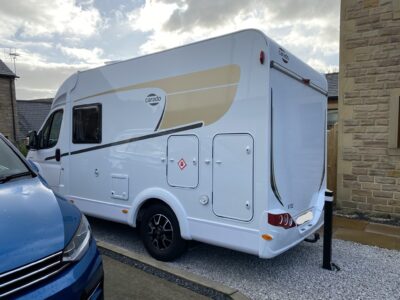 You might also want to park your motorhome elsewhere temporarily if you're having work done on your house – for example, if ladders and/or scaffolding, moving large/heavy objects, or even painting are involved. But if moving to completely different postcode or onto the road for more than a day, be sure to let your motorhome insurer know as it could affect cover.
Wherever you leave your motorhome, get into the habit of always putting it in gear as well as putting the handbrake on – it just lessens the risk of it rolling away!
Get a cover
If you don't have a garage or other suitable building for stowing your motorhome and want to keep it in the same place for long periods, do consider investing in a bespoke motorhome cover. Specialist designs using breathable fabrics are usually the best. As well as protecting from tree sap, bird droppings etc, it may provide some extra protection from anything accidently falling onto or against your pride and joy.
Get to know your sensors
Again, consider it a bonus if your vehicle already has parking sensors – front and/or rear. However, you need to understand the way they operate, and which part of your motorhome they're protecting and not protecting, especially when it comes to parking in tight spots.  Don't ignore the warning signs, they're usually beeping because you're definitely getting close to bumping or scraping into something. Remember many sensors won't pick up obstructions higher up such as tree branches.
Take things slowly
There's no reason to rush when parking your motorhome, even if you're just moving your vehicle in your home surroundings. Slowly really does do it.
Quick checks before starting any manoeuvre could include making sure any doors, hinged windows, flaps and/or rooflights are closed and any obstructions are out of the way or clearly marked.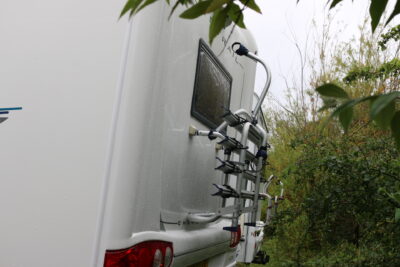 Watch the tail swing!
Motorhomes tend to be a lot longer than cars. Many have a tail overhang, too – that's the amount of bodywork extending beyond the rear wheels/axle. Taking corners too tightly can mean the tail end swings out and catches corners, walls etc. When parking your motorhome, or indeed manoeuvring, remember the tailswing – your motorhome is going to swing on the rear axle  – so be aware of the overhang and make sure you have enough room for it to swing into your chosen space. It tends to be intuitive after a while. Remember our earlier point about complacency, though!
Also, see our video with five top tips for reversing your motorhome.
And motorhome insurance
The good news is when you insure your motorhome with Caravan Guard your cover includes those accidental knocks, bumps and scrapes at home.
And we do offer a small discount for owners who fit reversing aids to help in avoiding this kind of damage.
Find out more about our motorhome insurance cover here.
Over to you…
Got any advice on how to avoid a motorhome bump when it's at home that you'd like to pass on to fellow owners?
Please feel free to add a comment below.
Search our blog
---