We know many of our motorhome customers like to travel across the channel into Europe and the ongoing Brexit negotiations has meant we've had an influx of requests for Green Cards in 2019.
We've looked back at our Green Card requests since we set up our online request form at the end of February 2019 to see which European destinations were the most popular.
Out of 1,056 requests France came out on top – although it's no surprise as it's a popular ferry stop and many people travel through France to get to other parts of Europe!
Here's the top 10 European motorhome destinations for Caravan Guard customers…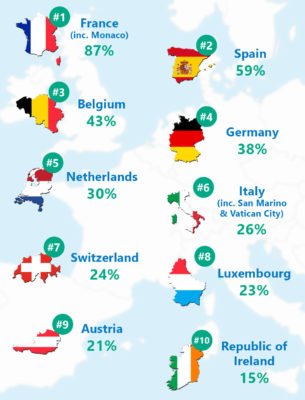 Spain was the second most popular holiday destination listed on our Green Card requests, followed by Belgium and then Germany.
If you're planning a trip to European in your motorhome or campervan, you can request a Green Card via our web form. as a precaution. This will be issued FREE if requested online and we'd suggest doing this 10-14 days before you go on holiday to make sure you get your Green Card on time.
What is a Green Card?
A Green Card is issued by your motor insurance company and is an internationally recognised document which shows that you have the necessary minimum insurance cover to be on the roads in the country you're visiting.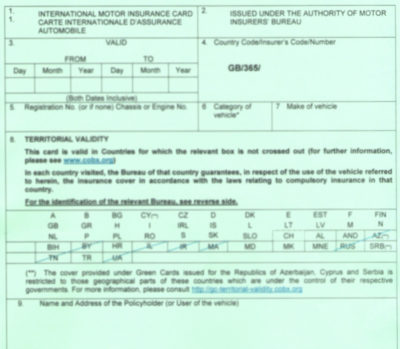 Drivers have to physically carry the Green Card with them when driving and state all the countries they are travelling to.
Is European cover included on my motorhome insurance policy? 
It's always worth checking to see if your motorhome insurance does include European cover as not all policies include this as standard. Caravan Guard customers can pay for an option giving up to nine months worth of comprehensive European cover so they can enjoy taking trips across the channel and all over Europe!
If you're planning a long trip to Europe or multiple trips during your policy year, it's important to make sure you have enough days on your motorhome policy to cover your time abroad.
If you fancy taking your motorhome into Europe, check out these five fantastic regions, plus campsite tips in each destination, from ACSI.
Cost to insure: *
---
factfile
| | |
| --- | --- |
| Model | |
| Base vehicle | |
| Axle type | |
| Dimensions | |
| Shipping length | |
| RRP | |
---
Search our blog
---