The best tourers for families? Here's our verdict on half a dozen top family caravans with five or six berths, plus a little bit of advice.
We have models from Swift, Bailey, Elddis Coachman, Adria and Caravelair with prices ranging from £17,995 to £27,905.
Out with the kids
Want to take the kids – or even grandchildren – with you on your caravan holidays? Space is the first frontier – for you all as well as your belongings. But, you'll also want your caravan to be as family-friendly as possible in the features it provides.
That's why we've taken a closer look at six family caravans that might just fit the bill for families who want a touring home from home.
Six top tips for choosing a family caravan
Payload capacity is even more critical when you have a full family. You'll undoubtedly be taking more kit with you, plus there won't be as much storage space in your car if you've got extra passengers.
As well as beds and seating areas, make sure kitchens and washrooms are appropriate for more use than a typical tourer. You're likely to be eating in more with a family to cater for, and might want cooking and food storage facilities to reflect this.
Storage is more critical with more folk on board, too – especially for clothing and bedding.
Consider adding an awning. It will vastly enhance your living space. And storage. And, if you wish, sleeping accommodation.
Check out the locations of switches for lights, power sockets, toilet flush and more, especially if you're catering for small children.
Be prepared to have the last laugh. Family caravans – i.e. multi-berth models – often command higher prices on the secondhand market.
Elddis Avanté 868
A hit for six
One major advantage of a wider body like here is, caravan designers can experiment with different floorplans. You can see the particular family appeal of this new-for-2020, multi-berth model.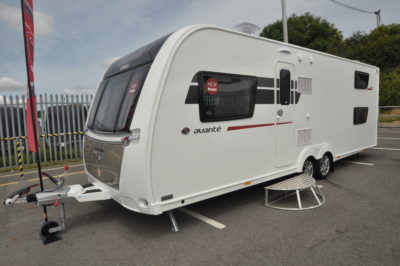 If you prefer to sleep with your children alongside you – they might be very young, for example – the arrangement at the back of the Avanté 868 sees a French bed alongside two bunks. If you want, the front settees can also provide two more sleeping berths – 6ft singles or a double.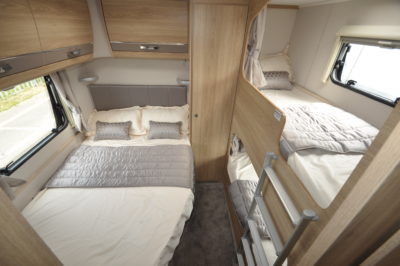 Washroom facilities are split, with a toilet room on the offside and a shower cubicle nearside – an arrangement that, again, might appeal to families with children.
Whale's latest CompleteHeat system is a significant fitting here, as are items such as the 145-litre fridge with removable freezer compartment that promises to cater for the whole family.
Note also there's a Compass Casita alternative to this Avanté – the specification stays the same but there are different colours, inside and out.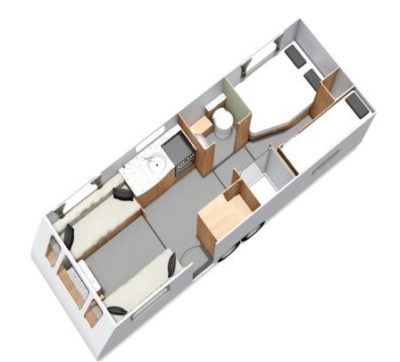 Model Elddis Avanté 868
Dimensions 8.05m L, 2.45m W, 2.64m H
Internal length 6.39m
Berths 6
MTPLM 1,711kg (upgradable to 1,800kg)
MIRO 1,532kg
Payload 179kg
Key selling points: Unique rear bedroom layout, keenly priced, wide body for optimum living space
Price from £24,594 OTR
Swift Sprite Major 6TD
A modern general
Loads of living space. Generous bed sizes. Decent weights. Even a better payload than many.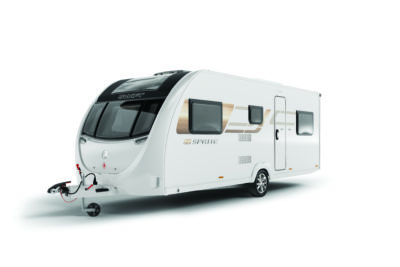 This Sprite has so much going for it in the family-friendly stakes, especially the floorplan with fixed bunks alongside a dinette at the back that the children are bound to zoom in on as theirs.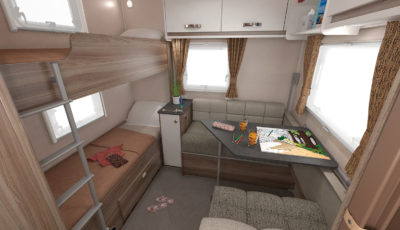 Details extend to the water-saving Ecocamel showerhead, pre-installed S7 tracker system and the all-controlling Swift Command app.
The Diamond Pack of extras is great value, at £510, especially as it includes insurance money-saving security features such as a stabiliser and Wheel Lock receiver, both courtesy of Al-Ko, and that tracking device.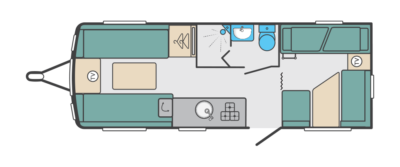 Model Swift Sprite Major 6TD
Dimensions 7.31m L, 2.25m W, 2.59m H
Internal length 5.83m
Berths 6
MTPLM 1,528kg
MIRO 1,307kg
Payload 221kg
Key selling points: Rear children's zone, the Sprite name, Diamond Pack option adds lots
Price from £19,320 OTR
Adria Adora Sava
A modern approach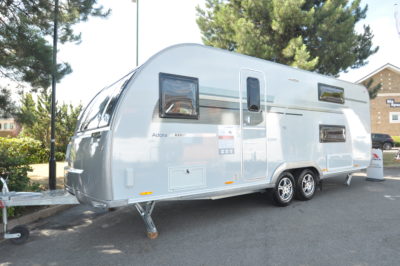 Adria dipped into twin axle territory when it unveiled its latest flagship Adora, the Sava, in time for the 2019 season. It's a wide-bodied model, too, so arguably it's not for the faint-hearted.
Nevertheless, it's a great blend of style and practicality, offering a different floorplan to many thanks to the provision of a full-width washroom at the back, where you get a generous shower cubicle with hanging rail and fully waterproof walls, plus toilet and countertop basin, supplemented by some excellent storage.
Forward of this, those bunk beds have a 70kg weight limit (note, also, features like the divider from privacy).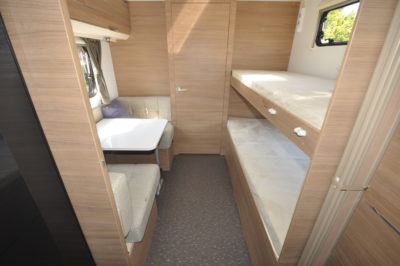 The kitchen features Adria's usual three gas rings in a row hob plus sink – a particularly space-efficient arrangement – as well as a 142-litre fridge.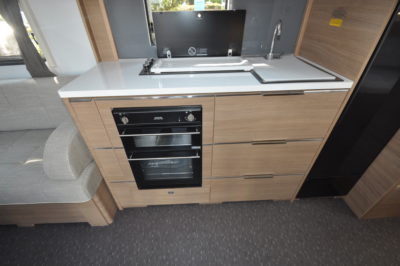 Up front, the U-shaped seating eschews the usual chest of drawers, opting for a flip-up top, but you can also add a  free-standing table as needed.
And, if you fancy the idea of caravanning at any time of the year with your family, features like the Alde heating as standard count as a boon.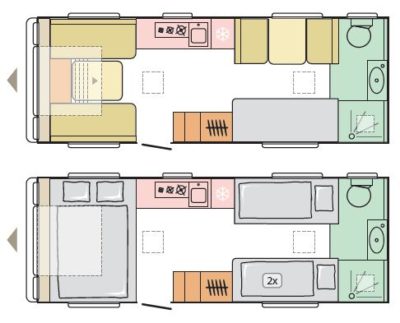 Model Adria Adora Sava
Dimensions 8.30m L, 2.46m W, 2.60m H
Internal length 6.19m
Berths 5
MTPLM 1,900kg (upgradable to 2,000kg)
MIRO 1,715kg
Payload 185kg
Key selling points: Adria build quality, contemporary styling, generous washroom, spacious feel throughout
Price from £25,495 OTR
Caravelair Antares 496
What's French for family
Getting more and more established here in the UK, thanks to an agreement that sees the Marquis Leisure dealer network stocking its 'vans, France's Caravelair builds exactly the type of caravans that will appeal to newcomers – with bargain prices and light weights adding further temptation.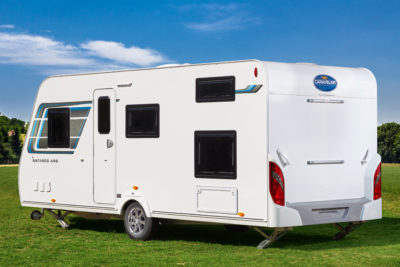 Also, all models are configured for the UK, with the habitation door on our nearside
The six-berth Antares 496 tops a six-model Antares line-up, with a floorplan that features child-friendly bunk beds, a spacious washroom and two seating areas – all with a maximum weight of just 1,400kg.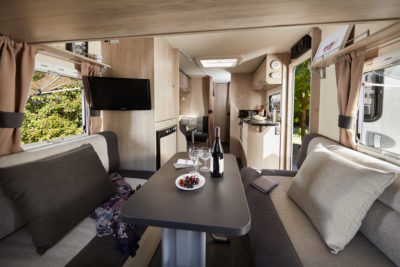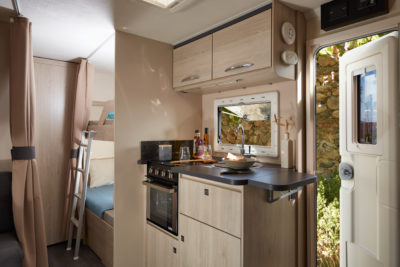 There's a bit of compromise in the kitchen – worktop is at a premium, but storage is good – where you only get a three-burner cooker with combined oven and grill, while the fridge opposite isn't the biggest. But, the washroom makes space for a separate shower cubicle and there's a decent sized wardrobe.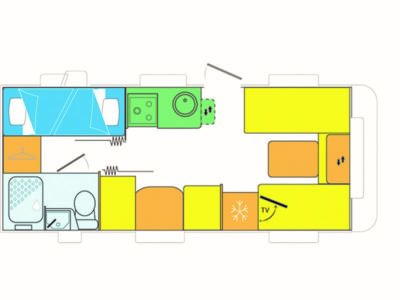 Model Caravelair Antares 496
Dimensions 6.91m L, 2.30m W, 2.58m H
Internal length 5.20m
Berths 6
MTPLM 1,400kg
MIRO 1,217kg
Payload 183kg
Key selling points: Highly competitive price, generous washroom
Price from £17,995 OTR
Bailey Pegasus Grande Palermo
Pitched just right
Take it touring or leave it seasonally pitched – the choice is yours. Bailey's latest Pegasus line-up of six models all use an extra-wide body, which adds so much more living space once you're pitched – some 25% extra, as Bailey explained at the 2019 launch.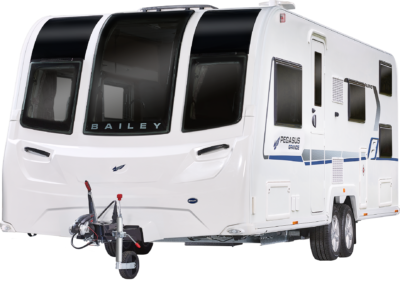 Indeed, if you're happy with the concept of making up the other beds each night, daytime living space really is magnificent.
Palermo is a range-topping six-berth twin axle caravan, with an interior that majors on a rear area with fixed bunk beds on the nearside and washroom offside.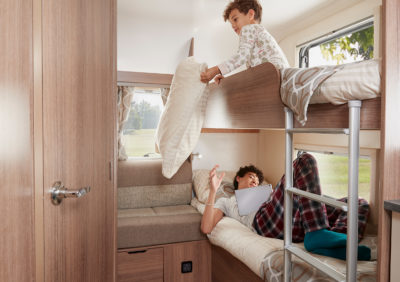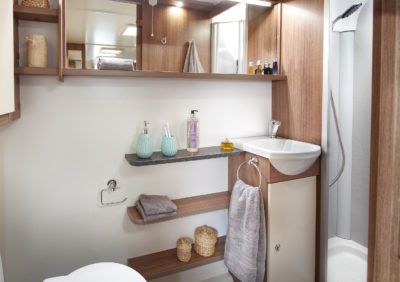 Despite keen pricing and low weights, Palermo boasts plenty of family-friendly kit – from the 145-litre fridge to full cooker with dual-fuel hob and separate oven and grill, microwave oven, Truma Combi 6 heating and hot water system, 100W solar panel, exterior gas barbecue point, reading lamps with USB charger outlets, plus insurance saving Al-Ko ATC and Tracker Retrieve.

Model Bailey Pegasus Grande Palermo
Dimensions 7.86m L, 2.45m W, 2.61m H
Internal length 6.34m
Berths 6
MTPLM 1,692kg (upgradable to 1,800kg)
MIRO 1,513kg
Payload 179kg
Key selling points: Generous equipment for the price, extensive daytime living space, bunk beds
Price from £25,814 OTR
Coachman Acadia 860
A fully-featured flagship
Extra-wide body. L-shaped front lounge. U-shaped centre seating. Permanent French bed. This five-berth caravan tops the 10-model Acadia range announced by Coachman for the 2020 season, as a replacement for the previous Pastiche and Vision line-ups.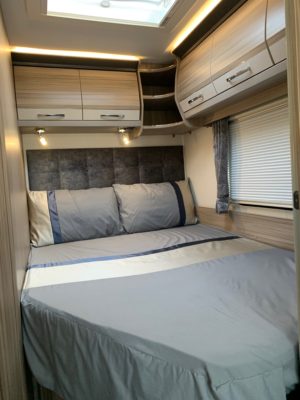 It certainly has presence, thanks to superior quality graphics, curved leading edges, alloy wheels and Coachman's signature double front locker arrangement.
Inside, as well as all that interior-sprung daytime seating, you get a full run of kitchen, with Thetford full cooker (dual-fuel hob, separate oven and grill), flush-fit microwave, 133-litre fridge/freezer etc.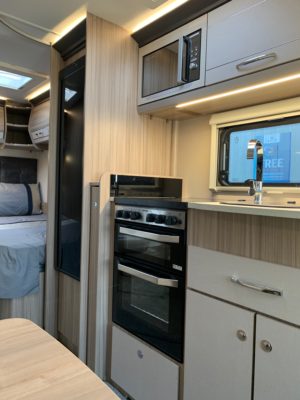 The washroom may seem a bit compromised by the permanent double bed alongside, but there's a decent sized shower cubicle served by a water-efficient Ecocamel outlet
A slight surprise is the lack of USB sockets – although your kids will soon be telling you that. Then again, perhaps you prefer to use your family caravan to get away from the devices that we often deem indispensable in the rest of our everyday lives.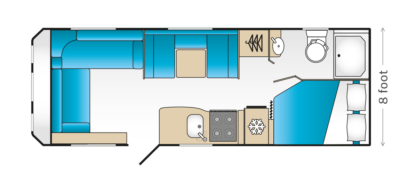 Model Coachman Acadia 860
Dimensions 7.90m L, 2.44m W, 2.65m H
Internal length 6.27m
Berths 5
MTPLM 1,820kg (upgradable to 2,000kg)
MIRO 1,650kg
Payload 170kg
Key selling points: Coachman cache, generous equipment, L-shaped lounge, French double bed
Price from £27,905 OTR
Over to you…
Got any advice on choosing a family caravan you'd like to pass on to others with a brood in tow? Please feel free to add a comment below.
Cost to insure: *
---
factfile
| | |
| --- | --- |
| Model | |
| Base vehicle | |
| Axle type | |
| Dimensions | |
| Shipping length | |
| RRP | |
---
Search our blog
---